How to set up Google Adsense to monetize your blog!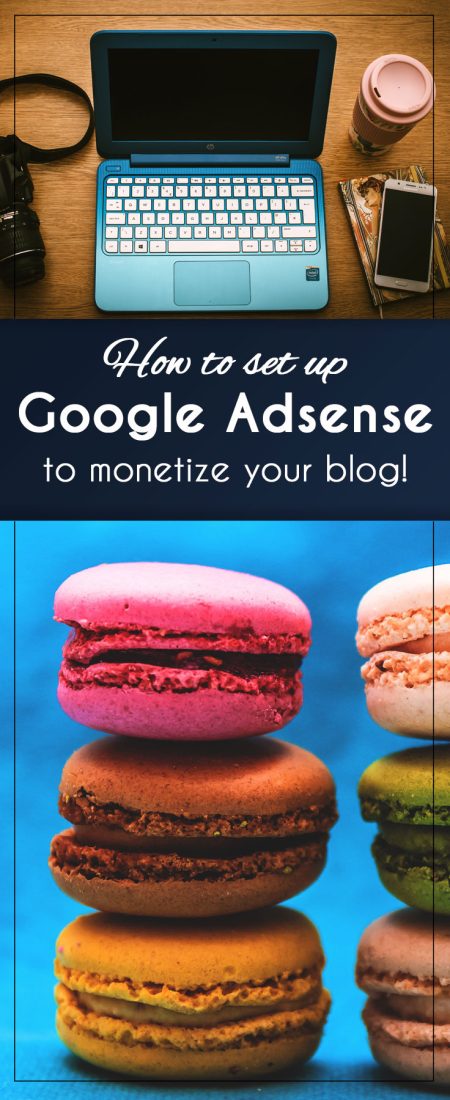 So you just started a blog.  Congrats!  Now set up Google Adsense. I know many people start a blog just as a hobby while many others start a blog in the hopes of making money from home.  I always suggest that even hobby bloggers monetize their blog with Google Adsense.  If your blog was started with the intention of eventually making money, Google Adsense really is the easiest first step to monetization.  So basically, you need this video below!  Harry was kind enough to make a quick video to share the step by step process to adding Google ads to your site. You can make money almost right away simply by adding Google Adsense on your blog or website!
There are many ad options available to you, but Google Adsense is one of the few legitimate ad options that allows you to monetize even a fairly new blog or website!  Many options will require you to wait 3 months or even longer – but we set up Google Adsense within a few weeks of starting this site!
I should let you know, Google Adsense is not going to make the vast majority of people rich.  If I make more than a couple dollars a day on Google Adsense I consider it a pretty big day.  At this stage of my game, Google ads are awesome, but they are the lowest earning item on my blog.  I just don't want to mislead anyone into thinking this is where you hit it big.  This is not where you are going to make a ton of money; but it is where you get started.  And you absolutely will make some money!  Most people continue to make a little more as they grow.  Some people consider Google Adsense as a great beginner stepping stone.  I think it is great – so great we still use it to this day!
Here is a quick video to show how you can put google ads on your site – many times google ads can be added to a site even within a week or two of the site being live!
Set up Google Adsense
Hot tips
DO NOT ask friends to click your ads – Google can determine insincere clicks and may cancel your ads without warning.
DO NOT click on your own ads – this can get you kicked out too.  It's easy – just avoid them!
DO NOT use any kind of leading words above your ads – ie don't write "CLICK HERE" or anything along those lines.
Know that the ads shown can be customized (ie, if you do not want gambling ads on your site, there won't be any!) – make sure to customize to your liking.
Know the ads you see may be different to the ads others see – this is because Google is super smart and ads are determined by the other person's searching history.
Again, know it is not a get rich quick option, it is simply one of the simplest and easiest ways to make money – learn the joy of seeing you made 29 cents more today than you did yesterday!
Again, even if your blog is a hobby blog – set up google ads! Even if your blog is just for fun – that money can go towards a vacation, a fun night out, kid's college, an emergency fund, pay down debt, or donate it to a cause that is close to your heart. I have encouraged people who set up an adoption blog to add google ads to their sidebar – there will be plenty of legal fees and travel costs associated with adoption – this is a painless way to add to that fund.
I will share other ways to make money blogging from home later this month, but first I had to share this on it's own.  Google Adsense may not be the biggest money maker, but it is absolutely the best when first starting out and it is just so easy to set up.  If you are thinking of starting a blog and haven't yet – what are you waiting for?  Do you think it and get overwhelmed by the process?  Don't! It is actually pretty easy to set up a blog.  I shared how to easily start your own blog here!  And of course once you have  your site live – hop back over here for a refresher on how how to set up your google ads.  A big thank you to Harry for setting up the step by step tutorial! Our next blogging for business post will feature five other ways to monetize your blog!  Stay tuned!