Silly Rabbit, Easter is for Jesus – FREE Printable
Silly Rabbit, Easter is for Jesus. Print out this fun downloadable coloring sheet for your family or Sunday School Class. Easter is about more than candy and brightly colored eggs. Kids love the Easter Bunny, but this is a playful way to recognize the true meaning of Easter. My your family's Easter morning be blessed!
If you enjoy these free printable coloring sheets celebrating the real reason of Easter in a playful way, make sure to check out our printable section featuring Go Dog, Go! Coloring sheets Gabby's Dollhouse Coloring Sheets , We Can Be Heroes Coloring Sheets, Sharkboy and Lavagirl Coloring Sheets, American Girl Doll Coloring Sheets , Olaf Coloring Sheets, Coco Coloring Sheets , Trolls Coloring Sheets , and so many more on our site!
FREE EASTER EVENT AT JC PENNEY
Free Coloring Sheets Collection
FREE Nature Themed Printables from WWF – click and print for FREE!
FREE Melissa & Doug Printables – print from home to learn and enjoy!
FREE Taco Bell Printables – so fun and may inspire a trip through the drive thru!
FREE Solar System Printable Coloring Sheets – great for homeschoolers!
If you plan on sharing these coloring sheets with your Church Sunday School or friends, please send the link to the blog post rather than copying the printable. I have created these high resolution free printables for private use and for use at church. Please know this blog is my main source of modest revenue and I truly depend on new friends coming to our site to click and print. You do NOT need to subscribe, buy anything, or even click on an ad to help support this site. We appreciate you visiting and we hope you will be back for more printables! Today, I thank you for printing out our funny "Silly Rabbit, Easter is for Jesus!" activity sheet. I hope it gives your little Easter Bunny a giggle.
Silly Rabbit, Easter is for Jesus Coloring Sheet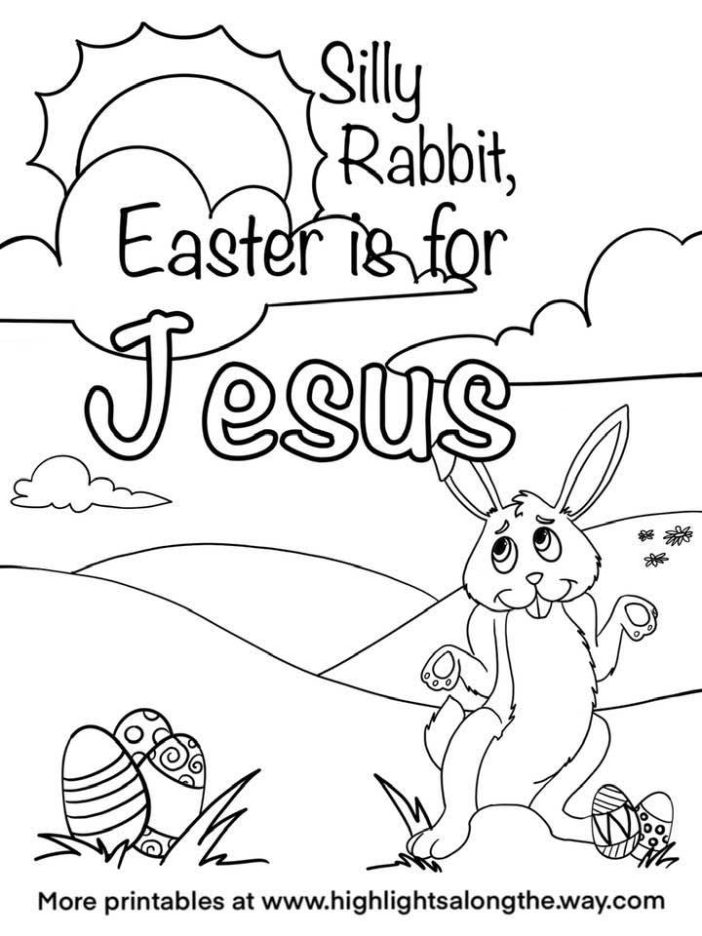 These coloring sheets are free to enjoy by clicking and printing.
If you are a blogger or writer looking for printable coloring sheets for your blog, magazine, or book, please check out my website Kate Ham Art and follow my growing Instagram account @KateHamArt . Do not hesitate to reach out if you would like me to create printables or book illustrations for your next project. If you or your child colors one of our printables, please share it on social media and tag our page. I will always share printables in our instagram stories and I would love to feature you!