SIX The Musical DIY Costume
Disclosure: Highlights Along the Way is a participant in the Amazon Services LLC Associates Program, an affiliate advertising program designed to provide a means for sites to earn advertising fees by advertising and linking to amazon.com. This site uses affiliate links.
SIX the Musical is one of the hottest shows on Broadway. Musical theatre and show choir nerds are going to love dressing as one of the HERSTORY Queens from Six for Halloween parties. Check out this amazing DIY no sew costume inspired by SIX the Musical.
Musical theatre kids are going to love dressing as the unfortunate wives of Henry VIII. Our oldest recently played Catherine Howard in her show choir's rendition of Six the Musical. All the kids had to source their own costume to pay homage to the queen they portrayed. This costume is not an exact match to the Six the Musical costumes, but it absolutely read as Catherine Howard.
All you gotta do, all you gotta do, Baby is get a couple simple costume pieces and you've got a great Six Inspired costume. Some of our items were thrifted, some were from Amazon, some she crafted, but it was all very simple and many of these pieces can be used again in other costumes!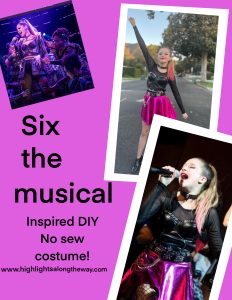 What is Six The Musical?
Six is a British musical comedy with book, music, and lyrics by Toby Marlow and Lucy Moss. The musical is a modern retelling of the lives of the six wives of Henry VIII presented as a pop concert, as the Queens take turns singing and telling their story to see who suffered the most due to Henry and should, therefore, become the group's lead singer.
The musical was first presented by Cambridge University students at the Edinburgh Festival Fringe in 2017. It has since gone on to professional productions in the West End, on Broadway and internationally.
Six the Musical Costume Pieces on Amazon. Most of these pieces can be purchased via prime. In our experience they shipped quickly and worked great as a costume. We have shared some of the items we purchased, but there are so many choices. We grabbed our glue gun and embellished the heck out of this Catherine Howard costume. My theatre kid thinks the more embellishments the better. This is a super fun costume to make. Six the Musical would be an excellent group costume, so grab a couple other queens and make it happen!
Complete Catherine Howard Six Costume – easy button
Ordering the complete costume is of course the easiest way. If you are looking to make your own, some edgy pieces can easily bring your sassy queen costume to life. I think the costume J created is far cooler than the costume on Amazon, but that is a personal choice.
Pink Hair Extensions are a MUST for Catherine Howard
Fish net stockings – inexpensive and they arrived quickly. She can of course use these in other costumes too!

Black fake leather corset looks super edgy. Super glue silver studs to it and you will look like a rockstar queen.

Pink Skirt – This skirt does look a little "Jojo Siwa circa 2015" until you style it, but it really read great and was inexpensive. J plans on using it in other costumes in the future, it is a very versatile piece.

Make sure to grab a studded collar, a studded belt, and more. We also added metal studs to thrifted chunky heel boots. Get creative with your costume!
Who was Catherine Howard?
Catherine Howard was the 5th wife of Henry VIII. Henry was nearly 50 years old when he wed 19 year old Catherine in July 1540. Catherine Howard was the fifth wife of King Henry VIII of England. After he was given evidence that she had had affairs before their marriage and that she was having an affair with her cousin, Thomas Culpepper, Henry had her imprisoned and then beheaded for treason.