Sonic the Hedgehog FREE Valentine's Day Cards
Sonic the Hedgehog FREE Valentine's Day cards just in time to print out for your class party! Valentine's Day is just around the corner, we've got a fun printable with everyone's favorite videogame hedgehog. Valentine's Day is traditionally associated with chocolate, romance, flowers, and the exchange of cards. Didn't get your cards to pass out this year yet? Well don't race out to the store, just download, print and send these Sonic the Hedgehog themed cards to your favorite friend! Guess what? You can also take your favorite Valentine out to the movies to see Sonic in theaters on February 14th!
Below we have four unique printable Sonic the Hedgehog Valentine's Day cards. Print out these high resolution Sonic the Hedgehog cards for free from your home computer. We thank our friends at Paramount for allowing us to share these with our readers. Please feel free to print out and share at home and school!
Instant Download Sonic The Headgehog Valentine's Day Cards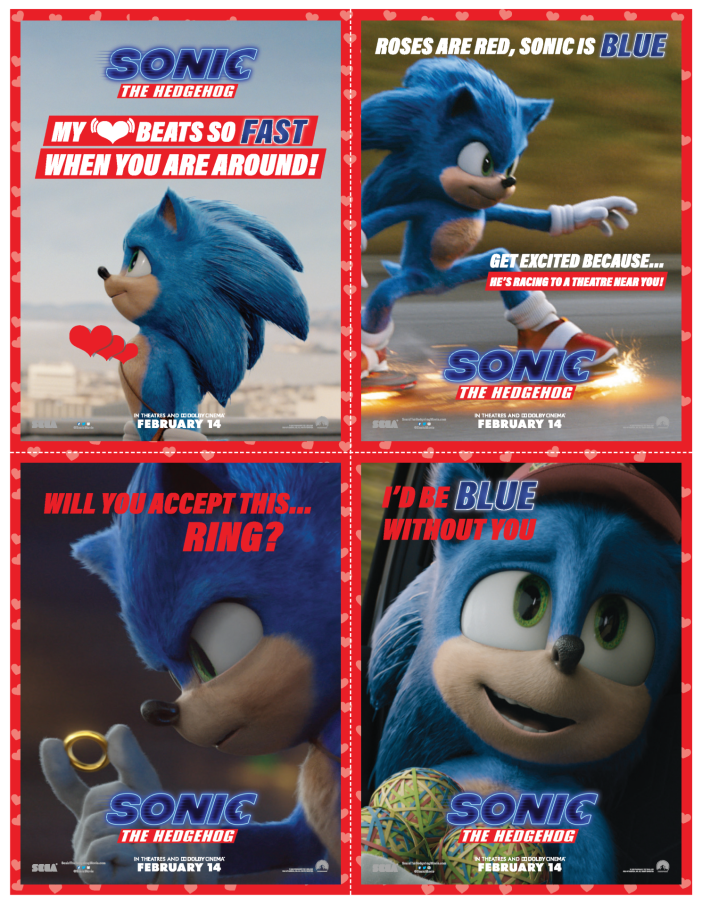 Our kids are sharing with our neighbors and friends from school. Who do you send Valentine's Day cards to? We always suggest printing out Valentine's day cards for everyone in class and also a couple extra. We also give a Valentine's Day card to our teachers and friends that we don't share a class with. When you can print them out from home it is fairly inexpensive, so make sure to get a Valentine for everyone.
Sonic the Hedgehog BIG GAME commercial
SONIC THE HEDGEHOG 2 IS IN THEATRES APRIL 8, 2022
OFFICIAL SYNOPSIS
The world's favorite blue hedgehog is back for a next-level adventure in SONIC THE HEDGEHOG 2. After settling in Green Hills, Sonic is eager to prove he has what it takes to be a true hero. His test comes when Dr. Robotnik returns, this time with a new partner, Knuckles, in search for an emerald that has the power to destroy civilizations. Sonic teams up with his own sidekick, Tails, and together they embark on a globe-trotting journey to find the emerald before it falls into the wrong hands. From the filmmakers behind The Fast and the Furious and Deadpool, SONIC THE HEDGEHOG 2 stars James Marsden, Ben Schwartz as the voice of Sonic, Tika Sumpter, Natasha Rothwell, Adam Pally, Lee Majdoub and Jim Carrey returning, alongside new additions Shemar Moore, with Idris Elba as the voice of Knuckles and Colleen O'Shaughnessey as the voice of Tails.
Check out the trailer for this family friendly film!
Based on the global blockbuster videogame franchise from Sega, SONIC THE HEDGEHOG tells the story of the world's speediest hedgehog as he embraces his new home on Earth. In this live-action adventure comedy, Sonic and his new best friend Tom (James Marsden) team up to defend the planet from the evil genius Dr. Robotnik (Jim Carrey) and his plans for world domination. The family-friendly film also stars Tika Sumpter and Ben Schwartz as the voice of Sonic.
PARAMOUNT PICTURES Presents
In Association with SEGA SAMMY GROUP
An ORIGINAL FILM / MARZA ANIMATION PLANET / BLUR STUDIO Production
Directed by Jeff Fowler
Written by Pat Casey & Josh Miller
Based on the Sega Video Game
Produced by Neal H. Moritz, p.g.a, Toby Ascher, Toru Nakahara, Takeshi Ito
Executive Producers Hajime Satomi, Haruki Satomi, Masanao Maeda,
Nan Morales, Tim Miller
Starring: James Marsden, Ben Schwartz, Tika Sumpter and Jim Carrey
Follow SONIC THE HEDGEHOG for more updates!
Facebook: www.facebook.com/sonicmovie
Twitter: www.twitter.com/sonicmovie
Instagram: www.instagram.com/sonicmovie
#SonicMovie