A day at Sonoma Raceway in anticipation of Cars 3! #Cars3Event
Disclosure: Our trip to the Sonoma Raceway was part of #Cars3Event which was hosted by Disney Pixar. Opinions are my own.
Racing fans know of the world famous Sonoma Raceway. If I am being honest, before my trip to Pixar for Cars 3 I had very little knowledge when it came to the world of racing. I don't come from a family that ever really watched racing, so this was a new experience.  We love the Cars movies, but that was the extent of my knowledge.  We spent the day learning about the history of racing, how Cars 3 is incorporating this history, and we toured the Sonoma Raceway.  It was such a fun day and I am excited to share the highlights.
I love learning about the history of just about anything.  Where humanity has been, what we can learn from it, how far we have come; I love it. Hearing about the history of racing was fascinating to me.  We learned that the roots of American car racing is in bootlegging.  Those who bootlegged alcohol across state lines had to drive fast.  Slow drivers may be caught by the police, thus ending their bootlegging career. What started as simple drag races between bootleggers began to draw a crowd.  Soon there was betting and sponsored cars. And decades later we have the world of racing that we all know today.
We learned that in Cars 3, several legends in racing will be honored.  I absolutely love that the writers and storytellers at Pixar wanted to pay their respects to some of the industry's pioneers.  Junior Johnson was one of the very first drivers, he began in the moonshine days! He brought on sponsors and really shaped the sport. Look for "Junior Moon" in the new movie!
I was further encouraged to hear them talk about how they really wanted to highlight diversity, even though there wasn't much.  While history will show that most of the early racers were male and white, there were a few who did not fit that mold.  Cars 3 will feature "The first lady of racing", Louise Smith, a female race driver who was light years ahead of her time. Wendell Scott is honored in Cars 3, he was one of the only African American race car drivers in the beginning. Scott excelled in his profession despite discrimination. Pixar is kind of the best when it comes to celebrating diversity, and I love that they featured these two characters.
I cannot wait to share more about Cars 3 as we get closer to it's release in theaters in June.  But for now, let's take a picture walk through the Sonoma Raceway shall we?
My son was a little jealous when I shared with him about all the cool things we saw. A behind the scenes tour in the garage was kind of incredible! Tony Nicholson opened up his garage and shared about his decades of experience in the racing industry.
We had the privilege of a private tour in the garage. I cannot tell a lie, a solid 95% of what this guy said went over my head.
So much history in this garage!
I know this is terrible, but I have never changed a tire in my entire life.  We have discussed that all our kids will have to change a tire before we even sign them up for driver's education.  My parents did not have that rule and I have roadside assistance so I have never learned.  The good folks at the Sonoma Raceway finally taught me. I changed my first tire.  Well, along with assistance, and a friend doing most of it, I helped change a tire.  That's progress right?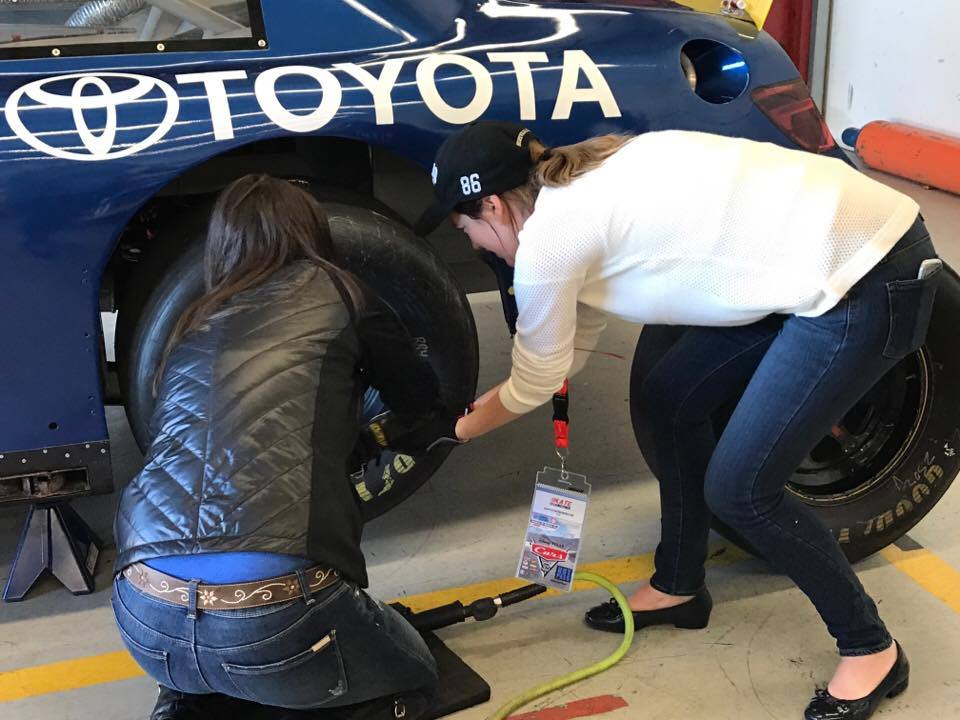 Guys!  Guido and Luigi were there!! See!
When we were offered the chance to ride in a real race car on the Sonoma Raceway, a bunch of people were excited. Riding in a race car has never been on my bucket list.  The idea of speeding in a car gives me all the anxiety, but I was trying to stay cool.  My assumption was this was an oval track and we would be the only car.  Of course we would be wearing helmets and the driver was going to be going much slower than normal.  "It won't be a big deal, play along." I told myself.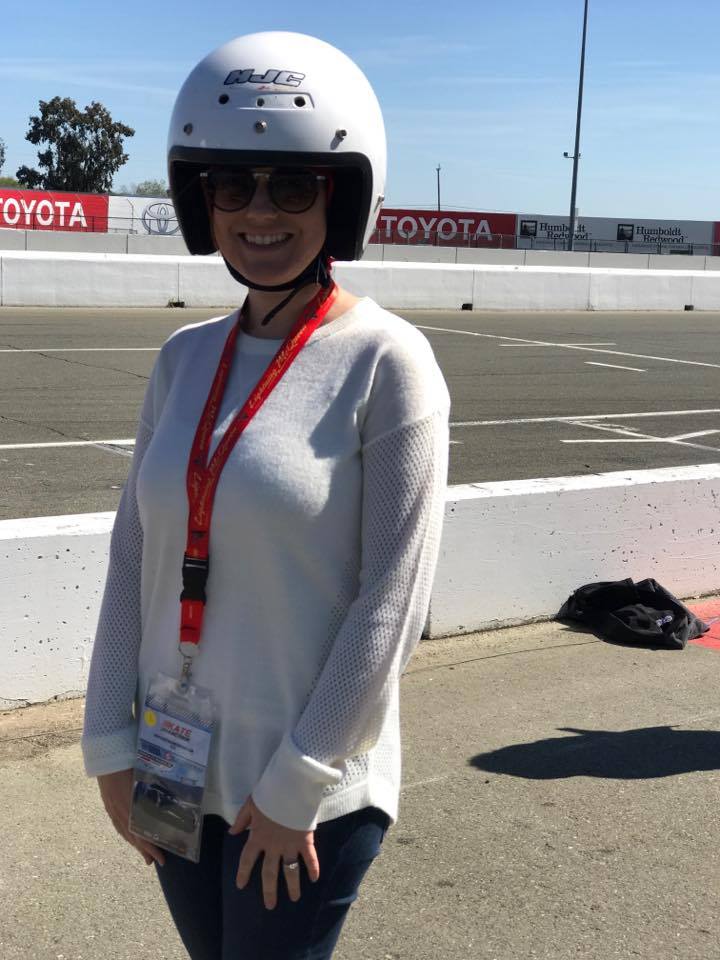 *Me doing my best to look cool* Nailed it.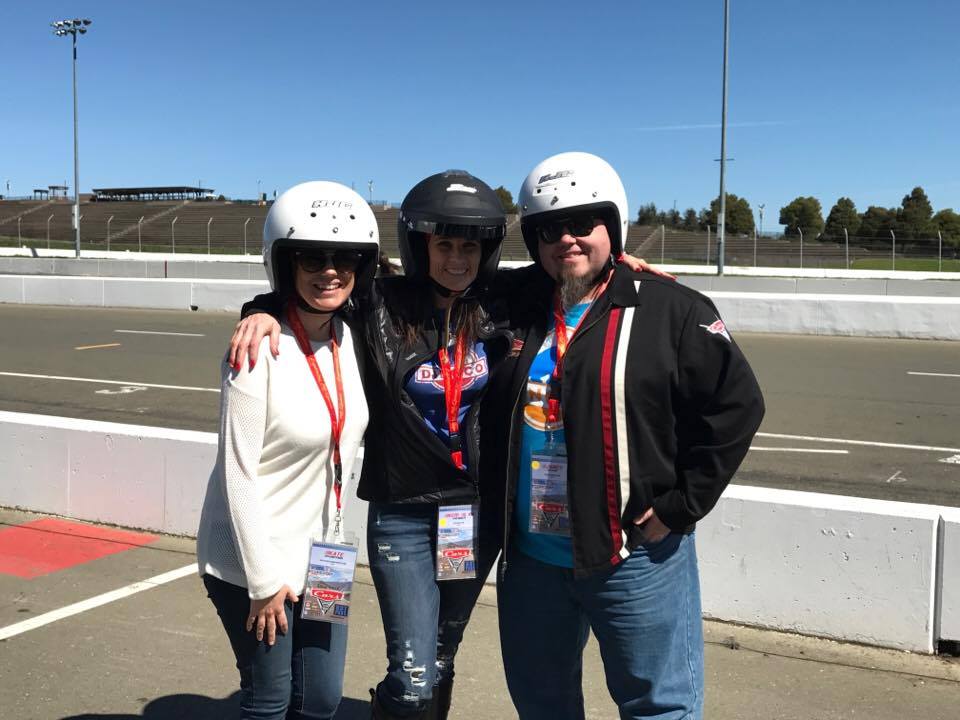 I didn't quite have all the information……
Those who know a bit more about the Sonoma Raceway know I was wrong from the get go.  The Sonoma Raceway is full of twists and turns. And while our driver was going much slower than they normally drive, it was still much faster than I normally drive.  Oh, and there were two other cars that we were racing while going about 90 miles an hour. It wasn't my favorite.
 Our trip to Sonoma Raceway was really outside of my comfort zone.  I loved that I had the opportunity to learn about the history of racing, ride along for a race (never again though…), and learn how to change a tire in the most dramatic of ways.
I was able to spend the day at Sonoma Raceaway as part of the Cars 3 Event.  Cars 3 Event was one of the first press events in celebration of Cars 3, which races into theaters on June 16th! Watch the trailer below and make sure to come back here for more behind the scenes information about Cars 3!
Thank you to Pixar who invited me along as part of the Cars 3 Event.  Thank you to Sonoma Raceway for inviting us to spend the day. Next time I am absolutely bringing my son in tow!