Spaghetti Squash in the Slow Cooker. Literally the easiest thing I have ever made.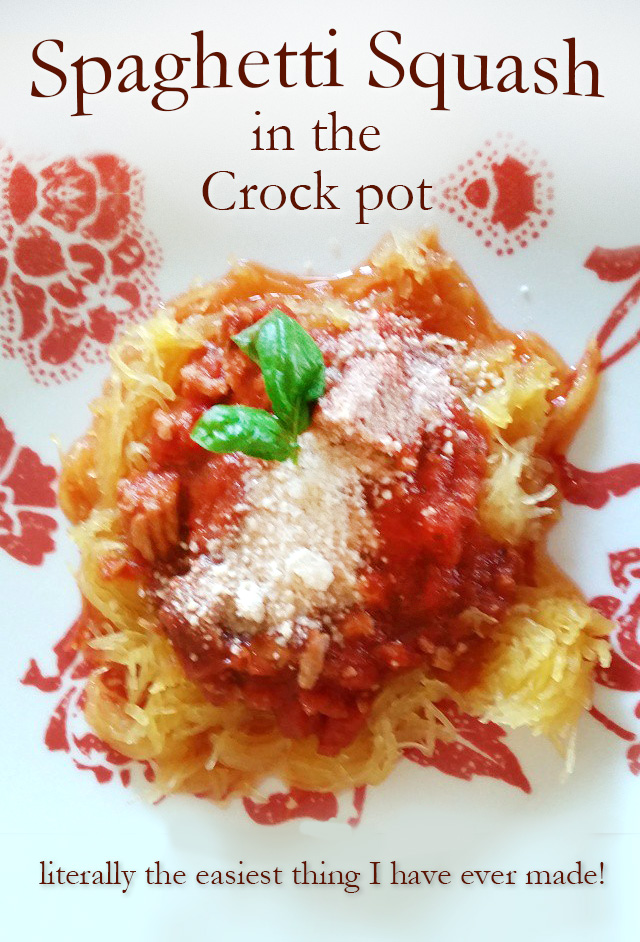 My kids are kind of obsessed with spaghetti squash, they love that it is veggie noodle.  We grew several squashes in our garden but our lack of expertise in organic gardening led to some powdery mildew that got out of hand before we could contain it and it killed everything.  We only got two small spaghetti squashes out of that patch but that was enough to peek the kids interest.  They thought it was so cool that their squash made noodles as we scooped it out.  I love spaghetti squash because it is quite a bit healthier than regular noodles.  When we went to our annual pumpkin patch visit we gathered up several squashes to bring home too, including a couple spaghetti squash. Spaghetti Squash in the Slow Cooker is the first thing I wanted to try!
I love to cook butternut squash and pumpkin in the crock pot.  It is just so easy.  I had never tried spaghetti squash before but one night on pinterest I noticed the idea of cooking an entire spaghetti squash dinner recipe in the crock pot and I was intrigued.  The original recipe calls for meatballs – which I am sure is delicious.  You can put whatever you want in with it, the point is – you can cook a Spaghetti Squash in the Slow Cooker!!!
Even turkey meatballs have a bit too much salt in it for me so I opted for an Italian seasoned lean ground turkey (which just happened to be on quick sale at the grocery store).
I shared a picture on instagram and facebook and people had all kinds of questions and doubts.  I promised to share if it turned out yummy and I am here to tell you friends this is so yummy, fairly healthy, and pretty much the easiest thing I have ever made.
Ingredients
One spaghetti squash – cut in half and seeds out
One jar of your favorite spaghetti sauce (I also included several tomatoes from our garden – just diced them up and added them in, not necessary we just had extra tomatoes that I didn't want to let spoil and it stretched our sauce)
One pound Italian seasoned lean ground turkey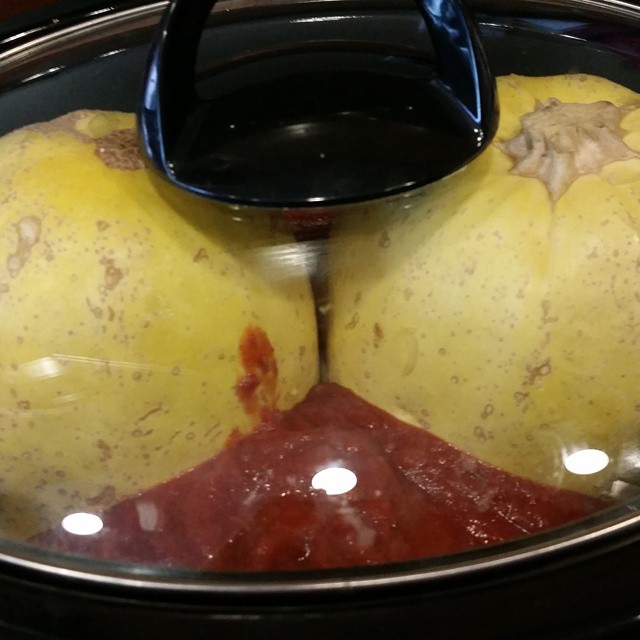 Process
Put ground turkey (raw, in my case frozen – it does not need to be frozen, but it cooks from frozen) at the bottom of the crock pot.
Place spaghetti squash halves cut side down on top of the ground turkey
Pour sauce and any other veggies on top of the turkey.
Put the lid on the crock pot and turn on low for about 6 hours.
Walk away.
Come back at about 5 hours to survey – depending on the size of the spaghetti squash you might be done.  Make sure everything is cooked, if not, just give it some more time.
When finished pull out the spaghetti squash first and scoop perfectly cooked squash 'noodles' into a bowl and set aside.
Because the meat cooks in the crock pot it might all be in one piece (especially if you put it in frozen like I did).  I break up the meat and stir with the sauce right in the crock pot.  Put meat and sauce mixture into a separate bowl (don't mix with spaghetti squash).
Scoop spaghetti squash onto a plate and layer sauce on top.  Top with Parmesan cheese.
Prepare for yummy noises and pat yourself on the back for making something so healthy, delicious, and budget friendly.
Store spaghetti squash leftovers in a separate container than the sauce left overs.  It got a little mushy when we mixed it.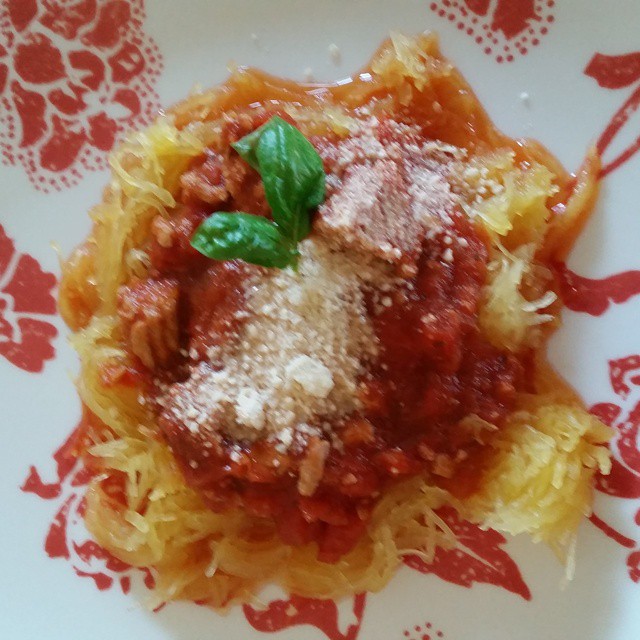 Enjoy!
*Yes, I know the picture is blurry, and I am super sorry. I never anticipated sharing this recipe but people went a little crazy.  I got questions emailed several times about how I made that crock pot spaghetti squash and if I was ever going to share the recipe.  I planned on re creating and taking photos, but let's be real, that isn't gonna happen any time soon and the questions didn't stop, so I do hope you will overlook the sub par photo and enjoy the delicious and ridiculously easy spaghetti squash recipe!