Special Halloween Treats for a limited time at Disneyland!
Disclosure: Our family was invited to a media event on opening night of Mickey's Halloween Party. Opinions are 100% my own.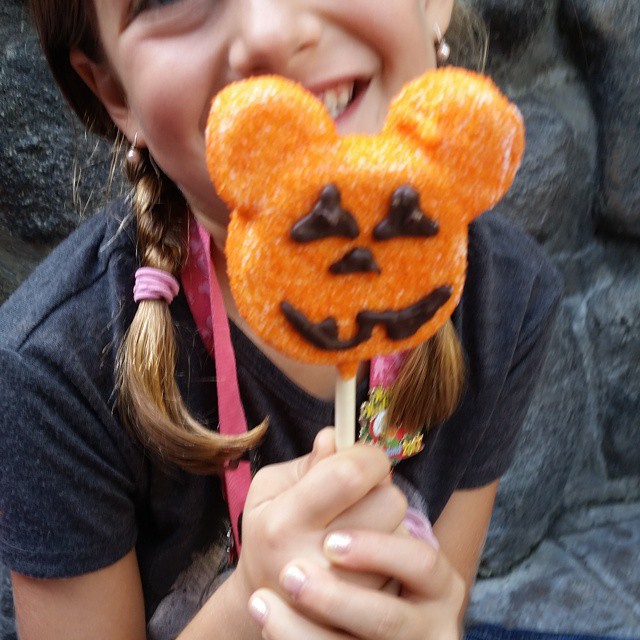 I may have mentioned this before….. we love Mickey's Halloween Party. While there are lots of fun things about Halloweentime at Disneyland – we really love Special Halloween Treats at Disneyland!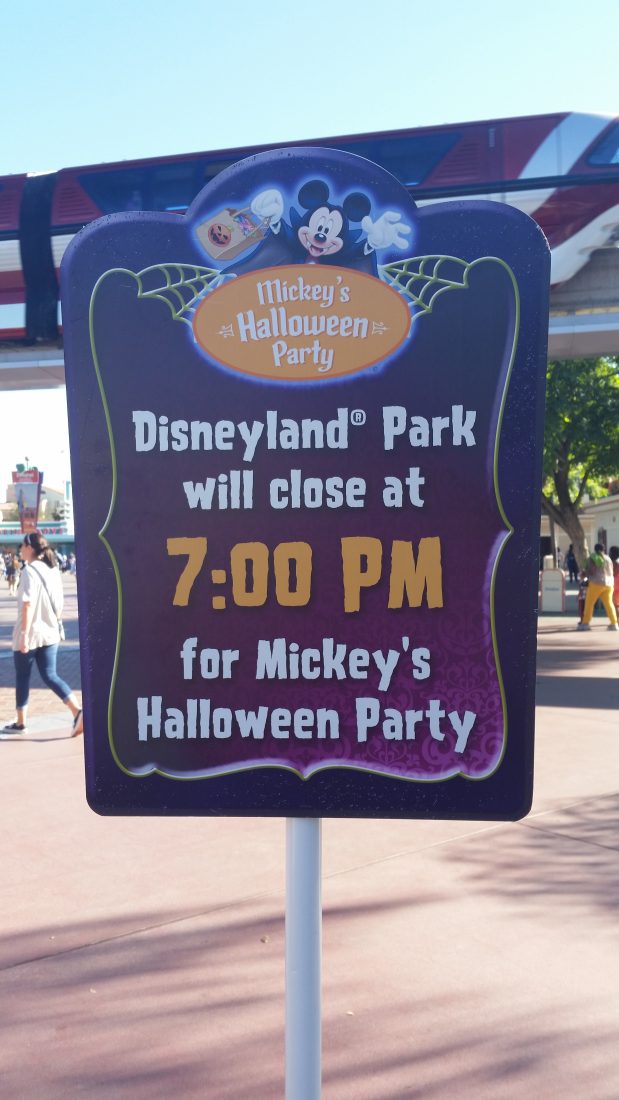 There are so many special features at Mickey's Halloween Party but today I want to talk about the special Halloween Time Treats!  We love to splurge on special treats when we are at Disneyland and at Halloween time it is kinda hard because there are just so many choices!  From Vampire repelling pizza to Maleficent shaped Candied Apples; nobody does cute (and delicious!) food like Disney!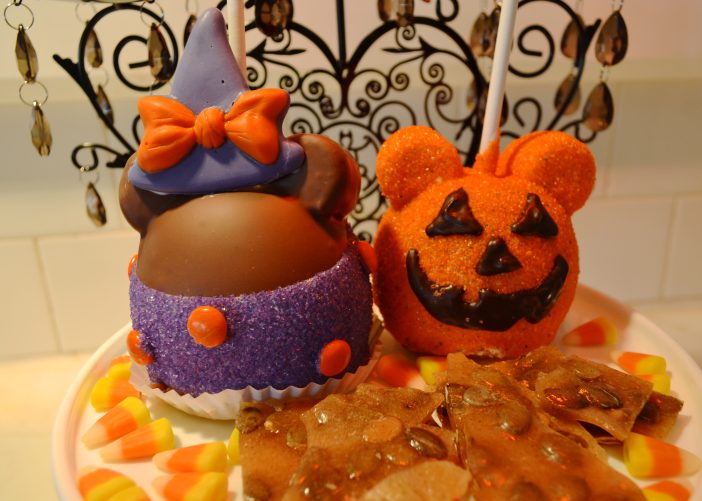 *Photo Credit – Disneyland*
And now just for fun, I want to take a little picture walk through just a few of the tasty treats you can indulge in if you make it to Disneyland during Halloween time!  Halloween time starts early at the Disneyland Resort – mid September through October 31st.   If you are not going to make it to Disneyland this season, don't be too sad – I am going to share a recipe for one of Mickey's Halloween Party's most popular recipes on the second page so you can make it at home!
Not only did our family sample sweet treats a couple times during our trip to Disneyland, but we met up at the Disneyland Dream Suite (squeeee!) where we could see and sample all that the season has to offer in food and drinks!  Here are a few of the photos I was able to take inbetween bites in all of their full sized glory………….
*The Disneyland Dream Suite…. more on that later friends – it is so fantastic!*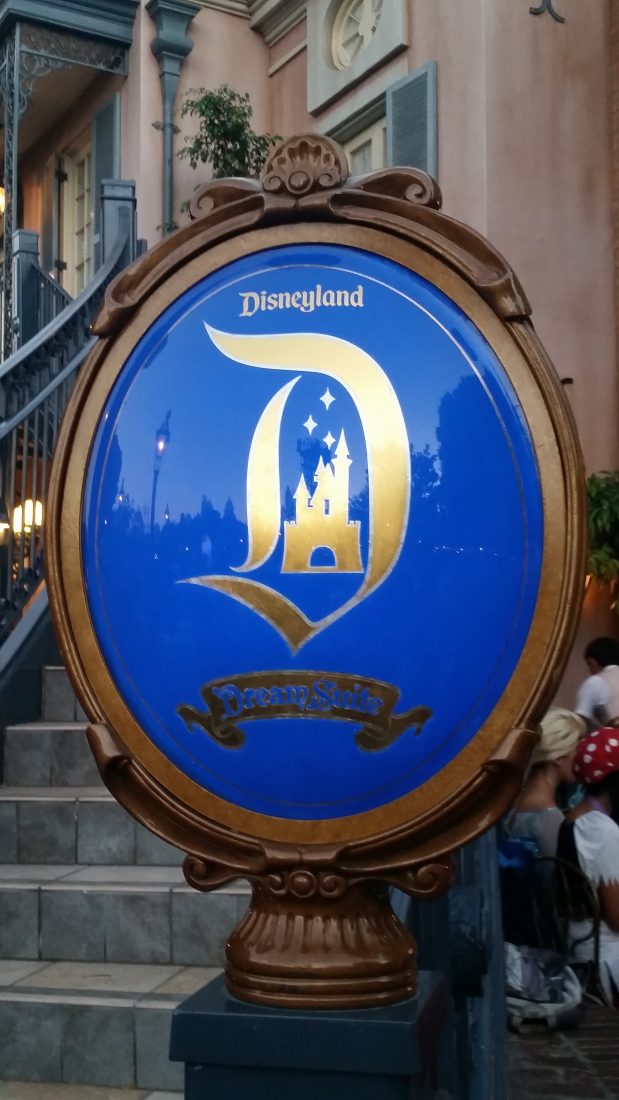 * As a mom who likes to find an opportunity to sneak a little healthiness into everything
, I sure do love caramel apples – Disney makes them so fancy, but underneath the treat is a huge apple!  There are so many to choose from!*
Poison Apples from Snow White and Maleficent to name a few!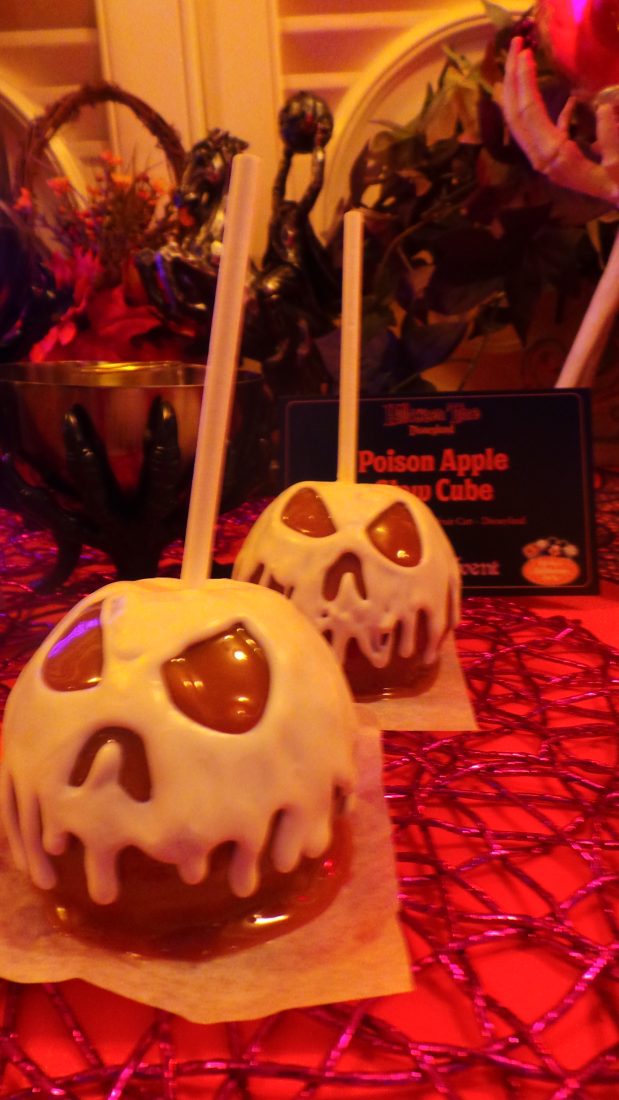 I mean, look at this Maleficent Apple you guys – it is *almost* too fantastic to eat.  The horns are made of rice crispy treats so it's kinda two treats in one!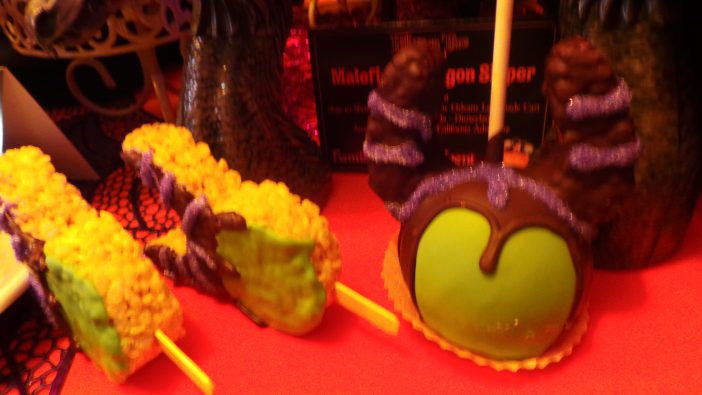 Our kids are 8, 7, and 3 and while they love treats – treats are SO big at Disney that they often pick out one to share.  A caramel apple like the one above is perfect!  Keep in mind you can have a caramel apple sliced up for you at the candy shoppe where you purchase it.
Speaking of Rice Krispy Treats – does anyone do Rice Krispy Treats like Disney?  I am not sure how they make them so delicious, but I sure would like to know!  That and they are so silly and cute.  You can see the new Maleficent Rice Krispy treats above and also some of the classics below!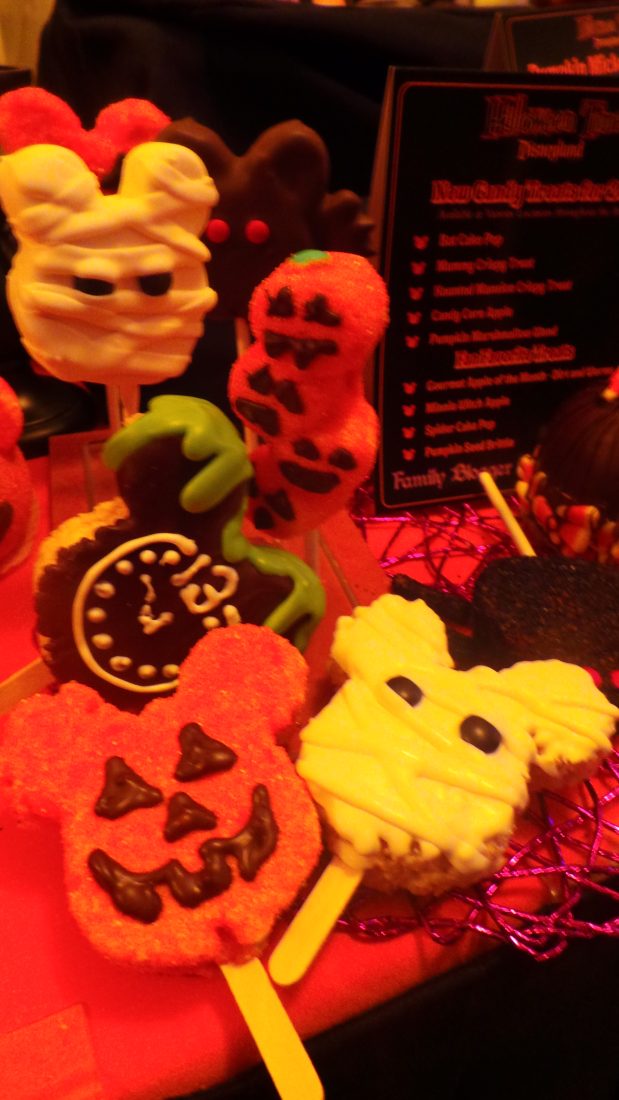 Can we pause for a moment to talk about the level of cuteness they packed into this one cupcake?  I mean….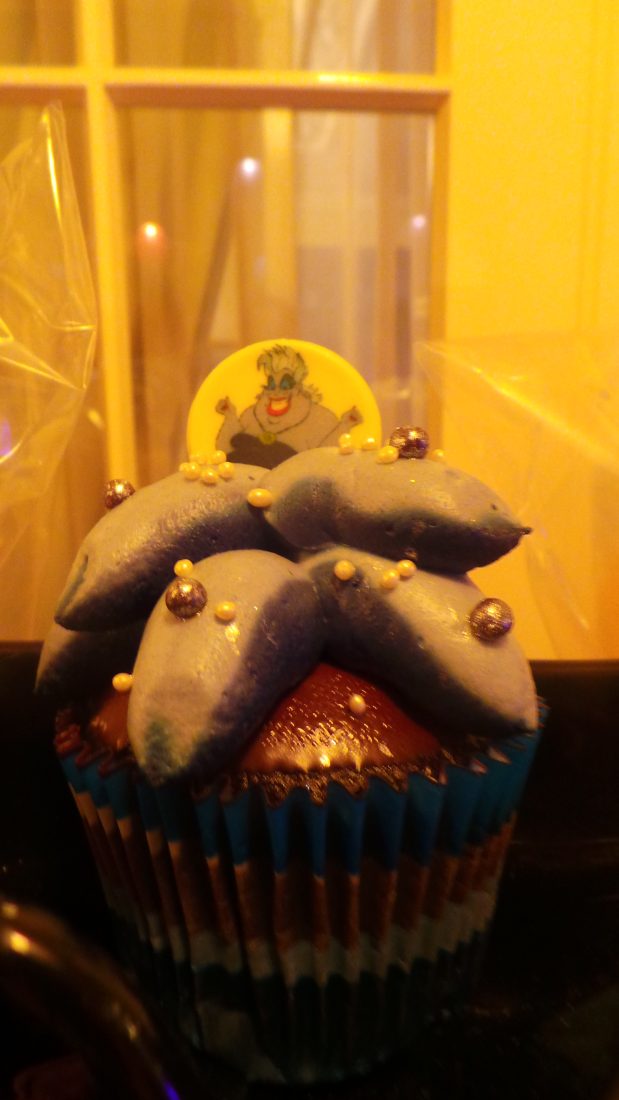 But as we have already discussed, epically cute desserts is kinda Disney's thing.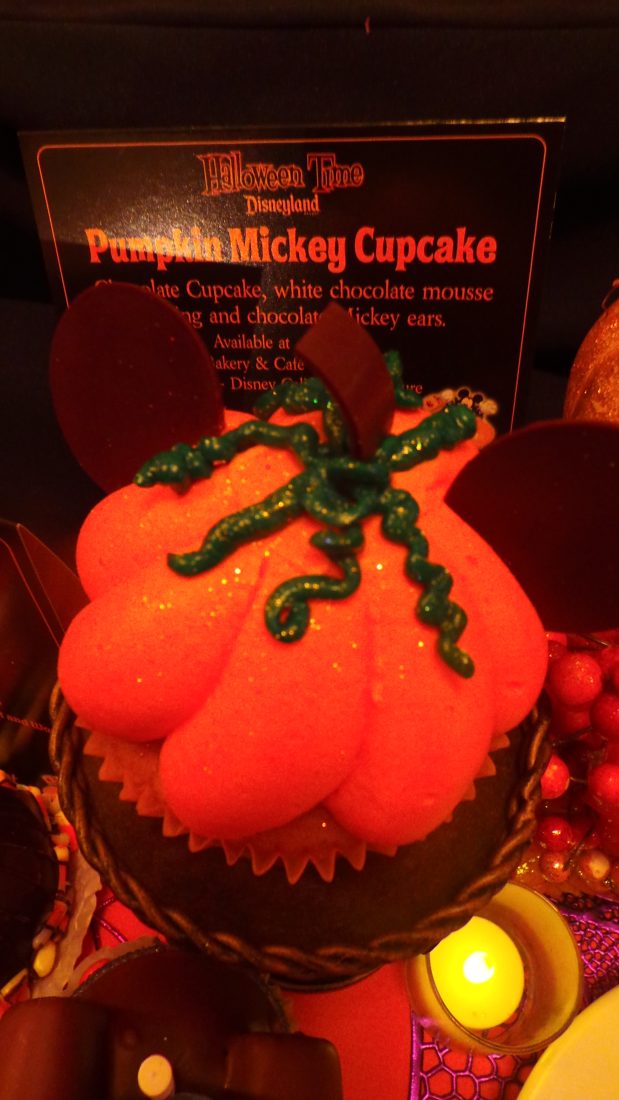 OK – so I suppose we can't eat sugar the whole time….. but that is fine because there are all kinds of delicious things on the lunch and dinner menus all over the Disneyland Resort that are special for just this time of year.  I will just share one beautiful photo of my favorite………..
Anti Vampire Garlic Chicken Flatbread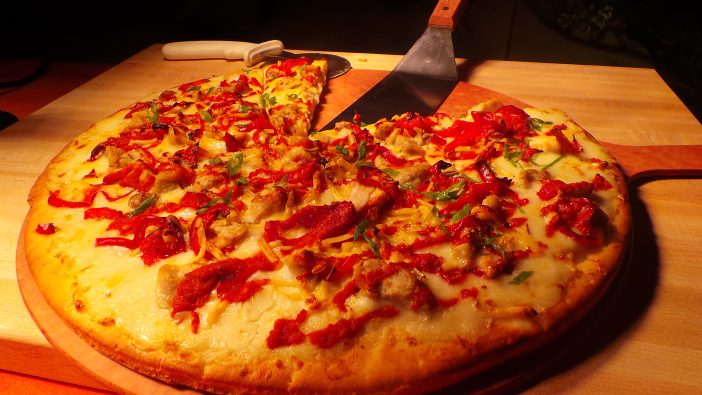 Seriously so good!  I love artisan pizza and this is a REALLY good one!  Have it for lunch and thank me later!
The kids highly suggest cake pops – there are about a dozen styles – I took a bite of each of theirs – all delicous!
Mike from Monster's Inc
A festive Mickey Mouse Jack or Lantern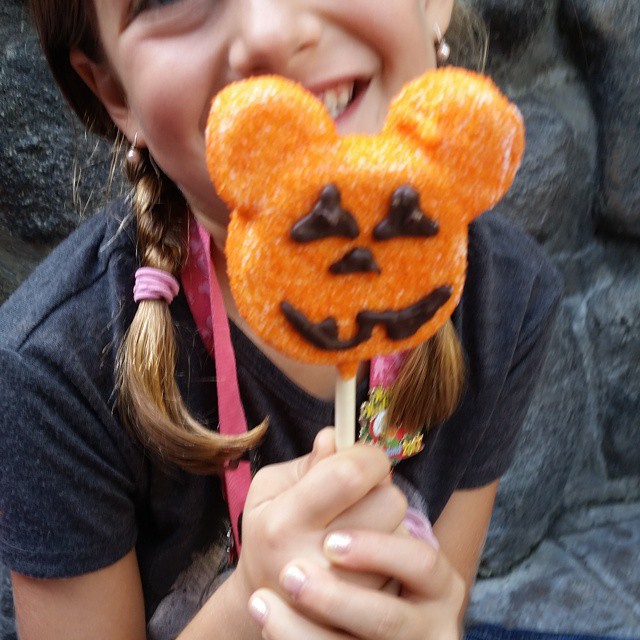 And my son picked a spooky Spider…. it was kinda gross watching him devour a spider, but that is why he picked it 😉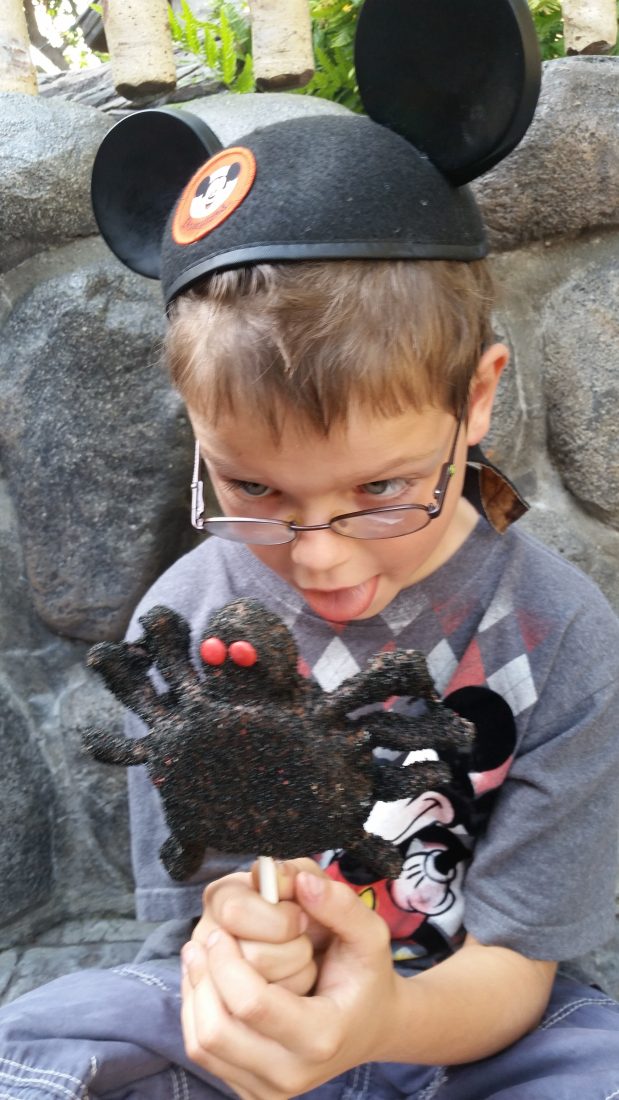 There are dozens more Halloween Time treats too – these were just a few of our favorites!
Want to make some special Disneyland inspired treats using the real recipes?  Here are a couple delicious treats we plan on trying in our own kitchen soon!
Pumpkin Beignets
and
Strawberry Twists
(these are made with Pumpkin during the Fall Season, we are going to try with Pumpkin Puree!)
When you are at Disneyland use the hashtag #Halloweentime when showing off your fancy treats on Instagram and make sure to tag @Disneyland
Happy Halloween Time Friends!