Stacey Abrams Coloring Page
Disclosure: This site uses affiliate links.
Politician Stacey Abrams is known for many things. Abrams has served in the Georgia House of Representatives from 2007 to 2017. Stacey Abrams narrowly lost the election for Governor of Georgia which in part spurred her to focus on voting rights activism. Abrams is credited with registering many to vote and flipping Georgia as a historically 'red' state to a 'blue' state in the historical 2020 Presidential election as well as the run off for the Senate. Stacey Abrams is a hero to her community and the country as a whole in that she fights to simply let Americans exercise their rights to vote. Today we celebrate this influential leader with an educational printable featuring a quote and portrait of Stacey Abrams. We are inspired by her work to make tomorrow more fair for all Americans. We hope she encourages more children to work hard to make the world a more fair and just place.
If you enjoy this free educational printable coloring sheet featuring Georgia's Stacey Abrams, make sure to check out our educational printable section featuring Dr. Jill Biden, Amanda Gorman, Hamilton, Harriet Tubman, California Missions, and so many more! We also have 'just for fun' coloring sheets featuring Gabby's Dollhouse Coloring Sheets , We Can Be Heroes Coloring Sheets, Sharkboy and Lavagirl Coloring Sheets, American Girl Doll Coloring Sheets , Olaf Coloring Sheets, Coco Coloring Sheets , Trolls Coloring Sheets and so many more on our site!
Teachers are welcome to share a direct link to this webpage to their students (pretty please do not just copy and share. I provide these for free, but traffic to my blog provides my money with a small income while I am virtual schooling my own three kiddos, I so appreciate sharing!). Thank you!
Stacey Abrams Printable Coloring Sheet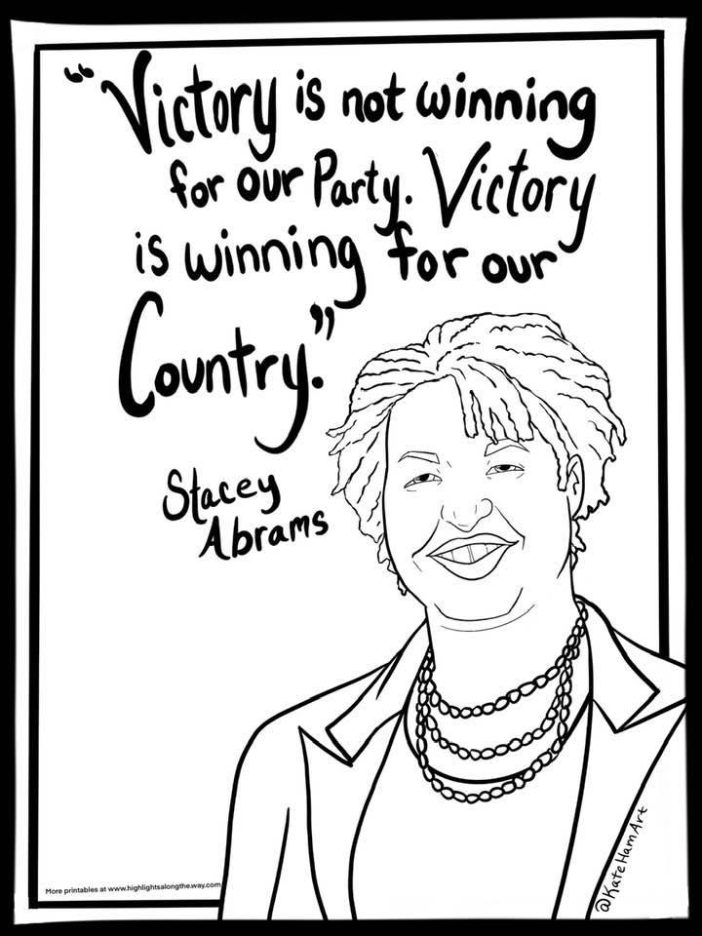 Thank you for stopping by Highlights Along the Way. We add new printables every week so make sure to pin and bookmark our blog. Please check out our Printables page for literally hundreds more Broadway, Educational, TV, Disney, American Girl, Pop Culture, and other fun printable coloring and activity sheets!