Star Wars, Angry Birds, and LEGO Birthday Party! 8 Years Old!
This is the story of our son's Star Wars, Angry Birds, and LEGO Birthday Party.  It was epic.  It was perhaps one too many themes for some, but it was perfect for him!
So our little guy is kinda turning into a big guy.  He's eight now.  While some kids at eight are too cool for themed parties, Brother is not just yet and that is fine by me.  If the future is kind to us we will have decades to be too sophisticated for Star Wars, Angry Birds, and LEGO themed parties.  If he wants a themed party with party blowers and custom Star Wars Cupcakes – then I will enjoy it while I can.   This year he wanted a LEGO Star Wars and Angry Birds Party.  I asked him what kind of party he might like to have about a month before his birthday. Without hesitation he said "I want it to be LEGO Star Wars!" *pause* "And Angry Birds."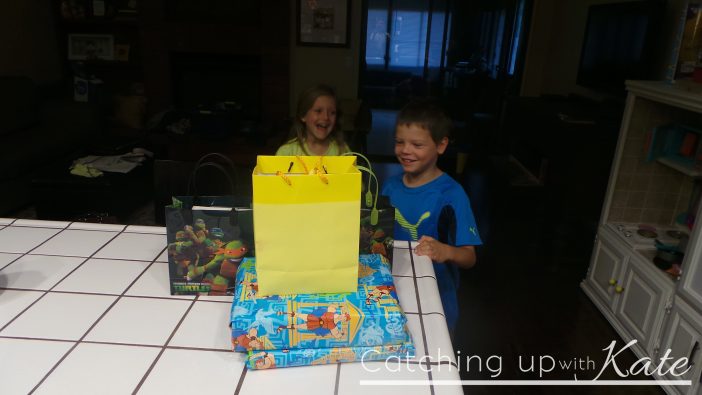 Me "Do you want LEGO, Star Wars, or Angry Birds?"
Him "All of them.  It can just all be in there.  There are Star Wars LEGOs and Star Wars Angry Birds and there are LEGO Angry Birds so it is all the same."
Alrighty then.  So that is what we went with.  I wanted to share a couple pictures just for kicks.  My guess is there just might be someone else out there with a kiddo that isn't about to be locked into one theme either.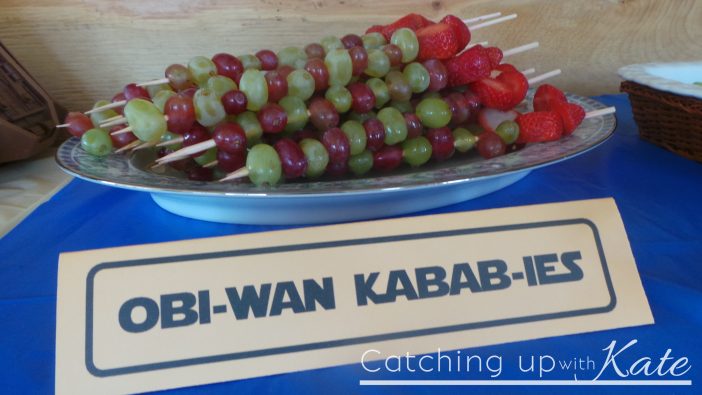 We found this awesome Star Wars Font (free!) to print out clever sayings by our food.  You may have noticed our food is nearly always the same – cupcakes, fruit, healthy drink options, and a few fun snacks.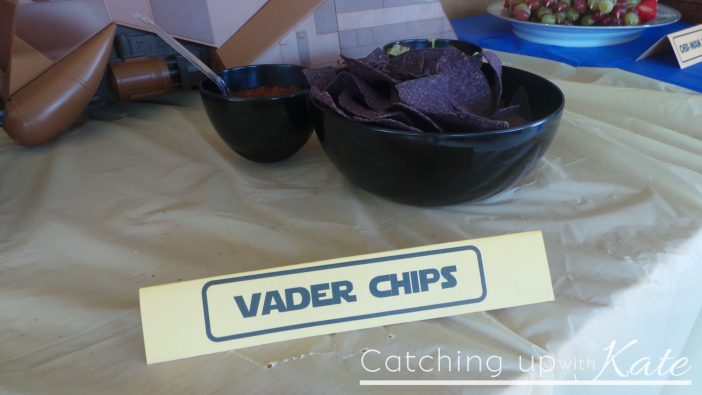 We try to theme it to the party but we don't go to crazy.  On our menu we had "Obi Wan Kabobies", "Vader Chips", and a fueling station (AKA a water fountain and a drink station with Honest Kids and Honest Tea)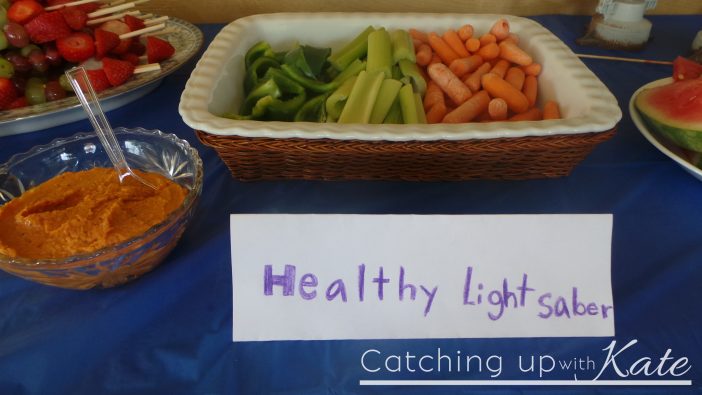 My daughter said "These veggies look kinda like sticks so you should call them 'healthy light sabers'" – I had already turned the computer off so she made a sign.  Bless her.
We have an awesome bounce house company we use that brings a Bounce House for two days (for less than most places charge for one day!) – they have several themes – we thought the rocket ship was perfect for our Star Wars party!
*Side note*  We also decorated with many of the toys he already had – tons of LEGO Star Wars ships and figures, sadly the few photos we took were blurry.  I still wanted to point it out because I think it is GREAT to decorate with toys or decor items you already have.   I kinda hate all that disposable plastic and cardboard decor.  It's OK I suppose, but you can save a bit of money and be a wee bit kinder to the environment at least starting what might already be in your toy box!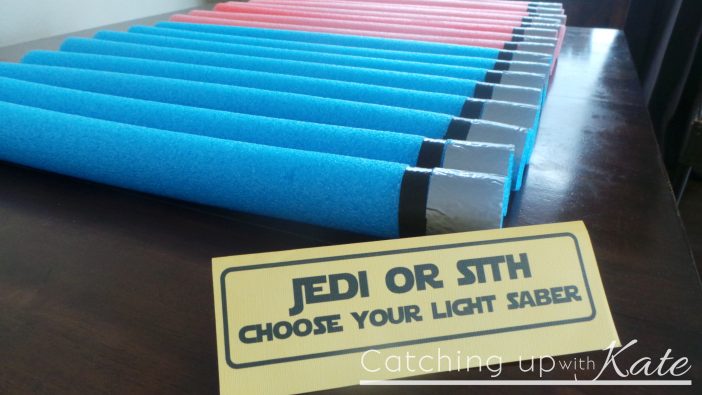 J brought home a DIY Light Saber from VBS last summer (I know, we thought it was weird for VBS too), we decided we would make these for his party!  Hot tip – the 99 cent store tends to have pool noodles in the Summer; but if you don't start planning your party until September you will have to pay double for them at Target which is what we did.  Doh!  Basically you cut a pool noodle in half and then finish off the ends with duct tape (my guess is you can find a detailed tutorial on pinterest….. as is often the case, we winged it and did not take any photos).  Even buying the pool noodles at Target each cost only about $1 total.  These were great fun at the party as well as a great party favor.  We don't tend to do a lot of party favors but this was a really fun one.  I am writing this a couple weeks after the party and my guess is there are still kids playing Star Wars with this fairly soft Light Saber; my assumption is several have been confiscated already as well.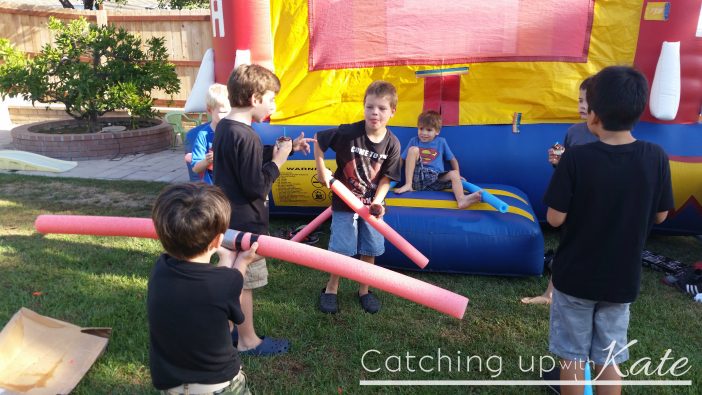 These light sabers are made of pool noodles so for the most part they are really safe.  That being said, we did have a couple kids that got hit in the face and they bawled.  No major injuries to report, but we had to put a 'no hitting in the face' rule into effect pretty quickly.  I suggest the 'not hitting in the face' rule from the start.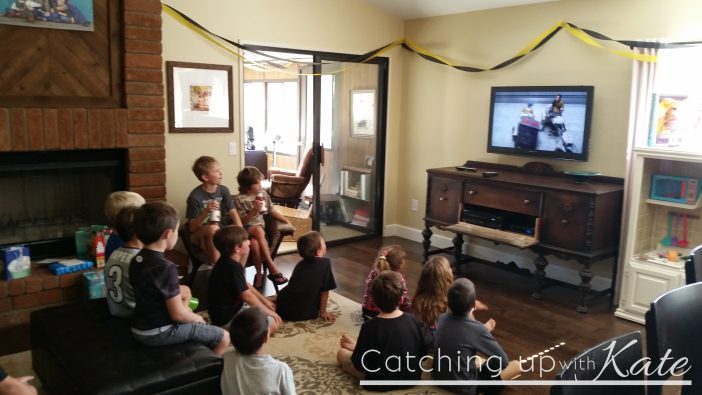 At one point it got a little too crazy so we settled them down with a quick movie.  We just got Star Wars Rebels and many of our guests hadn't seen it yet.  That was awesome because for the most part they chilled out for 30 minutes which was just enough time for me to regain an acceptable level of sanity.
We aren't big on games at parties for a couple reasons.  For one, I barely want to have a bunch of kids over anyway, I really don't want to herd them.  My son is especially wild and when he gets over stimulated (with like people, or bounce houses, or cake, or party blowers, or the knowledge of presents later, or like a combination of all those things) so I'm not going to try to get him to sit still for a game; much less a bunch of his friends.  Our parties are fairly short and we like to let the kids free play, fill them up with cakes and send them home, a game or two tends to make it too busy.  The other reason I'm not into games is they tend to cost money and I hate spending money; especially when I already spent money on a bounce house and I would have to beg them to come out of it to play a game.  So at this stage of life for my son I think the idea of games is crazy talk.
That being said, we did play one game and it was epic. The kids played 'real life angry birds'.  This idea kind of evolved over time.  We had a couple boxes in our front room and the big kids started acting like they were angry birds fortresses.  I was not too fond of this going down in our front room, but it gave me an idea.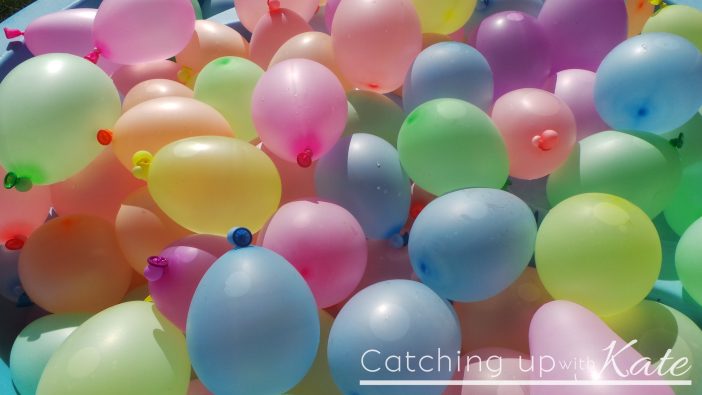 It's super hot in October where we live so we thought water balloons would be super fun.  I bought some water balloons on 70% clearance after Summer. Side note – water balloons are a total pain in the butt to fill and you should probably start like days before the party.  My husband, my dad, and some poor dad who just lingered a bit at drop off and was recruited against his will were filling water balloons for hours.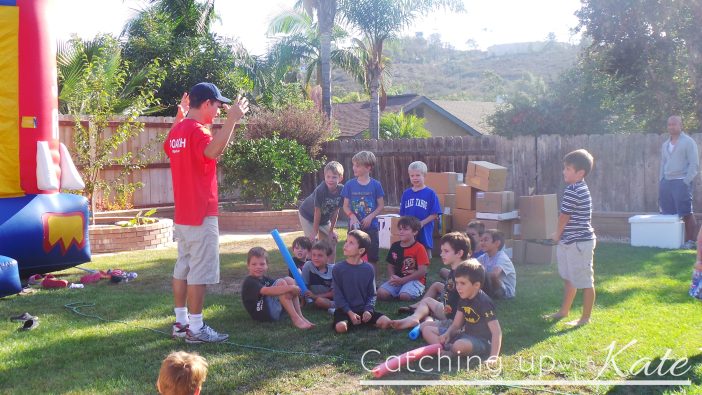 *Harry explaining to the enthralled crowd how it is gonna go down*
We started saving boxes a few weeks before the party.  Since mommy blogs about mommy things we often have UPS and Fed Ex drop off boxes with fun surprises several times a week.  We typically break these boxes down into our recycling bin but we started saving them.  Our neighbors work in marketing too and they also have boatloads of boxes showing up at their house every day too so we gathered their boxes as well.  The original plan was to paint them and make them look like LEGO bricks.  I still think that would be an adorable idea but we didn't get around to it.  Not one person seemed to mind the fact that they were just un-themed boxes.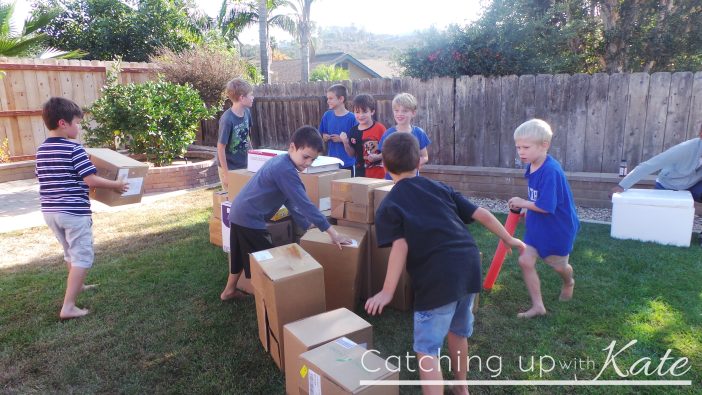 The result was amazing.  The kids had a blast.  Each side built a strong fortress of boxes.  A line was drawn in the middle of the yard and if you crossed it you were out.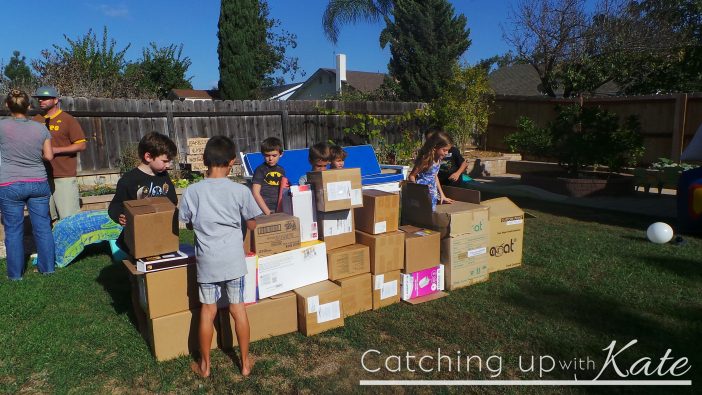 You could hide behind your fortress and chuck water balloons or you could bravely run right up to the line and chuck at closer range.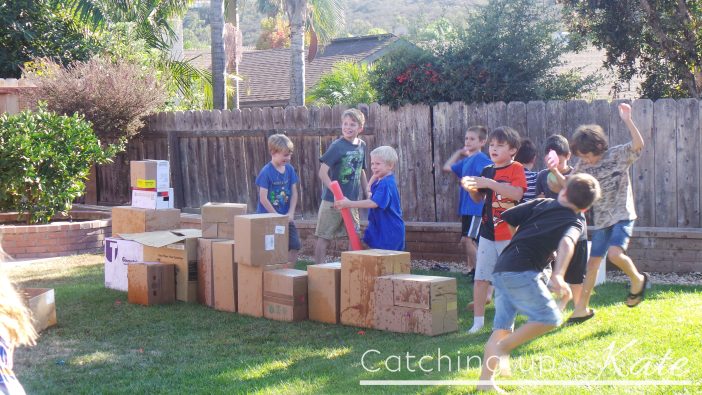 Basically they just threw water balloons until they ran out.  Nobody lost, nobody won, nobody cried.  Everyone was dripping wet. #Win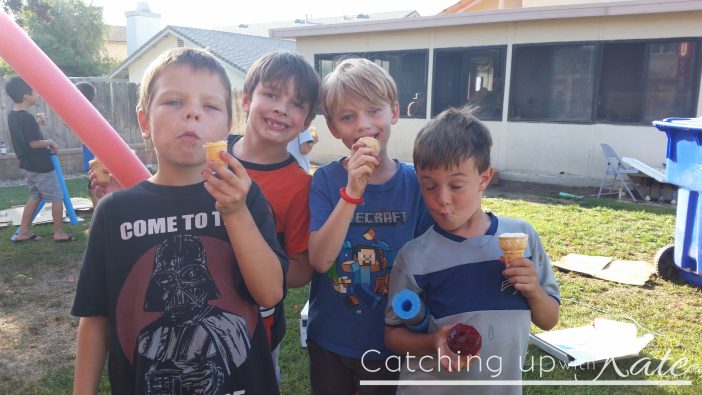 We finished off our day with Star Wars Cupcakes (made by me!) and Tillamook Ice Cream in cones!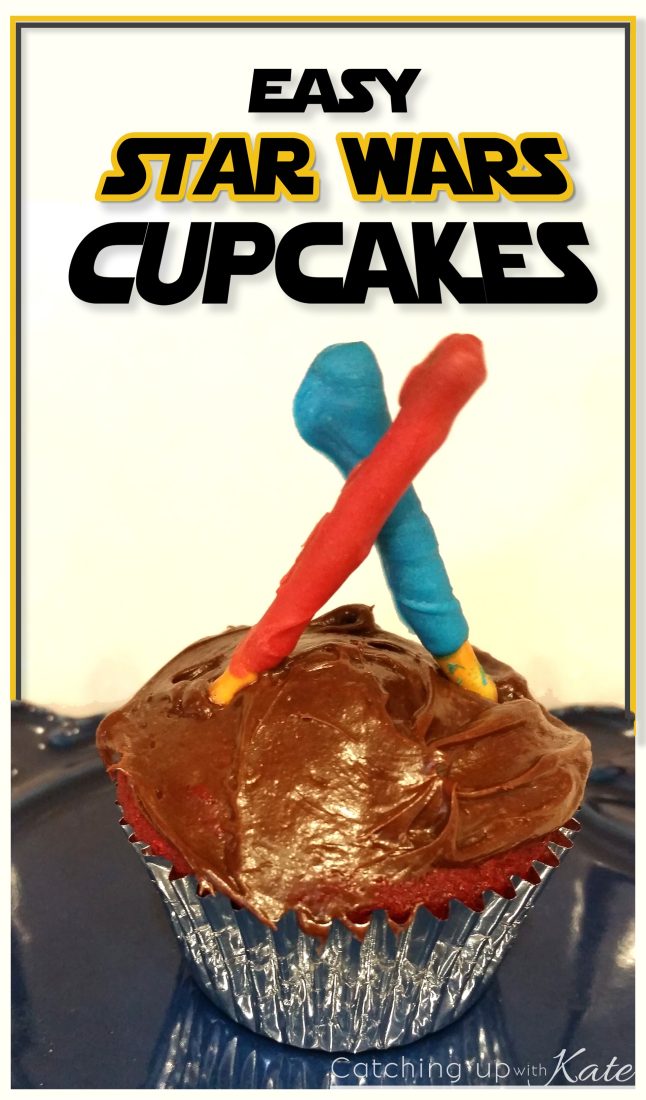 So for those that were wondering, that is how one throws a LEGO, Star Wars, Angry Birds Party!  And now he is eight.  Happy Birthday to our not so little Master Builder Jedi Bird.  You are awesome!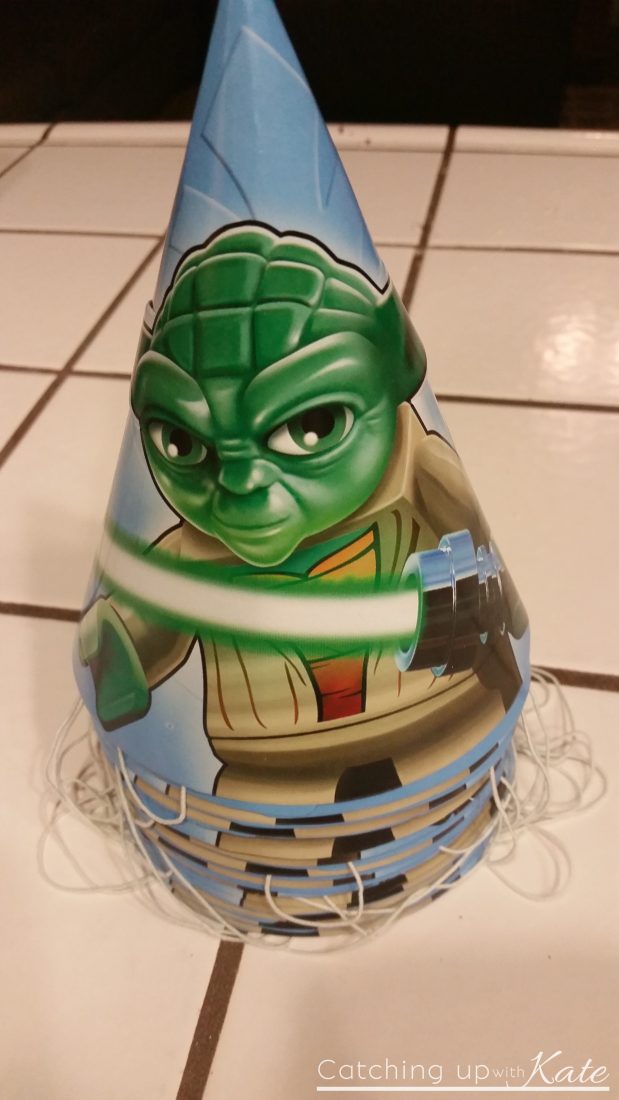 *This post was not sponsored but I want to say a big thank you to BirthdayExpress.com for sending us LEGO Star Wars Party Products, Honest Tea for keeping our thirst quenched organically, and Tillamook for sending us Ice Cream!  You made his special day extra awesome and our guests were all like "This is so awesome!"*