Star Wars Cupcakes : Easy Recipe
Disclosure: These are as delicious as they are adorable and you might want to eat eleven. You have been warned.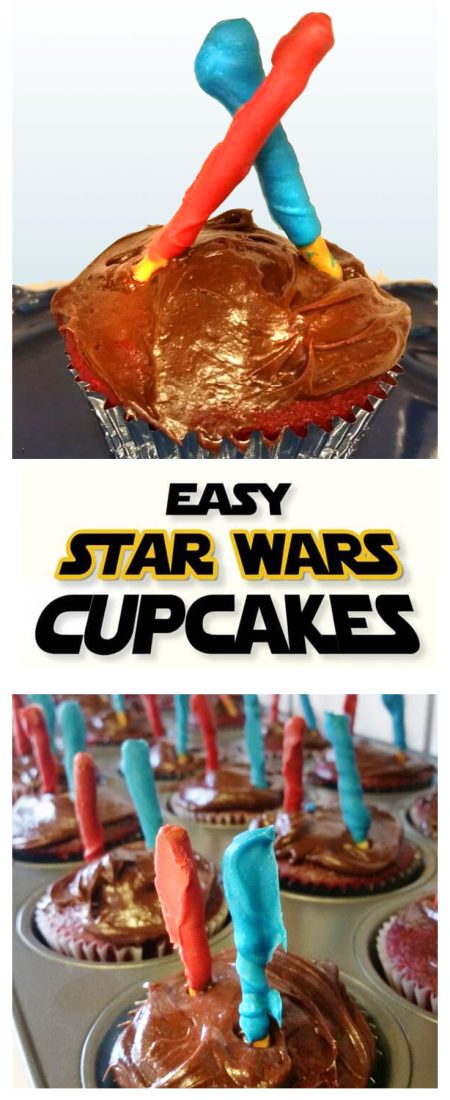 So this month my son turned eight.  Let's sit back for just one second and try to figure out how eight got here so fast….. I just can't. Anyway, we had a Star Wars / Angry Birds / LEGO party (he is a bit indecisive) and we made some super cute Star Wars Cupcakes.  I asked my son what kind of cupcakes he wanted and at first he said 'Vanilla' and then, being that he is a blogger's kid he came back to the living room a minute later and said "I like vanilla best, but can we do chocolate because then they can be 'dark side' cupcakes."  Hear that friends, he sacrificed his favorite flavor for the theme.  Bless him.
Anyway, I gave him plenty of outs "Buddy we can do vanilla and we have other 'dark side' stuff or we could do just chocolate frosting"
"No Mom, they should be totally Star – Warsy" Him
So there you have it – we 'needed' to do dark side cupcakes.  Well then I went to Target and I saw in front of me Red Velvet (which is just red colored chocolate right?) cupcake mix and I was all "AWESOME!"
Our normal MO for cupcakes is
Step one – whatever type of cupcakes is on sale
Step two – color the frosting to go with the theme
Step three – put a picture of the theme on a toothpick – stick it in and call it fancy
But this year I went all out.  I mean, I went all out for me.
So because I am a crazy person I called my son in the middle of Target and was all "Want to do red velvet instead?  Then it is red like a red light saber! Awesome right?"  and he loved that idea.
While Pinning Star Wars Party Food I came along these giant pretzel light sabers – so cool.  I planned on making some.
Then while walking in Target I found mini pretzels and I was all *light bulb*- I'm gonna do the same thing but mini and then plop it on top of the cupcakes.  Step aside Martha Stewart.
So I highly suggest making these.  They are easy, super cute, and everyone totally got that they were mini light sabers.
So my only hesitation is that I kinda hate that there was so much conventional food coloring in this cupcake mix.  These cupcakes were really yummy and the red cake is so pretty, but I hope to find something colored with natural dyes next time.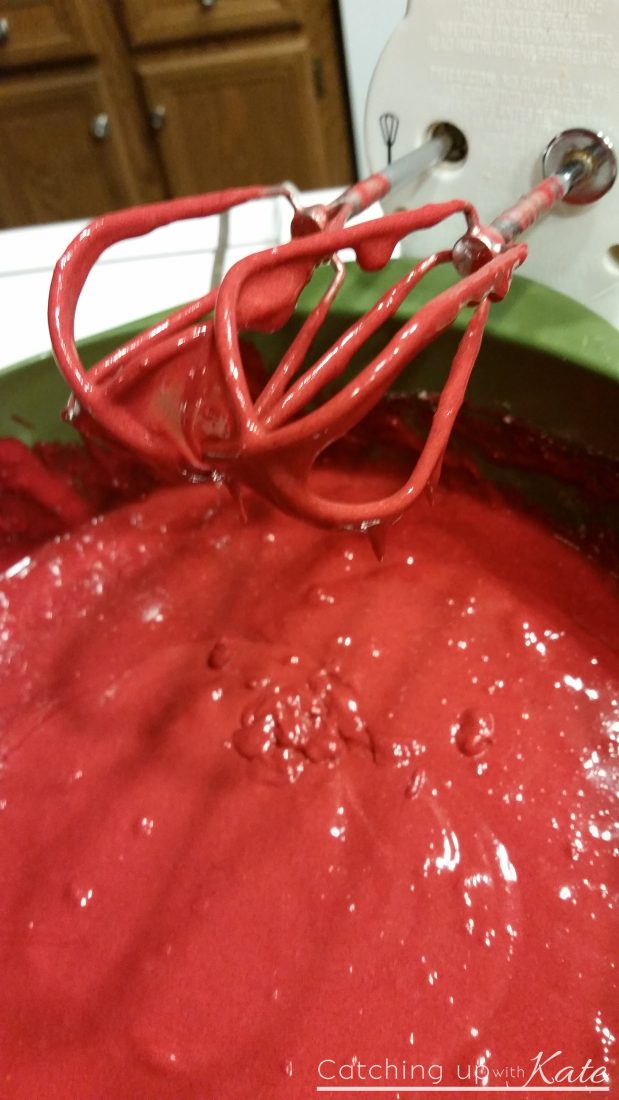 I mean, that is A LOT of red food coloring………
So anyway, I got a lot of compliments on these cupcakes.  One dad who stayed to hang out with Harry during the party would not stop gushing about them.  They were cute, but I think it was the secret ingredient that really got him (and the others).  So here is a super easy, super cute Star Wars Cupcake that just about anyone can make.
Ingredients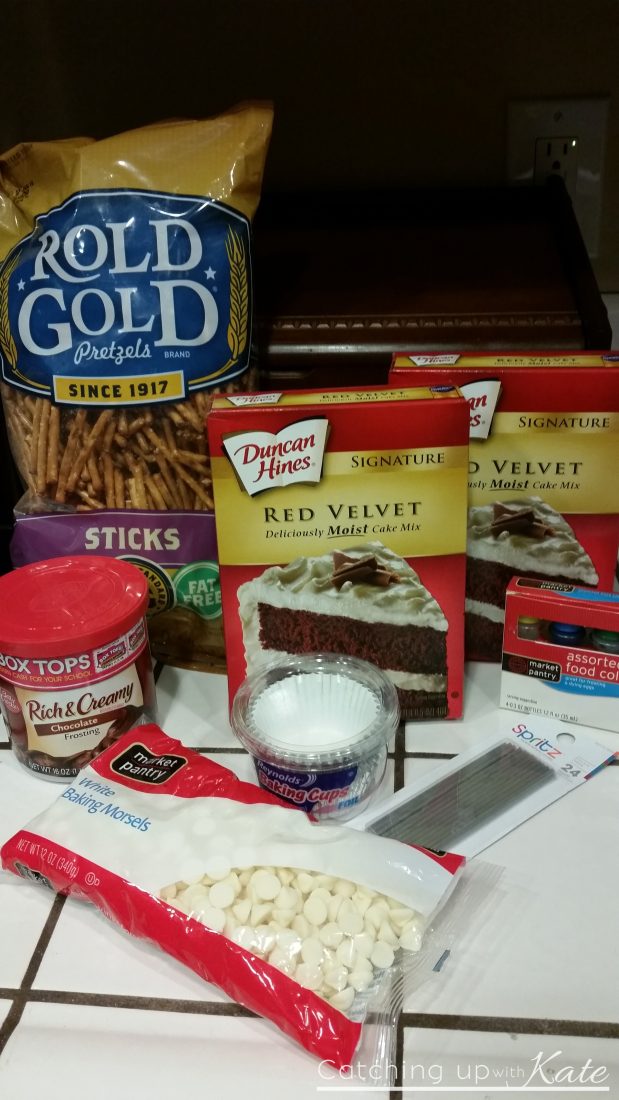 One box red velvet cake mix plus all the mix ins required (eggs, oil, etc)
Werther's Baking Caramels (or any baking caramels)
Small stick pretzels
one bag white chocolate chips
red & blue food coloring
silver cupcake liners (these were the cheapest option at Target and the perfect Star Warsy compliment!)
Process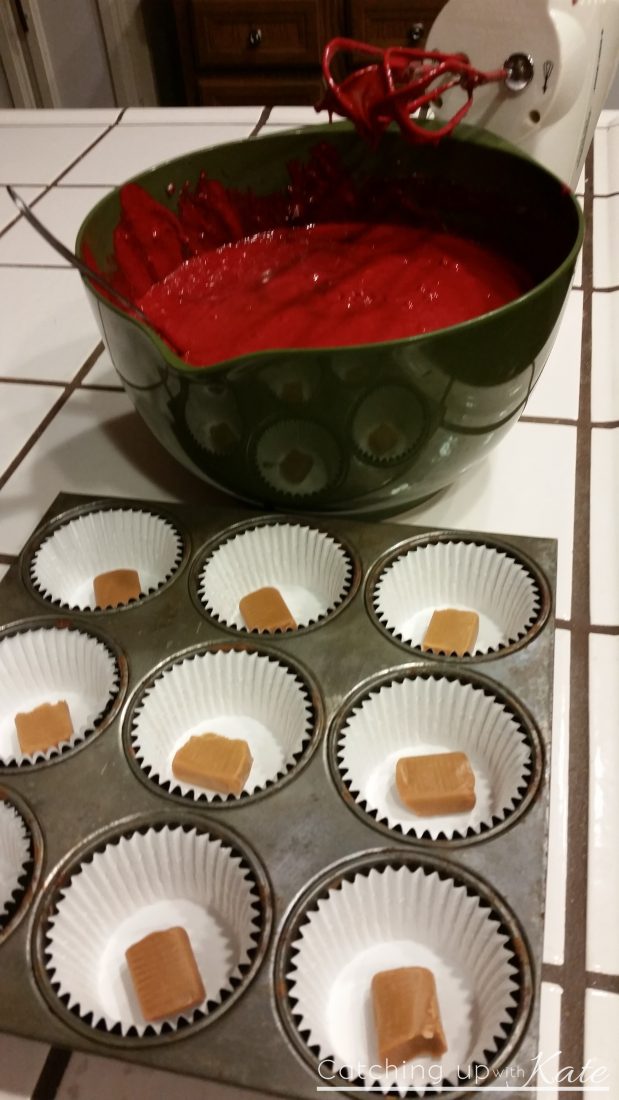 Mix cupcake mix according to instructions and set aside
Put silver cupcake liners in your cupcake tin and place one baking caramel at the bottom
Pour red cupcake batter over and bake according to box baking instructions
While they are baking melt half the white chocolate chips with a little oil (we used coconut, but you could use vegetable oil too) – you can do this on the stove or via the microwave.
Once white chocolate is melted add in a few drops of red food coloring and blend in.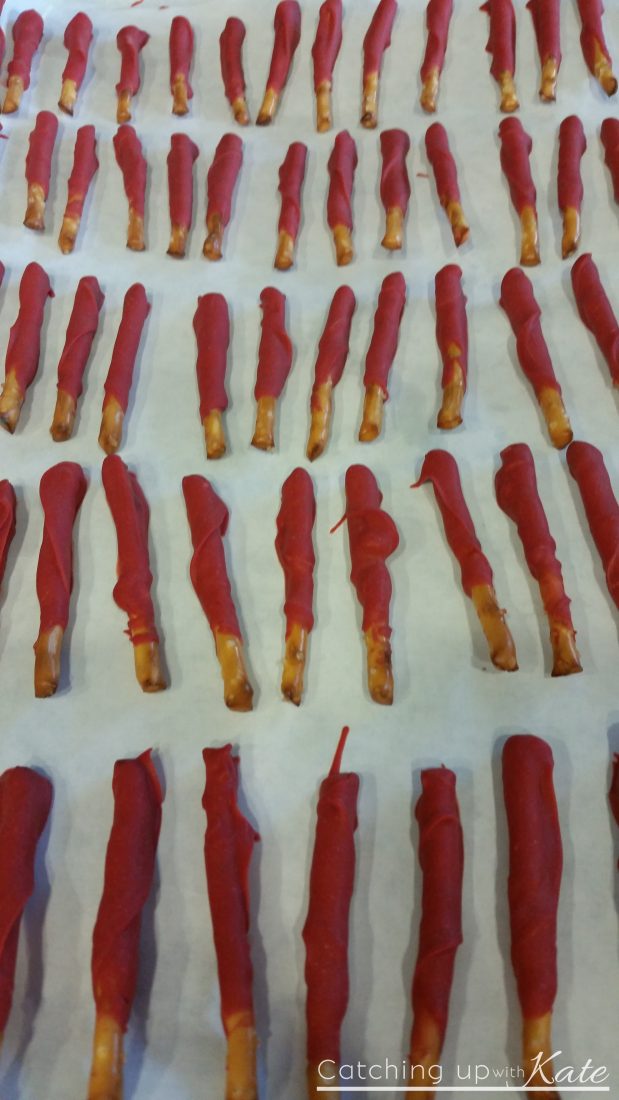 Dip as many pretzels as you have cupcakes, lay on wax paper to cool
Repeat the white chocolate process with the second half and this time use blue food coloring.
Dip fresh pretzels in the blue until you have an equal amount.  Let them cool as well.
I actually put my pretzels in the freezer.
Once cooled frost with chocolate frosting (very dark side!)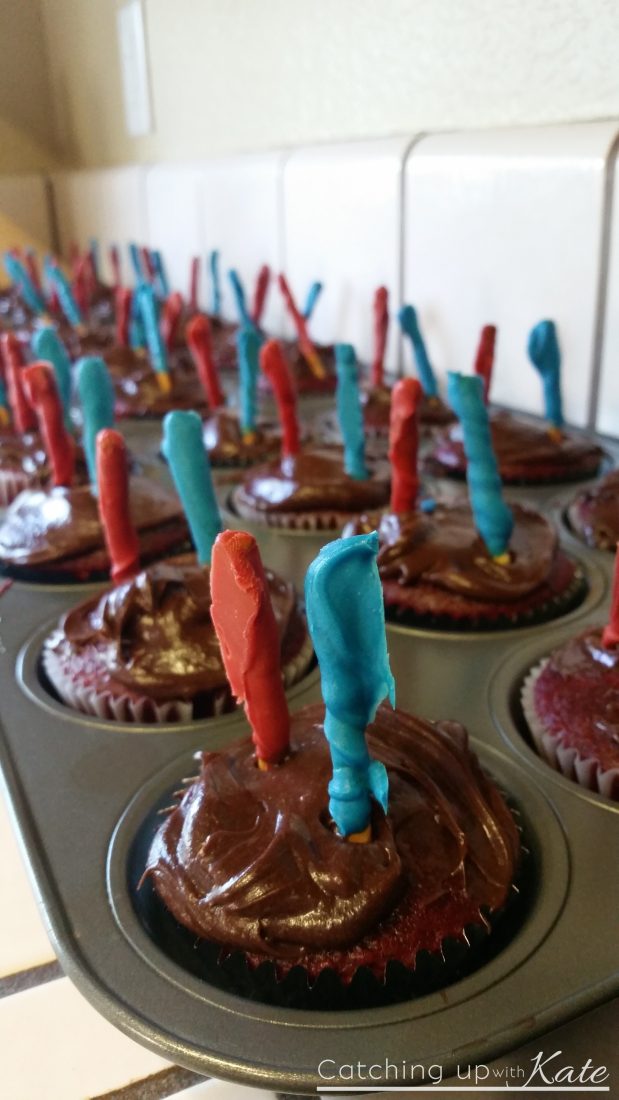 Add the pretzel 'light sabers' in a criss cross pattern.
Viola – Easy DIY Star Wars Cupcakes!
We don't do fancy parties, we certainly don't do expensive parties.  But I think you can still dress up a party a bit without going overboard.  My son and his friends (and that one dad) thought these were all kinds of amazing.  I was super happy to help make his Star Wars party a little extra fun with these super easy Star Wars Cupcakes.  Pin it for later!
Not into Star Wars?  How about Easy Frozen Cupcakes or Easy Winnie the Pooh Cupcakes?  <— also pin for later!
What is the cutest thing you ever did for a birthday party?  I love hearing your ideas!