Easy DIY Star Wars Cupcakes
Disclosure: These are as delicious as they are adorable and you might want to eat eleven. You have been warned.
Calling all Star Wars fans and baking enthusiasts! If you've ever dreamed of creating galaxy-inspired delights in your own kitchen, look no further than our easy DIY Star Wars cupcakes guide. Whether you're planning a Star Wars-themed birthday party or just want to indulge in a delicious treat with a touch of the Force, these delectable cupcakes are sure to transport your taste buds to a galaxy far, far away. With simple ingredients and step-by-step instructions, you'll be wielding your spatula like a lightsaber in no time, crafting adorable and mouthwatering treats that even Yoda would approve of!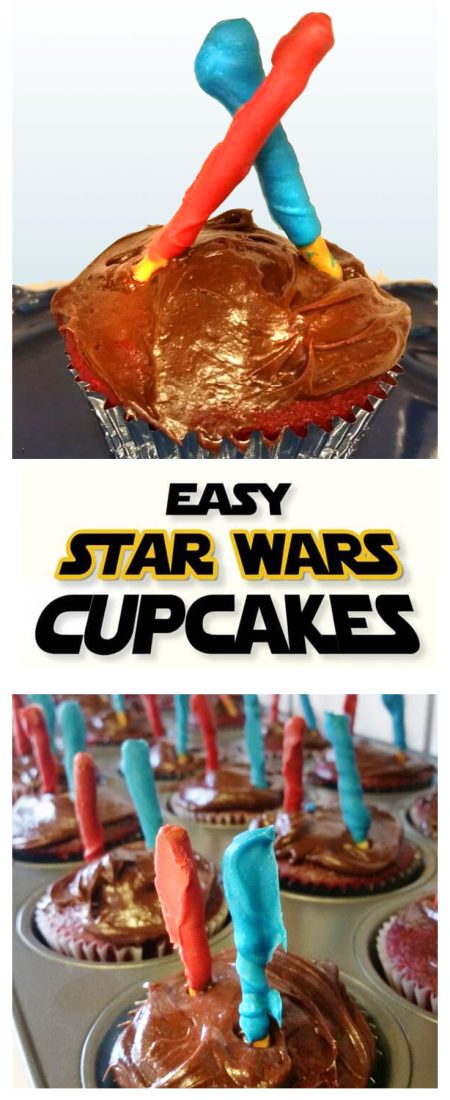 This month, my son turned eight, and time seems to have taken a hyperspace jump to get here. It feels like just yesterday when he was a tiny tot, and now he's already embracing his love for all things Star Wars, Angry Birds, and LEGO – a testament to his delightful indecisiveness. When I asked him what kind of cupcakes he wanted, he initially said "vanilla," but being the son of a passionate blogger, he returned to the living room a minute later with a brilliant idea. "I like vanilla best, but can we do chocolate because then they can be 'dark side' cupcakes," he beamed. The thought of him sacrificing his favorite flavor in favor of the theme warmed my heart. So, we embarked on a baking adventure together, creating these super cute Star Wars cupcakes that brought a galaxy of joy to his special day. Now, I'm excited to share our easy DIY Star Wars cupcakes guide, so you too can embark on your own intergalactic baking journey!
Anyway, I gave him plenty of outs "Buddy we can do vanilla and we have other 'dark side' stuff, or we could do just chocolate frosting." "No Mom, they should be totally Star – Warsy" Him So, there you have it – we 'needed' to do dark side cupcakes. Well then, I went to Target and I saw in front of me Red Velvet (which is just red colored chocolate right?) cupcake mix and I was all "AWESOME!" Our normal MO for cupcakes is to first buy whatever type of cupcakes is on sale. Then we color the frosting to go with the theme. Finally, we put a picture of the theme on a toothpick- and then we stick it in and call it fancy. But this year I went all out. I mean, I went all out for me.
Ah, the excitement of planning a Star Wars-themed party knows no bounds! Amidst the bustling aisles of Target, inspiration struck like a bolt of lightning as I spotted the perfect treat to complement our Star Wars cupcakes. Red velvet seemed like a fitting choice for a red lightsaber, so I called my son on the spot, and he loved the idea! With a newfound determination, I continued my quest to create the ultimate Star Wars dessert. As I was Pinning Star Wars Party Food, I stumbled upon giant pretzel lightsabers, and they looked absolutely awesome. I knew I had to make something similar but with my own twist. Enter mini pretzels, and the ultimate idea took shape – I would turn these tiny delights into mini lightsabers to crown our cupcakes. Move over Martha Stewart, there's a new galactic baker in town!
So, the process was surprisingly easy, and the results were beyond adorable. The guests at the party instantly recognized the mini pretzels as lightsabers, and it added a delightful touch to the overall theme. However, as the party went on, I couldn't help but feel a twinge of concern about the conventional food coloring used in the cupcake mix. While the cupcakes were undeniably yummy, I made a mental note to search for alternatives colored with natural dyes for future baking endeavors. After all, combining the magic of Star Wars with a touch of eco-consciousness would make these treats truly out-of-this-world.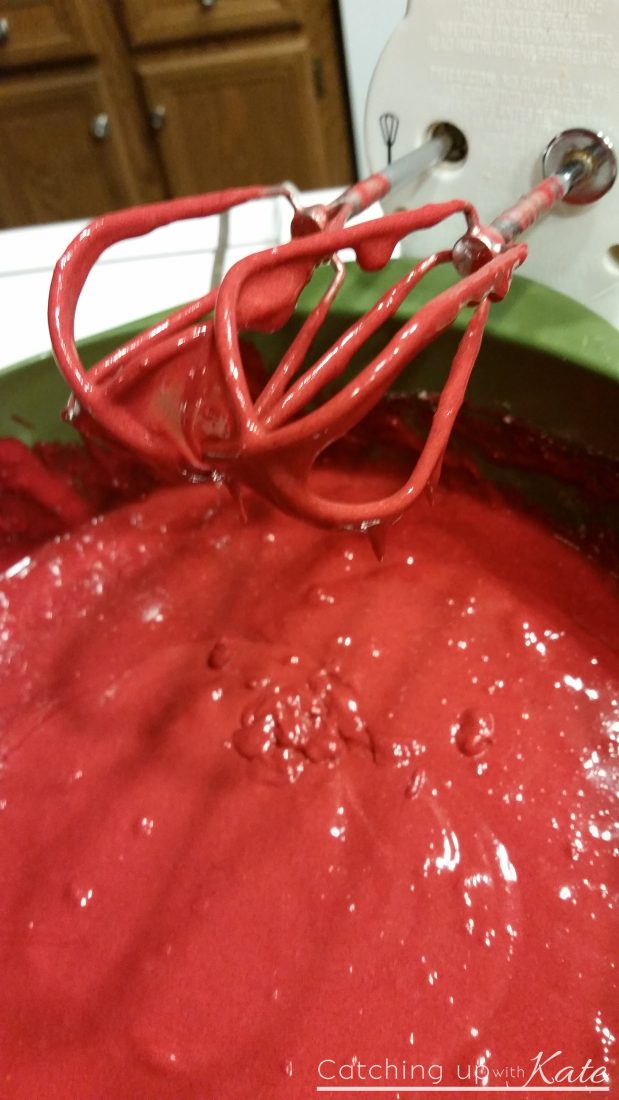 I mean, that is A LOT of red food coloring……… So anyway, I got a lot of compliments on these cupcakes. One dad who stayed to hang out with Harry during the party would not stop gushing about them. They were cute, but I think it was the secret ingredient that really got him (and the others). So here is a super easy, super cute Star Wars Cupcake that just about anyone can make.
Easy Star Wars DIY Cupcake Ingredients
Star Wars Cupcake Process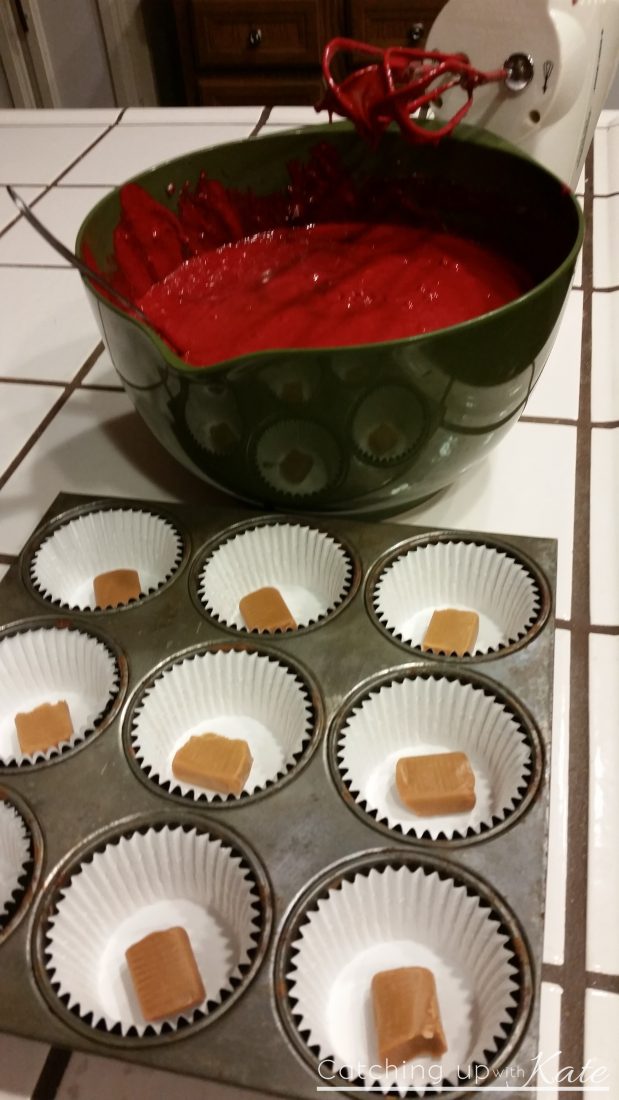 Mix cupcake mix according to instructions and set aside
Put silver cupcake liners in your cupcake tin and place one baking caramel at the bottom
Pour red cupcake batter over and bake according to box baking instructions
While they are baking melt half the white chocolate chips with a little oil (we used coconut, but you could use vegetable oil too) – you can do this on the stove or via the microwave.
Once white chocolate is melted add in a few drops of red food coloring and blend in.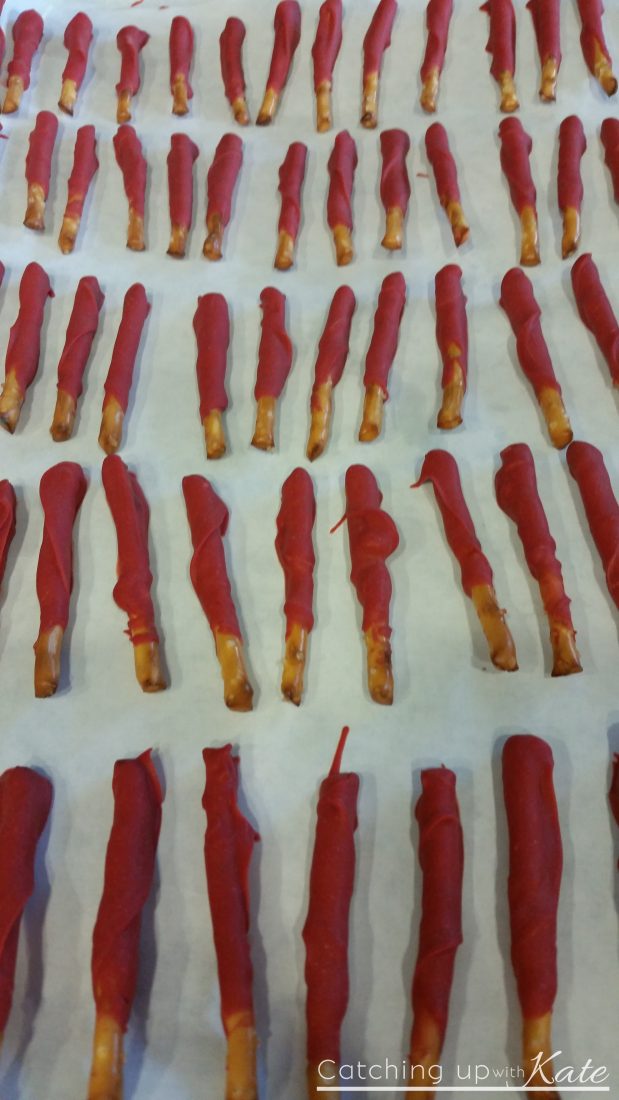 Dip as many pretzels as you have cupcakes, lay on wax paper to cool
Repeat the white chocolate process with the second half and this time use blue food coloring.
Dip fresh pretzels in the blue until you have an equal amount. Let them cool as well.
Put pretzels into the freezer
Once they have cooled, frost them with chocolate frosting (very dark side)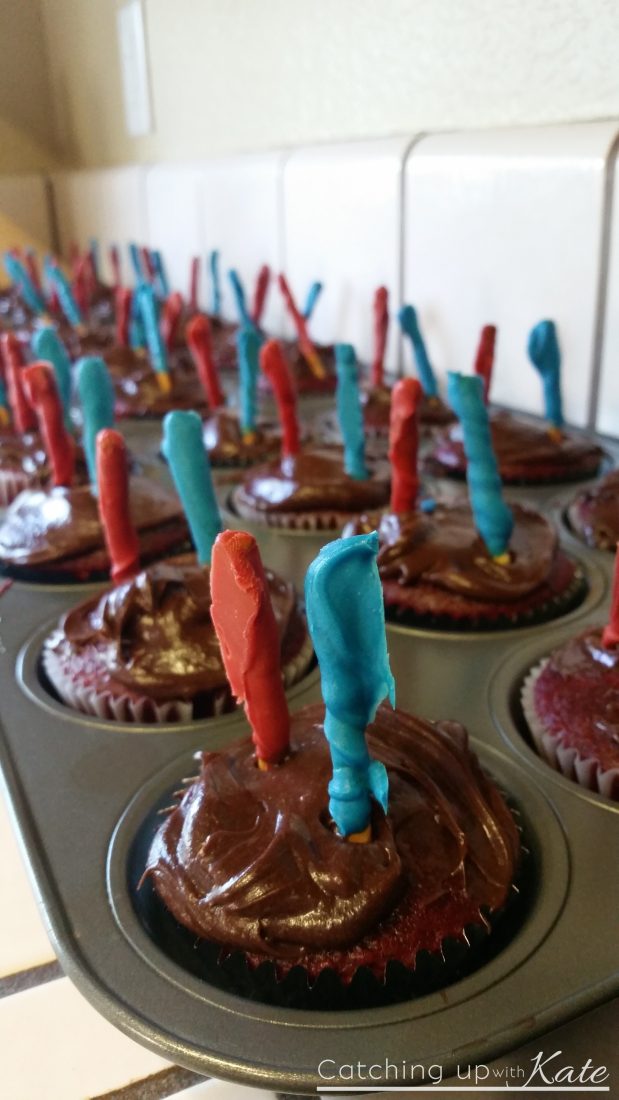 Add the pretzel 'light sabers' in a crisscross pattern for a lightsaber duel.
Viola – Easy DIY Star Wars Cupcakes!
We don't do fancy parties, we certainly don't do expensive parties. But I think you can still dress up a party a bit without going overboard. My son and his friends (and that one dad) thought these were all kinds of amazing. I was super happy to help make his Star Wars party a little extra fun with these super easy Star Wars Cupcakes. Pin it for later!
Not into Star Wars? How about Easy Frozen Cupcakes or Easy Winnie the Pooh Cupcakes? <— also pin for later! Also be sure to check out our Easy Elemental Cupcakes!