Star Wars Dog Costumes
Disclosure: Highlights Along the Way is a participant in the Amazon Services LLC Associates Program, an affiliate advertising program designed to provide a means for sites to earn advertising fees by advertising and linking to amazon.com. This site uses affiliate links.
Are you looking for a dog costume that will turn your dog into something from a galaxy far far away? Look no further than these Star Wars Dog Costumes. Ranging from iconic characters such as Darth Vader and Grogu, these costumes are perfect for Star Wars enthusiasts. For those in search of simple dog costumes, look no further than these as well. Most of these costumes feature simple pullover jumpsuits that will turn your dog into these iconic characters. These costumes also all feature different sizes, so there's a size for almost any dog breed. Not only that, but the costumes are also adorable. Perhaps some of the cutest creatures in the galaxy are featured, such as the Porgs, Ewoks, and Banthas.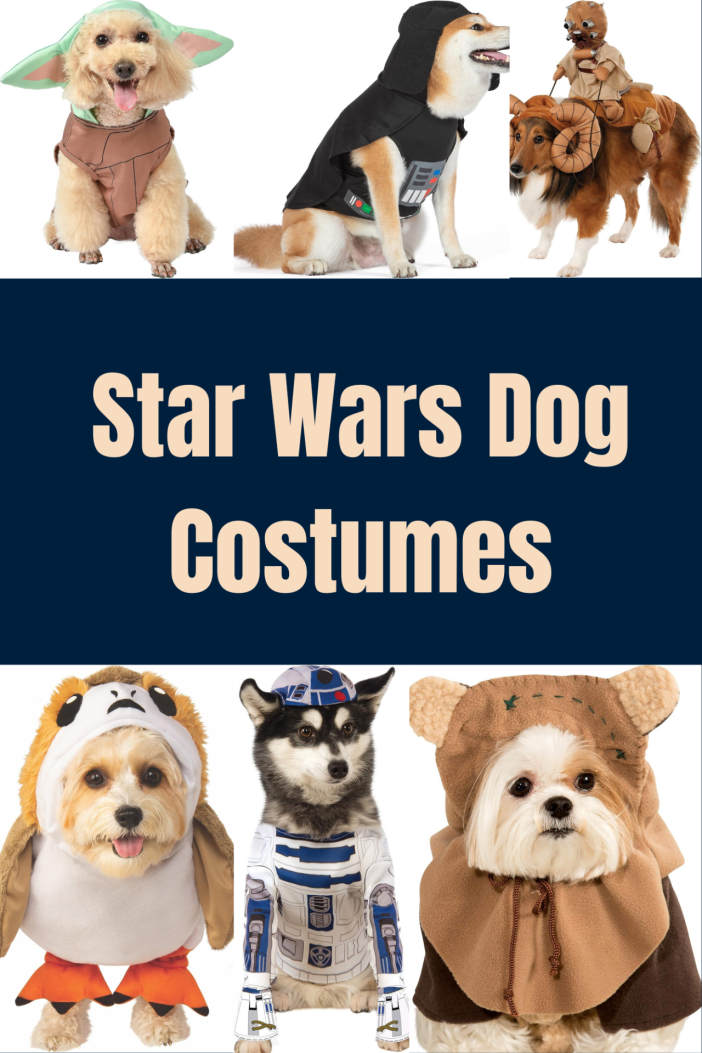 Star Wars Dog Costumes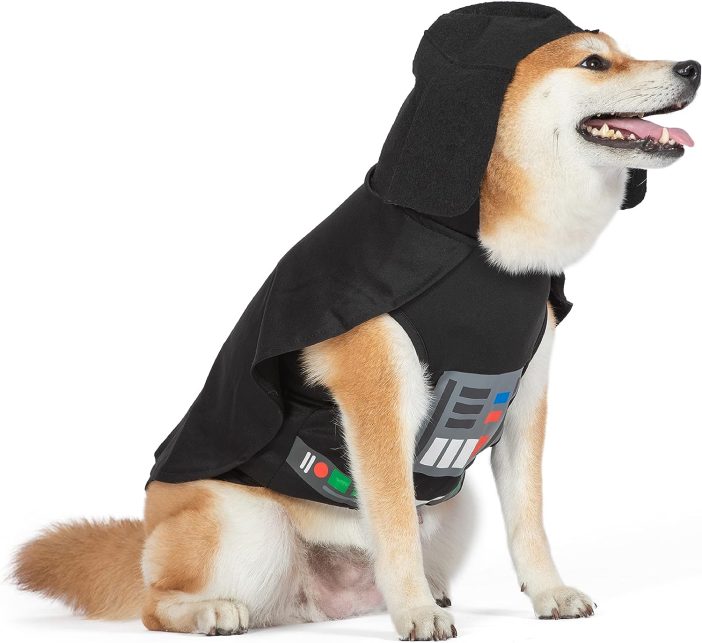 Even if you're a fan of the Jedi in Star Wars, everyone loves Darth Vader. It's hard not to, he's perhaps one of the most iconic characters in the Star Wars universe. This costume is perfect for people looking to dress their dog up as the most powerful Sith Lord in the galaxy! This costume is simple to put on your dog, and simple to take off. It features a graphic shirt with Vader's chest plate, and an attachable hood. Despite its simplicity, the costume is recognizable and perfect for a Star Wars Dog Costume! Don't worry, your good boy won't stay on the dark side.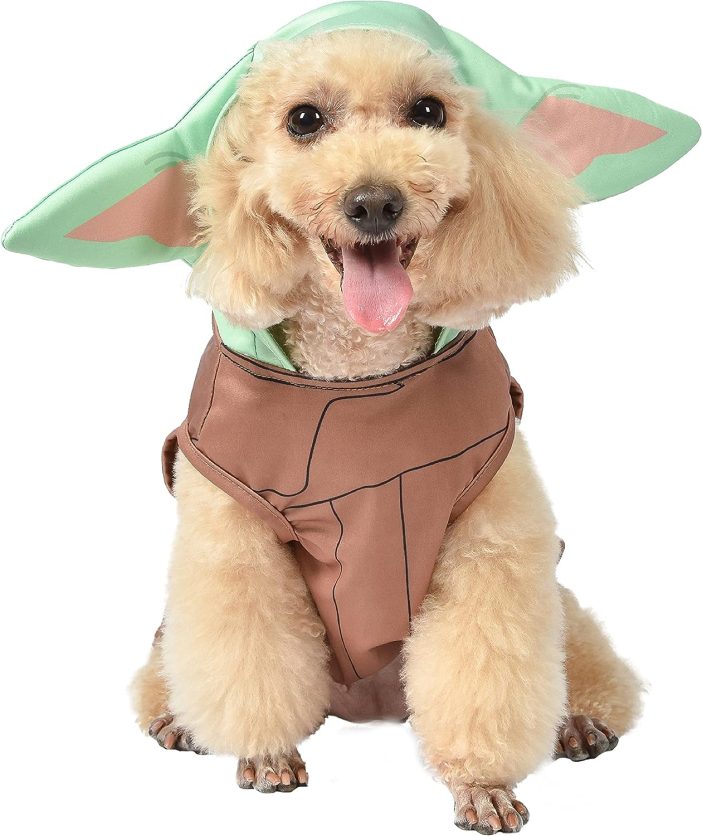 Who doesn't love Grogu from The Mandalorian? Does anyone even call him Grogu, or is it just Baby Yoda? Grogu is arguably the cutest character, so why not make your dog even cuter by dressing them up in this adorable costume? This costume will have people begging to take pictures with your dog, and everyone will love this costume. This Grogu costume features a simple pullover shirt for your dog, with the graphic design of Grogu's cloak. It also features an attachable hood with Grogu's ears. It's a perfect costume for someone looking for a simple yet iconic costume.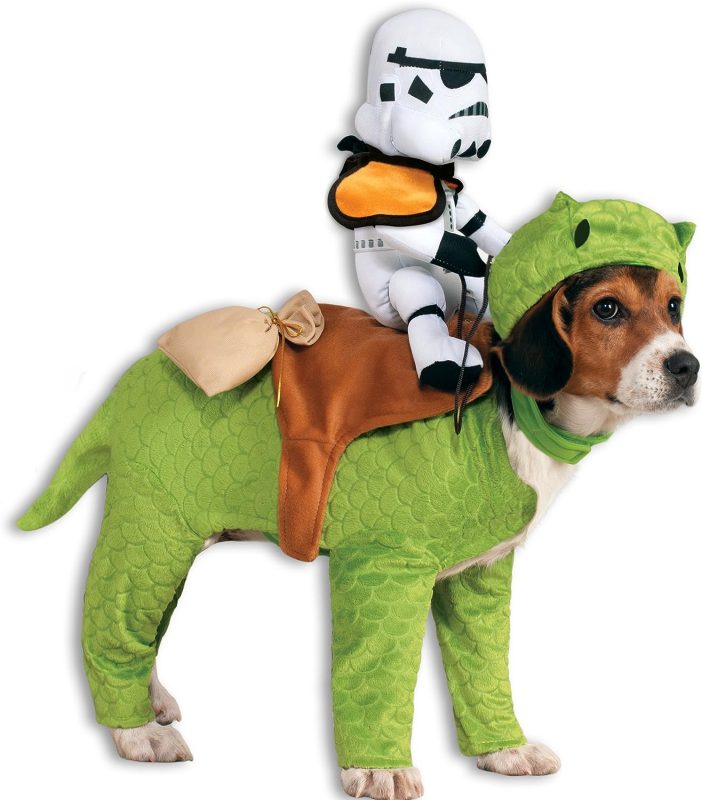 "These aren't the droids you're looking for". However, this may be the costume you and your dog have been looking for. This costume isn't as distinctive as the others, but for hardcore Star Wars fans, this costume is almost instantly recognizable. Perhaps one of the most iconic lines from Star Wars is said by Obi-Wan in Star Wars Episode IV, A New Hope. This line was directed to stormtroopers, riding on their Dewbacks who were in search of the droids R2-D2 and C3PO. Now you can turn your dog into the mount of the stormtroopers, and you can search for the droids yourself! This costume features a comfortable jumpsuit in the style of a Dewback, and it also features a headpiece that completes the costume. It's available in several different sizes, so you don't need to worry about having to bargain with Jabba for another costume size.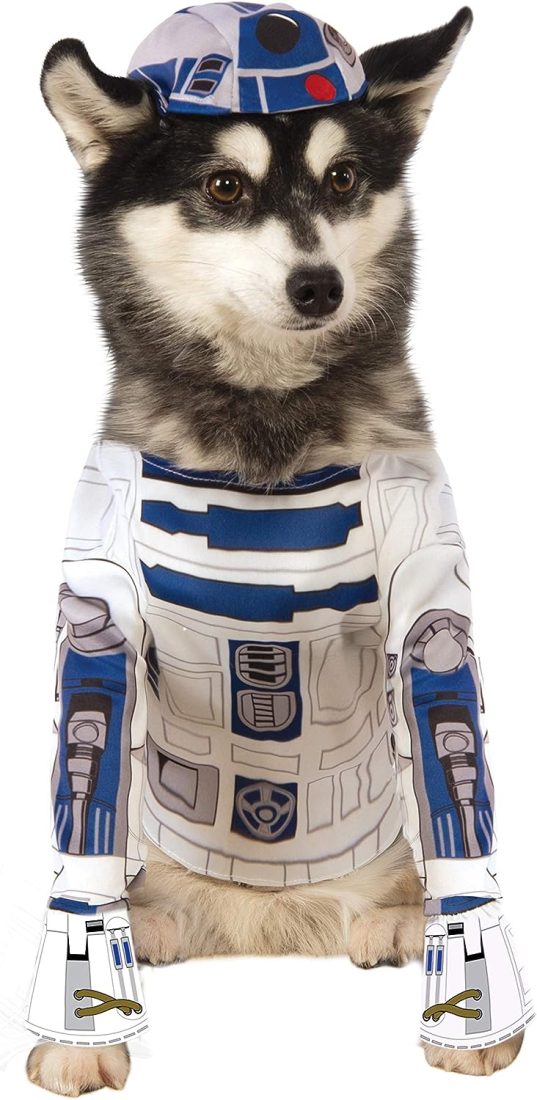 This is the droid you're looking for. R2-D2 is loved by Star Wars fans, and he's been included in the Star Wars franchise since day one. Why not transform your pup into this lovable astromech droid? This costume features a pullover jumpsuit with the iconic designs of R2. Its detailed headpiece resembles the rotating head of R2, completing the costume. This costume comes in several different sizes, so it's perfect for the dog breed you have. This costume is perfect for taking your dog to a Halloween party, trick or treating, or simply just a Star Wars themed photoshoot with your dog.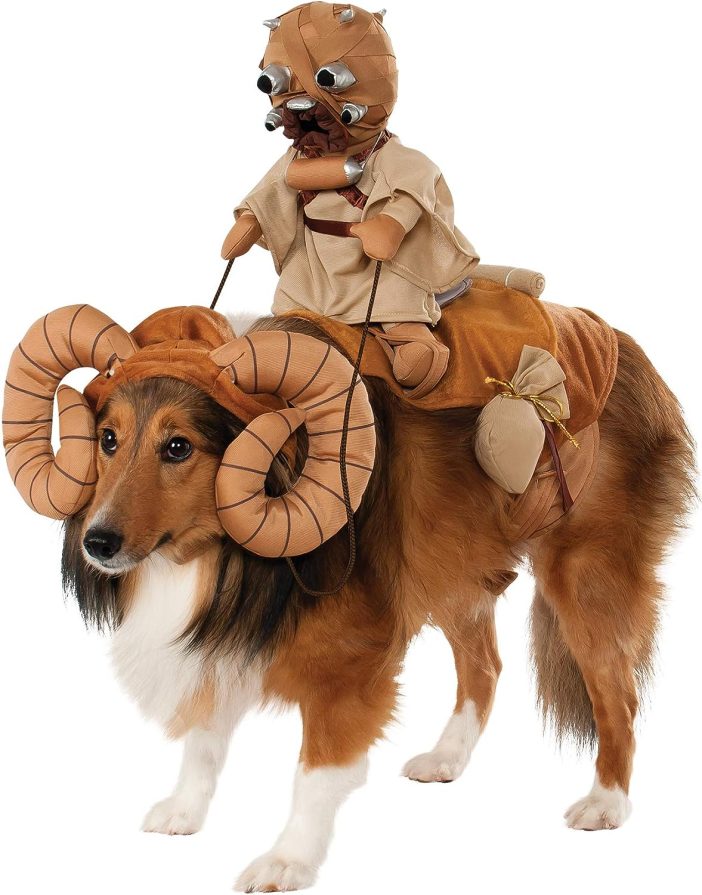 For fans of the recently but not so recently released Boba Fett show, you may recognize this creature. The Bantha is the mount for the Tusken Raiders, a native nomadic tribe on Tatooine, of which Boba Fett was indoctrinated. This costume is perfect for Star Wars fans looking to dress up their dog, or people looking for a funny costume for their dog. Either way, this costume is perfect for Halloween, and it comes in multiple sizes. This costume features a pullover jumpsuit with a saddle and saddlebags. Riding on top of the costume is a Tusken Raider with reins in hand. This costume is as adorable as it is iconic, and is perfect for all Star Wars fans.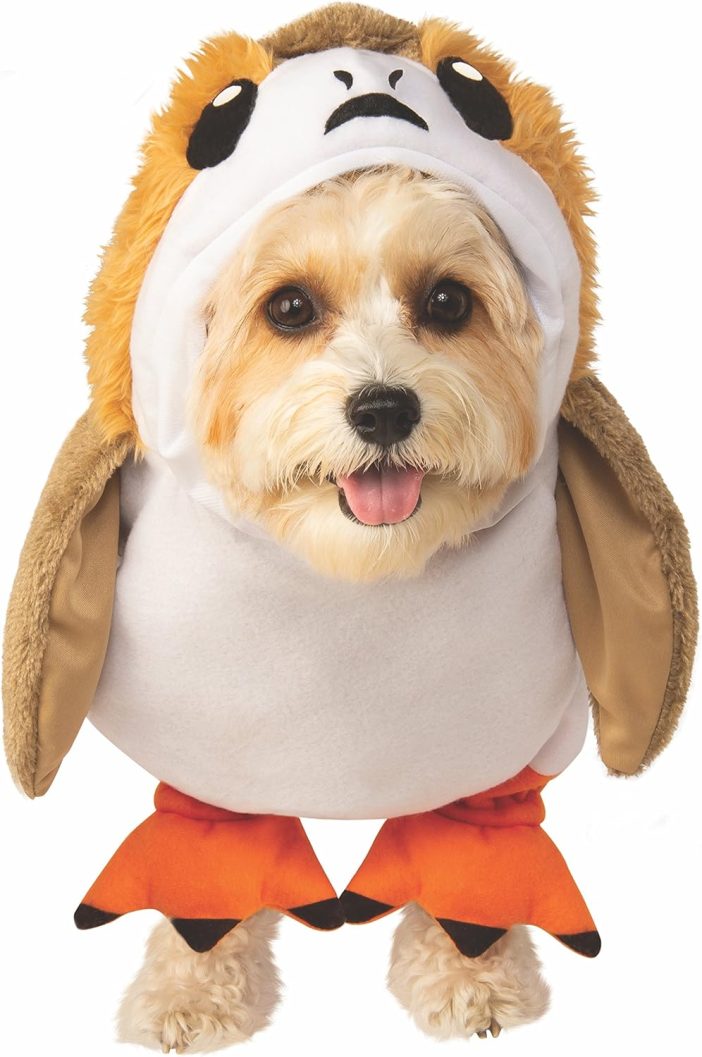 Besides Grogu, the Porgs are arguably the cutest Star Wars animals. Introduced in The Force Awakens, the Porgs are a cute little bird native to the island that Luke Skywalker inhabits. So why not make your dog even more adorable, and put them in this Porg costume. Not only will it enhance your dog's cuteness factor, it will also make them fluffier. This costume features a fluffy pullover shirt with the hooded head of a Porg, and its fluffy wings. After you put your dog in this Star Wars Costume, nobody will be able to take their hands off of them. You can't resist the power of the Dark Side, or in this case, the cute side!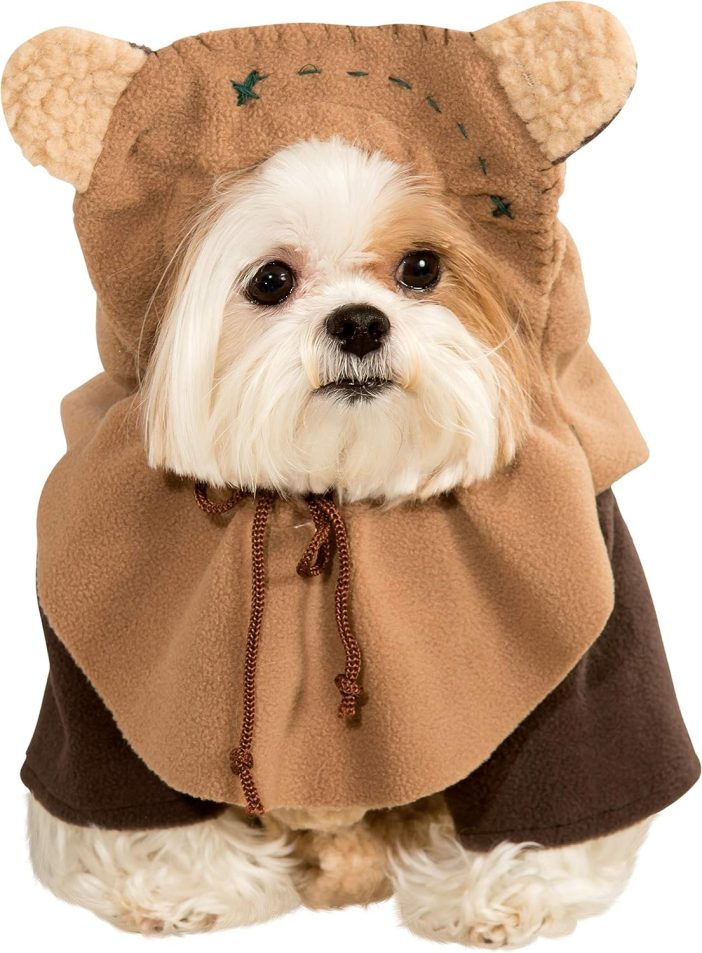 Another ridiculously cute costume is the Star Wars Ewok Costume. The Ewoks are lovable as they are, they're fluffy little bears that walk around and talk. What's not to love? Now you can transform your dog into an Ewok and make them even cuter. This Ewok costume features an attachable hood and bodysuit that is styled like the clothing of the Ewoks. Not only that, but the hood features the ears of the Ewoks, making your dog look just like these iconic creatures. This costume comes in several different sizes, so you don't need to worry about missing out on the cuteness.
Whether you're a Star Wars Fan, or just in search of a costume for your dog on Halloween, these Star Wars Dog Costumes are perfect for you. All of these costumes feature unique characteristics that will transform your dog into a Star Wars character. Not only that, but all of them come in different sizes so you can find the perfect size to fit your dog. If you're not as interested in Star Wars, but still want other costume ideas for dogs, check out our Scary Dog Costume Ideas for more dog costume content. If you're looking to dress up with your dog for Star Wars Halloween, check out our Ashoka Costume Ideas!