Star Wars : Galaxy's Edge – Walt Disney World!
As you probably know, Star Wars: Galaxy's Edge opened at Walt Disney World Resort in the summer of 2019. It is almost the same as its west-coast counterpart in Disneyland, with just a couple major differences. Don't miss our post about the best photo spots at California's Star Wars : Galaxy's Edge too! The Star Wars universe is the best of the areas of Disney Parks. Your Star Wars fan is going to love it!
Star Wars: Galaxy's Edge Walt Disney World
Star Wars: Galaxy's Edge Walt Disney World offers the same marketplace, dining and Character interactions as the Galaxy's Edge in Disneyland Resort, but Walt Disney World has some advantages. I've partnered with my friends at Get Away Today to share all the info you need to know about Star Wars: Galaxy's Edge Walt Disney World.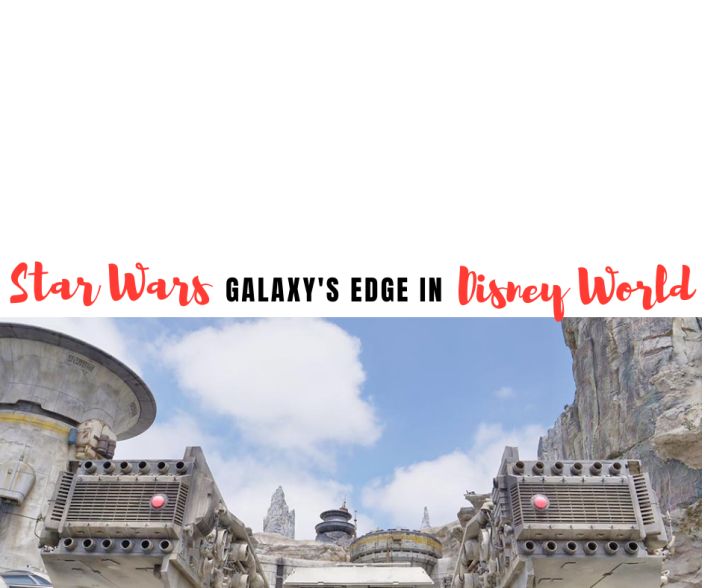 Rides
There is currently one ride open in both locations of Star Wars: Galaxy's Edge. Millennium Falcon: Smuggler's Run invites you to hop aboard the fastest hunk of junk in the galaxy and complete a mission for Hondo Ohnaka. Six guests will fly through space in the Millennium Falcon, each assigned a role: Pilot, Gunner or Engineer. Just try to bring the ship back in one piece! As of now, there is no FastPass+ for Smuggler's Run.
On December 5, 2019, a second ride will open only in Star Wars: Galaxy's Edge Walt Disney World. The highly-anticipated ride Star Wars: Rise of the Resistance is designed to be the most technologically advanced experience Disney has ever offered guests. You'll feel like part of the Star Wars story when you queue and ride Rise of the Resistance. This ride will not open in Disneyland Resort until 2020, so Walt Disney World Resort guests can get a first look!
Dining
For out-of-this world food, you have a variety of options in Star Wars: Galaxy's Edge Walt Disney World. From snacks to meals, drinks to desserts, you'll find it all.
Oga's Cantina: This family-friendly bar requires reservations, which can be made up to 180 days in advance of your vacation. Using the My Disney Experience app you can select a date and time to experience this authentic cantina. There is a two-drink maximum and a 45-minute time limit since this spot is so popular for locals and guests alike.
Docking Bay 7 Food and Cargo: For quick-service and mobile order dining, head to Docking Bay 7. This eatery is in a hangar bay and offers breakfast, lunch and dinner. Get some overnight oats to fuel your morning, sip some Moof Juice or try the Batuuan Beef Pot Roast. You'll also find vegetarian options here.
Milk Stand: Cool off with a non-alcoholic Blue or Green Milk slushie in Galaxy's Edge. Or, enjoy a Blue or Green Milk Cooler with rum or tequila. These refreshing drinks are pretty filling, so you can most-likely share between two people. Alcoholic versions of colored milk are not currently available at Disneyland Resort in California, so this is a fun perk on the east coast.
Ronto Roasters: Another mobile order option in Galaxy's Edge is Ronto Roasters. Choose from breakfast, lunch and dinner menu options including Ronto Morning Wrap, Endorian Chicken Wrap and various jerky flavors. You'll also find non-alcoholic and alcoholic beverages here.
Kat Saka's Kettle: This quick-service vendor offers a colorful blend of sweet and spicy popcorn known as Outpost Popcorn Mix. You can also purchase water and soda at Kat Saka's in Walt Disney World.
Shopping
One of the exceptional elements of Galaxy's Edge are the souvenir experiences guests can have. You won't just be walking through stores with Disney-branded merchandise; the items found in the unique outposts of Batuu all look like they were sourced from a galaxy far, far away. Plus, some souvenirs include an activity that creates a memory of your visit, beyond just the tangible item.
Savi's Workshop: Make a custom lightsaber at Savi's in a special experience available to only 14 guests at a time. With a no-cost, advance reservation, you can ensure you get to join the Resistance with a saber of your own. Cost starts at $199 credits (US dollars).
Droid Depot: If you've always wanted a droid sidekick of your own, here's your chance! Reservations are not required, but are recommended. For $99 credits (US dollars) you can craft your own droid in the Depot and personalize it before taking it home.
Dok-Ondar's Den of Antiquities: Look for unique finds from a number of galaxies at Dok-Ondar's. He's known for his collection of jewelry, kyber crystals and tools.
Resistance Supply: Join the Resistance and look the part! Stop by this outpost and stock up on gear and apparel so you can show you allegiance.
First Order Cargo: If you happen to support the First Order, or simply want to blend in and avoid suspicion, pick up First Order supplies here. From clothing to Stormtrooper suits, you'll find it all.
Creature Stall: Head to this outpost if you'd like to adopt an intergalactic pet from Galaxy's Edge. Creatures of all types line the shelves, ready to head home with you.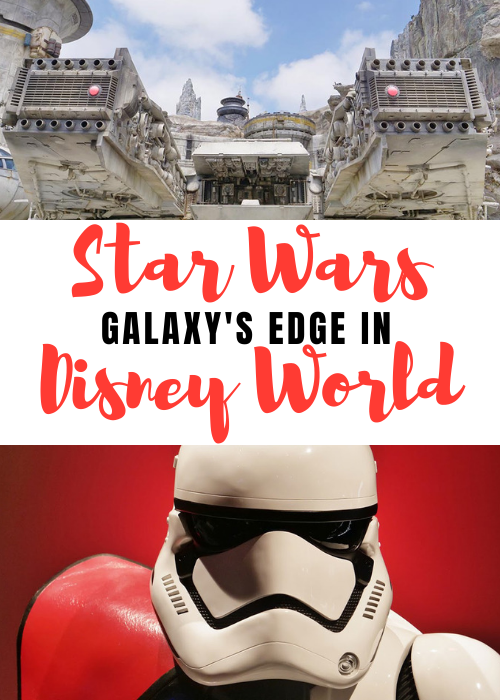 Play Disney Parks App
To truly feel part of the Star Wars story, download the free, Play Disney Parks app before you go. When you enter Star Wars: Galaxy's Edge Walt Disney World, the app changes your smartphone into a data pad, giving you access to electronic systems on Batuu. Use the app on your phone to hack into systems and translate languages you see printed in Galaxy's Edge. As you complete missions, you earn digital points that can be redeemed to customize your online profile. This is a great way to help pass the time if you're waiting in line for a ride or a meal; just don't get caught by Stormtroopers or you may be kicked out!
Walt Disney World Concierge Services from Get Away Today
Did you know Get Away Today offers complimentary Walt Disney World concierge services with any 2-night and longer vacation package? This means if you stay onsite at one of the Walt Disney World hotels, you can set up an appointment with a travel expert and receive customized assistance for your trip! From making dining reservations to FastPass+ requests, someone will be with you every step of the way. See all Walt Disney World vacations at www.getawaytoday.com, or call 855-GET-AWAY for personalized planning tips. Be sure to let them know Highlights Along the Way sent you. Use the code HIGHLIGHTS for a bonus $10 off any discount travel package! The code HIGHLIGHTS is a bonus discount on top of even advertised flash deals! Get Away Today is the ONLY Discount travel site we partner with because we have used their services ourselves. The deals are made by partnering directly with Disney parks, they are not 'too good to be true', but they are a great discount! Please read more about why we love Get Away Today and if you have more questions, please feel free to ask me here!