Star Wars Launch Bay – Season of the Force
Disclosure: Thank you to Disneyland for giving me the opportunity to see behind the scenes and interview a cast member. My stay was hosted but opinions are 100% my own.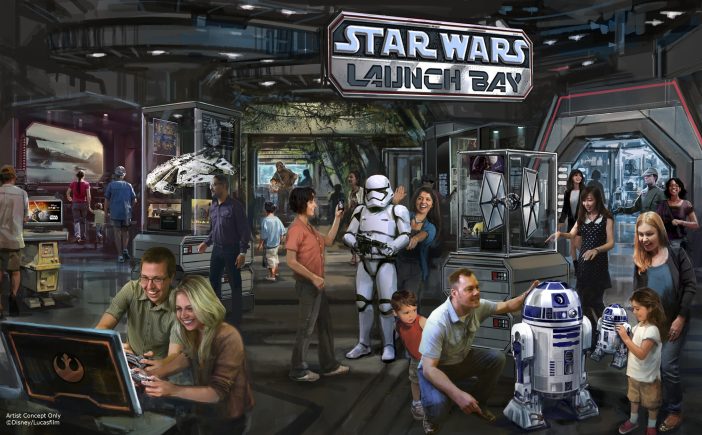 Season of the Force and Star Wars Launch Bay officially opens on Monday November 16, 2o15 at the Disneyland Resort in California and early in 2016 at Magic Kingdom Park at Walt Disney World.
In anticipation of Season of the Force I was able to get a small sneak peek with Disney Imagineer Edith Saucedo of Star Wars Launch Bay.  If you love Star Wars this is the place to be!  Disneyland regulars may remember the Innoventions building – this is now called Star Wars Launch Bay and has so many things for fans to check out.
My son loved the Star Wars Gaming Center  where guests can play the latest games from the Star Wars galaxy, including Disney Infinity 3.0 – featuring park-exclusive Toy Box levels.  Our kids WISH they had a Disney Infinity so they were excited to play for a few minutes at Disneyland!
When you visit the Star Wars Launch Bay you will be able to see movie memorabilia from the Star Wars movies over the years! Fans can check out light sabers, helmets, costumes, and even large props from the actual movies.  The collection of Star Wars memorabilia from the Star Wars legacy spans decades.  In addition to seeing peeks into the past, you can also preview the future of Star Wars including checking out props from the upcoming film Star Wars: The Force Awakens.
Visitors will also be able to meet characters from Light Side and the Dark Side.  Star Wars fans are going to be so excited to have an opportunity for a meet and greet, autograph signing, and of course photo opps with their favorite characters!  After Edith shared a couple awesome items from the archives she surprised me with a special meet and greet! I was thrilled to meet Chewbacca and ask him a couple questions………….
The Season of the Force begins on November 16 in Tomorrowland at Disneyland California.  Several readers have asked about an end date.  When asked I was told there is no official end date, but I will be sure to remind folks if and when one is announced.  If you are a Star Wars fan start making your plans to visit Disneyland ASAP!