Star Wars Room
Star Wars is probably the most iconic movie universe out there. My son has been captivated by Star Wars since his dad introduced it to him at about 3 or 4 years old.  My son has always wanted a Star Wars themed room.  We were thrilled to create a DIY room based on a galaxy far far away.  We used vintage original Star Wars toys and memorabilia as well as new products and replicas to create a really cool Star Wars room for our son.  Check out the pictures of how we transformed a plain 10 x 10 room into a fun space for our boy that sparks his imagination and creativity! This Star Wars room was easy to DIY in about one weekend!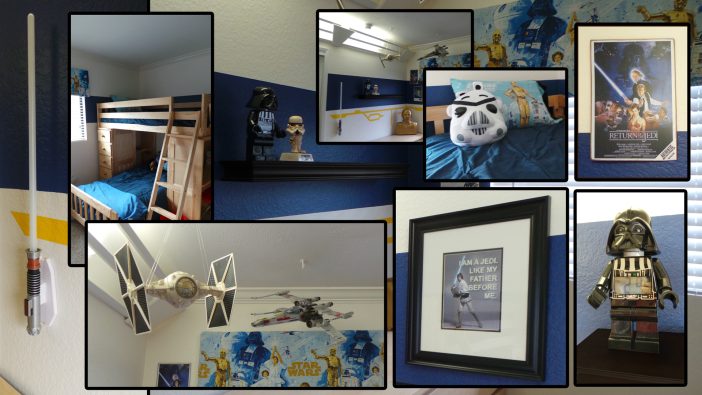 My son is somewhat obsessed with Star Wars.  That is a bit of an understatement.  There was no doubt that when he finally got his own room he would want a Star Wars Room – themed to the max!  While I am not personally a huge Star Wars fan, I was determined to make this the Star Wars room of his little 7 year old dreams!
As always, Grandma was able to find some awesome treasures at an Estate sale – check it out – vintage Star Wars bedding! There was only one set and he has a bunk bed for now.  Even if he didn't have a bunk bed it seemed like a shame to cover up those sweet  sheets, so we decided to make them into throw pillows!  Grandma made super cool and casual throw pillows and we used the comforter to cover the window box. So perfect for a vintage Star Wars Boys Room if I do say so myself!
Star Wars Room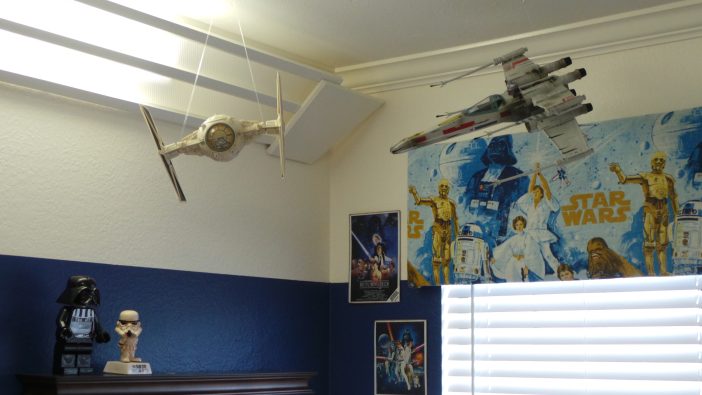 I purchased two inexpensive 'bed in a bag' sets in a complimentary blue on Walmart.com – they shipped for free and the price could not be beat!  They are not at all fancy, but the colors are perfect, it was budget friendly, and my boy says they are cozy – so that is good enough for me!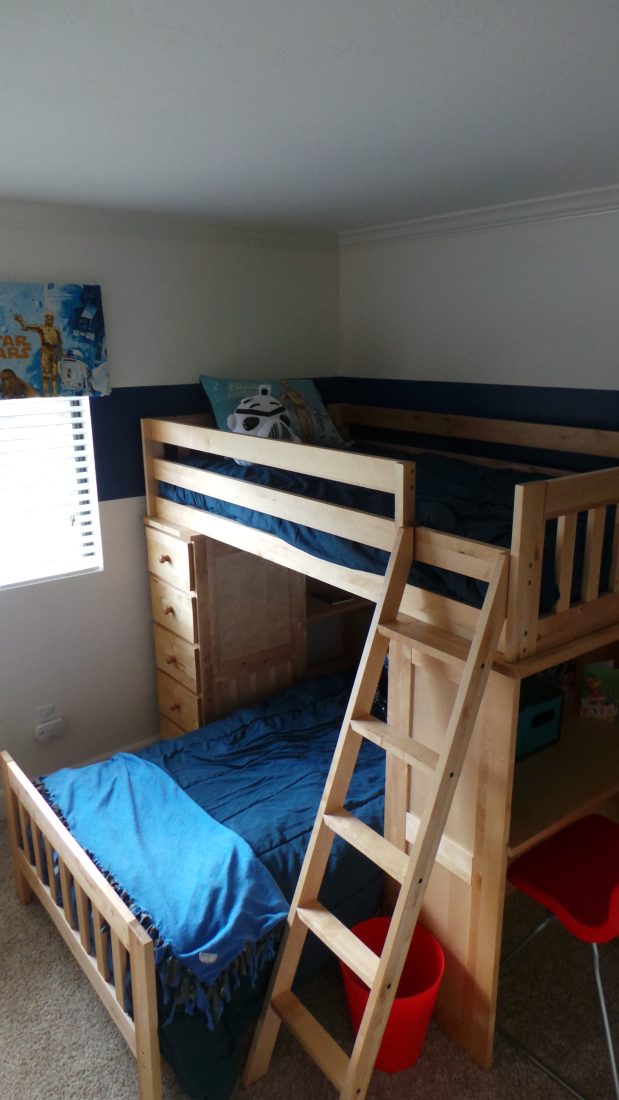 Check out those fun pillows! One handmade from Vintage Star Wars sheets, and one from Costco – perfect for our Star Wars Room!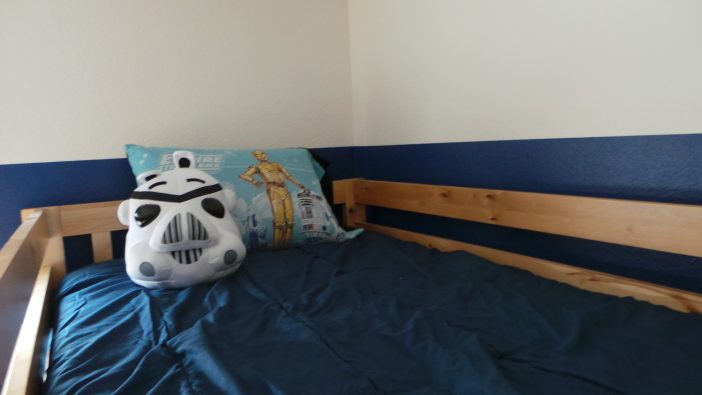 There are lots of adorable wall decals available with Star Wars theme, but I wanted to just go with paint that complimented the vintage Star Wars bedding.  His room is pretty small – only about 10 X 10 so I didn't want to make the walls too dark.  With a Star Wars theme I was tempted to paint the walls Navy blue, but I knew it would be a mistake.  We went with a bright white with a large blue band all around the room.  You can also see some black and yellow accents.  I honestly needed my hubby's expertise on all of this.  I have tolerated a couple Star Wars films, but I haven't studied it like the boys have.  It was nice to have him consult.  I basically said "Can you make some 'pew pew pew' Star Warsie lines?" and he totally knew what I meant. I have been told by my resident expert that the yellow lines are similar to the lines inside Star Wars space ships; I have not confirmed this personally, but I believe him. White, blue, and black paint only took one coat thanks to the Zinsser Primer we used.  The yellow did need a second coat, but yellow always needs a second coat.  You can see our picture tutorial on how this look was created on our Star Wars Room Paint Tutorial post!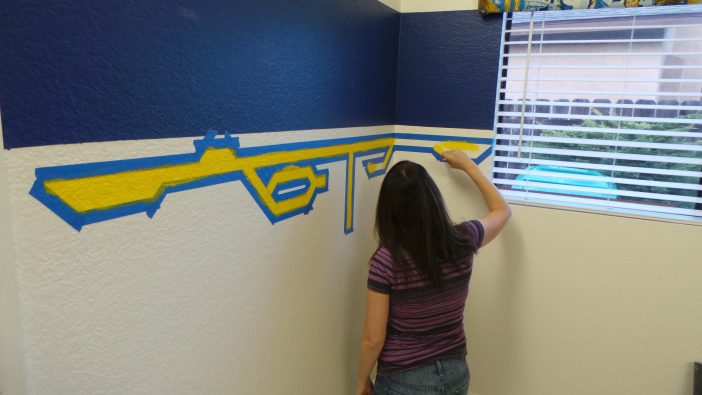 Every once in a while my hubby gets an idea to build something.  Back in October Daddy made a really awesome DIY Halloween Costume that turned out to be a little more work than he anticipated.  Apparently he didn't learn his lesson and he insisted on making a 'super easy' Star Wars light fixture.  My husband is amazing, talented, and well intentioned, but he tends to think his fun ideas will take significantly less time and money than they usually do, but I agreed to his project.  Harry has offered to write a tutorial on these Star Wars custom light fixtures – they do look very cool and they were very inexpensive (less expensive than the regular not at all special light fixtures we were looking at in the store).  That being said, they stole an entire Sunday from our family – he thought it would take 'an hour or so.'; he miscalculated. They are cute, but you have been warned, they will take all day to make.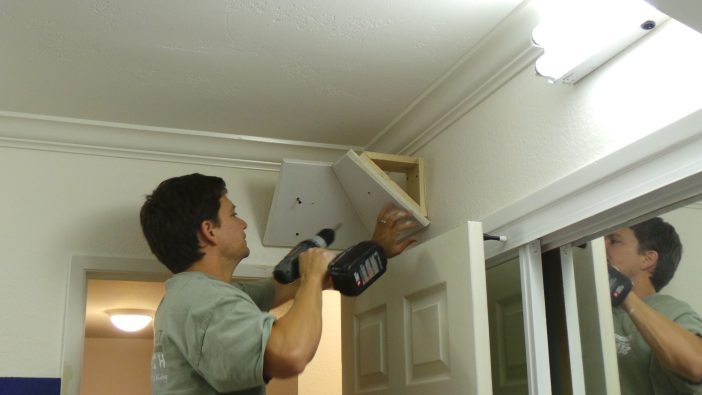 It is pretty cool!  Tutorial to come!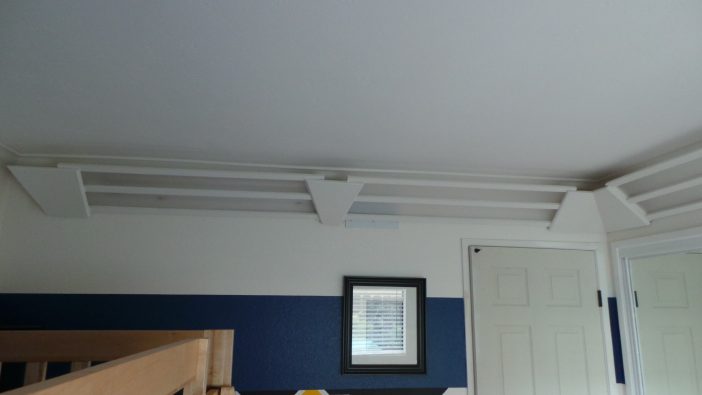 We had some fun stuff handed down from friends, I found a treasure trove at a community garage sale, and Zulily had a great sale – the accessories and many toys equaled less than $100!  We had over 6 months to gather items – so that really helped in keeping the cost down.  All the furniture is the furniture from the room he and his sister shared before so it was actually a very inexpensive room!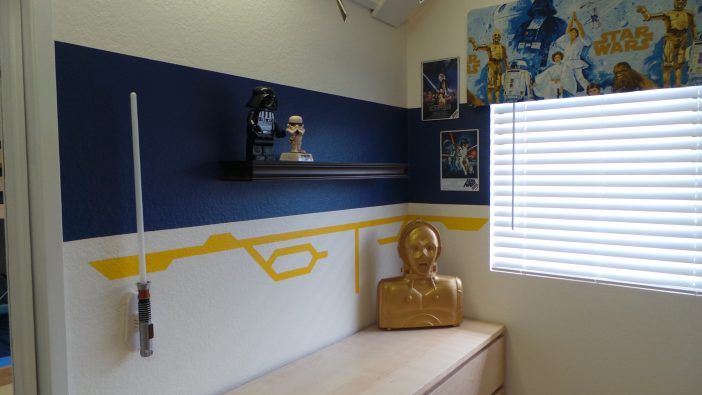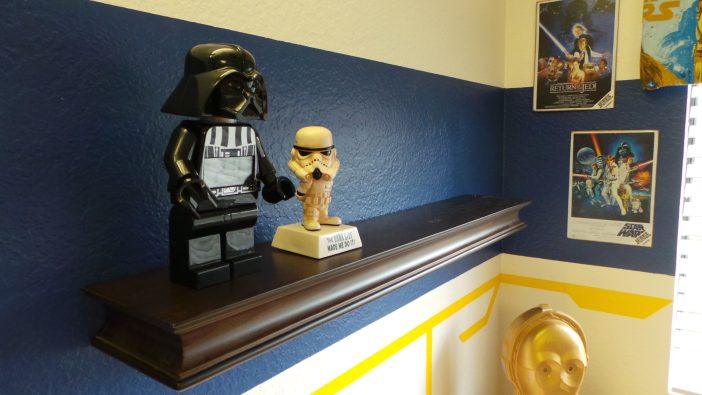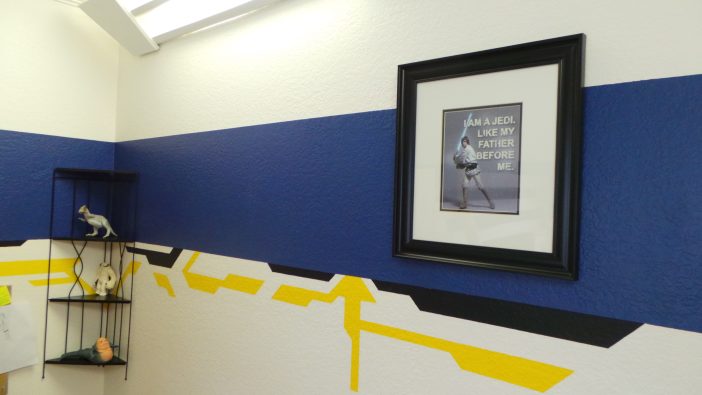 When we decorate we are always using stuff we have found second hand, we will no doubt find more decor and Star Wars toys to add into the collection as time goes on.  I like to leave a little room to add more in rather than go out and buy full priced stuff to fill in little spaces.  This room just might have an *update* post in the next couple months – stay tuned!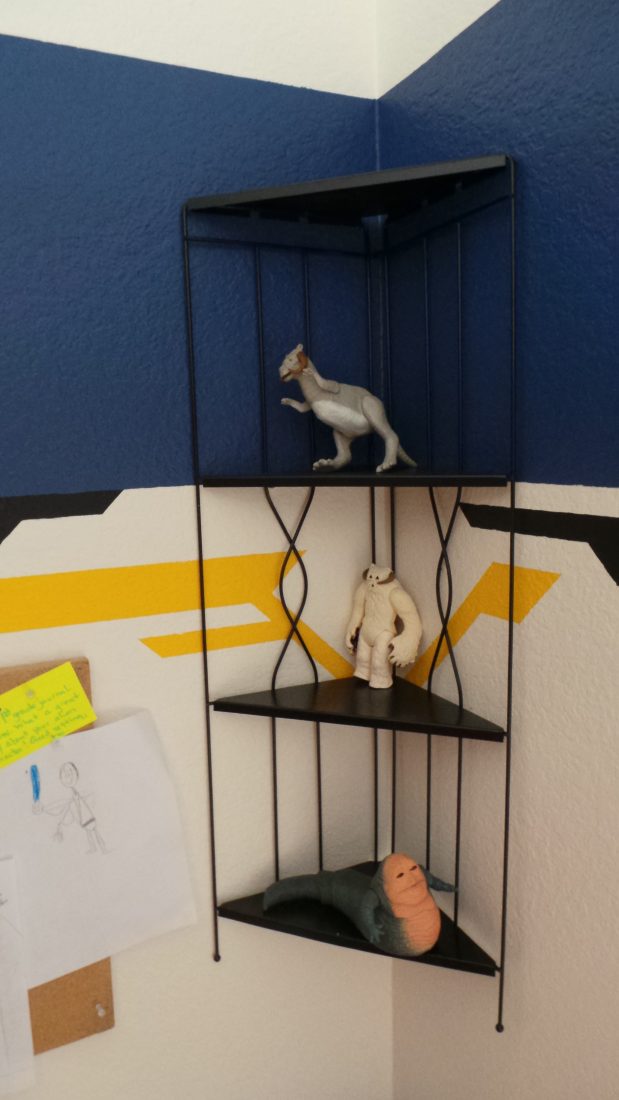 His room is kinda tiny.  It is really hard to get a full picture of the whole room – but I hope this gives you an idea.  Keep watching for more rooms to come! We are having a lot of fun decorating on a dime in our new fixer upper!
Do you have a Star Wars Boys Room that you blogged about? Share it in our comments section!