10 Things Star Wars Fans Must Do at Disneyland
Disclosure: Highlights Along the Way is an affiliate partner with Get Away Today. This post has been written by our friends at Get Away Today.
Hi everyone, it's Lexi from Get Away Today, here to talk to you today about Star Wars at Disneyland. As you may have heard, our favorite galaxy is getting another planet, Star Wars: Galaxy's Edge in the summer of 2019. While we're "Endor-ing" the wait until you can travel to Batuu, there are still so many ways to enjoy The Force at the Disneyland Resort. I have a list of 10 must-do's for Star Wars fans at Disneyland. Plus at the end of the article, you can find an exclusive promo code just for Highlights Along the Way readers to use on your next visit to a "Galaxy, Far, Far Away."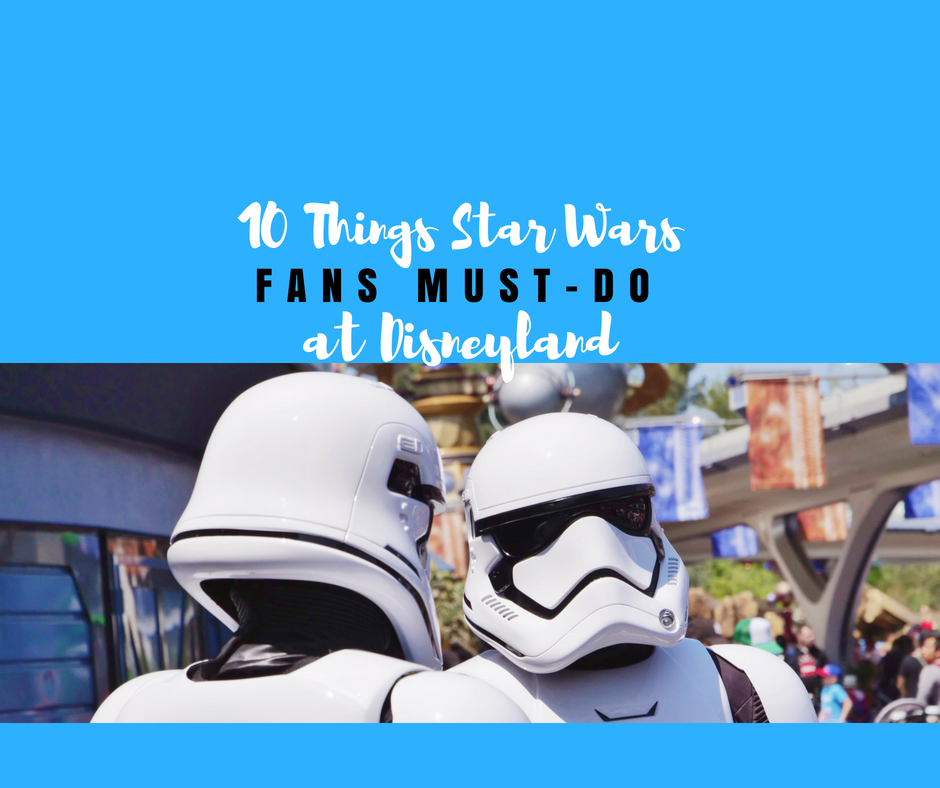 Star Wars Launch Bay
Located in Tomorrowland, Star Wars Launch Bay is the perfect stop for any Star Wars fan. Within it's walls, guests will be able to explore displays and exhibits that take you behind the scenes of the latest film in the franchise, Star Wars: The Last Jedi. Not only will you be able to get an up-close look at props from the Star Wars films, but you'll also be able to enjoy authentic replicas as well. Plus, you can sit back, relax and watch an exclusive Star Wars documentary or test your Force skills by playing the latest Star Wars video games. No matter what you choose to do, Star Wars Launch Bay is every Jedi's dream.
Character Meet and Greets
Star Wars Launch Bay is also home to some of the galaxy's furriest creatures and maniacal villains. Here, you can encounter four of the most popular characters from the Star Wars franchise. If you're looking to use The Force for good, you can cuddle up with Chewbacca or meet the galaxy's newest heroine, Rey. However if you're on the dark side, you can encounter Darth Vader or Kylo Ren. If you didn't want to spend time in Star Wars Launch Bay, you'll occasionally be able to see Storm Troopers roaming around in Tomorrowland. Whether your part of the resistance or want to join the First Order, Star Wars character meet and greets are fun for every human, Ewok and Porg.
Encounter Boba Fett
While there isn't an actual cantina in Disneyland yet, there is a Mos Eisley Cantina inspired area where you can take pictures. However if you're lucky, you'll be able to meet one of the galaxy's most infamous clones, Boba Fett. Because he rarely makes an appearance, I would suggest checking the Disneyland app each day of your vacation to see if he's scheduled at the Star Wars Launch Bay.
Jedi Training: Trials of the Temple
Every young padawans dream is to become a master of The Force. Luckily, that dream can become a reality! At Jedi Training: Trials of the Temple, children ages 4-12 can test their skills and train to become a Jedi. ( Check out our tips on being chosen for Jedi Training! ) During the show at the Tomorrowland Terrace stage, younglings will battle either Darth Vader, Darth Maul or Kylo Ren to save the universe. Even if no one in your family participates, this is still so much fun to watch.
If your padawan wishes to be part of the show, you'll want to head over to the kiosk located outside the exit to Star Wars Launch Bay. Since availability is based on a first-come, first-served basis, you'll want to register as soon as the park opens. Once you've registered, they'll let you know what time to come back to get ready for your training.
Star Wars Dining and Shopping
There aren't any official Star Wars themed restaurants at the Disneyland Resort, however, you can head over to Redd Rockett's Pizza Port (currently Alien Pizza Planet) and the Galactic Grill to be able dine in Tomorrowland, so you'll be close to Star Tours and Star Wars entertainment.
However, if you're looking to get a new Jedi robe or lightsaber, you should head over to The Star Trader store located in Tomorrowland. This is the perfect spot to get Star Wars-themed treasures and merchandise. They offer t-shirts, apparel, pins, toys, artwork, books, collectibles and more! While you can find Star Wars merchandise at various kiosks throughout the park, The Star Trader will be your best place to buy intergalactic gifts.
Build Your Own Lightsaber
While visiting The Star Trader, you can show off your inner Jedi by creating your own lightsaber at the build-your-own lightsaber station. Here, you can choose between a traditional single saber or a double saber like Darth Maul's. Once you've chosen your saber, you'll go through several steps to choose your emitter, blade, hilt, switch, rings, sleeves and either a cap or adapter. Once you've chosen all of your parts, you'll put them all together. Luckily, this process only takes about 5 minutes total. So even if you're a "Wookie" or a Sith Lord, building your own lightsaber is fun and easy for everyone.
Star Wars "Nite"
Like Walt Disney World, Disneyland has started to do After Dark events. If you've never been to one, it's a separate ticketed event that allows guests to have special access to Disneyland Park. This includes exclusive entertainment, character encounters and specialty food and beverages. Occasionally, Disneyland will put on a Star Wars "Nite" that features immersive Star Wars-themed décor and photo opportunities for Jawas and Gungans alike. Although both Star Wars Disneyland After Dark events have already passed, we're hoping that they announce more soon!
Hyperspace Mountain
If you happened to be at Disneyland during Season of the Force, you know how amazing Hyperspace Mountain is. Hyperspace Mountain is a seasonal Star Wars overlay of Space Mountain that is out of this world. Hyperspace recently opened on May 3, 2018 to celebrate "May the 4th" but was only around for a limited time. Since this ride overlay is such a hit, we're hoping that it comes back sooner than later.
Want to see a full video from when Hyperspace Mountain debuted?  Check it out!
Star Wars: Path of the Jedi
At the Tomorrowland Theater, guests can cool off by watching Star Wars: Path of the Jedi. Here, you'll be able to see a 10-minute retelling of the Star Wars saga. The best part? You also get an exclusive sneak peek at the future of the Star Wars galaxy.
  10. Star Wars: Galaxy's Edge
Last, but certainly not least, is Star Wars: Galaxy Edge. Opening in the summer of 2019, guests can experience more Star Wars fun than ever before. With two new attractions, unique food and shopping, special character appearances and a never before seen planet, we want to FastPass to next summer already.
While we patiently wait for Star Wars: Galaxy's Edge to open, you can still enjoy all of the Star Wars excitement that Tomorrowland has to offer. If you haven't booked your next Disneyland vacation, visit getawaytoday.com or call one of our travel experts at 855-GET-AWAY. With discount Disneyland tickets, hotel specials and a flexible Layaway Plan option, Get Away Today is the top Southern California vacation provider for a reason. No matter how you choose to book, make sure you use promo code Highlights to get an additional $10 off your hotel and tickets vacation package!
Thanks Lexi for this awesome round up for Star Wars fans at Disneyland!!  As I have mentioned before, Get Away Today is the ONLY discount Disneyland Ticket travel agency I partner with. They guarantee their rates and they are an approved Disneyland affiliate.  I actually met Get Away Today representatives at Disneyland hosted media events.  The relationship they have with Disneyland is what really sold them for me.  Please check out our post Why I Trust Get Away Today for more information if you have any concerns. Before you book your Disneyland vacation, please check out this round up of Anahiem hotels that offer FREE breakfast!
If you are a Star Wars fan – make sure to pin it for later!