Interview with Steven Spielberg and Ruby Barnhill
Disclosure: I attended a press junket hosted by Disney. All expenses were paid, but opinions are always my own.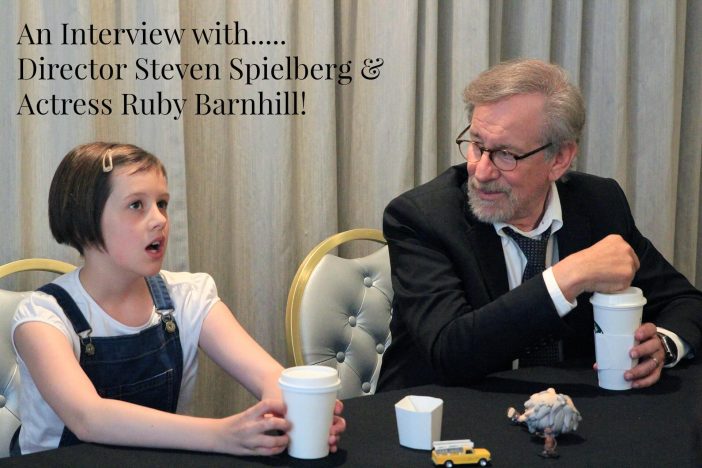 Last week I walked the Red Carpet and was able to get a sneak peek at the movie The BFG.  We also were able to interview cast members and the director of The BFG.  I cannot believe I am saying this, but we interviewed the legendary Steven Spielberg as well as Ruby Barnhill who plays Sophie in The BFG.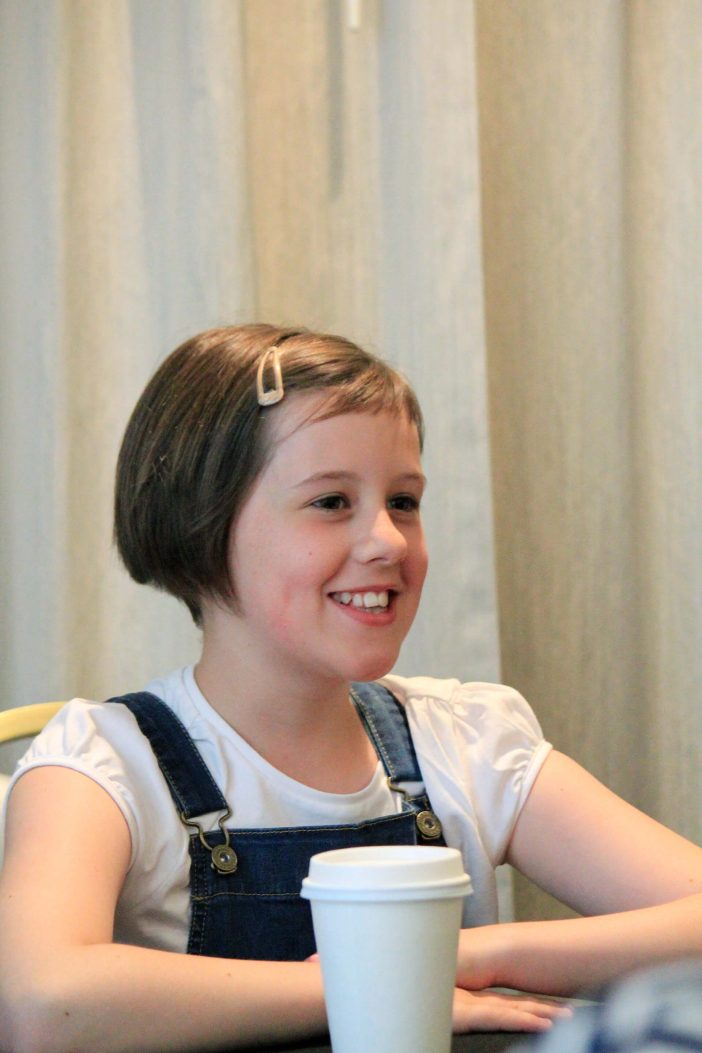 Movie goers, Ruby Barnhill is a name to watch. She is sure to be a star.  Steven Spielberg is known for spotting prodigies in newcomers and he says he knew Ruby was his Sophie after seeing 'a couple thousands' of girls, many of whom were experienced actresses.  Steven said he knew Ruby was Sophie the moment he saw her.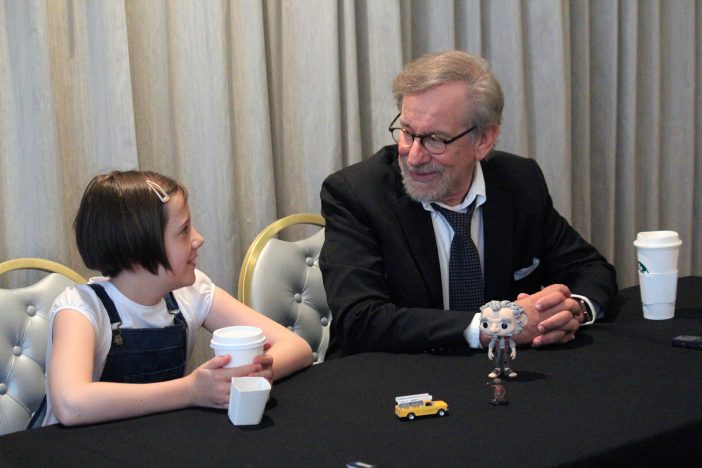 Steven Spielberg shared that many roles had been cast but he believes in fate and that the best was saved for last.  After eight long months of casting he said they saw Ruby…. "I was not giving up hope that I wouldn't find her, but I was starting to look at my third and forth and fifth choices to accommodate people I had seen who I had liked but hadn't reached my heart yet. I was about to compromise when all of a sudden I saw the audition that Ruby Barnhill and her parents sent in to Nina Gold and my whole life changed for the better. In that instant everything was OK with the world."
Ruby Barnhill is a smart, articulate, and charming little girl.  She was polite and engaging and everything you hope for in an interview with a child actor. While this is Ruby's first film, she says that this has been a dream of hers forever.  She also comes from an acting family, both of her parents are stage actors.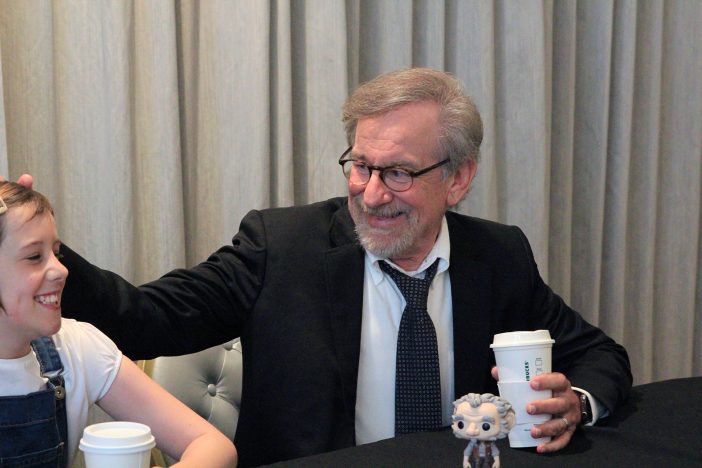 When asked about what she has learned working with Steven Spielberg she had this to say; "Working with Steven I have learned so much not only about acting and directing but also just general things that are useful and helpful in general life."  She went on to say she struggles with making mistakes, that she sometimes panics when she makes mistakes.  Ruby said that Steven told her that making mistakes is OK.
Steven calls mistakes "Happy Accidents"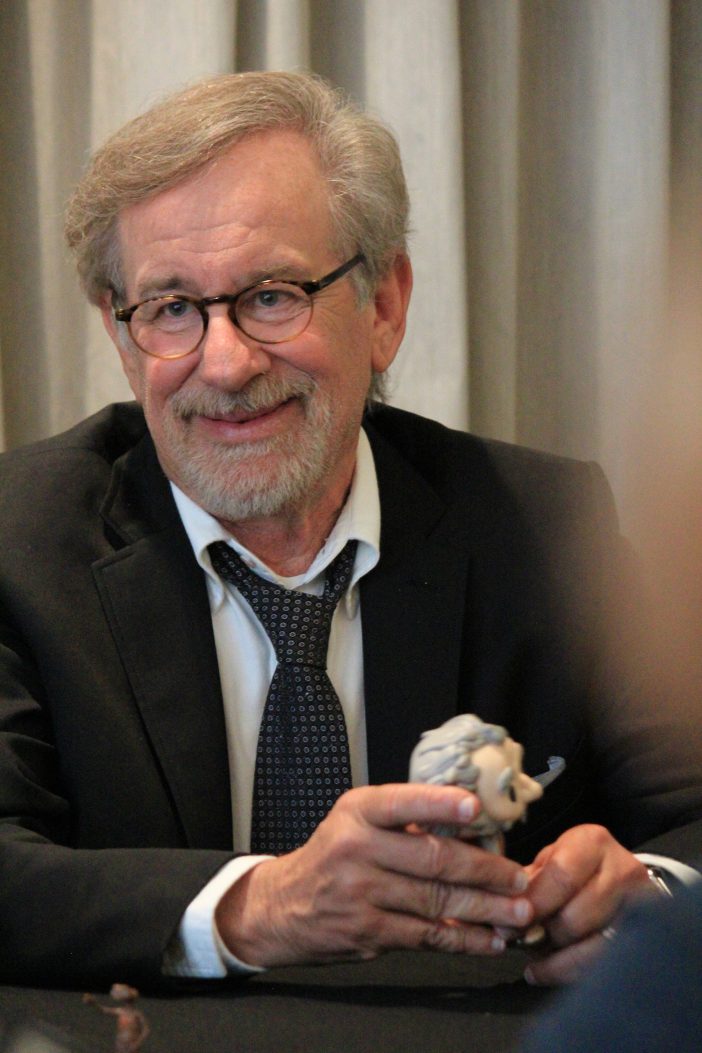 When Steven was asked about how he feels about making a movie based on a book that is so iconic, he had the following to say….
"…..I wasn't really appreciative or even aware of the outreach of cinema until I was actually older. I thought Jaws was just a freak of nature, that that would never happen again.  And then when ET suddenly happened and lightning suddenly struck twice, I realized that cinema, you know, outlives the filmmakers. And that everything becomes a part of the extended family of people from all walks of life who speak different languages and believe in different things, 'cause sometimes movies come along that make you see the same thing with the same feeling.  And it doesn't matter what, what languages we share or who we are and what our backgrounds are, sometimes a feeling can be communicated all over the world without any signage. That power that film has is something that intimidates me and I respect it a lot, but it also scares me, because it's, it's pretty awesome when that happens."
Another blogger asked what it was like telling Ronald Dahl's famous and beloved story under the Disney name.
Steven Spielberg reply was charming and humble; "Well, I had never made a movie under the Walt Disney name as a director before, and it just turned out that way.  I don't know why, because Disney had been in my life for a number of years ….. Disney had such a profound effect on my childhood, because I was raised in the world of Walt Disney. His movies scared me to death, thrilled me to pieces, and made me laugh and made me cry.  I never cried in a movie before I saw Bambi. And eight minutes into the movie, you know, they kill the mom, and I'm sitting here crying my eyes out, you know …… And, and my parents wondered they even took me to see Bambi in a movie theater…..  But it also redeemed itself in the time span of the movie.   That was a powerful, powerful time in my life.  And Mickey Mouse Club came on television and I was like an extended Mousketeer. I was like millions of kids who watched TV back in the '50s and wanted to be Mousketeers.   So, to finally make a movie that has Disney's name on it, uh, uh, I'm so proud when the film begins and the castle shows up. My movie follows the castle. That's something I've been waiting for all my life, and the BFT and through Ronald Dahl's genius I got a chance to do it."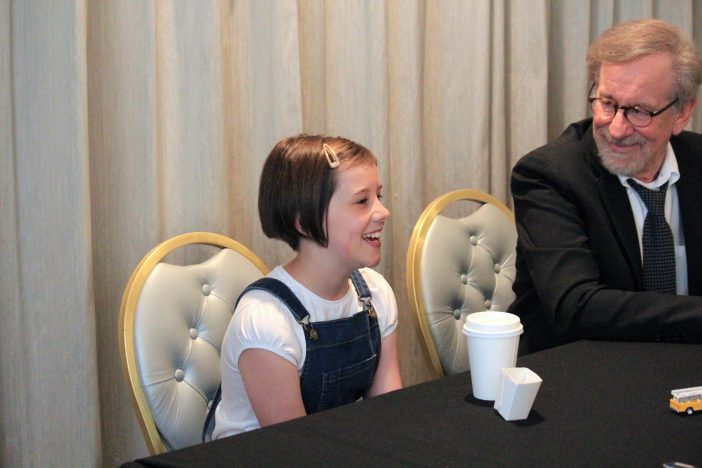 Next up Ruby Barnhill was asked what it was like to be the new Disney hero, Disney Princess even for a new generation.  Ruby, who is 10 years old and new to acting was taken aback at being called a Disney princess.  She had an articulate and sweet answer to the question….
 "That's quite cool, Disney princess maybe. *laughs* Well, it's so exciting, because a lot of Disney films now have very strong female leads, like Star Wars, Brave, and Frozen definitely.  And so it's really great to be a part of that, I've watched Disney my whole life. I was in the cinema and we saw the BFG trailer and like all the kids behind us were like, " Oh, that looks so good.  Oh, we're gonna go see that!" It's really nice to know that people are gonna enjoy it and appreciate it.  So, I'm very excited."
Steven Spielberg offered this in addition to what Ruby shared about strong female characters.  I must say, I had honestly nt thought of it this way before…
"Disney really doesn't get enough credit for in all of its earlier animated feature films. The virtue of a strong, young, female protagonist was very important to Walt Disney's films.  And you just go back and look from Cinderella to Snow White from the earlier animated films.  You can even look at at Dumbo's mother, the strong, you know, female role model of the mother in Dumbo which is just an incredible character. And he (Walt Disney) kinda put that on the map. I think he, to a great extent he did a lot for women and the empowerment."
When asked what her favorite part of being a part of The BFG, Ruby Barnhill answered "Being on set every day and being able to see everyone."  She went on to say that sometimes it was tiring, but it was so clear that she loved every bit of being an actress.  Steven Spielberg shard that Ruby knew everyone's name on set and was always the first one there.  She clearly loves being an actress. Steven said "We never waited for Ruby, she waited for us."
Many may wonder why The BFG was the film Steven Spielberg chose as his first film under the Disney name.  He shared simply, that it was a story he read to his kids.  He knows so many dads have been 'the first BFG' to their kids when they put on the voice.  He clearly was captivated by the story.
You should probably be sitting down for this last part friends.  This is where Steven Spielberg slays us all with some truth.  When asked what he wanted this generation to get out of this movie, Steven Spielberg says what the whole world really needs to hear….
"I just want people to understand how important it is to both give and receive hugs."
You guys, I can't…..
and then there was more…..
"And it doesn't matter how different the person looks or how tall they are or how short they are or what color they are or what language they speak or what their different beliefs are that we all need to hug each other. We have to hug each other more when we're so different from each other. That's what I hope people get from this."
And the room turned to mush, because really it is that simple right?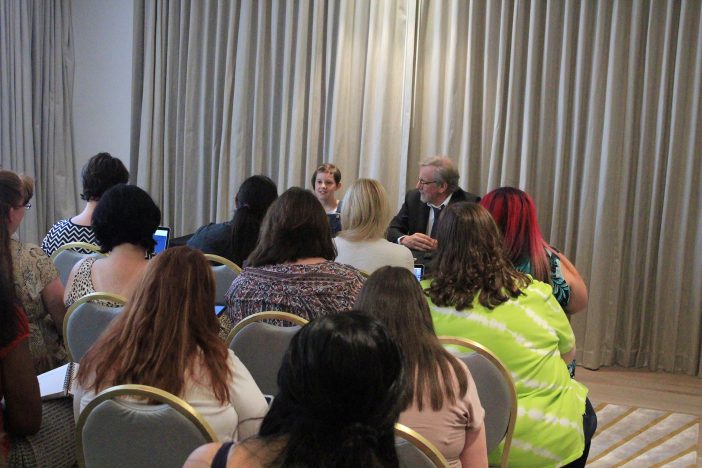 Fun fact : Ruby's father can be seen in a cameo appearance in The BFG.  You can see him helping The BFG navigate the hallway when he visits the Queen in her castle.  That little 'Easter Egg' made the movie all the more charming to me.
If you have not yet seen it, make sure to hop over to check out pictures from the red carpet premiere of The BFG!
The BFG opens in theaters nationwide on July 1st – I hope to see you at the movies!  Here is the official trailer….
A huge thank you to Disney for inviting me to participate in this interview with this long time Hollywood legend and a legend in the making.  Thank you to Steven Spielberg and Ruby Barnhill for taking the time to sit down with us for a while and share about this incredible film that is sure to charm audiences of all ages!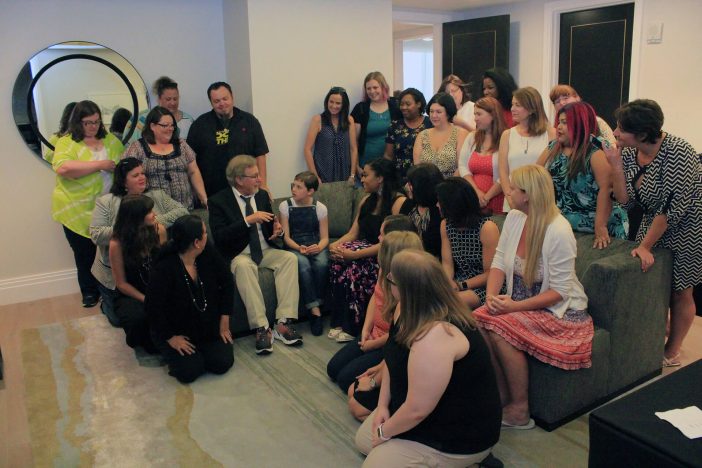 There is so much brilliance between these two, and yet they were so charming and personable!
Go see The BFG in theaters on July 1st! Photo credit to Coralie Seright from Lovebugs and Postcards.