Storks adoption and foster trigger warning…. "Orphan Hurts My Heart"
Disclosure: We saw Storks at a media pre-screening. Opinions are my own.
Families formed through adoption may want to think twice about seeing the animated cartoon Storks. Storks hit theaters in 2016, but this post continues to be relevant and many readers and strangers continue to ask me what our family thinks of Storks. As an adoptive mom I wanted to share a trigger warning for children via adoption and those in foster care.  Jokes made at the expense of orphans can be hurtful and trigger traumatic memories and feelings.  While the message is Storks is overwhelmingly positive and heartwarming, there are pieces of the storyline that are mean spirited towards orphaned children.  If you or your child are at all sensitive to this part of your adoption story, it is worth reading and deciding if Storks is the right movie for you.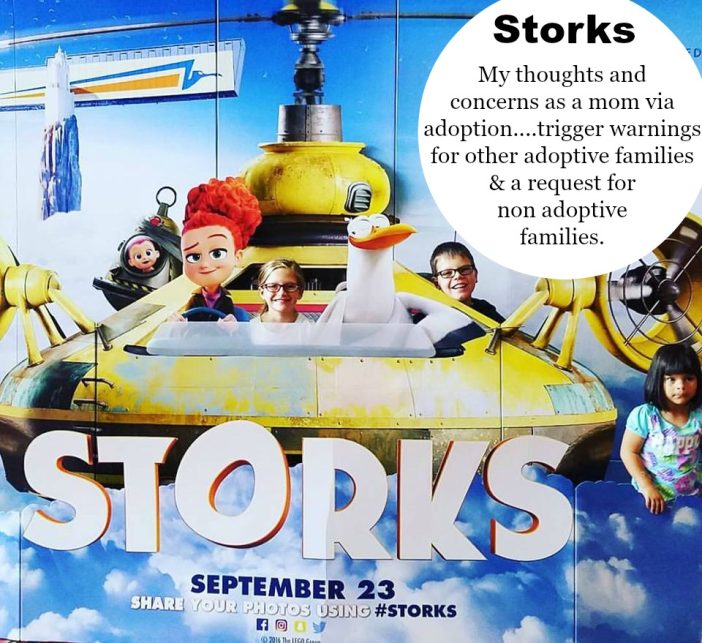 Storks flies into theaters on September 23rd and it is sure to be a hit. Storks comes from the hysterical geniuses behind The LEGO Movie and it is just as charming in many ways.  The animation and character design is incredible.  Storks has an inventive story line, great characters development, and jokes for days. The message overall is sweet and positive.  There were also some problems that I have to point out.  As a mother by way of adoption, it had some stuff. Heads up, there are spoilers ahead.  I hate to criticize movies, especially animated films but I need to share for families like mine specifically. I want other adoptive and foster families to be aware of some legit triggers.  For those that do not have a personal adoption story, I just want to share a bit.
Many here know our family was formed through adoption.  In 2007 we adopted our son as a toddler from Eastern Europe.  We also adopted our youngest daughter domestically at birth.  The reasons for a child losing their first family vary greatly.  When this happens, it is never the child's fault.  Family is the most obvious of birth rights. While our kids now have families, there are lots of children that are still orphans. It just isn't funny that millions of children through no fault of their own don't have a family. It isn't funny, it's devastating. I lost my sense of humor over 'you're adopted' jokes decades ago; so I am obviously a hard sell in this area.
Adoption and foster triggers are plentiful in "Storks", I want to talk about two in particular. And if worrying about a trigger for a family member isn't a concern of yours I still think that there are some teachable moments for any child.
We are introduced to one of the main character's Tulip by being called 'The Orphan Tulip', even in her presence. At one point she responds "Tulip is just fine; 'orphan' hurts my heart."  *theater erupts in laughter* Now maybe I just have lost all my chill; but can someone explain to me why that's funny?  Unpack the joke for me. She's an orphan, meaning she has no parents. Her heart hurting because she has no family and is actually labeled 'Orphan' and that….. is funny?  It's apparently so funny that even in a movie with hundreds of hilarious jokes, this is the one they chose to put in the trailer….
So as I sit watching this unfold my brain is trying to process it.  I thought to myself "This is part of the message.  They made a shocking statement that they knew would get a nervous laugh.  They know this is going to get a laugh, but they are gonna make it a teachable moment."  I was wrong.  "Orphan Tulip" is ostracized because she is human in a world of storks for the better part of the movie.  Tulip is gawky, accident prone, and overly optimistic…. all hilarious character traits.  I don't know why they need to emphasize the orphan label. Characters call her "Orphan Tulip" nearly as often as they call her "Tulip" throughout the entire movie.  No other characters are named Tulip so the title is not 'necessary' to differentiate her from a different character.  Did the other characters accept her eventually? Yes.  But there is no 'sorry for all that ostracizing and labeling before', the story just moves along without ever mentioning it. My brain just kept short circuiting at the continued realization that there was an opportunity for learning moment about compassion and human dignity in a children's movie that just didn't happen. That was hard for me as a mom to kids who were once orphans and whose heart hurts for current orphans. I know I am not alone.
Here's the other big trigger.  The actual tagline and even hashtag for Storks is "Find your Flock".  Some might argue that (Orphan) Tulip found her flock in her friendship with a bird and a baby not biologically related to her.  True, but the story wraps up in a pretty bow when she finds her long lost family. Long lost daughter is welcomed home to a loving family who all have big, poofy, red hair just like her.  They were all just perfect and happy and without problems and she was welcomed with open arms as if that is how it always should be. And the whole theater was like "That was SOOOO sweet.", and it was.  Problem though….. there are a lot of kids in foster care that might go see this movie. This 'happily ever after with my biological family' scenario is a hope for so many children who do not live with their biological family. Whether kids have been adopted, are waiting for adoption, or hoping for reunification; this is a hope that is far more often than not simply impossible. A child or even adult trying to navigate that difficult journey should just know that part of the story might be an emotional trigger.
My two youngest kids (by definition of this movie) do not live with their 'flock', my son has asked questions about his birth parents that we simply do not have the background information to answer. It's a hole in his heart we can never fill this side of heaven. That is hard for us, and it is really hard for him. My kids (and millions like them) will never find their flock.  While my kids know our flock is their flock, that they are 100% our own; they have a first family.  They have unanswered questions and longings because of their history that will simply always reign in their hearts.  Does it control them all the time? No. Have we had tearful nights because of the injustice that is their actual history? Yes. And my kids were adopted before their conscious memory. If you or your child have an adoption, foster, or unresolved abandonment issues I hate to say it, but this movie will very likely trigger some unpleasant feels.
Side note, but worth mentioning. I appreciate the possibility that not all adoptive families feel the same way.  It is important to note Ty Burell voices a main character in the film.  Ty Burell is a father through adoption.  To say I am a huge fan of his both professionally and personally is putting it mildly. My husband and I discussed at length after the film how he as a dad through adoption could be a part of this movie.  We went rounds and never came up with an answer that made since to us …. we settled on something we often do. Maybe we are just more sensitive than others.  My husband and I both were accused as children of being over-feelers.  While I have come to a place where I don't feel the need to try to feel things less, I have also learned that just because others don't, doesn't mean they are wrong. All that to say, there will undoubtedly be people even within the adoption tribe that say "It wasn't a big deal.".
A friend of mine, another family entertainment blogger saw it too.  She asked how I liked it and I said some of the above. She said with nothing but compassion "See I never would have picked up on that because I don't live in that space, but now it sounds so different.  It makes me want to talk to my kids about it."  I responded "That's all I really ask."
Again, I hate to say anything uncomplimentary about a movie. The weird thing is there is plenty that I love about this movie, and I know it is going to be really popular.  I just feel like I would be doing my kid's hearts a disservice to say nothing.  I wanted families formed through adoption to know about the potential triggers before they visit the theaters.  And to those that might not have our same experience, just know my kids are people with hard starts and anything that hurts someone's heart shouldn't be the source of a joke.  So obviously it sent off some triggers in our house, but I always suggest reading other reviews and making that decision as a parent.