Strange Magic FREE printable activity sheets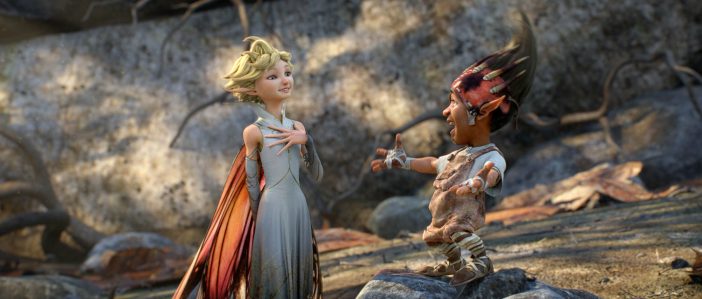 Strange Magic is coming to theaters on January 23, 2015 and my kids are super excited.  We love animated films and this one is full of fairies, ogres, magic, and silliness so our kids can't wait!  I know how much our readers LOVE free printables and so do my kids.  Feel free to click and print these Strange Magic FREE Printables for your family today!
Haven't heard of Strange Magic yet?  Here is the trailer…..
Totally free, you do not need to sign up for anything – scroll through and just pick your favorites.  We have several Strange Magic easy recipes, Strange Magic Printable Party Invitations, matching Strange Magic Thank You Cards, and several crafts (my favorite is the fairy in a jar craft then includes glow sticks and glitter! Our family will be making this Strange Magic craft for sure!).  Are you looking for more free printables?  Check out our growing FREE Printables Pinterest page!
Strange Magic Printables
There are TEN printables below – check it out…..
Bog King Mud Pie recipe
Cookie Bars recipe
Hot Cocoa recipe
Magic Potion recipe
Fairy Wing decorations
Magic Fairy jar activity sheet
Strangely Magical illusion activity sheet
Party invitations
Party hats
Thank you cards
We might use these ideas for a very budget friendly but also super cute  "Strange Magic" Birthday Party!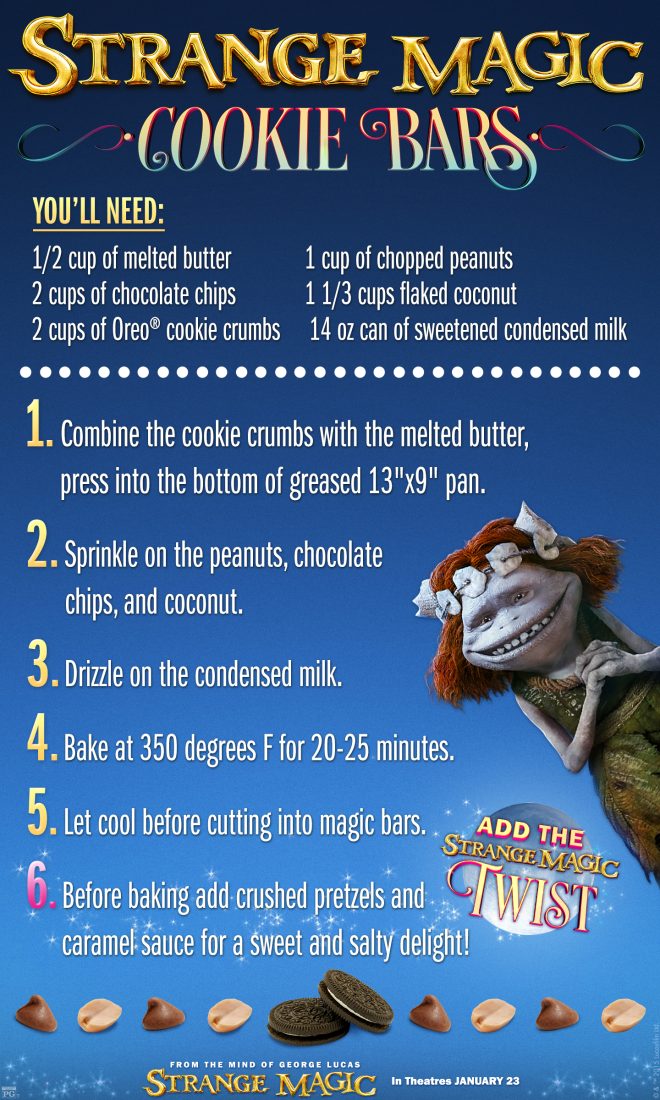 Strange Magic Potion Elixir drink recipe printable activity sheet.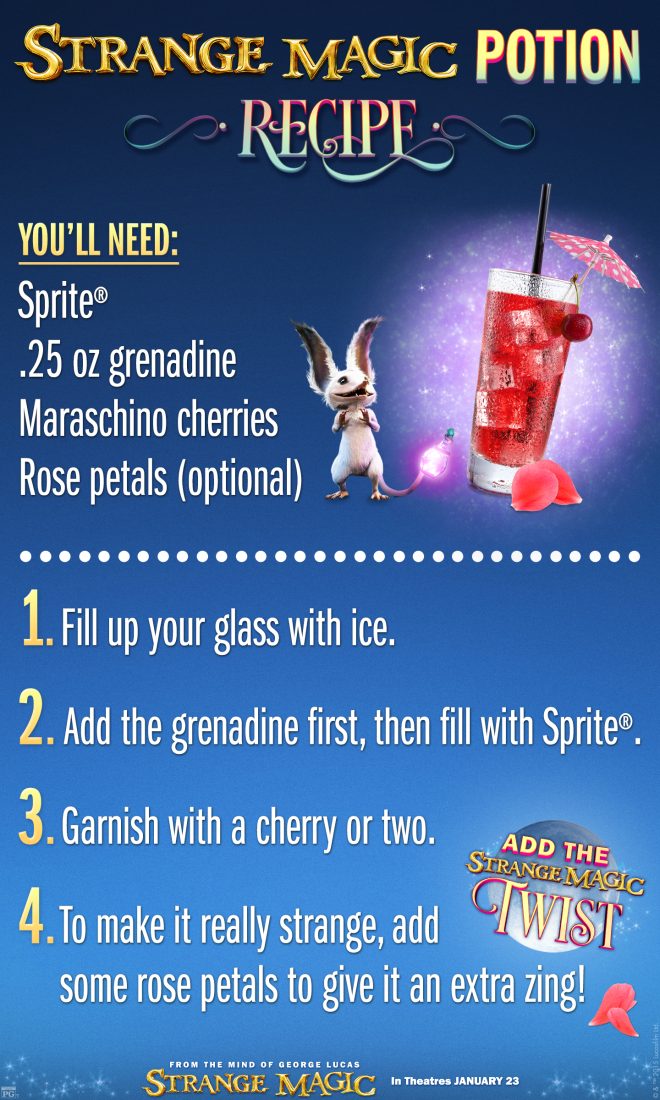 Strange Magic Party Invitations printable activity sheet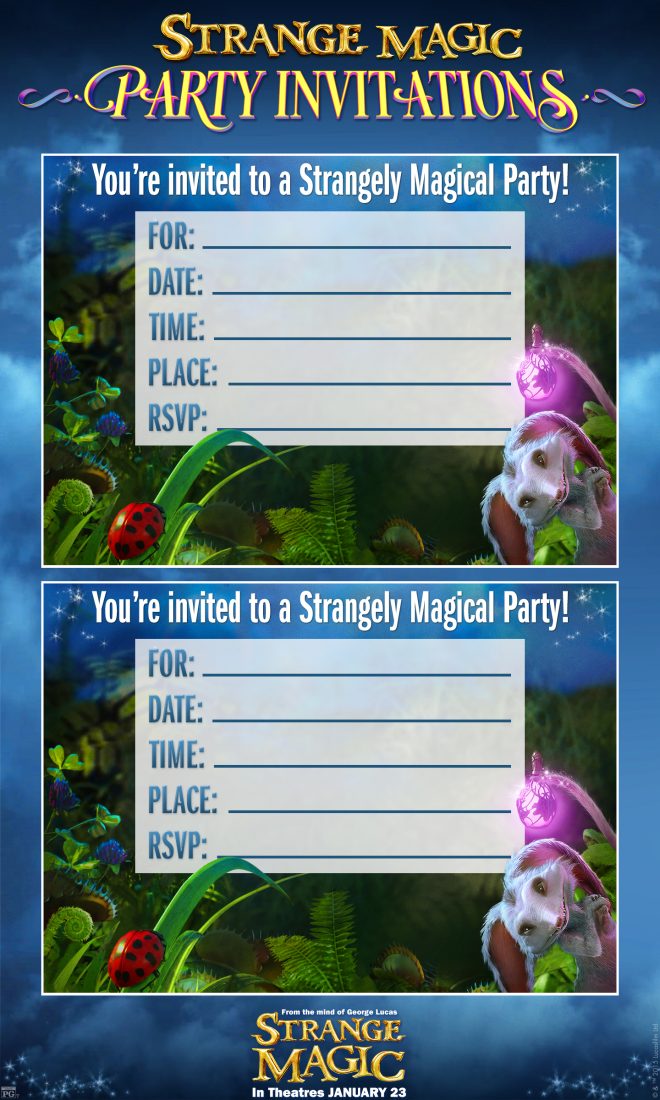 Strange Magic Thank You Cards printable activity sheet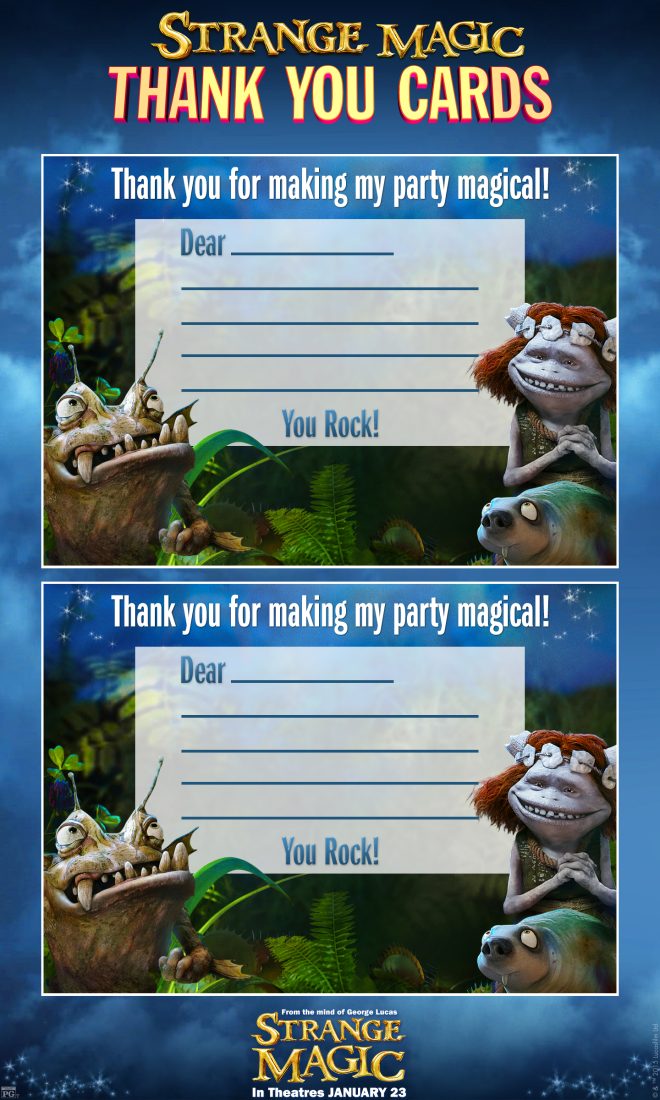 Party hat printable activity sheet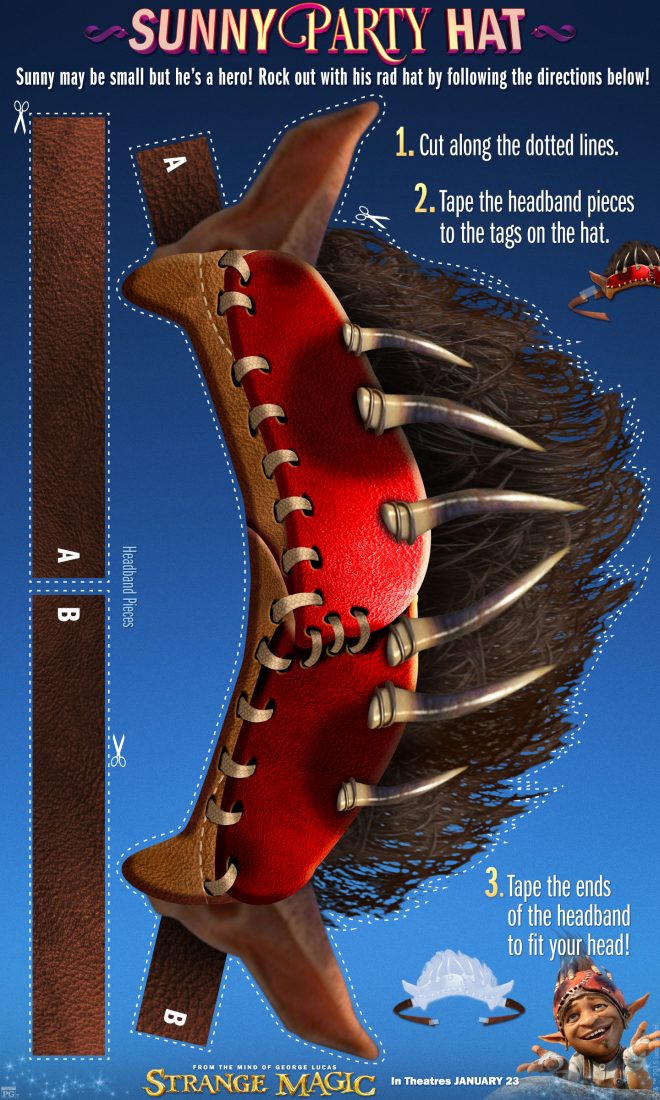 Strange Magic Illusion printable activity sheet.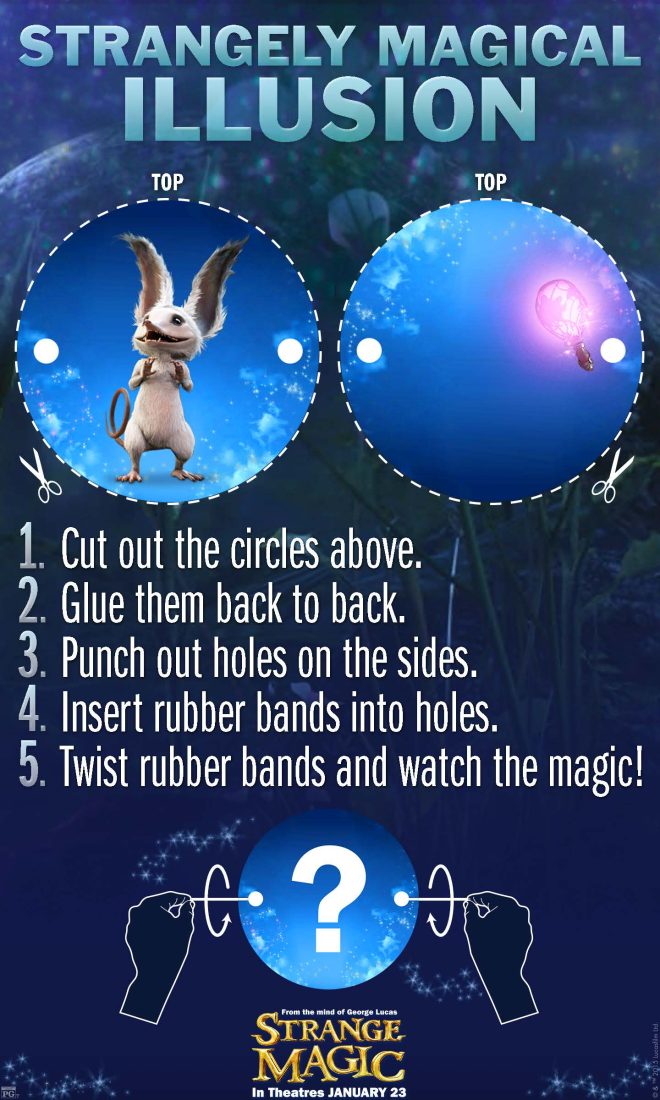 Fairy Wing Decorations printable activity sheet next.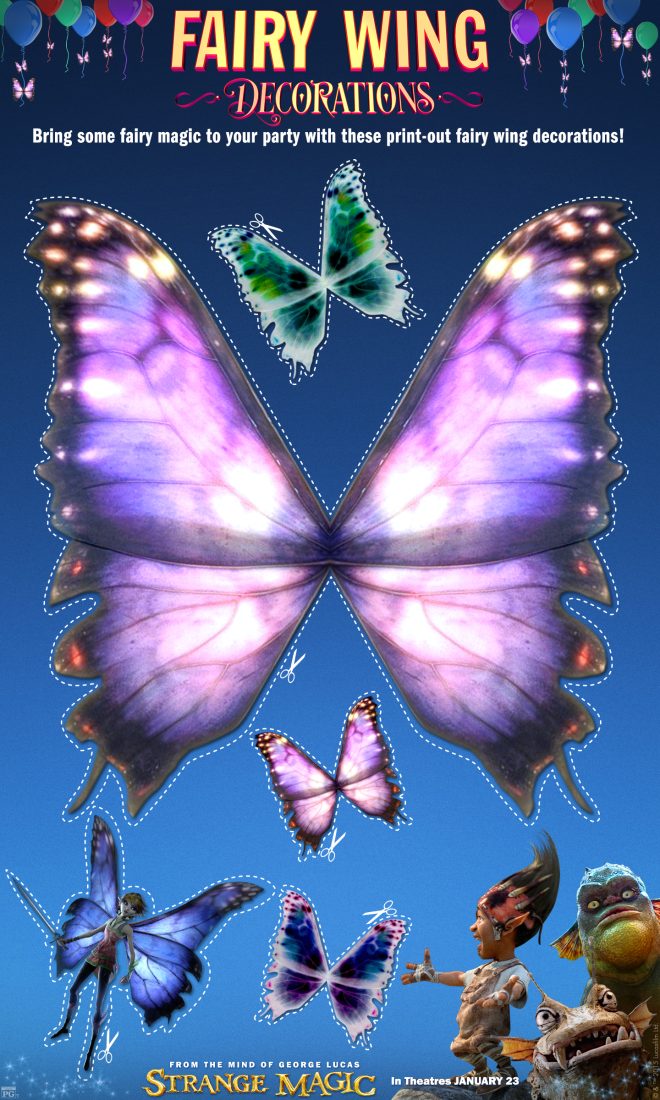 Fairy Jar printable activity sheet.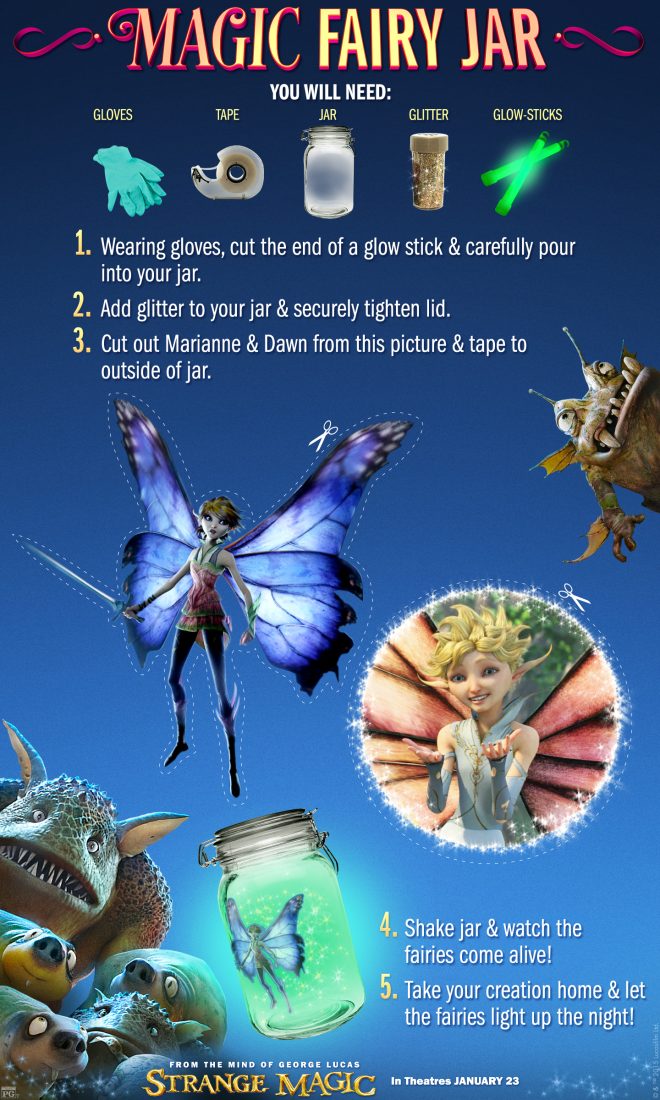 "Strange Magic"  is a madcap fairy tale musical inspired by "A Midsummer Night's Dream." Popular songs from the past six decades help tell the tale of a colorful cast of goblins, elves, fairies and imps, and their hilarious misadventures sparked by the battle over a powerful potion. Lucasfilm Animation Singapore and Industrial Light & Magic bring to life the fanciful forest turned upside down with world-class animation and visual effects. Directed by Gary Rydstrom ("Toy Story Toons: Hawaiian Vacation," "Lifted") from a story by George Lucas, "Strange Magic" will be released by Touchstone Pictures on Jan. 23, 2015 and is rated PG.