Strange World SPLAT Cupcakes – printable cupcake topper!
Disclosure: This site contains affiliate links
These tasty Strange World cupcakes will be a hit with any SPLAT fan! A sweet pink base and an easy printable topper will elevate any Strange World themed birthday party!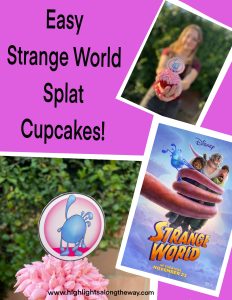 First, grab your SPLAT CUPCAKE TOPPER printable! This is an instant download that you can print from your home computer as soon as you download!
DIY Easy Strange World Cupcakes
1. Make Some Boxed Cupcakes. I used Betty Crocker's White Cake Mix, but any will work. If you really want to get into the theme, try Strawberry Cake or Confetti.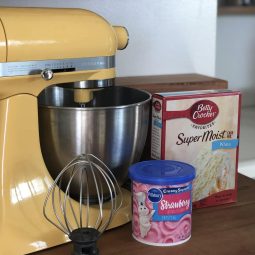 2. Make the Frosting. The goal here is to pipe thick anemone-like grass to mimic the landscape in "Strange World". To do this, I started with some store-bought strawberry frosting. Next, I added a few drops of red food dye to make it hot pink and whipped it up nice and fluffy. And finally, I added about a ⅓-½ cup of powdered sugar. This makes the frosting thicker so it can hold its shape when decorating the cupcakes.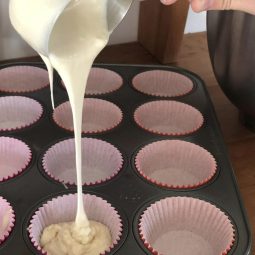 3. Freeze the Cupcakes. This will stop the frosting from melting and helps make sure your cute design lasts.
4. Make your Toppers. You can make little Splat toppers by using our printable. All you need to do is download, print, cut out, and tape toothpicks on the back so you can insert them into cupcakes.
5. Decorate your Cupcakes. Apply a thin layer of regular frosting on the cupcake itself. Then, fill a Ziploc bag with your thickened frosting and cut about 1/8th inch of the end with kitchen scissors. Next, pipe the grass starting from the center. Try to keep each piece of grass as close to each other as possible. Finally, add your cupcake toppers!
And you're done! You now have beginner-friendly adorable "Strange World" cupcakes! Ours were delicious and we got some great pictures.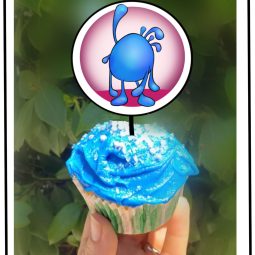 Let us know if you try these cute cupcakes, and make sure you check out "Strange World" in theaters on November 23, 2022!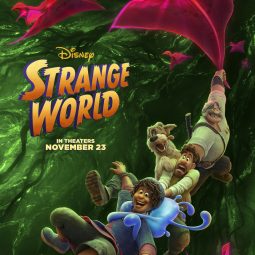 What is Strange World?
Strange World is an animated film by the world renowned animation studios – Walt Disney Animation. Opening in U.S. theaters this Nov. 23rd, the feature film introduces a legendary family of explorers, the Clades, as they attempt to navigate an uncharted, treacherous land alongside a motley crew that includes a mischievous blob, a three-legged dog and a slew of ravenous creatures. "Inspired by classic adventure stories," said director Don Hall, "'Strange World' is an original animated adventure/comedy about three generations of the Clade family who overcome their differences while exploring a strange, wondrous and oftentimes hostile world."
The voice cast includes Jake Gyllenhaal as Searcher Clade, a family man who finds himself out of his element on an unpredictable mission; Dennis Quaid as Searcher's larger-than-life explorer father, Jaeger; Jaboukie Young-White as Searcher's 16-year-old son, Ethan, who longs for adventure; Gabrielle Union as Meridian Clade, an accomplished pilot and Searcher's partner in all things; and Lucy Liu as Callisto Mal, Avalonia's fearless leader who spearheads the exploration into the strange world. "Strange World" is helmed by Don Hall (Oscar®-winning "Big Hero 6," "Raya and the Last Dragon") and co-director/writer Qui Nguyen (co-writer "Raya and the Last Dragon"), and produced by Roy Conli (Oscar®-winning "Big Hero 6," "Tangled").
Is Strange World going to be on Disney Plus?
Strange World will premiere exclusively in theaters, but it is likely it will be on Disney+ within a few months from that. No date has been set for the release of Strange World streaming on Disney+ or Blu-Ray. We will update our Strange World fans about viewing options when that information is announced.
About Disney+
Disney+ is the dedicated streaming home for movies and shows from Disney, Pixar, Marvel, Star Wars, and National Geographic, along with The Simpsons and much more. In select international markets, it also includes the general entertainment content brand, Star. The flagship direct-to-consumer streaming service from The Walt Disney Company, Disney+ is part of the Disney Media & Entertainment Distribution segment. The service offers an ever-growing collection of exclusive originals, including feature-length films, documentaries, live-action and animated series, and short-form content. With unprecedented access to Disney's long history of incredible film and television entertainment, Disney+ is also the exclusive streaming home for the newest releases from The Walt Disney Studios. Disney+ is available as a standalone streaming service, as part of the Disney Bundle in the U.S. that gives subscribers access to Disney+, Hulu, and ESPN+, or as part of Combo+ in Latin America with Star+, the standalone general entertainment and sports streaming service in the region. For more, visit disneyplus.com, or find the Disney+ app on most mobile and connected TV devices.