Summertime at the Disneyland Resort!
Disclosure: We attended a media party at the Disneyland Resort and admission tickets were provided to party guests. Opinions are always our own.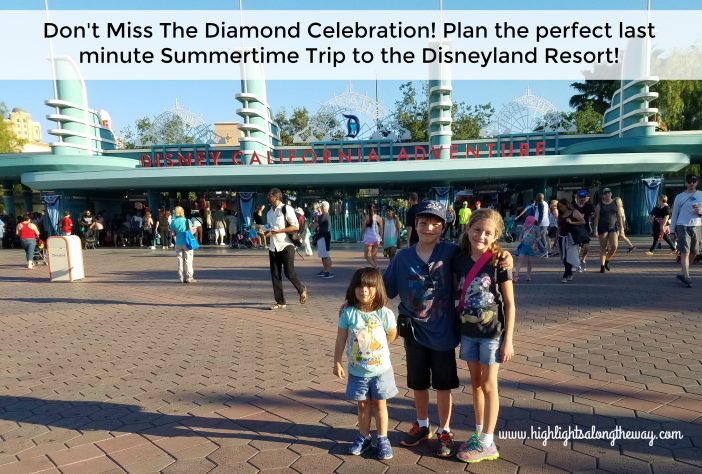 The Disneyland Resort in California is one of the most popular Summer destinations in the world. If you would like to visit during the Diamond Celebration this is your last chance! The Diamond Celebration officially comes to an end of September 5, 2016. Summertime at Disneyland is magical but can be busy. While Summer can be busy and hot in Anaheim California we always have a great time at Disney. Today we wanted to share some of our favorite tips for visiting during the Summertime at the Disneyland Resort.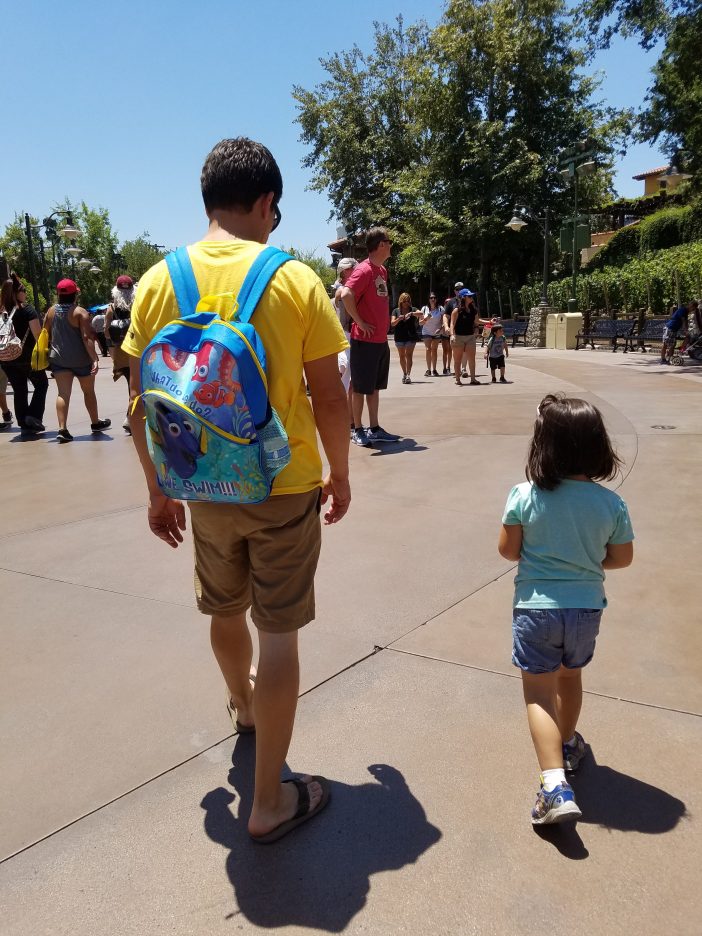 When journeying to a Disneyland during peek season, it is so important to plan ahead! Entering the park with a plan and reasonable expectations are going to be a great start to a magical day!  I remember as a little girl being at the parks bright and early and running from one popular attraction to the other during the first couple hours of the day.  We also knew a place and time to go for the parade and fireworks. Meals had also been sorted out before we even stepped foot into the park.  Dad's planning clearly passed down. We use some of dad's strategies, but also have adopted our own tricks to getting the most out of our day.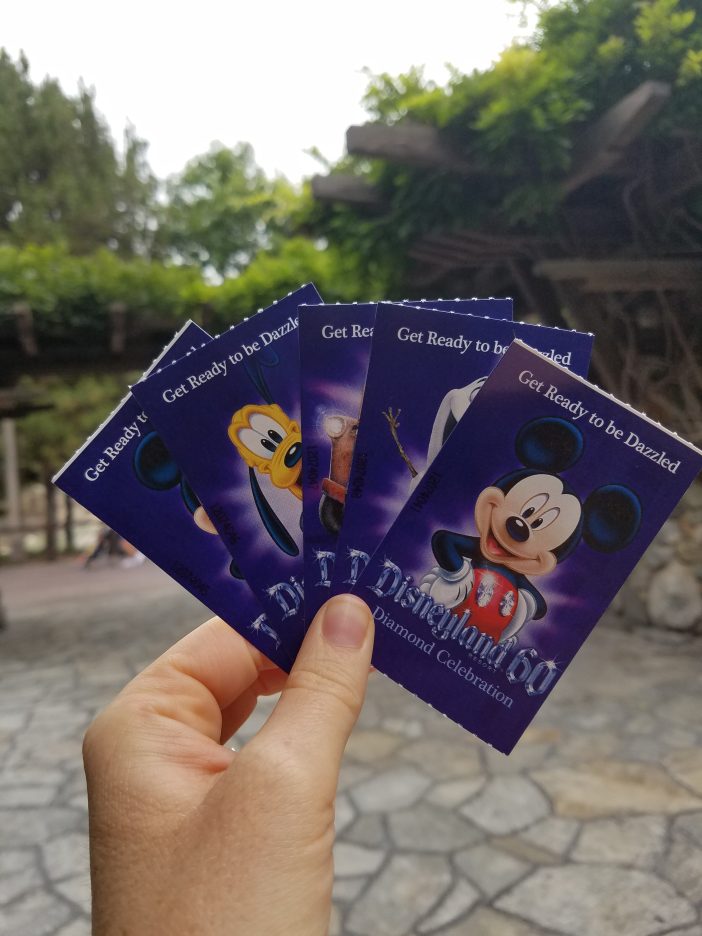 Check out the Disneyland website before you leave.  Download the Disneyland Mobile App at least during your trip.  The website and the App will give you up to date information regarding hours, ride closures, height requirements, restaurant reservations, a map and more. While I wouldn't suggest planning out every single minute, it is a good idea to not just wing it during busy season.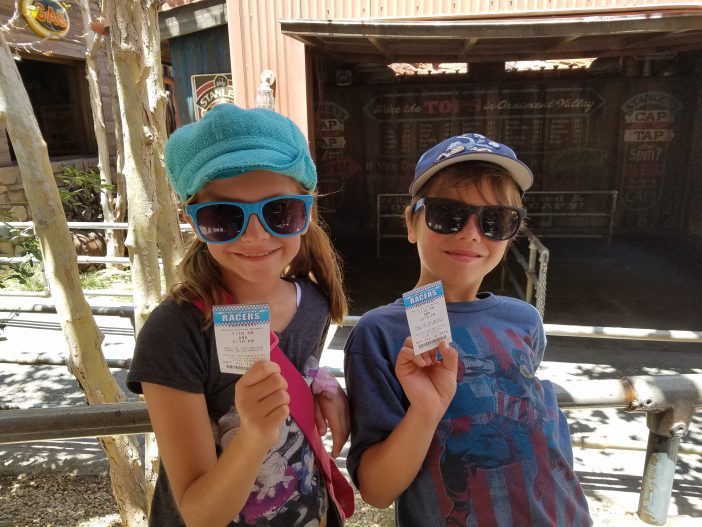 On our last visit to The Disneyland Resort we spent a majority of our time at Disney California Adventure Park. There were several new rides and shows so we wanted to visit them all! While we were there we took advantage of the Fast Pass option on three popular attractions.  On a Saturday in July it is not uncommon for the most thrilling rides and attractions to have hour long queues, or more! We used Fast Passes for Radiator Springs Racers, Frozen Live, and Soarin' Over the World.  While our Fast Passes held our space at these rides and shows we were free to visit other attractions.
Summer hours tend to be long, giving guests many hours to play! My first tip is to be at the gates bright and early and take advantage of the Fast Pass system.  In general, the parks are quiet during the first hour or two of the day.  Our plan is to secure a Fast Pass for our favorite ride and then hustle over to another popular ride before there are any crowds at all.  For those that are unfamiliar with a Fast Pass, this is a FREE service Disney offers to help guests really get the most out of their day.  A Fast Pass holds your space in line on some of the most popular rides in the park.  Keep in mind you can only have one Fast Pass out at a time. You can grab a new Fast Pass once you have redeemed your last Fast Pass. Obtaining a Fast Pass early is best. Guests can use the Fast Pass system all day long as long as they only have one place being held at a time.  Guests can take advantage of this free option several times a day.
Early in the morning, guests can enjoy walking right on rides with little to no wait at all.  On a Saturday in July we secured our first Fast Pass and then walked on several rides with five minute wait times!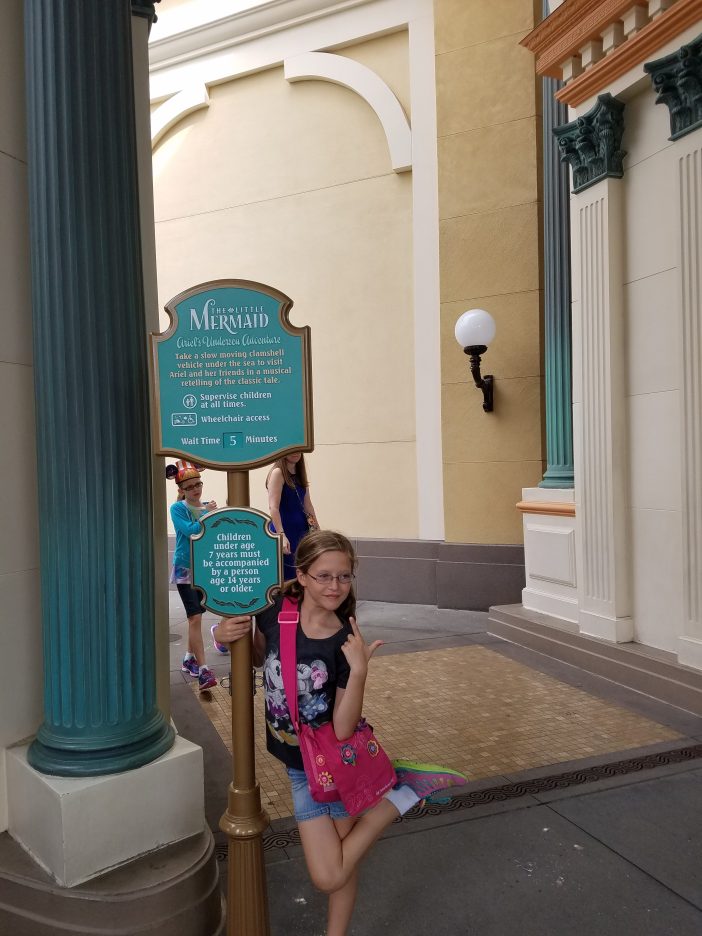 Five minute wait?!  Yes please!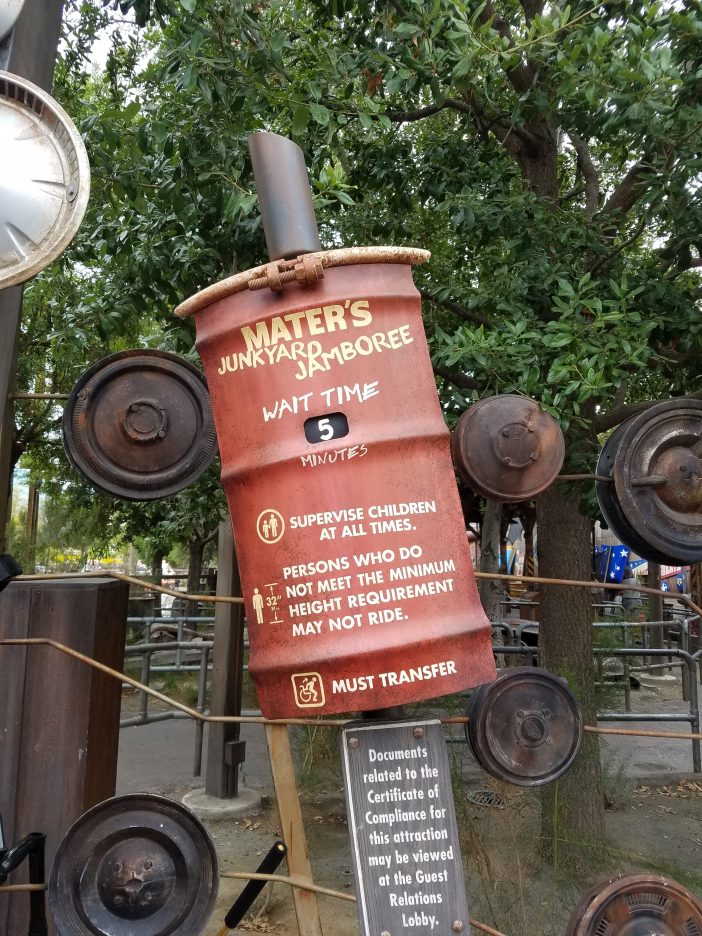 Hot tip! Mater's Junkyard Jamboree almost always has a short wait time.  I think people pass it by for Radiator Springs Racers and simply miss it.  Watch the video below. Mater's is SO fun and I hope you don't miss it!
Another ride we walked right on is practically brand new!  We waited less than ten minutes to ride Luigi's Rollickin' Roadsters. This ride only opened a few months ago, and it was something we really wanted to try.  Luigi's Rollickin' Roadsters is located at the end of Carsland across from Radiator Springs Racers. Adorable little cars dance in perfect unison to lively music and you get to go along for the ride.  We rode it three times in about half an hour!  The early bird really does get the worm.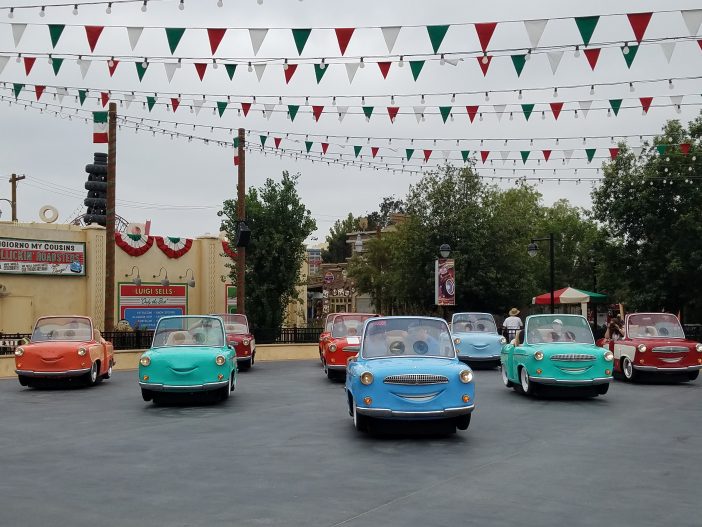 Seriously, how cute is this ride?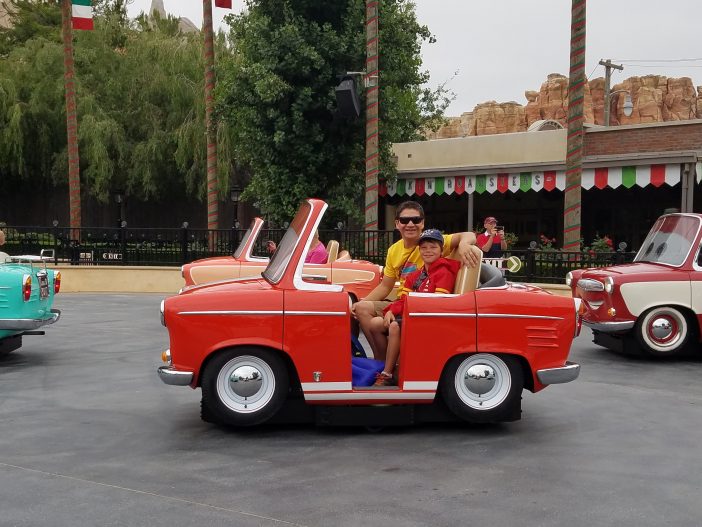 Another key tip to having a fun day during the Summertime at Disneyland is to try to stay cool! Remember to stay hydrated. Dress in light and comfortable clothing. We typically bring a light jacket and store in a locker for the evening.  Pack sunscreen, hats, lip balm, and a water bottle.  Forgot your water bottle?  The good folks at just about any restaurant will kindly give you a cup of ice water and water bottles are available for purchase.  One thing we fell in love with a few years back is the cooling mist fan. A mist fan seems like a pricey investment but one works for the whole group and can be used over and over.  On hot days it is well worth the splurge! I included an affiliate link to purchase before you go to save time; combine with other purchases and discount codes for a discount too!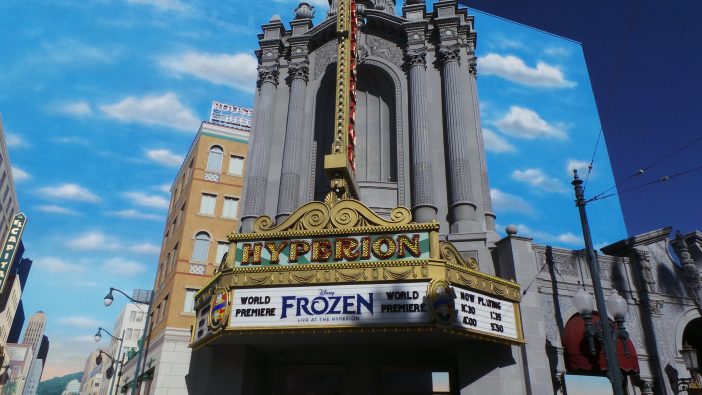 One of the best ways to stay cool is to enjoy indoor shows and attractions.  Frozen Live at The Hyperion was at the top of our list to view!  We have enjoyed the Aladdin Live show for years.  While we were sad to see Aladdin go, we knew Frozen Live would be just as fantastic. The Hyperion Theater in Hollywood Land offers several shows a day that are truly professional musical theater performances.  The theater is huge, but this new show draws large crowds. While the theater holds nearly 2,000 guests, a Fast Pass is still needed to ensure seating.  Once inside you will enjoy a Broadway level performance.  Live theater is a unique experience that I encourage families to partake in as soon as their children can sit through the performance.  I love that Disney provides a professional performance of a familiar and beloved show for families to experience together.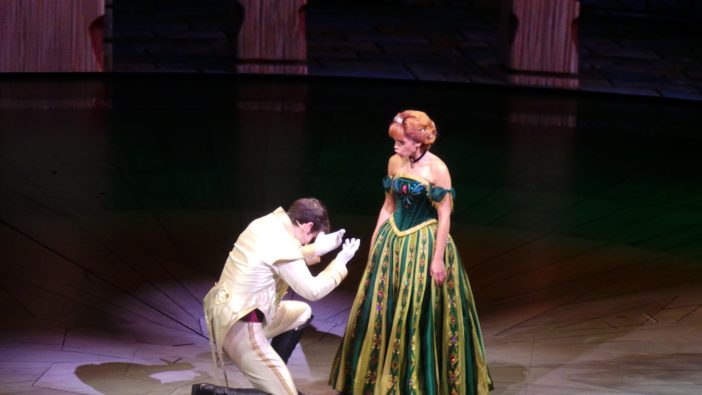 Soarin' over the World is another new attraction at Disney California Adventure Park that is perfect for staying cool! Soarin' over California was a favorite ride for more than a decade that we were sad to see go. Soarin' over California was replaced by Soarin' over the World just this past June and we were so excited to check it out.  As one might imagine, this new ride is extremely popular.  Luckily for park goers there is a Fast Pass option for Soarin'! It is important to note for those who are visiting on a hot day that much of the line for Soarin' is actually indoors and air conditioned, as is the ride itself.  Soarin' over the World is a brand new must see that will capture your heart!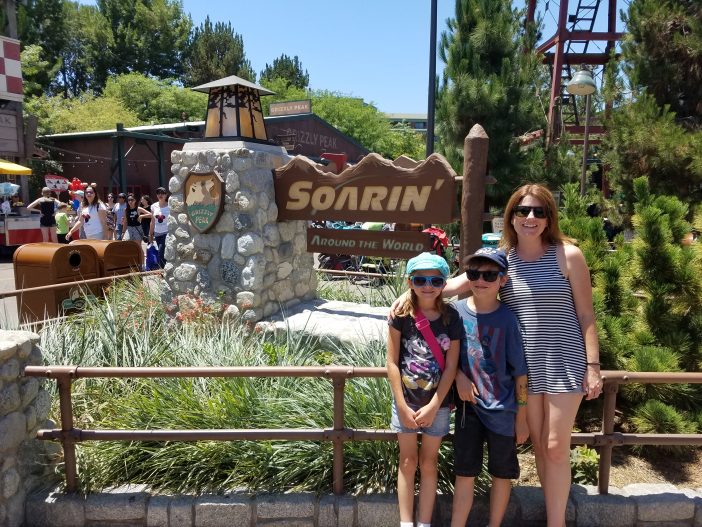 Reserving a dinner packages is a great way to really save time and enjoy your day at Disneyland. It was recently announced that the Paint the Night Parade will be retiring on September 5, 2016 along with the rest of the Diamond Celebration.  The Paint the Night Parade is absolutely my favorite parade ever and I am a little bit heart broken to see it go.  With this new announcement this popular parade will have even more people lining up early to grab a great seat. Now more than ever I would suggest reserving a Paint the Night dining package that includes priority seating.  While others are lining the streets hours before the parade you can enjoy your dinner knowing a perfect spot is saved for you.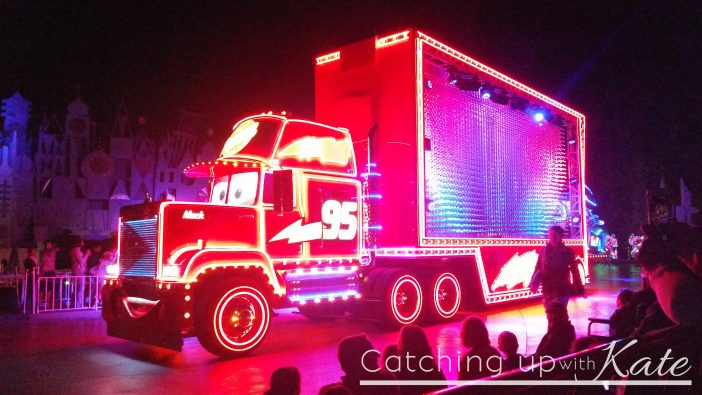 While I believe nothing takes the place of seeing the Paint the Night Parade in person, below is a video showing a glimpse from a previous trip.  As one might imagine from Disney, it is magical!  The Paint the Night Parade is followed by Fireworks that are the perfect 'Kiss Goodnight' after a day at the Happiest Place on Earth.
Many have already returned to school, Summer isn't over just yet!  I hope you and yours can enjoy a Summer day and night at the Disneyland Resort this Summer. With a little planning you can enjoy every single minute, stay cool, and make magical memories all along the way.