Be a Superhero at Back to School! FREE Printable
Disclosure: This post has been compensated by Collective Bias, Inc. and its advertisers. All opinions are mine alone. #MARVELSnackBar #CollectiveBias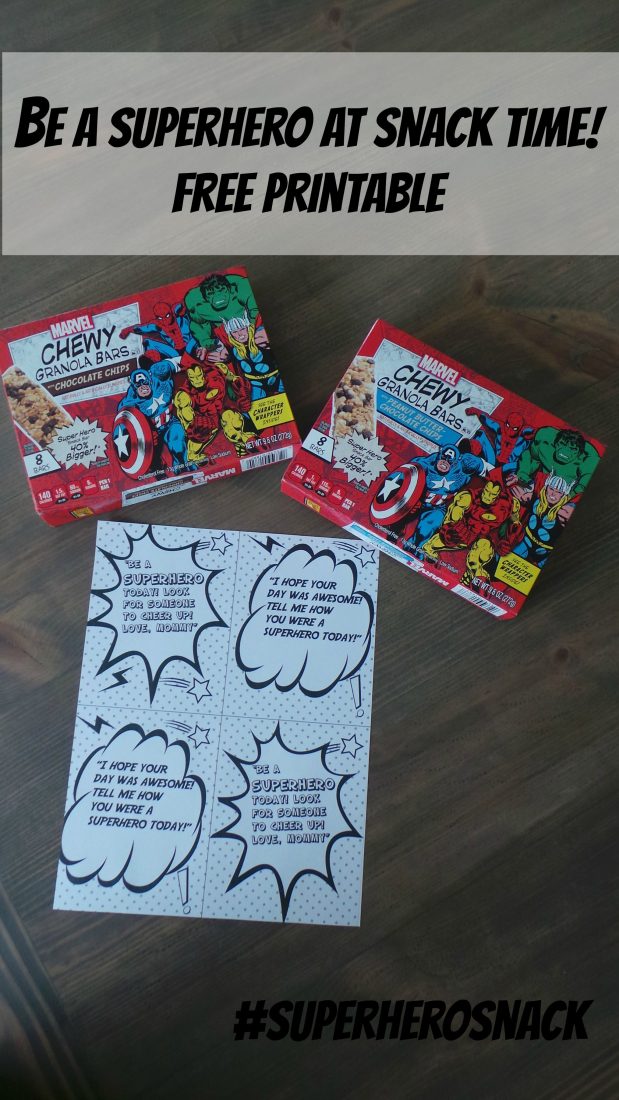 I am not sure how we got to back to school already, but here we are.
It is no secret that my son is into MARVEL superheroes big time.  I'm not one for over the top fancy bento box lunches, but I do love taking just a little extra time to put a special treat in his lunch box.  I absolutely love when I find a fun treat that is themed to his interests. I also like using the things that he loves to motivate him to come out of his shell from time to time.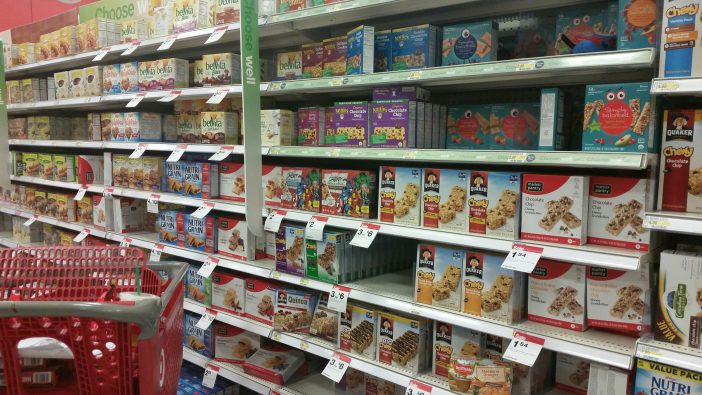 While at Target doing our Back to School shopping I always try to find a couple special treats for in lunch boxes as also for after school and on the go to practice.  Chewy Granola Bars are a must for a quick and fun treat anyway, but when I saw MARVEL superheros staring back at me on the box I knew I had to get them! All of my children (OK, and the husband) are huge MARVEL fans, but especially my son.  He would be sure to notice that I took the extra effort to pick out not only one of his favorite snacks, but also that it was wrapped up in his favorite characters!
A couple reasons why the MARVEL superhero themed Chewy Granola Bars are the BEST!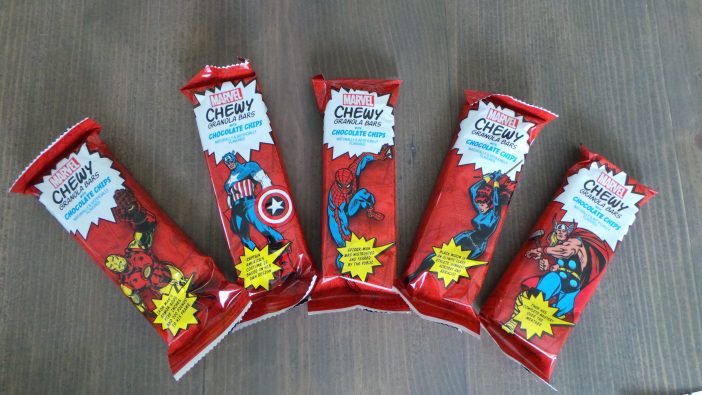 The MARVEL superhero themed Chewy Granola Bars come in 6 different wrappers including Captain America, Hulk, Spider Man, Iron man, Black Widow, and Thor.
The packaging also includes 4 fun collector cards that are already tucked away in my son's treasure box!  The Collector Cards include Hulk, Iron Man, Hawk Eye, and Spider Man. My kids seriously love when the box has a fun bonus and I love seeing it have a little extra life!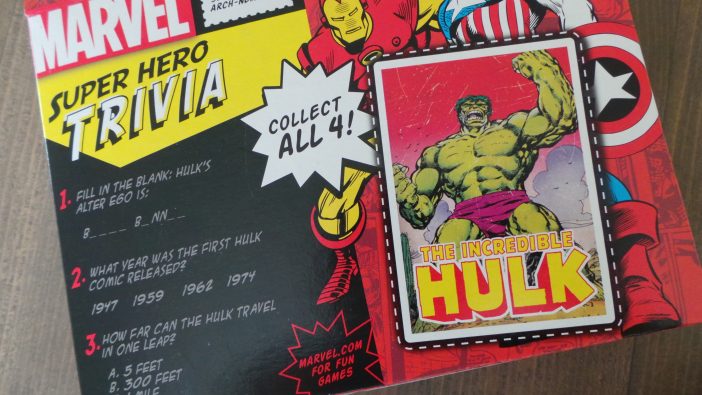 MARVEL superhero Chewy bars are 40% larger than the traditional chewy bar.  My children have always been Chewy Bar fans, but as they have grown we have noticed they often wanted a second.  This larger size is perfect for our growing superheros!
I decided to make this super fun conversation starter printable.  I have one for the lunch box and one for in the car ride home.
We bought two boxes of MARVEL Chewy Granola Bars for the kid's lunches.  We bought Chocolate Chip for at school and because we do not have allergies but some kids in our class do we bought Peanut Butter Chocolate Chip for the car ride home.
I made a fun little printable that prints four to a page.  Two separate designs on each page.
Printable Number One – for the lunch box "Be a Superhero today! Look for someone to cheer up! Love, Mommy"
Printable Number Two – I put this on their booster seat along with a chewy bar.  My kids are STARVING when they get in the car so waiting to get home for snack is pure torture.  Everyone benefits from a little snack in the car immediately.  On printable number two we simply have "I hope your day was Awesome! Tell me how you were a superhero today!" Our kids still love to talk in the car, but I think there might come a day where they won't be so excited to talk on their own, so we love these little conversation starters every once in a while.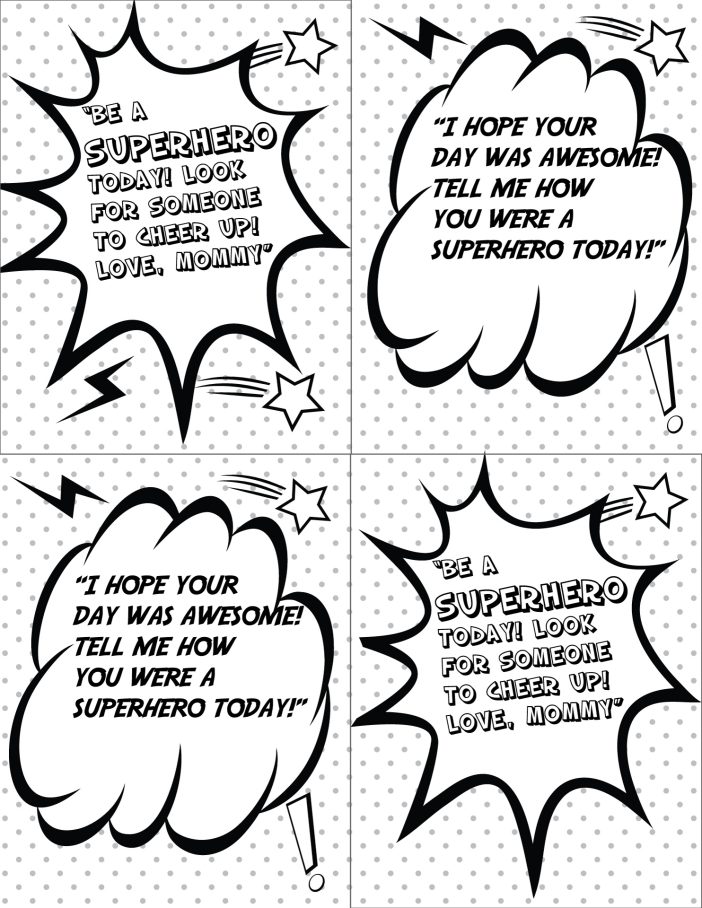 These are such an easy way to break the ice.  My son likes to know that I made the extra effort to not only purchase a treat themed to his favorite subject, but also that I took the time to find a little printable to talk with him.  My son and I are very similar in that we are sensitive and often have a hard time starting conversations ourselves.  This is a simple way for the two of us to bond after school.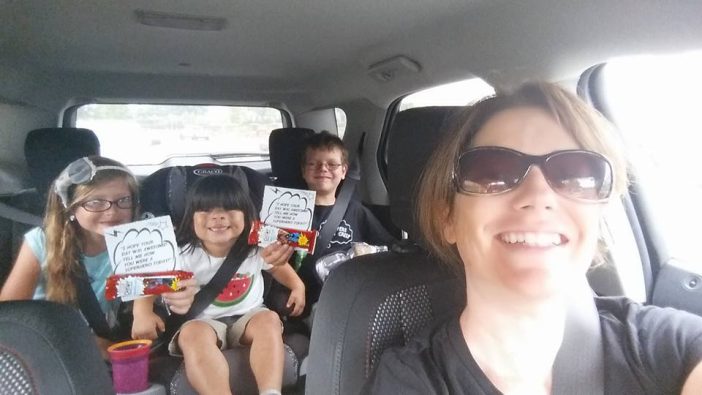 Be sure to check out how to make snack time even more SUPER at the MARVEL hub!  How do you play superhero during lunch time and after school?