Sylvie Costume DIY – Loki!
Disclosure: Highlights Along the Way is a participant in the Amazon Services LLC Associates Program, an affiliate advertising program designed to provide a means for sites to earn advertising fees by advertising and linking to amazon.com. This site uses affiliate links. Photos courtesy of Amazon Services LLC.
Sylvie's costume, like all of the characters in the Marvel Cinematic Universe, is legendary. The famous Loki Variant has a unique appearance that plays off her Sacred Timeline variant – Loki Laufeyson the Frost Giant. Sylvie's costume is distinctive because of her corset, dark cloak, and iconic broken horns. A Sylvie costume can be hard to make or find, but you can easily put together your own with things you have at home and few things from online.
Sylvie is a strong and independent female anti-hero and superhero. She is driven by her heart and emotions, just as much as she is by logic. That balance makes her an unpredictable and interesting character, because viewers never know her next move. If you are looking for a strong female superhero for your next costume, Sylvie is the perfect choice!
The Best Sylvie Costume
Serious cosplayers will want a very close match when they are playing Sylvie. This is the deluxe professional Sylvie costume of my dreams! If you want an exact match to what you see onscreen, just get this deluxe Sylvie cosplay costume here! This costume is a replication of Sylvie's battle suit she wears towards the end of Season 1 and in the Season 1 finale. The outfit is complete. It even includes the cloak and iconic Sylvie horns!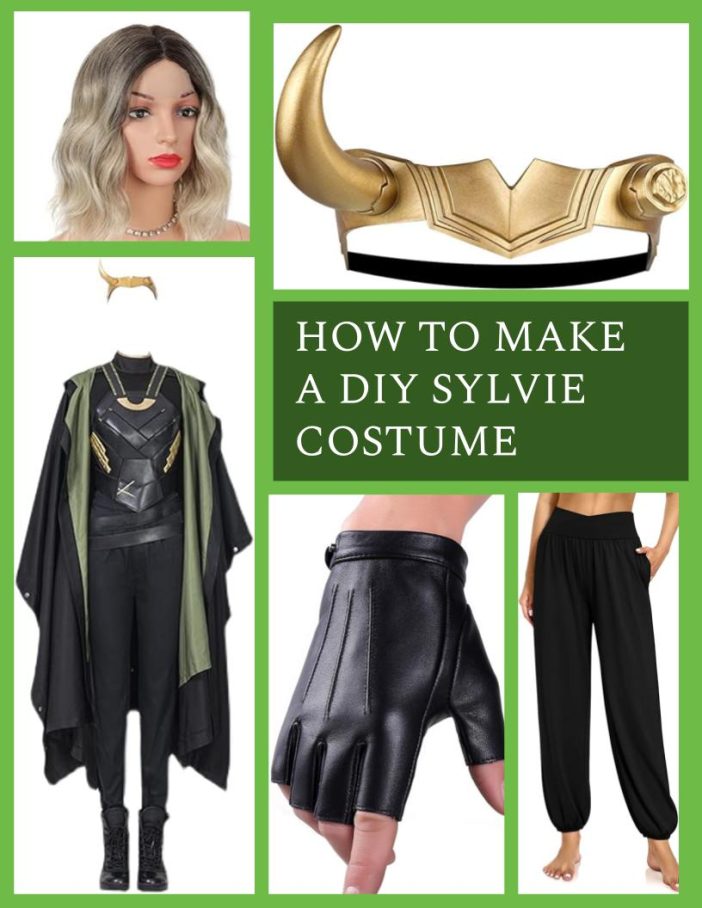 DIY Sylvie Costume
If you aren't looking to spend that much on a premade costume, you can totally make one on your own for a fraction of the price. I found some pieces thrifting, some online, and even used some things I already had. And you can easily do the same.
I put together a Sylvie Costume this year using some things I already had in my wardrobe and with a few Amazon purchases. You can also find a lot of these pieces thrifting, especially if you don't mind it not being 100% identical to the original costume.
One thing to consider about DIY, is that unless you buy every material and design everything from scratch, it's not going to be a perfect match. Luckily, the whole concept of the show is about variants. So you can easily put your own spin on the costume and design, and it will still read fine. In fact, that is exactly what I did.
Where to Buy Sylvie Horns
These are the Sylvie horns I ordered for my costume. This broken horn headband is awesome, especially for such a great price! They are shiny and very detailed. They almost look like real metal. But they are actually made out of a flexible plastic. So they are super comfortable to wear and looking amazing at the same time. I plan on wearing these to Disneyland in the future and hopefully to Comic Con. I highly recommend them as they are comfortable and have definitely held up with multiple wears for me.
The Best Sylvie Corset
CORSET TOP:
Sylvie has an iconic dark green, gold, and black corset that she pairs with baggy black pants and combat boots. But since it is so specific, it's hard to find an exact match. Personally, I decided to go with a black corset dress with gold threading that I already had. You'll just need a corset type top with gold accents. Here are a few great options that you can order from Amazon:
Charmian Women's Steampunk Gothic Spiral Steel Boned Brocade Waist Cincher Overbust Corset with Chains Buckle Black XXXXX-Large at Amazon Women's Clothing store
ELLACCI Women Gold Chain Smooth Push up Bustier Crop Top Corset Bra with Detachable Straps at Amazon Women's Clothing store
Amazon.com: Steampunk Corset Tops for Women Leather Corset Plus Size Steel Boned Corset Overbust Corset Zipper Black SizeL: Clothing, Shoes & Jewelry
TOP FOR UNDER CORSET
Sylvie wears a high-necked, long-sleeve, black shirt underneath her corset. This may be something you already have at home. But you want it to be relatively tight, so here are some options if you don't have one already.
If you want to show a little more skin…
MANGOPOP Women's Short Sleeve Long Sleeve Sheer Mesh Crop Tops Tee Shirt Blouse at Amazon Women's Clothing store
If you want to keep it more accurate to the show…
Sakkas Metallic Liquid Mock Neck Turtleneck Long Sleeve Crop Top – Made in USA at Amazon Women's Clothing store
Pants For Sylvie Costume
For my version of the costume, I wore a short dress with tights. In the show, Sylvie wears pants sort of like these:
Amazon.com: UEU Women's Harem Crossover High Waisted Flowy Pants Yoga Joggers with Pockets Lounge Pajamas Casual Loose Sweatpants : Clothing, Shoes & Jewelry
SHOES
Best bet is combat boots, but black tennis shoes would also work great. It just depends on what your using this costume for. If you are assembling this costume for cosplay or Comicon, I recommend getting some sleek black boots to complete the look.
If you want an elevated look, add a heeled boot! I used the booties from Journee Collection and they are absolutely gorgeous. They are patent leather and shiny and so cute! I plan on wearing these all Fall and winter!
Journee Collection – MOLLIE Booties
"The in-house design team at Journee Collection carefully details each shoe with your journey in mind, offering comfortable, versatile products in sizes that celebrate body positivity and self-love. True to its name, they've carved a path to provide up-scale styles at attainable prices. Follow them on Instagram @journeecollectionshoes."
SYLVIE CLOAK
One of the hardest things to find online is a cloak that looks similar and is decent quality. The main problem I was having was finding something that wasn't shiny or neon green. But as I was searching to make my costume, I had the idea to get a Slytherin robe and alter it.
I found this amazon knockoff "magician themed cloak" that is great quality for only 23 dollars. It is a little short, but Sylvie's cloak is short so it worked great for the project.
The alterations I made were getting rid of the tip of the wizard hood, removing the buttons and fastener, and I took the hem on the sides up a bit to give it more of a V-shape like hers. It only took me a couple of hours and the result is great!
Amazon.com: YLYGJGL Magician Themed Hooded Cloak Adult Teens, Black Wizard Robes Men Women,Halloween Movie Role Play : Clothing, Shoes & Jewelry
Sylvie Costume Accessories
Sylvie also wears fingerless gloves, so I got these shiny ones and they were really comfortable and looked awesome. They also come in a lot of different sizes, so as someone with small hands, these were perfect.
Fingerless Cosplay Gloves PU Faux Leather Outdoor Sport Half Finger Driving Glove for Men Women Teens (Fingerless, M) at Amazon Men's Clothing store
This is totally optional, but I also got a wig to really sell the character. I spent some time styling it and I think it looks great!
Amazon.com : Kalyss 12″ Synthetic Edge Lace Front Wigs for Women Short Wavy Bob Wig Middle Part Ombre Ash Blonde Wig for Daily Wear(12", Ombre Ash Blonde) : Beauty & Personal Care
About the TV Series – Loki
The Loki series on Disney+ is a thrilling and innovative addition to the Marvel Cinematic Universe (MCU). Starring Tom Hiddleston in his iconic role as the God of Mischief, this show takes viewers on a mind-bending journey through time and alternate realities. Set in the aftermath of the events of "Avengers: Endgame," Loki finds himself apprehended by the Time Variance Authority (TVA), an organization tasked with maintaining the integrity of the multiverse. The series masterfully blends elements of science fiction and fantasy, offering a unique exploration of Loki's character while introducing intriguing new concepts to the MCU. With its charismatic cast, clever writing, and breathtaking visual effects, the Loki series has become a fan favorite.
Sylvie, the Loki variant portrayed by Sophia Di Martino in the Disney+ series, is a character who has captivated audiences with her complexity and depth. She is a variant of Loki from an alternate timeline. Sylvie is determined to escape the Time Variance Authority (TVA) and confront the mysterious Time-Keepers. Her unique magical abilities and cunning intellect make her a formidable and unpredictable force. What truly sets Sylvie apart is her vulnerability and her quest to understand her own identity and place within the multiverse. As her character arc unfolds, viewers are drawn into the intricate web of her backstory and motivations, making Sylvie a compelling and enigmatic addition to the Marvel Cinematic Universe.
If you're a huge Loki fan, you'll love our printable coloring sheets!
Check out are adorable coloring sheets we made for season 1! They are super fun, great for kids, and we know fans will enjoy them.
Check them out here: Loki free printable coloring sheet instant download – print from home!
The Loki series on Disney+ has undeniably left its mark on the Marvel Cinematic Universe. Whether you're considering purchasing a ready-made Sylvie costume or crafting your own DIY version, there's no doubt that you are going to get tons of compliments and attention over your awesome costume.