The Best Grinch Holiday Lawn Display!
Disclosure: Highlights Along the Way is a participant in the Amazon Services LLC Associates Program, an affiliate advertising program designed to provide a means for sites to earn advertising fees by advertising and linking to amazon.com.
The Grinch is a holiday classic. The Grinch Who Stole Christmas is the ultimate Holiday Lawn Display. The Grinch books and movies remind us that Christmas and the holiday season are never just about presents. While we all get excited about giving and receiving gifts; the heart of Christmas should always be about love. If it isn't, what is the point? The Grinch learned this powerful lesson in the movie "What if Christmas, perhaps is about something more?". We love to put up lights and tell a story with our Grinch Lawn ornaments. Our neighbors over the years have loved our Grinch Lawn Display, now with our printable patterns, you can replicate our Grinchmas display at your home for the holidays!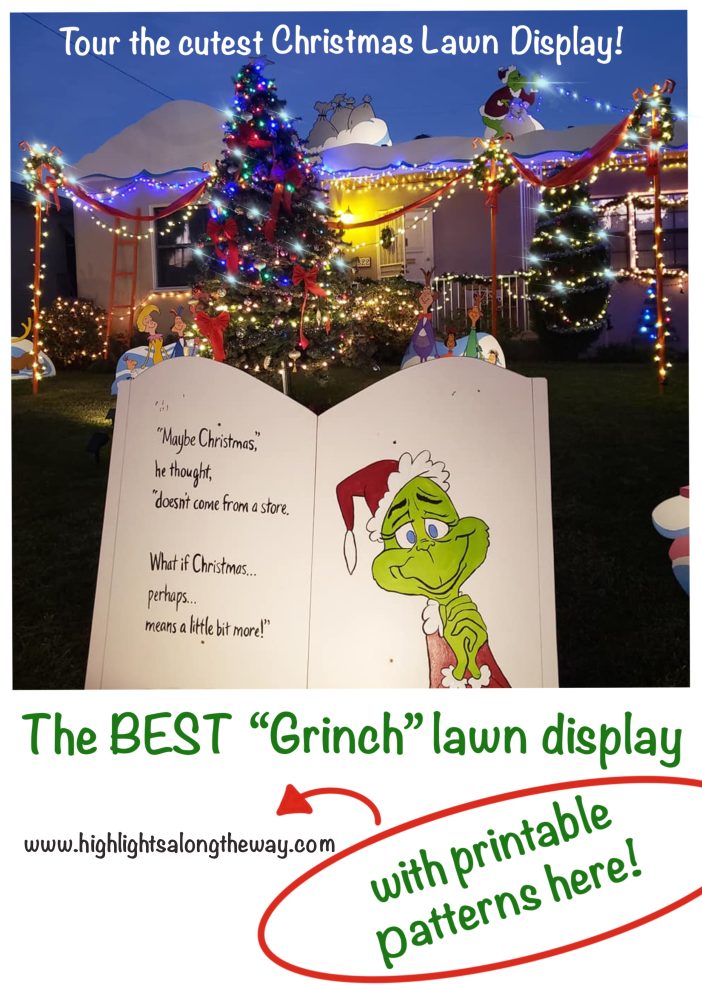 Grinch and Whoville Lawn Display
This Holiday Lawn Display includes The Grinch, Cindy Lou Who, Max, and of course lots of bright and happy lights. See how we made our lawn display to make your own or simply buy pieces to use in your yard. These unique, handmade pieces are available to purchase or make. We hope our display inspires you to make a cheerful Whoville display in your neighborhood too!

DIY Grinch Lawn Display Inspiration!
If you plan on making your own lawn displays, please make sure to check out our downloadable patterns. We created patterns based on the lawn displays we made. We hope you will check them out! We love seeing our creation being made and shared all over the world, please tag @HighlightsAlongtheWay on Instagram to be featured in our stories! We love seeing Whoville come to life!
When I was growing up, there was a family a few streets down that had hand painted cartoon panels that they would set up at Christmas time. Our family always put up lights and we always had tons of presents, but I wanted so badly to have these fun panels up in our yard. One year the family asked me to help sketch out a Beauty and the Beast panel; that nerdy teenager was honored to do so. I knew by then it wasn't something my family was really into, but I was already planning the 'tacky' lawn display of my dreams.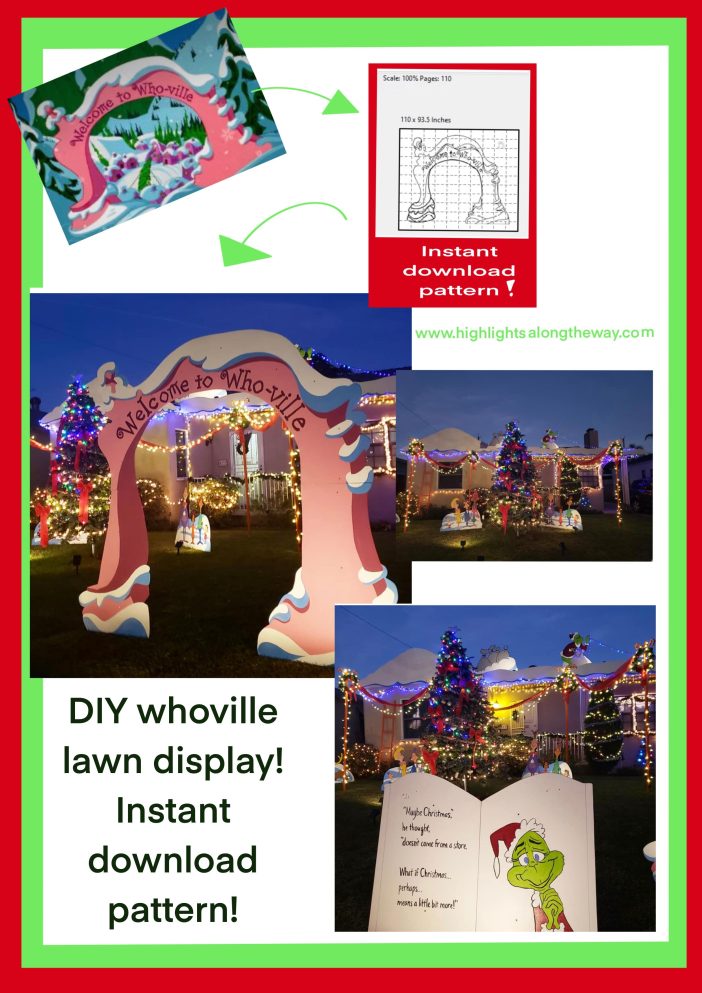 Cartoon Lawn Displays are a fun way to get into the holiday spirit. Celebrate the season with your neighbors. A classic cartoon theme brings people back to their childhoods. The next generation can be introduced to holiday favorites with this fun pop up theme. Our family hand painted each panel, but there are dozens of Grinch themed holiday decor items available for purchase online. Decorate for the holidays in the best way that works for your family and front yard.
Don't miss our Alice In Wonderland Lawn Display!
Tour of Burbank Whoville – the BEST The Grinch Stole Christmas Lawn Display!
Classic 2D animation captured my heart before I really even knew what it was. Cartoons, animation, even comic strips were my happy place. I thought as soon as I had a house we would be 'those people' with the 'tacky' front yard lawn display. I married someone with the same love of silly cartoons, and still things didn't quite work out that way. We had a house with a yard for more than a decade and never put anything more than Christmas lights up. Well, this was the year we really wanted to shine!

Whoville Lawn Display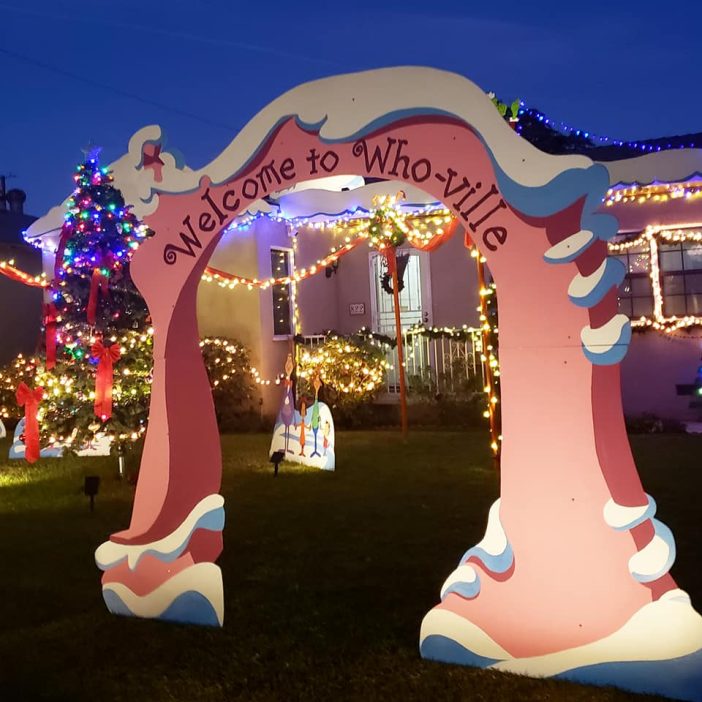 DOWNLOADABLE WELCOME TO WHO-VILLE SIGN PATTERN HERE! Simply click to purchase and download on your home computer. We've included a printable pattern, color key, product list, and structural instructions in an over 100 page PDF!
Well; I think my phrase for 2020 was "Late to the game, but I am here now". We spent most of 2020 like a lot of other people, trying to stay out of the way to help slow the spread. We worked through several "Quarantine Projects" from redoing our kitchen after two years of doing no house projects to literally moving (moving during a pandemic is PEAK family challenge you guys), and quarantine continues.
Well, little did we know that we moved to the perfect place to encourage us to finally have that goofy front yard Christmas display we always wanted. We noticed our new little neighborhood goes real big for holidays. Halloween lawn displays were insane and we were told that Christmas is no different so we found our new Quarantine Project! After discussing multiple classic cartoon themes, we committed to making an adorable "Whoville" scene complete with Cindy Lou – Who, Who Citizens, Max, and of course the Grinch himself. We would hand paint panels and also use faux Christmas trees and tons of lights. If you are looking for the easiest Grinch lawn display, that is easy enough to order on Amazon!

Cindy Lou Who Lawn Display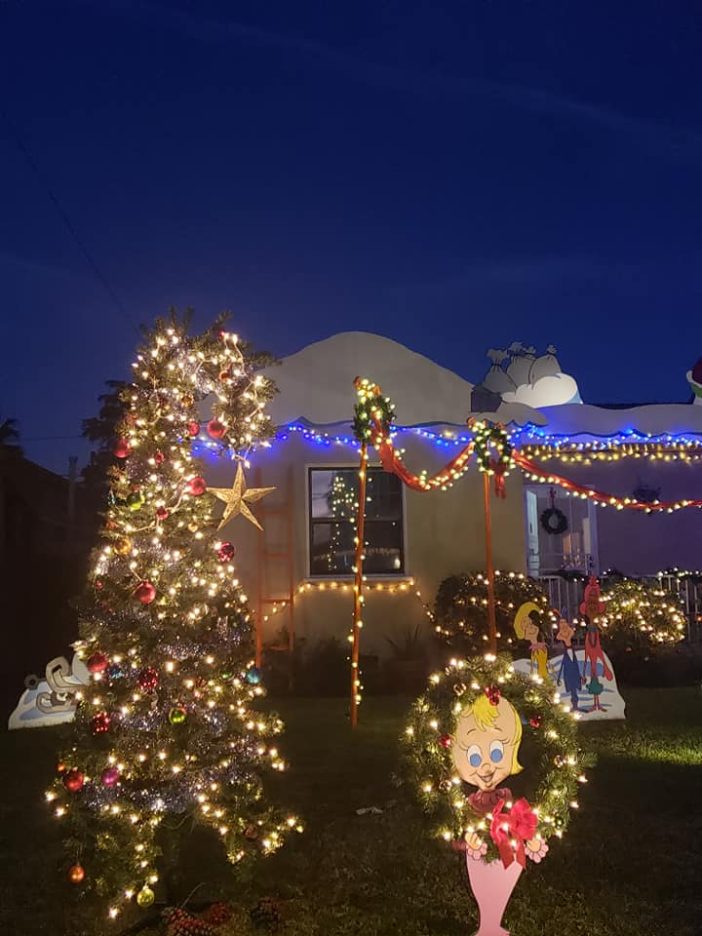 If you do NOT want to make your own Grinch lawn designs, there are tons that you can purchase! Listen, our display was a fun quarantine project, we built a lot of memories; but it was probably more expensive to make it than to just buy pieces. Nobody judges you for curating your pieces from Amazon or Etsy. This inflatable Grinch with a Santa hat and coat is on my list for when we grow our display!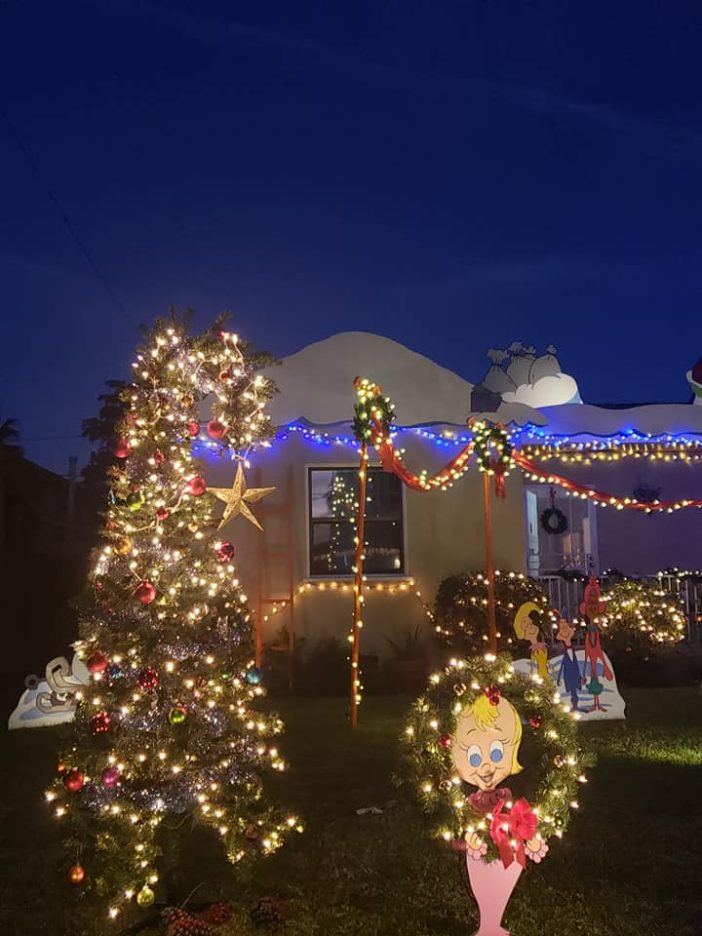 Shop Grinch Items on Amazon

Several piece Grinch Lawn Display is honestly probably the easiest way to go. If you aren't interested in projecting and tracing and cutting and painting, this will do just fine.
I tried to convince Harry we needed a blow up tall Grinch in the front, but I was unsuccessful. You could live my dream by putting one in your yard.
We lined the perimeter of our yard with a small 'fence' made from an oversized Christmas lights fence. While these certainly do not work as a fence, it has helped by suggesting to people not to cross and it also provides whimsical light!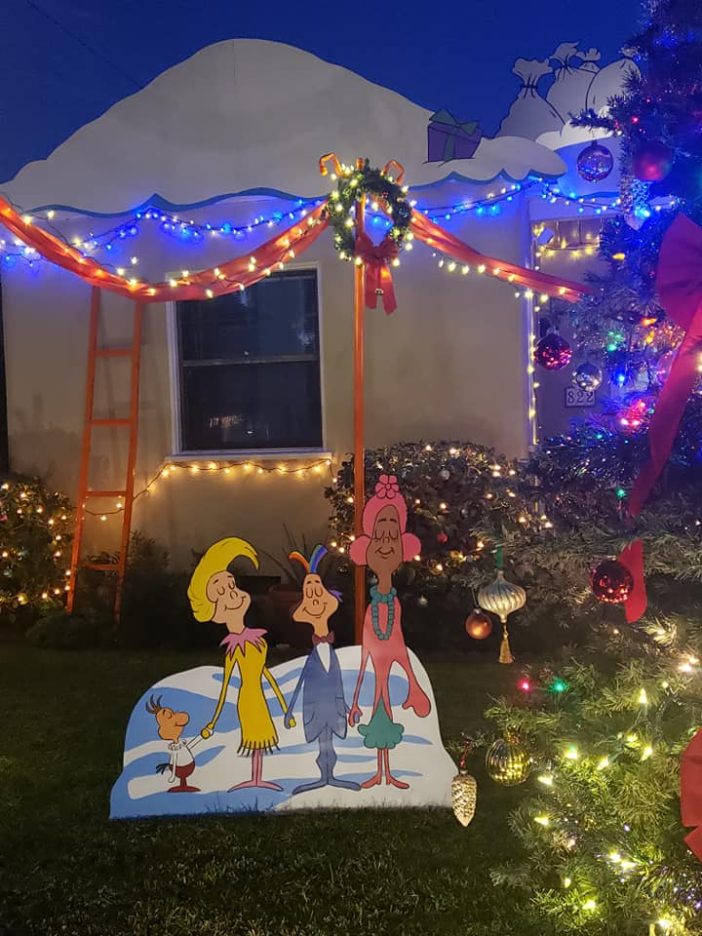 Tips for making a GRINCH Yard Display
Combine display items! We made several cartoony panels of the Grinch cast, but we also used large artificial trees with real ornaments and lights. We also made a 'real' ladder for the Grinch to get to our roof. The Grinch is a panel on our roof, but he is holding real lights. Harry also made tall poles to hang wreaths and lights around the Whoville Tree. Cindy Lou Who is a panel, but she is holding an artificial wreath complete with lights. The variation really kept our yard display interesting.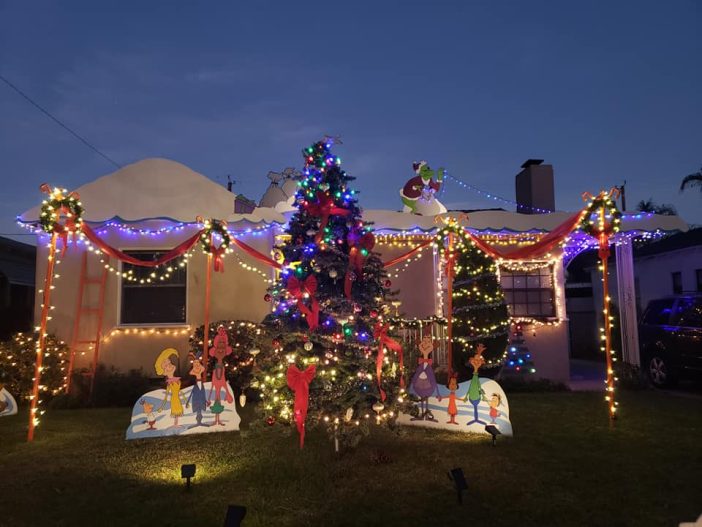 Add Personal and Modern touches – We wanted our characters to look exactly like the movie, but we also wanted it to be more inclusive. The entire cast of "Whos" that we copied to sing around our tree looked like Caucasian "Whos". We thought our Whoville should be a little more diverse than the movie from the 1960s written by the brilliant but also hella racists "Dr. Seuss". Making Whos with several different skin tones was a subtle, but necessary evolution in our minds. Another little nod to show we believe that love is love and Whoville is for all kinds of people, we added rainbow hair to one of our "Whos". We've loved watching people come to check out our display and point out to their kids these little changes.
LED lights! Upgrade your lights to energy efficient Christmas lights if you have not already. Replace just a couple strands at a time if you have a lot to replace. We noticed ours paid for themselves in one season.

Shop Second Hand Early. Trace your designs. Harry and I are both artists who CAN draw all these characters easily, but tracing is easier. We used an artist's projector we have had for years and simply projected a print out of the designs we wanted from the movie. We are so excited to share that we have many of our projections created as printable grids available for purchase above! Use them for your lawn display or for set designs for Suessical the Musical!

Do something good with a 'call to action'! We wanted to do something good with our display and put a small sign with a bucket out for donations. All monetary donations will be donated at the end of the year to the Los Angeles Food Bank. We also simply added the link so folks could donate directly.
Our Whoville display was simply to bring joy to our neighborhood and there was no pressure to give, but we thought maybe our neighbors would drop pocket change in that would all add up. We have not come to the end of the season yet, but so far we have had just under $50 donated. Considering $1 equals about 4 meals with the Los Angeles Food Bank, this will equal 200 full bellies in the new year. We hope the last week before Christmas will bring in even more.
We are thankful for our visitors that were willing to share! Consider donating to the Los Angeles Food Bank. California, and Los Angeles specifically has become the epicenter of the Covid-19 pandemic. People were already struggling before the pandemic and now it has become dire for so many more. If you are doing OK at the end of 2020, you are fortunate. If you feel led, I encourage you to make a donation to a food bank in your area or to the one we are raising money for. You can donate directly to LAFoodBank.org.
2021 was still kind of rough, but I feel like we are in a much more hopeful place than in 2020. My hope is that anyone still reading this has a holiday season full of joy. If you have had a cold heart in the past, I pray it grows just like the Grinch's did. Christmas is definitely about something more than just presents. We hope your holiday season is full of magic. We hope if you create a Grinch lawn display inspired by this one that you will share it with us! Please email us a picture or simply tag us with #BurbankWhoville on Instagram. May you have a sparkly and happy season!
Instant Downloadable Plans for Whoville Display
Printable plans are now available for each of our panels along with detailed instructions on supplies. Kindly leave a comment on this post if you would be interested in us providing this tool. We are beginning to release our patterns, we hope to have a pattern for every panel up before the end of November 2022. While many people will simply use this post as inspiration for their own lawn display, some may want to recreate the exact same Grinch lawn display. Compiling our creation into a PDF would be a bit of an endeavor so we need to know that there is interest.We will be charging a small fee for each downloadable instruction kit.
The Grinch Who Stole Christmas
The Grinch is a surly monster with a heart "two sizes too small." The Grinch lives with his sad dog Max in a cave on Mount Crumpit, a steep mountain north of Whoville. Whoville is home of the cheerful and kindhearted Whos. Having been annoyed by Whoville's noisy Christmas festivities for fifty-three years, the Grinch decides to stop Christmas from coming. The Grinch makes a plan and disguises himself as Santa Claus and travels to Whoville on a sleigh with his sad dog Max. The Grinch slides down the chimney of the first house on the square and steals all the presents, the food for the feast, and the Christmas tree. He is briefly interrupted in his burglary by Cindy Lou Who, a young Who girl, but concocts a crafty lie to help his escape.
The Grinch coldly steals gifts and decorations from every house in Whoville. The Grinch takes his sleigh to the top of Mount Crumpit and prepares to dump the stolen belongings into the abyss. As dawn breaks, he expects to hear the Whos crying, but is shocked to hear them singing a joyous Christmas song instead. The Grinch comes to realize that Christmas "means a little bit more" than just presents and feasting, causing his shrunken heart to grow three sizes larger. The reformed Grinch returns the Whos' presents and food, and is allowed to take part in their Christmas feast.
The story was originally told by Dr. Seuss and was adapted into a traditionally animated film in the 1960s. The film is a holiday tradition for many families and we hope our display makes your heart happy!