"The Chase" New Game Show for the Whole Family on ABC!
Disclosure: Thank you to ABC for inviting me to the virtual press conference for "The Chase".
"The Chase" is a brand new game show on ABC that brings new contestants and old champions together for one epic showdown. Big prize money is on the line and the biggest trivia nerd wins the big money! "The Chase" is hosted by Sara Haines from "The View". TV programming that is fun for the whole family is rare these days, but "The Chase" is so much fun for everyone. You can watch "The Chase" on ABC at 9pm/10pm C on Thursdays, or the next day on Hulu like we do. I was lucky enough to interview "The Chase" host, Sara Haines virtually last week and will be sharing more today!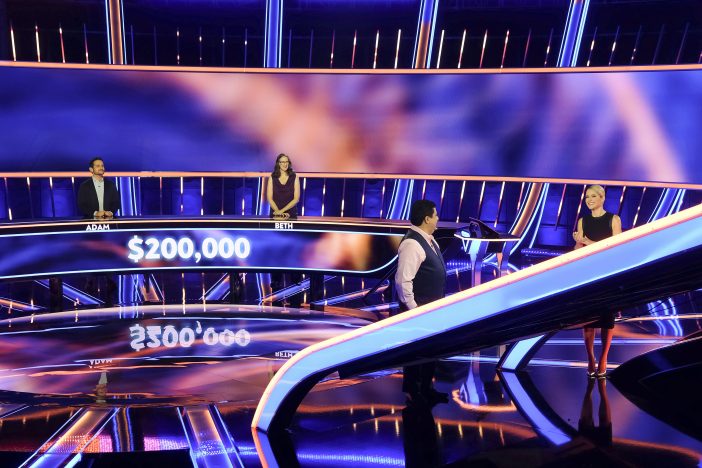 What Is the premise of "THE CHASE"?
"The Chase" is a heart-racing quiz show where three competitors must pit their wits and face off against the Chaser, a ruthless quiz genius determined to stop them from winning cash prizes. Each hour-long episode is a fast-paced battle of brain power, where contestants are challenged to think faster than they ever thought possible to answer up to 166 questions across all topics. "Jeopardy! The Greatest of All Time"'s James Holzhauer, Ken Jennings and Brad Rutter take turns serving as the Chaser, reuniting the three titans of trivia who last faced off in January 2020. But now they're no longer pursuing each other – they're chasing YOU!
A Sneak Peek at "The Chase"….
A few of my favorite interview questions and answers….
Sara was asked if it was anxiety inducing to need to ask rapid fire questions. Her answer was awesome!
Sara "Well it's funny because I spent my whole life speaking too fast, speaking too quickly. People would tell me they couldn't understand me and me trying to rush everything I said. So I spent my on air career slowing down. The Chase was actually a perfect place to feel like my uncensored self….. when I got to The Chase, I was like throwing it all out and just the thing is though that people say I don't read fast enough, there's technology in the game and I can only read when it pops up. So I will argue that I'm faster than the technology that I'm allowed to read. My parents are like finally you found a place to call home."
Another interviewer asked a question inspired by her students. She asked what the difference was with being the host of "The Chase" and a co-host on "The View"
Sara responded, "Okay so when I'm preparing for The Chase, accuracy is important. I know that people have money at stake, from the chasers to the contestants.
I want to make sure I don't mess up, that I represent the game and all the research that's gone into it. So I do a lot of trying to anticipate. I read through the questions quickly before and try to catch any words that could trigger me. I'm notorious for mispronouncing things and then I just blame it on my regional Iowa accent and hope nobody notices, um, but I did a lot of practicing, looking up pronunciations, reading. With The View I get to be unapologetically myself, so when I mispronounce I just let 'Twitter Verse' just rip me apart.
With The View we're highly we're not scripted. So anything I say is on me. I can kind of take the conversation when I have the mic wherever I want. The Chase I owe a little debt of gratitude to accuracy to make sure. Because other- it matters to other people, on The View, I'm the only one that looks like an idiot so so I can just own that."
One blogger asked about how production works during a pandemic. I am so thankful we have new programming and it was nice to hear about the measures they are going to to keep people safe.
Sara " So we we were in pandemic times, so there's no audience. And the amount of precautions this production took to make us safe, there were double masks everywhere. No one was allowed to walk near you or to talk to you without double masking. They had to speak from a distance. It was a lock down military operation. I was shooting The View by remote in the morning. And so that my day started around four AM because it's West Coast, so we're getting up right when we finish the View, I'd have about thirty minutes to eat something and then we were up for the first episode and that usually took a couple hours. Then you stop down to give everyone a break to eat and change and then you go back up and it it always took at least a couple hours because there's a lot of technology with game shows. So if the system goes down, everything has to stop. So you're kind of stopped down wherever you're standing. So I don't know how it compares to a normal time. Everyone promised me there's so much more energy because there's audience. Um, but it it was a a unique time to be shooting anything, because even The View, we don't have that many people here. So for them to be able to provide all those jobs and have the crew there, they had to take such extreme, uh, precautions, which I'm grateful for. But it was such a weird thing to shoot. "
As our family continues to shelter in place, we are so thankful for fun new shows we can enjoy together. Thank you to ABC for the sneak peek at "The Chase"!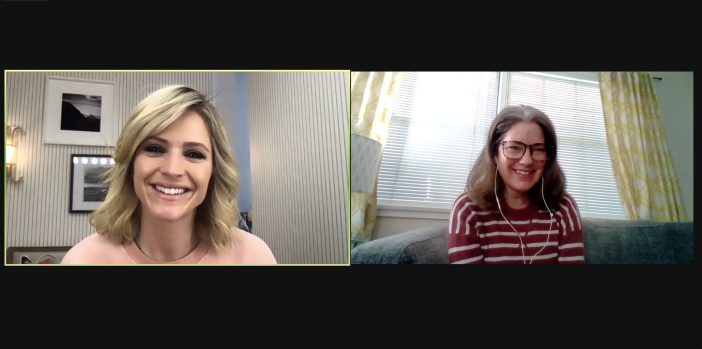 This is how interviews go now because we gotta be safe! Thank you to Sara and the whole team behind "The Chase" – our family is excited to watch this season!
*Photos courtesy of ABC – Thank you, ABC!

"The Chase" airs THURSDAYS (9:00-10:00 p.m. EST) on ABC.
Episodes can also be viewed the next day on demand and on Hulu.
Follow "The Chase" (#TheChase) on Twitter, Instagram and Facebook.