The Old Fashioned Charm of Knott's Merry Farm!
Disclosure: Thank you to Knott's Berry Farm for hosting us for the day!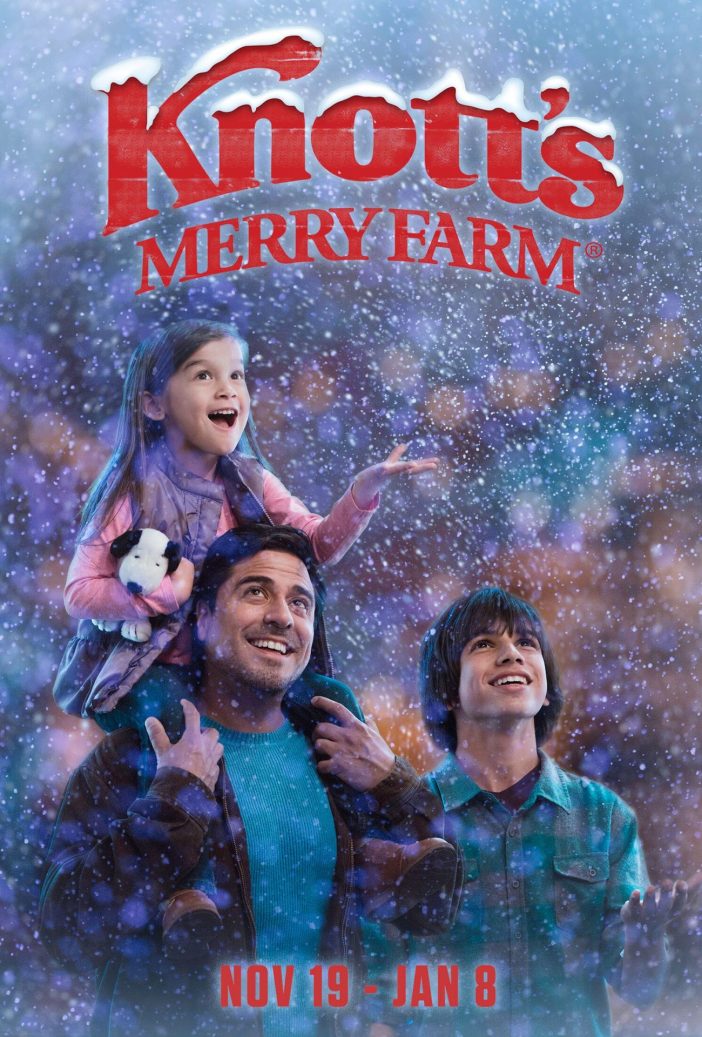 Knott's Berry Farm will always hold a special place in my heart.  The old fashioned charm, Mrs. Knott's famous chicken dinner,  and fun rides make up some of my favorite childhood memories.  We always look forward to a day at Knott's Berry Farm to kick off the holiday season.  There is no place like Knott's "Merry Farm" for the Holidays!  Here are some of the things you shouldn't miss this holiday season at Knott's Berry Farm!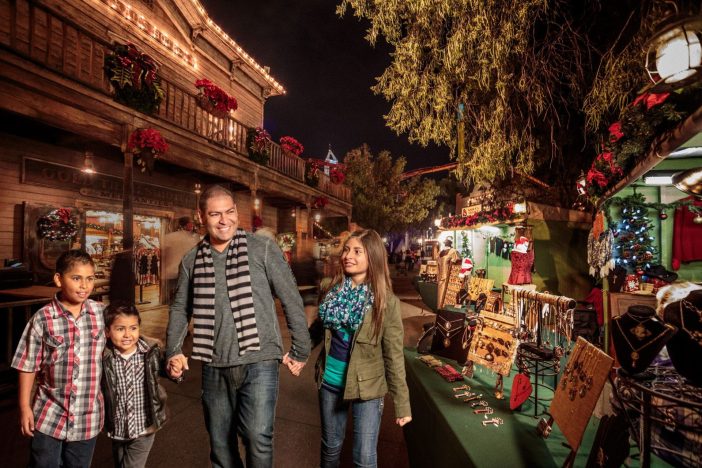 This year there is new Holiday Entertainment, Christmas in Calico, and Holiday themed activities now through the beginning of January!  The holiday decor is at every turn and is sure to get you in the holiday spirit. Carolers, a huge craft fair, and seasonal treats are all options this time of year, along with the year round rides, treats, and shows Knott's is famous for.
The holiday season has already begun and will continue through January 8th.  Knott's Berry Farm is located in Buena Park California and is fun for the whole family. Don't miss "Christmas in Calico" with dozens of characters and the opportunity to write to Santa.  Magical 'snow falls' in Ghost Town nightly is just what our SoCal family needed for it to feel like Christmas!  The Christmas Craft Village throughout Ghost Town is a great place to support local artisans and also get some holiday shopping done. And no trip to Knott's Merry Farm is complete without a visit to Santa's Christmas Cabin!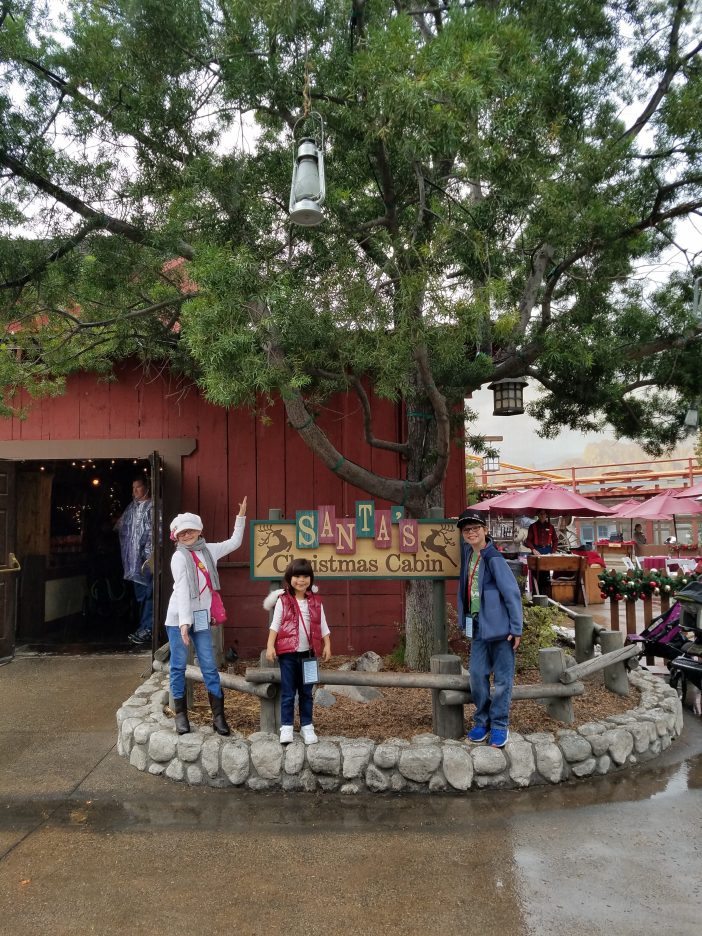 We went to Knott's Berry Farm to celebrate Merry Farm on one of the few rainy days we have here in Southern California – go figure.  It was no problem at all though! While it was rainy we spent some of our time inside Santa's Christmas Cabin.  We enjoyed hot cocoa, gigantic Snoopy cookies, and more!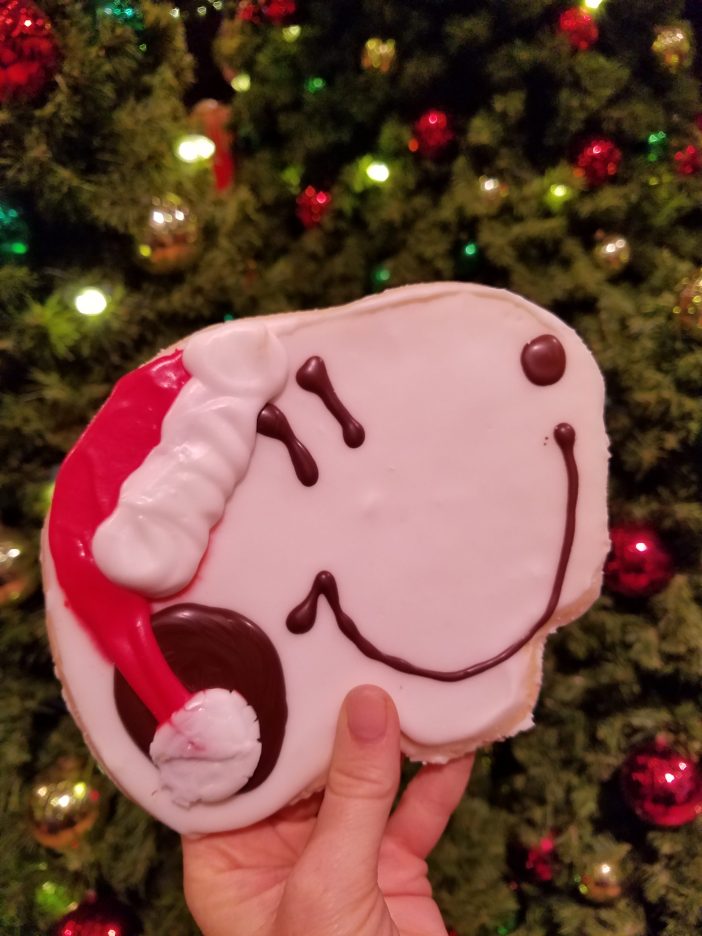 Santa was so kind to take the time to listen to each kid's request and pose for a picture.  My littlest wasn't quite sure what she wanted for Christmas this year, she and Santa agreed that Play Doh would be just perfect.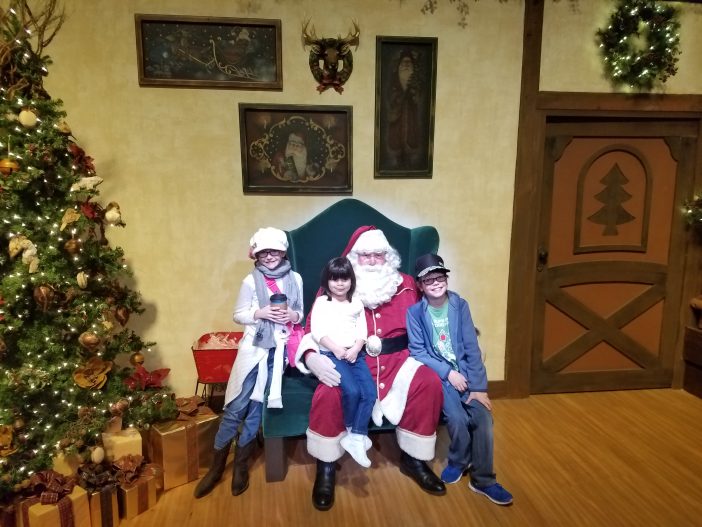 We love to watch Snoopy and friends Ice Skate – do not miss "Merry Christmas, Snoopy!" in the Charles M. Schultz Theatre. Incredibly talented skaters, costumed characters, and even 'snow', it will get anyone into the Christmas spirit!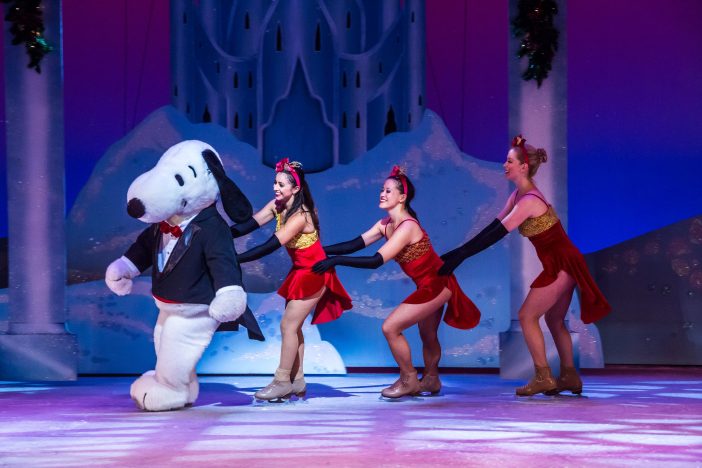 There are so many shows at Knott's Berry Farm, and even more during the holiday season.  Make sure to check out all the show times on the day you visit and see as many as you can fit in! Don't miss the newest show "It's The Merriest Christmas Show Ever, Charlie Brown" at the Calico Mine Stage.  We love seeing the Peanuts Gang and hearing their sweet messages.
Now is a great time to remind everyone about what a great value Knott's Berry Farm is – and that Season Passes make amazing holiday gifts!  Season passes start at less than $100 for a 364 days of fun in 2017! If we lived a little closer, we would absolutely have season passes to Knott's Berry Farm – it is such a fun place to hang out with family and friends.  We love to give experiences and memory making opportunities rather than other 'stuff'.