On the set of The Rookie
Disclosure: #ABCTVEvent was hosted by Disney and ABC Studios. Opinions are always my own.
Visiting the set on a new TV show is an amazing opportunity!  When I heard we would be visiting the set of ABC's brand new show "The Rookie", I did a little happy dance.  "The Rookie" has just debuted, but my husband I are already hooked.  We loved Nathan Fillion in Castle and we were excited to see he was the main character of a new series.  While in Los Angeles recently, I was able to visit the set where this show is filmed.  We toured the set and even met some of the cast.  Here are some of the highlights of our visit to "The Rookie".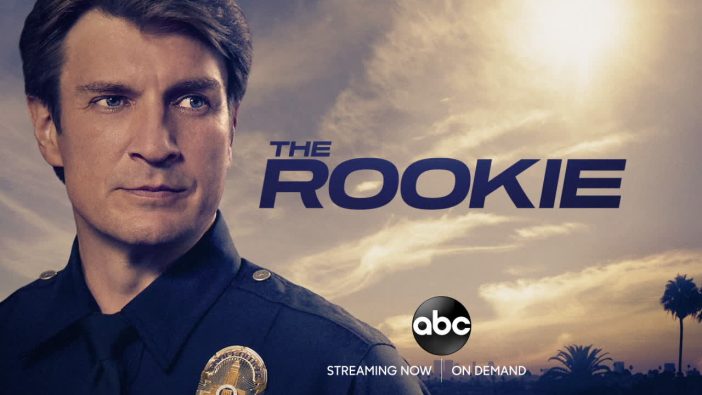 "Starting over isn't easy, especially for small-town guy John Nolan who, after a life-altering incident, is pursuing his dream of being a Los Angeles police officer. As the force's oldest rookie, he's met with skepticism from some higher-ups who see him as just a walking midlife crisis. If he can't keep up with the young cops and the criminals, he'll be risking lives including his own. But if he can use his life experience, determination and sense of humor to give him an edge, he may just become a success in this new chapter of his life"
Nathan Fillion's character John Nolan decides that achieving his dream of becoming a police officer is better late than never at 40 years old. I don't exactly want to be a police officer, but I have shared here that I am currently back in school myself.  I literally turn 40 today, so even though it isn't the same thing, I identify pretty strongly with this character. We laugh regularly how relatable John's midlife crisis is. I know this show is brand new, but we fell in love with it instantly and feel like it is going to be a big hit! Being on set and meeting the cast made me love it even more.  Check out these behind the scenes photos….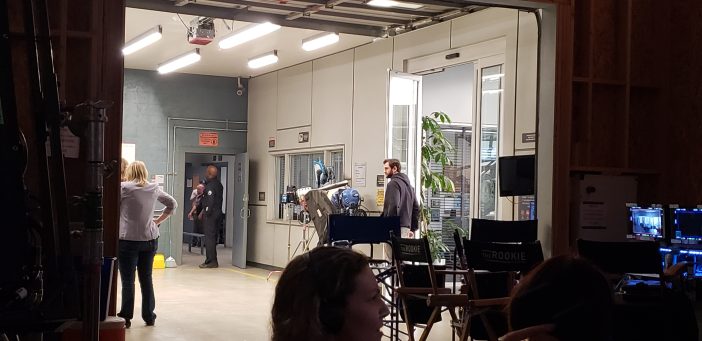 Mercedes Mason, who plays Zoe Andersen, took us on a tour of the set of "The Rookie".  Meeting actors in real life is always surreal for me.  Mercedes was very personable and seemed enthusiastic about showing us around the set.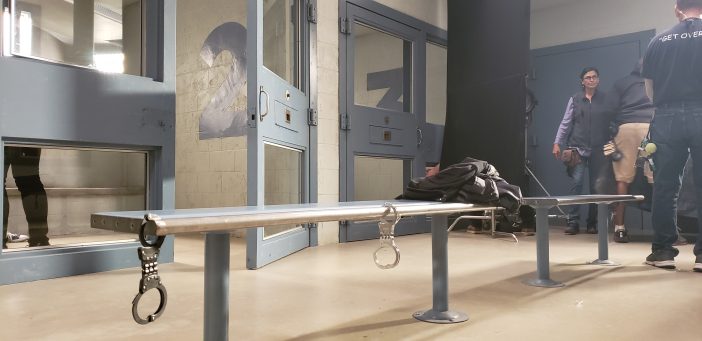 While walking through the set, we were surprised to meet several cast members!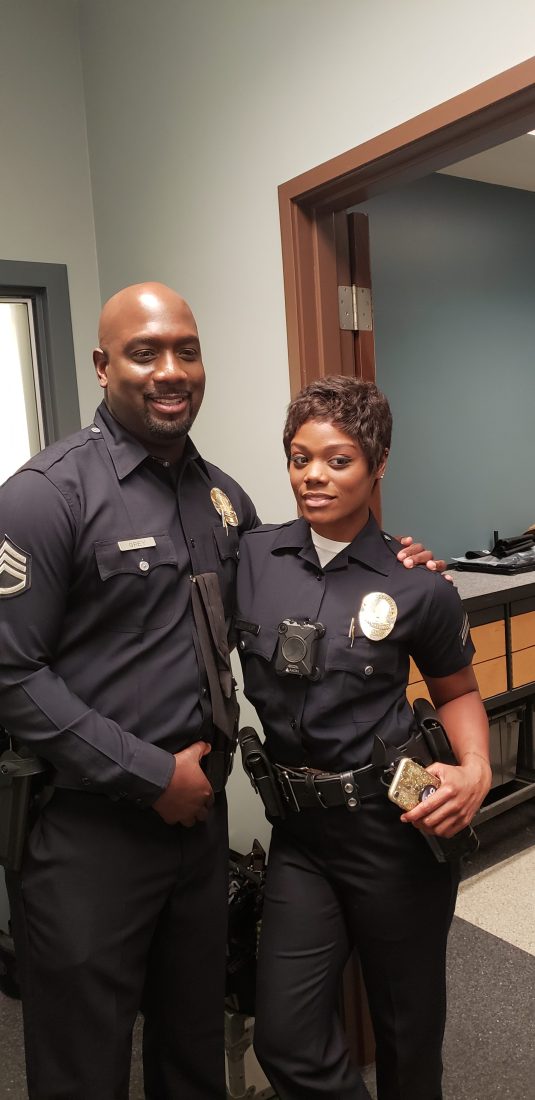 Here is Richard T. Jones who plays Sergeant Wade Grey and well as Afton Williamson who plays Talia Bishop were kind enough to pose for pictures with our group!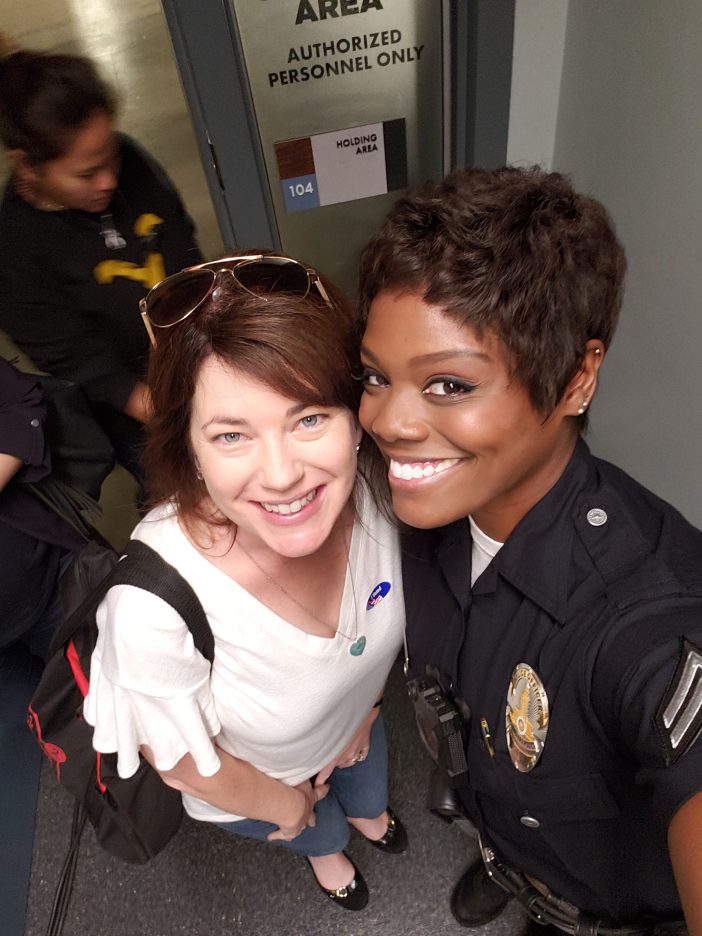 We toured the set on a day of filming.  We thought we might see a few stars, but we weren't sure if we would get to speak with anyone.  Our group was floored when we turned a corner and we were told Nathan Fillion was in the next room and we could chat and take photos for a couple minutes before he needed to film. Everyone tried to act professional, but according to this shot we needed more time than we were given.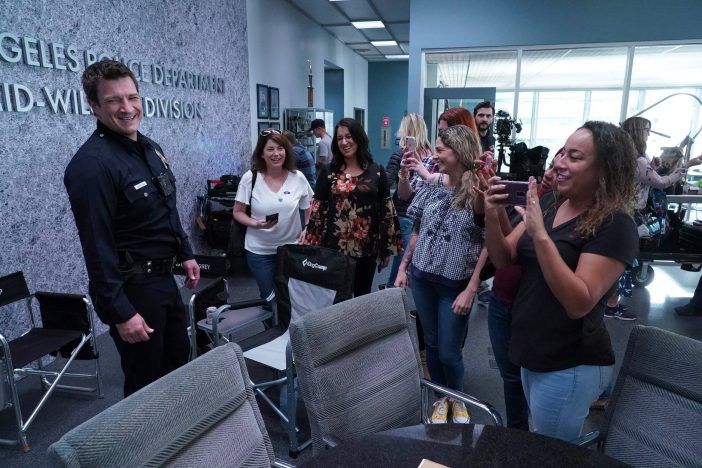 Here is that one time I tried to quick take a selfie on the DL and Nathan was not gonna let me get away with that kind of nonsense …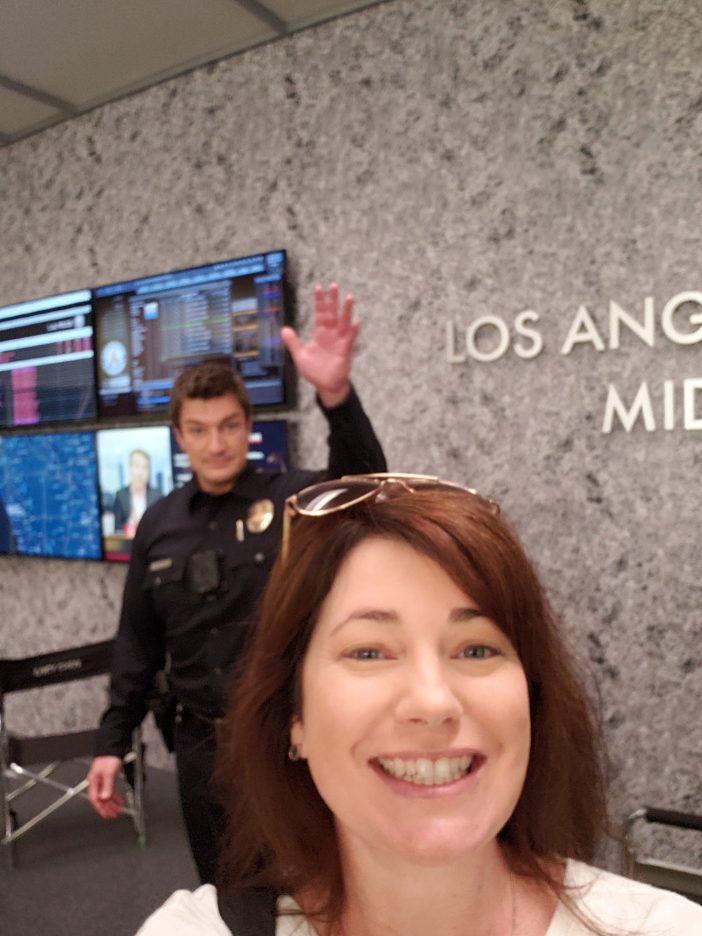 It is blurry and none of my family is present, but it is probably gonna be my Christmas card this year.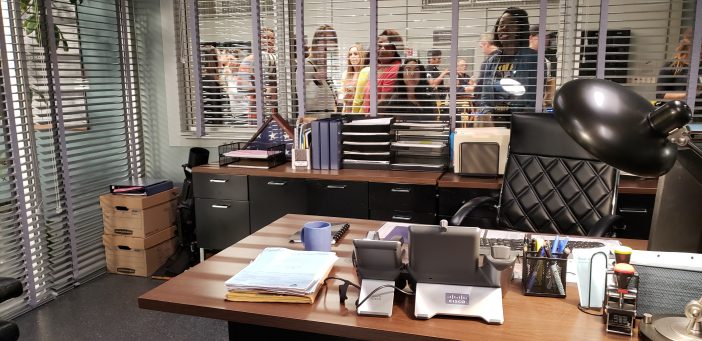 As I was saying, The Rookie is a great show that we really look forward to watching each week.  While it deals with serious issues, it is overall light-hearted and fun.  Harry and I loved the show Castle and we were both excited and hesitant to see Nathan Fillion in a new show with a police station story line. That said, we love seeing this new character.  As a 40ish year old couple, we love seeing characters our age pursuing their dreams and taking on the challenges that those pursuits pose. While our kids do not watch the show, we know many tweens and teens that enjoy it along with their parents.  We suggest watching it first and deciding what is best for your family.
If you are not familiar with The Rookie, here is a quick clip….
If you have not yet discovered The Rookie, I hope that you will check it out. You can watch The Rookie on Tuesdays in Prime Time on ABC at 10/9c.  You of course can also check it out via streaming (ABC app/ABC.com/Hulu) and on demand. This is a fairly new show and worth jumping into from the beginning.  We love a show that can keep us on the edge of our seat and also laugh.  We hope to be watching it for years to come.
Follow them on social media with the hashtag #THEROOKIE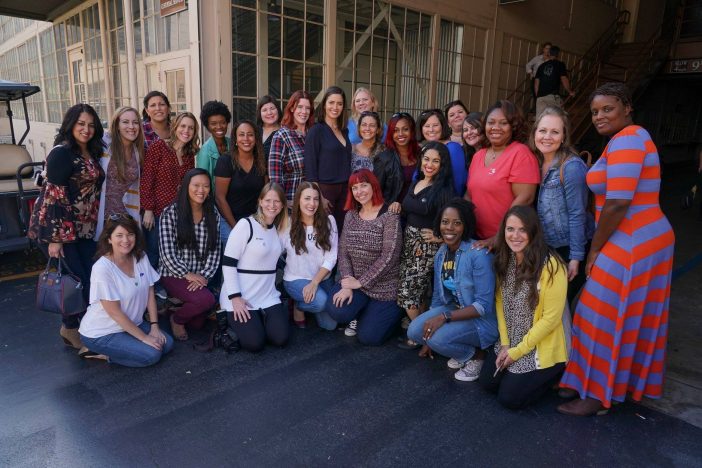 Thank you to the folks at ABC TV for letting us check out the set of The Rookie in person!  A big thank you to Mercedes Mason for taking the time to show us around.  We were fans before, but now even more so.