"The Small One" Coloring Page
Disclosure: Inspired by Disney, drawn by me. This site uses affiliate links.
"The Small One" is an animated film by Walt Disney Studios about the first Christmas. I remember watching "The Small One" each holiday season on the Disney Channel. "The Small One" or "A Christmas Miracle" as it was called outside of the US tells a story of a little boy who lives just outside Nazareth. "Small One" is his very best friend and he is tasked with the awful chore of selling his beloved friend. As a little girl with BIG feelings I remember crying while watching the story unfold. Ultimately, "Small One" is given the job of helping the Holy family make their journey to Bethlehem. "The Small One" is a beautiful twist on the original Christmas story and the animation is classic Disney. To celebrate the holiday season, I am sharing a "The Small One" coloring sheet.
If you enjoy these free printable coloring sheets inspired by the creepy but low key lovable Madam Mim, make sure to check out our printable section featuring Go Dog, Go! Coloring sheets Gabby's Dollhouse Coloring Sheets , We Can Be Heroes Coloring Sheets, Sharkboy and Lavagirl Coloring Sheets, American Girl Doll Coloring Sheets , Olaf Coloring Sheets, Coco Coloring Sheets , Trolls Coloring Sheets , Alice Through the Looking Glass Coloring Sheets and so many more on our site!
Disney themed activity sheets are some of our favorite things to share on our blog. These coloring sheets are free to enjoy by clicking and printing. Below are some hard to find characters you may print and click. The below coloring pages are inspired by Disney and drawn by me.
The Small One Coloring Sheet – Christmas Printable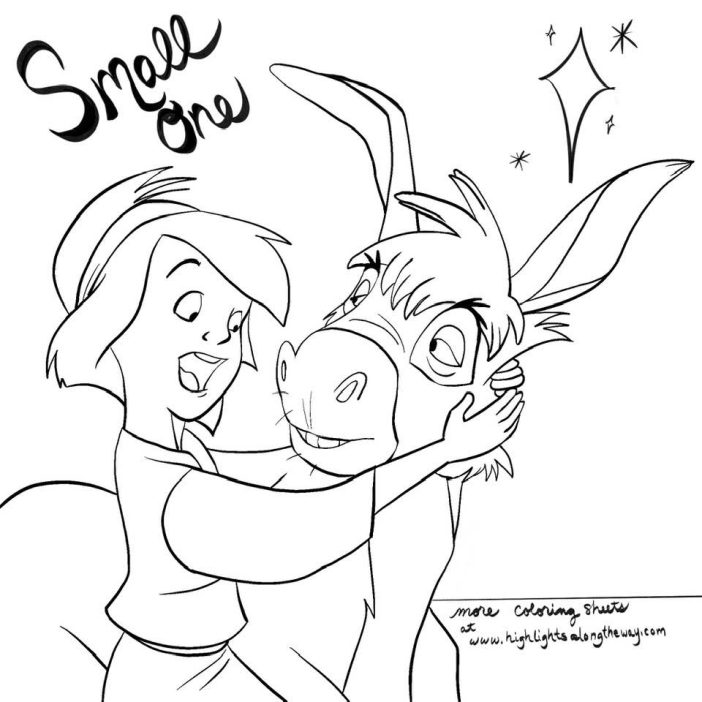 I wasn't raised in a family that believed the story of Jesus, but I LOVED this film. I truly believe while this movie is clearly made to celebrate the Christmas story; it can be enjoyed by anyone. I am always surprised by how many people have never seen it! Look it up today!
If you are an author looking for an illustrator for your book, or a blogger looking for printable coloring sheets for your blog, please check out my website Kate Ham Art and follow my growing Instagram account @KateHamArt . Do not hesitate to reach out if you would like me to create printables or book illustrations for your next project. If you or your child colors one of our printables, please share it on social media and tag our page. I will always share printables in our instagram stories and I would love to feature you!
FREE Nature Themed Printables from WWF – click and print for FREE!
FREE Melissa & Doug Printables – print from home to learn and enjoy!
FREE Taco Bell Printables – so fun and may inspire a trip through the drive thru!