The ULTIMATE Edward Scissorhands Costume
Our favorite Halloween family is here to share their take on Edward Scissorhands. Edward Scissorhands is a classic movie, and they did it justice! Look for Edward Scissorhands and Kim at the next Comic Con, their costumes, make up, and attention to detail are unmatched! DIY costumes are her specialty and you are in for a spooky treat! Description on how an Edward Scissorhands Costume can be made included!
Edward Scissorhands Costume
Edward Scissorhand photoshoot is by Alex Eicheid. Edward Scissorhands Costumes (and models!) are by Cassie Lee. Makeup is by Laurie Parker @laurieparkermua . This sneak peek is being shared in honor of Halloween, we will be sharing more of their amazing Edward Scissorhand inspired photo shoot in the future, so make sure to pin it and come back!
Please make sure to check out this family's other ultimate Halloween photo shoots in our blog! Over the years this family has been kind enough to share their incredible costumes with our little corner of the internet. While we make simple costumes, this family puts so much time and effort into creating movie and theatre worthy costumes. If you are looking for inspirational group costumes that are sure to win all the awards at Halloween parties, Comic Con, D23 Expo, and beyond; look no further! I have to share their previous costumes, but continue to scroll through their latest creation of Edward Scissorhands and Kim. It is haunting and breathtaking!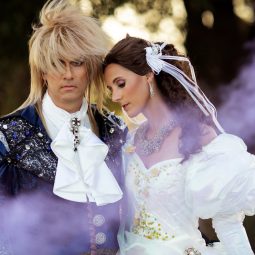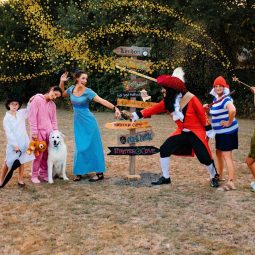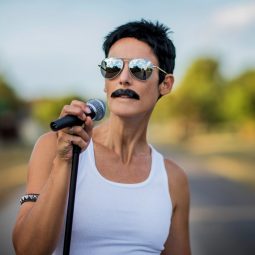 The Greatest Showman Group Costume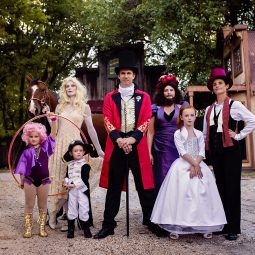 The Ultimate Edward Scissorhands Costume Photoshoot!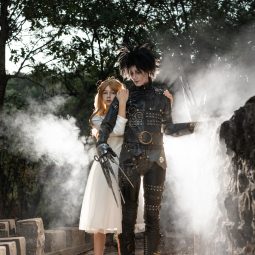 What is Edward Scissorhands?
According to IMDB, the classic film Edward Scissorhands is a story about "An artificial man, who was incompletely constructed and has scissors for hands, leads a solitary life. Then one day, a suburban lady meets him and introduces him to her world."
With no further delay, here is Cassie sharing the magical process that brought this fantastic costume to life!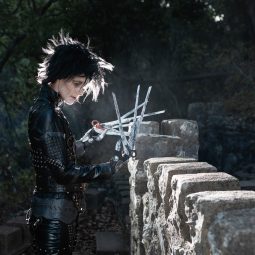 "The Edward Scissorhands costume started as a basic leather jacket, leather pants, and leather boots that were all found on Poshmark. I then searched fabric stores for any types of faux leathers, quilted leathers, and pleather type fabrics that I could use to add lots of layers. I also searched for trims, straps, snap buttons, and broaches that could be used as well. Most of the fabric and straps I found at Joannes. Another fabric that I used quite a bit of I actually found at a fabric store while my family was on vacation in Hawaii. I had taken lots of images from the movie to be able to reference all sides of Edwards costume.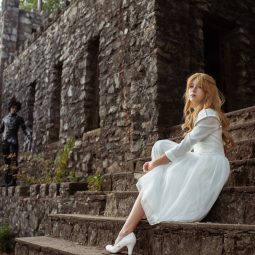 Because I am not skilled with a sewing machine I hand sewed different cuts of leathers to the base costume. Some of the pieces (Like around the collar) I stitched together with a leather type rope before affixing it to the actual garment because getting that thick of a leather rope through the leather jacket itself would have been very difficult.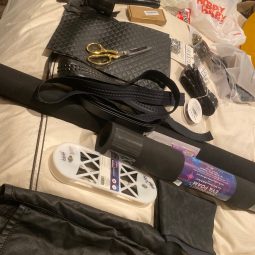 I had to be careful to sew everything on without ruining the integrity of any functional zippers or else I would not be able to get into the costume. Once I had all the leather cuts sewn onto the jacket and pants, I started sewing on the different belts and straps. I also sewed the straps into the leather boots.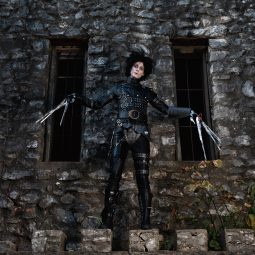 It was a bit time consuming getting that needle in and out of all the leather. The main belt I cut from craft foam and stitched a quilted leather around that. It was held closed by Velcro. This main belt is the only piece that kept separate and was not sewed directly onto the costume. Once I had the straps on the costume I was ready to add the buckles. My neighbor is skilled with resin work and was actually able to make those round buckles as well as the iconic moon buckle. These were applied to the costume with glue. I then had to figure out the weird leather underwear looking piece that he wears. I cut that using the craft foam, sewed on a leather covering and then using different straps and snaps and other hardware that is seen in the movie costume (like the two rings on the hip) I was able to create a piece that wears over the pants and then also snaps directly into the pants and jacket once on.
The last pieces added were the wingnut on the shoulder and the nut/bolt on the bottom of the jacket.
The actual scissor hands were made by cutting poster board and foam core board and then painting them. These scissors were affixed with a strong glue to the fingers of a pair of black welding gloves.
I did have a hard time finding a wig for this. They do make quite a few Edward costume wigs but none of them are very good. I found a random black with and then used strong gel to create the strands. I do eventually want to buy another wig and learn to cut it to better resemble to different length strands that he has.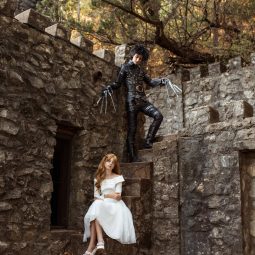 I was just going to do the photos alone but I randomly got an email one day that the company Vixen (by Micheline Pitt) was releasing an Edward Scissorhands line and they had the white dress that is worn by Winona Ryder's character Kim Boggs. I decided to get this dress for my oldest so she could join me for some photos. I found her white shoes and strawberry blond wig on Poshmark as well.
Edward Scissorhands Paperdolls Banner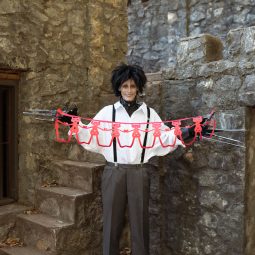 I decided to go ahead and pick up men's button up shirt, gray pants and suspenders from a local thrift store to do a quick fun photo of Edward and his paper dolls. My daughter Madeline actually made those paper dolls! These Edward Scissorhands Paperdoll banners would be epic for Halloween decor. I think Madeline should sell them on Etsy!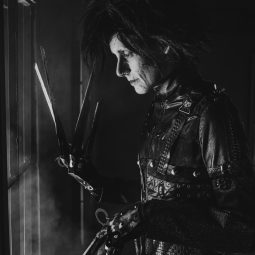 The make up was all done by Laurie Parker (IG @laurieparkermua) and the photos were taken by Alex Eischeid (IG @alexeischeid) We shot these at an old castle in Turner Falls Park in Oklahoma. This was definitely one of my favorite costumes to create and I can't wait to cosplay it at our next comic con.
As always, we thank Cassie Lee for sharing her incredible talent with us. While we could never create a costume so perfect, or orchestrate such a fantastic photoshoot, as creatives, we are so thankful to see her work. Edward and Kim are inspirational characters and we love seeing your take on the characters. Every year she outdoes herself and we are thankful she shares here! Thank you for bringing Edward and Kim to life in this photoshoot!