Things for Families to do in Solvang California
Disclosure: This site uses affiliate links. Our family was hosted for editorial consideration. We were not required to write a post and opinions are 100% our own.
Solvang is a quirky little city located in California's Santa Ynez Valley. Solvang is know for Danish-style architecture, Danish treats, and wineries. If you are taking a California road trip, Solvang is a wonderful city to stretch your legs and explore. We loved the museums, Ostrichland, and cool shops! Check out our family's favorite highlights from our trip to Solvang. Below you can print a FREE Solvang California coloring page activity sheet. Enjoy this fun California Road trip attraction with your family soon!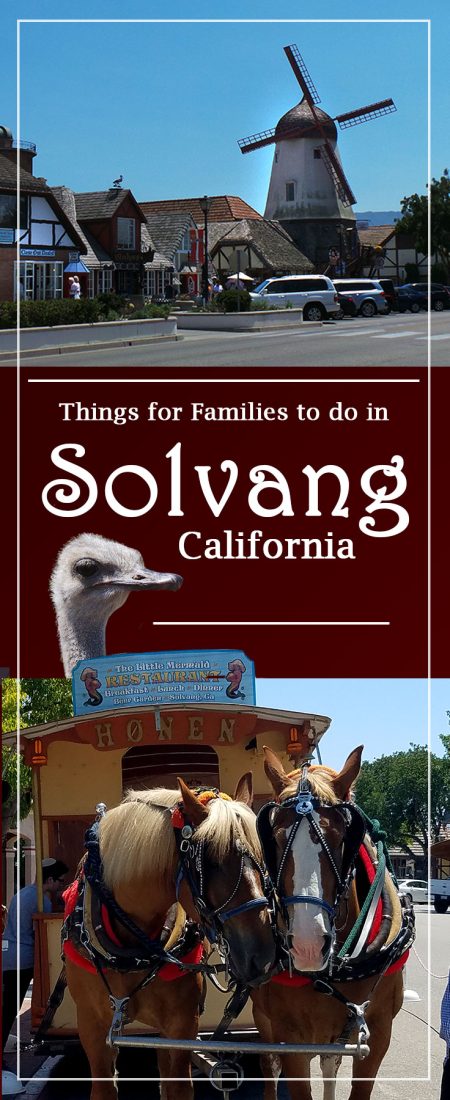 Things to do in Solvang. Solvang California is as charming as they come. The Danish Village is quaint and full of history. On our trip up the California Coast we knew we had to visit Solvang. You may remember we enjoyed "Glamping" in Buellton. Solvang is a short 10 minute drive from Buellton and a perfect stop for your family road trip. We have some things to do in Solvang for family travelers. Solvang is picture perfect around every corner, our family cannot wait to go back.
Click for a FREE Solvang Coloring Page. Below you can see an adorable thumbnail activity sheet featuring Solvang, but our California Road Trip Coloring Pages has a full sized image!
If you are on a road trip up the California Coast you are probably in need of a place to stop to eat. Don't just stop anywhere, Solvang has so many tasty treats with a festive Danish theme!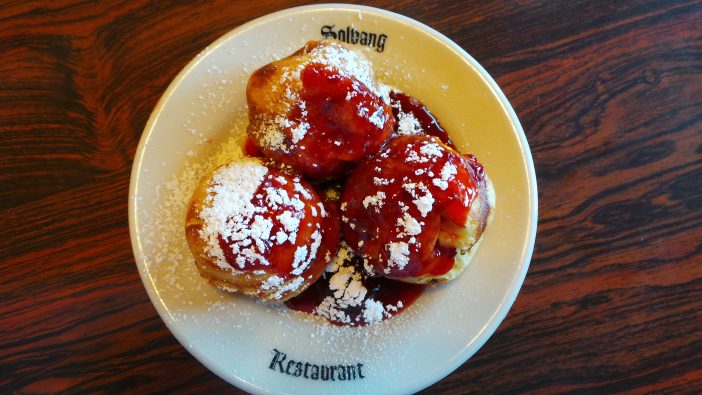 Our Top Thing to do in Solvang.
First, you must have breakfast at The Solvang Restaurant. Authentic Danish dishes and friendly service makes it a busy place. This restaurant is owned and operated by a descendant of one of the founders of Solvang! We visited on a Sunday morning, it was busy but worth it! Known as "Home of the Aebleskiver" you simply must try this Danish delight. If you do not have time to stop in the restaurant, they have a take away window for your Aebleskiver craving on the go!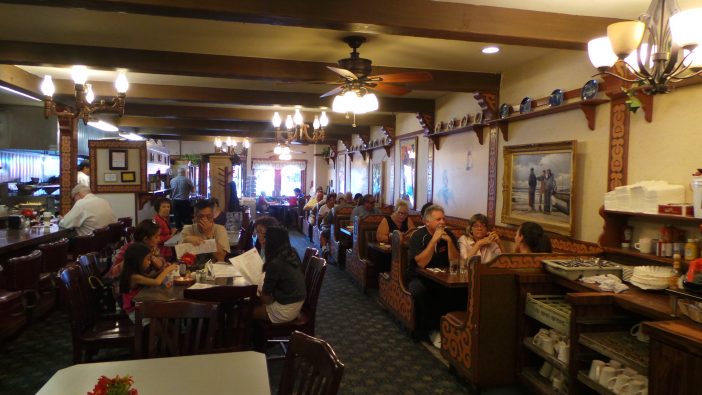 Lots of breakfast and lunch items in a warm and casual environment.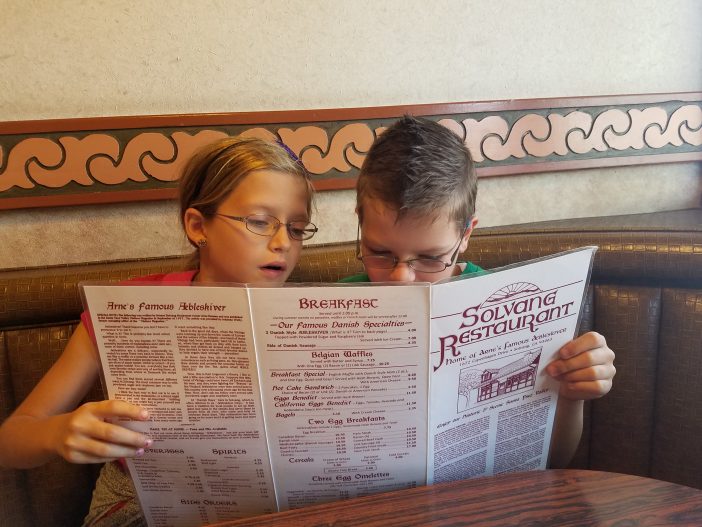 While we didn't try it anywhere else, J insists The Solvang Restaurant has the best hot cocoa in the whole city!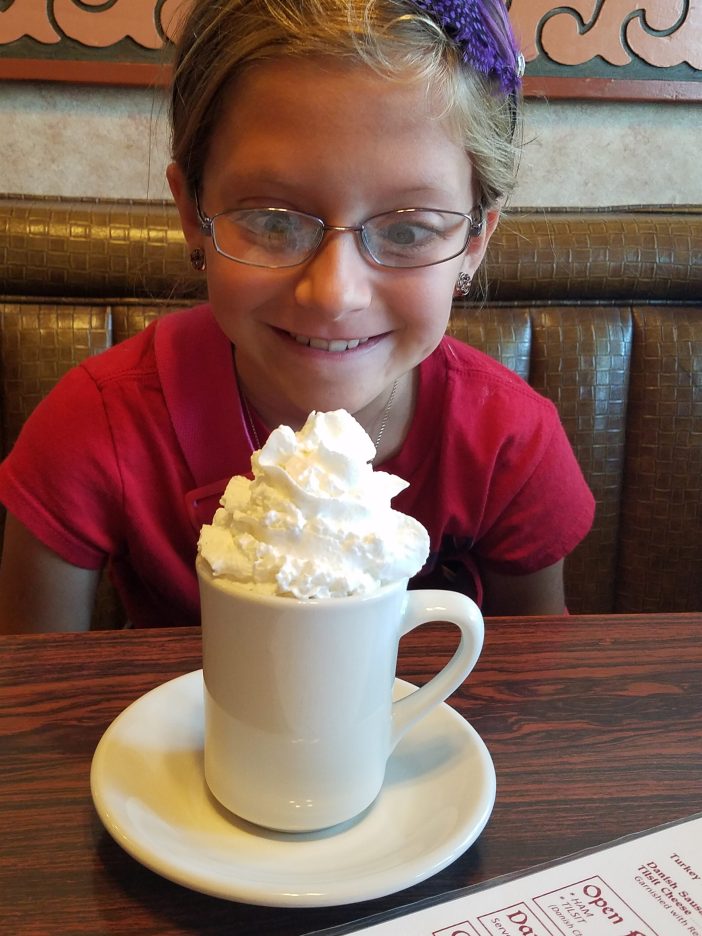 Once your belly is full of Aebelskiver you are ready to explore the Danish city! On the outskirts of the city limits is the incredible Ostrichland USA. Ostrichland USA was the highlight for the kids. Ostriches, Emus, and more live and play with tons of room in Ostrichland. Guests can pay a small fee to tour the grounds and feed the birds! The attraction is open 7 days a week year round! Seriously, do not miss it! Families looking for a fun and inexpensive activity in Solvang must stop. Ostrichland is as educational as it is fun and it is not a pricey stop.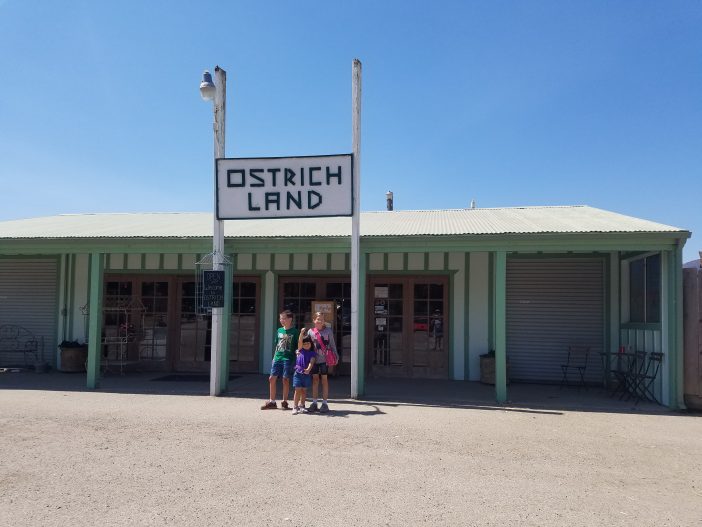 Ostrichland USA is not huge, but it is a great way to spend an hour or so. Our kids loved learning about ostriches and other large birds. I am sure nobody laughed harder the entire trip than when we were checking out the ostriches.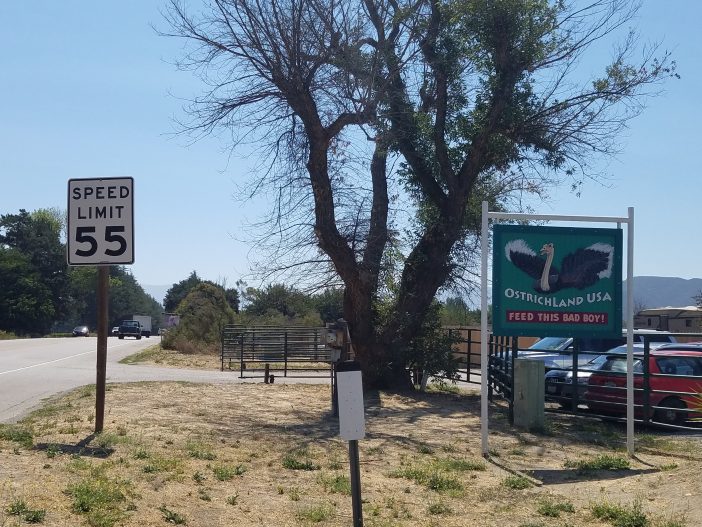 Their motto is "Feed this Bad Boy!" and it is so fun! Ostriches and Emus come right up to the fence and peck at the food tray. I have never seen anything like it. Guests were cracking up and in awe with an up close look. My son was actually really nervous and almost chickened out when it was his turn to feed! They are intimidating, but there is little to fear. Just follow the clearly listed rules and you will be fine.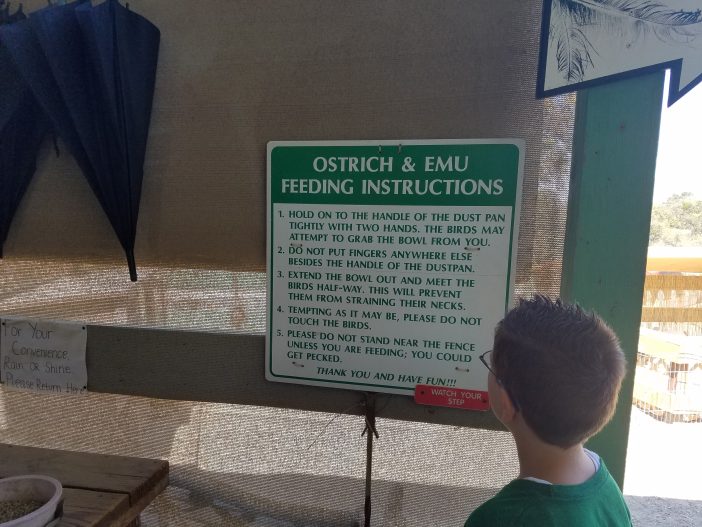 Seriously, where are you going to get this close to an ostrich?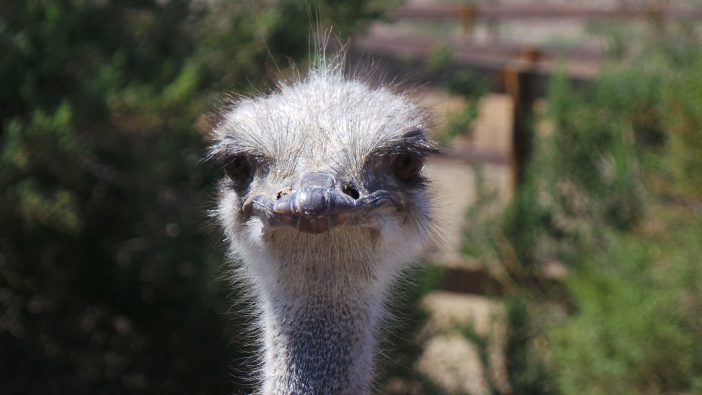 Emus are much smaller than Ostriches, but they still looked like dinosaurs to our kids!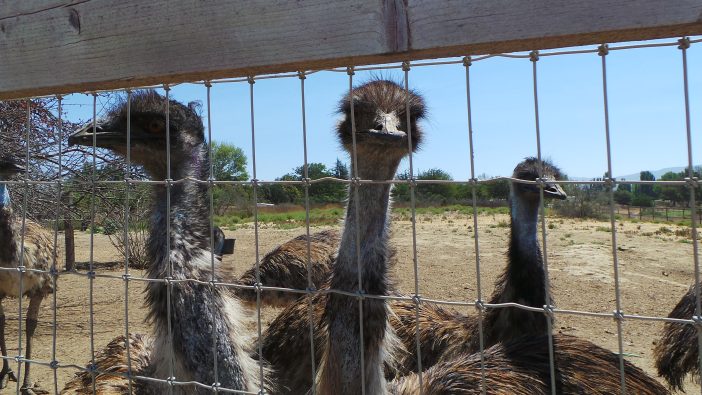 Ostrichland is hands down the most unique place that we stopped to stretch our legs on our trip up the California Coast.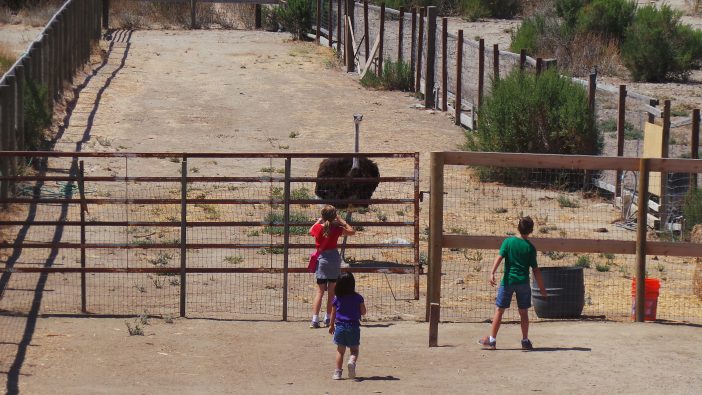 Our son was nervous as the birds approached him. Dad put his arm around him and put his hand out to hold the feeding tray too. Bravery set in at that point…. and some laughs.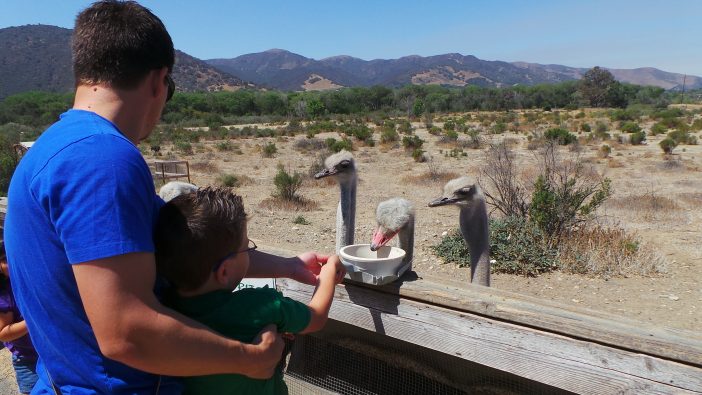 Listen to my oldest's laugh as she feeds real live ostriches!
Guess what?! You can enter for your chance to win tickets to Ostrichland for two (along with Glamping in a cabin and wine tasting!) from Solvang's sister city Buellton – Enter for your chance to win a fun getaway for two from the city of Buellton *and Solvang*! This giveaway has ended, but they have lots of great giveaways going on, make sure to check out their site!
Ostrichland USA is incredible fun, but now it is time to hop back to the main city! It is so pretty there are horse drawn trolleys, surrey rentals, and bikes all over. Walking tours are all over and for good reason. Solvang is just downright adorable.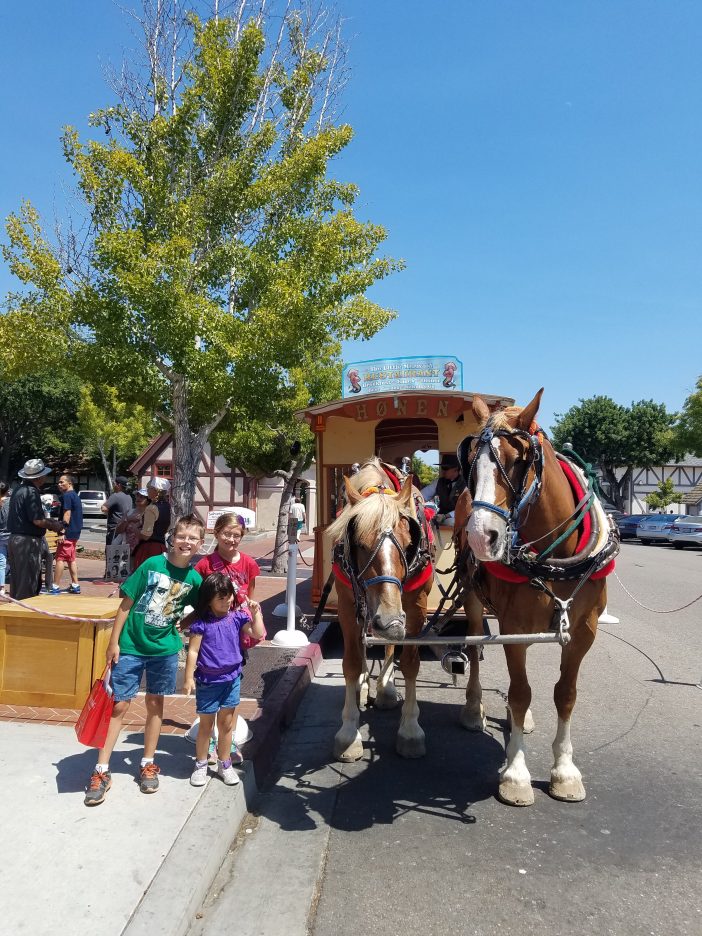 The city streets and shops are an attraction in itself in Solvang. Architecture, bright paint, and statues all point to the city's Danish roots. We only had one day in Solvang, but we hope to spend some more time wandering the city streets next time. Hans Christian Anderson fans will be excited to know there is a small but free museum in his honor.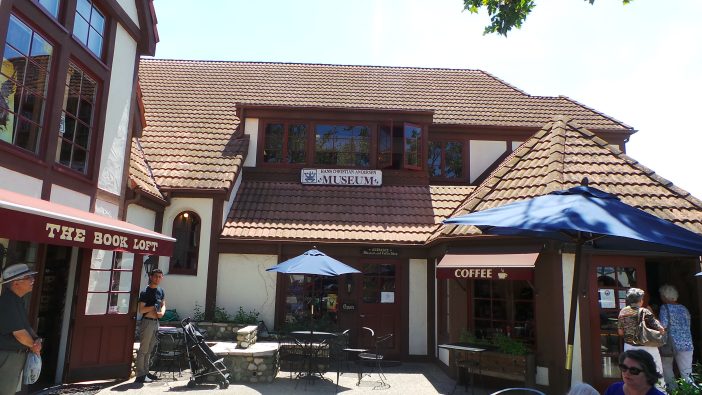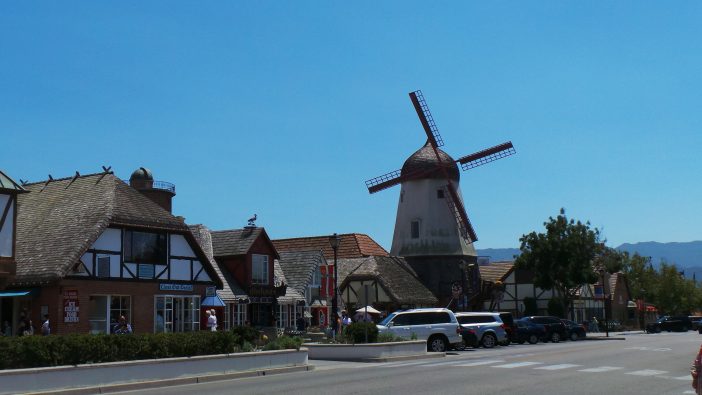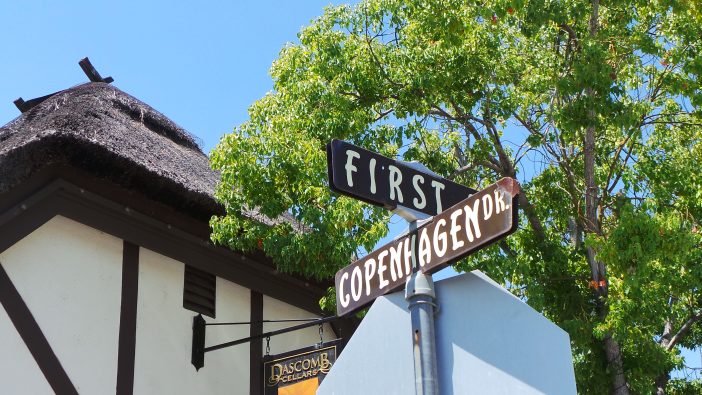 Oh Solvang, our visit was too brief. You hold a special place in our hearts and we cannot wait to visit you again!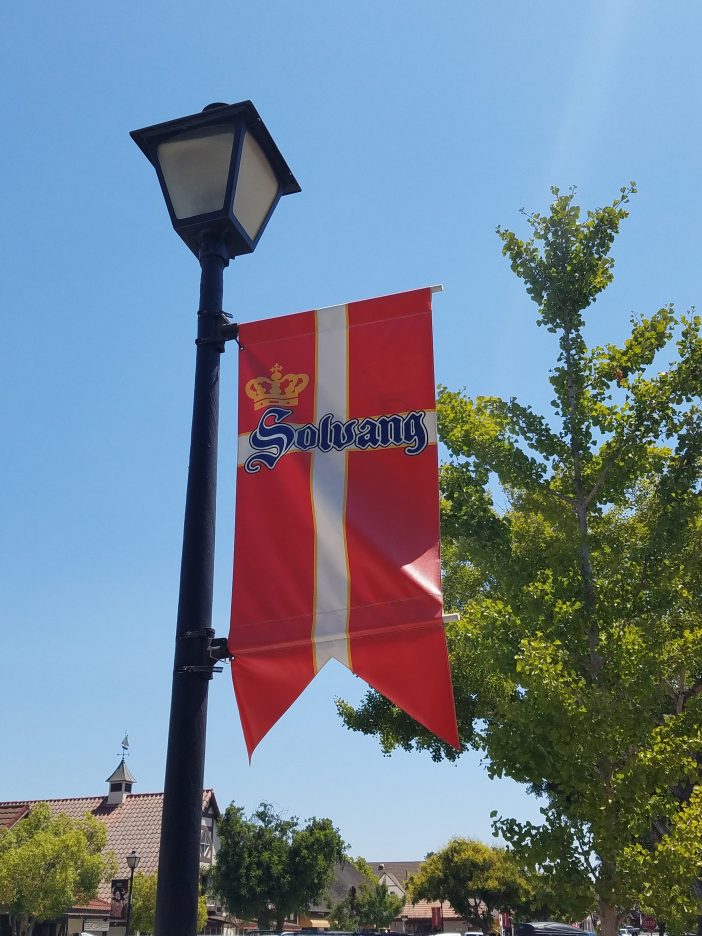 On our second trip through Solvang we were able to check out another great family friendly restaurant and we also visited Ostrichland again!
Chomp is located in the heart of the city and offers Classic American Diner options like burgers, hot dogs, and fries.
Make a wish in the fountain outside!
The fish tacos were awesome!
We are convinced they have the best shakes in the city!
Readers have asked us about hotels in Solvang but we have never stayed. There are several hotels in Solvang listed on Hotels.com. We find that Hotels.com is one of the best values and they offer unbiased reviews from guests.
Save
Save