Things to do on a Rainy Day at Disneyland
Disclosure: Our family was treated to a day at the Disneyland Resort to showcase some of the fun things you can do in the rain. This site uses affiliate links. Opinions are always 100% our own.
A rainy forecast for your Disneyland vacation is no reason to panic.  Crowds are low at Disneyland on rainy days and there is so much to do! Here are some of our favorite things to do at Disneyland and Disney California Adventure Park in California.  Grab your poncho (it is less expensive outside of the park) and get ready for a fun day of rides, cozy treats, and short lines!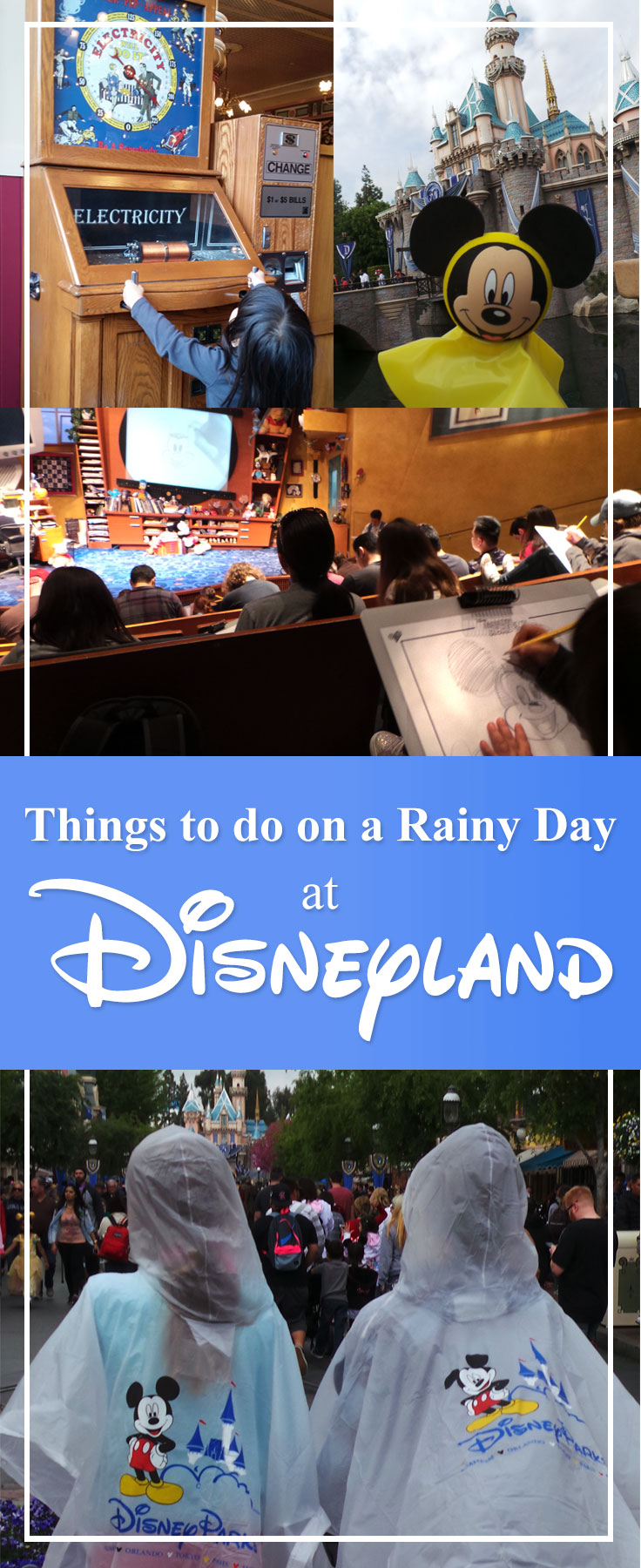 Rainy days are rare at the Disneyland Resort in Anaheim California.  This year we are experiencing an El Nino so we have had more rainy days than normal in SoCal. I thought it was high time I shared things to do on a rainy day at Disneyland. When we do have rainy days at Disneyland we have found that there are really plenty to keep us busy and stay dry.  Disneyland has had record attendance especially since the beginning of the Diamond Celebration and the opening of Season of the Force.  One awesome bonus to visiting on a drizzly day is crowds tend to be much lighter on rainy days.  While there are a few things you might want to pass when it is raining, I pinky promise there is a full day of fun ahead of you even with drizzle and clouds! So grab your poncho and hot cocoa and read about several fun things to do on a rainy day at the Disneyland Resort. Let's talk about fun things to do at the entire Disneyland Resort in the rain!  First we will start with Disneyland Park and then take an umbrella and hop over to Disney California Adventure Park!
If you are in SoCal – make sure to check out the SoCal Resident ticket deal. We love to visit during the slow season and on a rainy day. When we use the SoCal Resident Ticket Deal we really stretch our budget.  If you are not a SoCal Resident, not to worry! GetAwayToday has awesome specials on multi day tickets and vacation packages year round!
This post was originally written in 2016, if you have updated ideas, I would love for you to leave them in our comment section and I will update our post.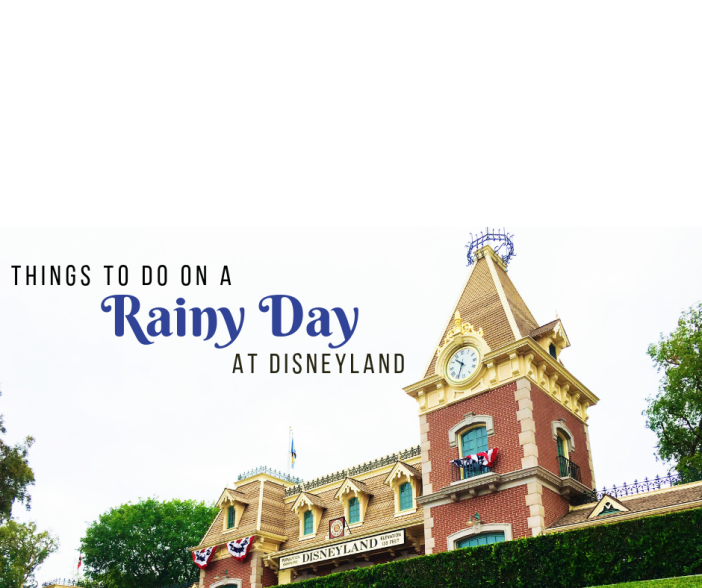 One of the first things people think of when you say 'Disneyland' is rides, but there are so many awesome shows!  Fill up your day binge watching all the fun shows that are indoors of in a covered setting.
Great Moments with Mr Lincoln – My kid's favorite subject in school is history.  They especially love American history and Great Moments with Mr. Lincoln is something we rarely leave the park without watching.  While our kid's enthusiasm might be a little high for a history movie and animatronics show, it really is worth visiting if you haven't in a while (or ever).  Great Moments with Mr. Lincoln is a large indoor theater that can hold a big crowd, but rarely does.  Make sure to get there early to check out the memorabilia, photos, and artwork in the lobby. The picture of Walt Disney as a child playing Abe Lincoln is one of my favorite gems in the whole park!
Enchanted Tiki Room – The Tiki Room show is one of our family's favorites.  The only problem is you wait for the show outdoors, mostly uncovered.  Because the crowds are small rainy days you might be able to just run in and take your seat without waiting at all.
Fantasy Faire – admittedly, this is not my son's favorite option.  My daughters however LOVE Fantasy Faire!  Watch a live show based on a beloved Disney fairy tale, and meet and greet with those beautiful princesses before or after the show!
Main Street Cinema – watch the animated shorts that started it all!  Steamboat Willie and other Mickey Mouse classics!  Several movies play on several different screens at the same time.  Once again, completely covered and it is rarely crowded.  We typically duck into Main Street Cinema with a lattes and hot cocoa from Starbucks and laugh at some timeless classics.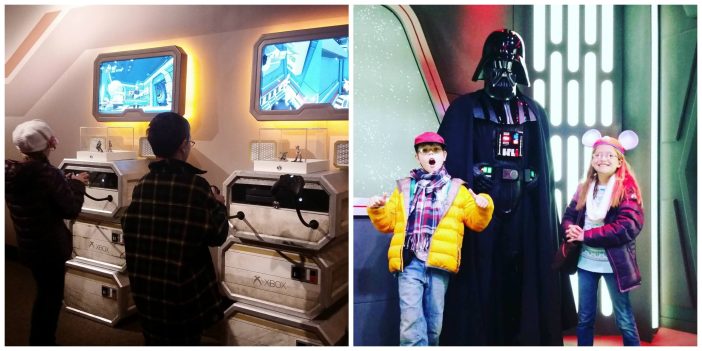 Star Wars Launch Bay – not exactly a show, but there is SO much to do in this interactive experience! Star Wars Launch Bay opened for Season of the Force and is a must see for any Star Wars Enthusiast.  For those who have not been this is a huge indoor area that holds a big crowd.  While inside you can check out models and items used for several Star Wars movies.  You can meet Chewbacca, Darth Vader, and now Kylo Ren.  While Chewy may be kind enough to pose for a Selfie, Darth Vader will have non of that nonsense!  Upstairs you can meet some of your favorite Marvel characters and play video games. While Star Wars Launch Bay is quite popular it is so big I have never been inside and thought it was too crowded for comfort.  My kids love to play video games and have never had to wait for a turn to play.
Ride some Rides!
So shows and walk through experiences are cool but we still need some rides – there are tons of rides you can still ride and stay completely dry!  Keep in mind most rides are indoors, but sometimes the line is outside.  In most cases, the lines are short on rainy days and you will not be waiting uncovered.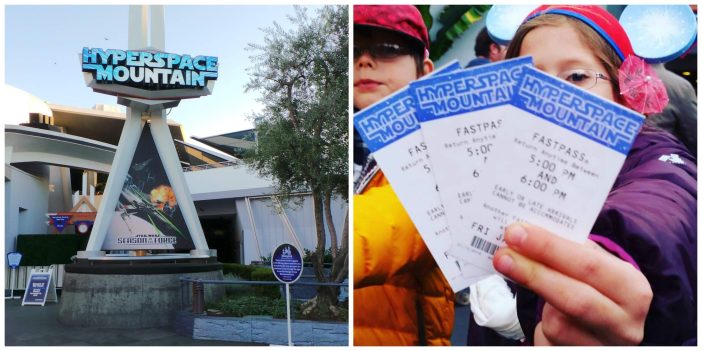 HyperSpace Mountain – HyperSpace Mountain is the classic Space Mountain made over with a Star Wars theme.  It is one of the most popular rides in the park and it does have a fast pass.  Should you need to wait in a line, nearly the entire line is covered! Want to see how HyperSpace Mountain is different? Check out our video of HyperSpace here!
Star Tours – Star Tours has also had a make over to include The Force Awakens scenes and characters.  Star Tours is an exciting ride that also has a fast pass and most of the line indoors.
Fantasyland – while many of the rides do have some of the line outside, on rainy days crowds are so light that many of the 'dark rides' have entirely indoor lines.  The following Fantasyland rides are completely indoors – Snow White's Scary Journey, Peter Pan's Flight, Pinocchio, Mr. Toad's Wild Ride, and more!  The carousel is also completely covered.
Haunted Mansion – while much of the line is outdoors and uncovered this is a perfect rainy day ride!  Again, crowds are typically light enough that your line is minimal if anything at all.  Haunted Mansion is an aumnimover meaning it moves continuously.  This means it is a very high capacity ride and it also is quite a long ride.  If you can handle a little rated G spookiness, the Haunted Mansion is a great place to wait out the rain.
Indiana Jones – My son would ride this ride all day long if it was up to him.  Much of the line is indoors and the entire ride is inside so it is a go!
Rides to skip on a rainy day!
Of course you cannot ride every single ride in one day at Disneyland anyway, so there are my choices to pass when the rain is coming down.
Splash Mountain – not only is it partially outdoors, you will get wet from the drop.
Pirates of the Caribbean – completely indoors, but also a good chance of getting wet.
Tea Cups and Alice in Wonderland – I know, this is so sad!  These are Disneyland classics, but both are outdoors so save it for a sunny day!
Big Thunder Railroad – not a water ride, but much of it is outside and that is no fun in the rain.
It's A Small World – I know!  Also a Disneyland staple!  Then entire ride is indoors except the beginning and the end.  If you it is only drizzling lightly maybe put this on the 'maybe' list.
Dumbo – I know, I know…. but the good thing is, it is rare for it to rain hard all day in Anaheim.  Make sure to race over to Dumbo when there is a break in the day!
Meet some Characters!
Visit Mickey & Minnie Mouse in Toontown – you can spend tons of time discovering and photo opping all over their adorable houses and then meet them – all indoors!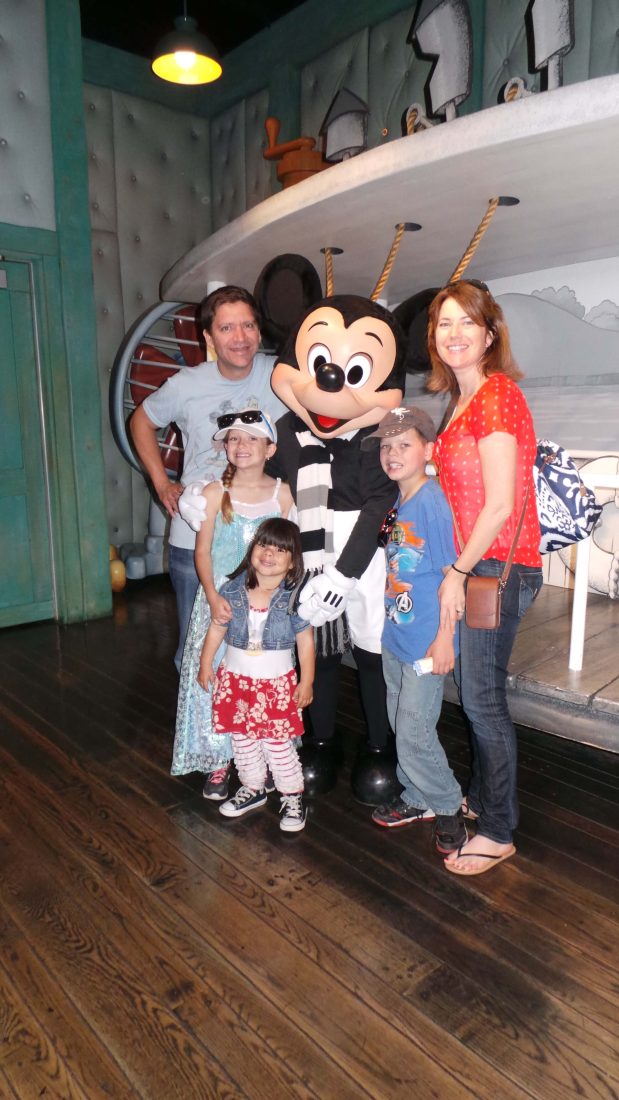 *obviously not taken on a rainy day, but you get the picture*
There are so many warm and tasty treats!  I suggest a hot cocoa or Starbucks on Main Street USA (read about how to get FREE Starbucks at Disneyland here) or Clam Chowder in a bread bowl – these are favorites for our family on a chilly day.  Little Miss C suggests a cookie as big as your face.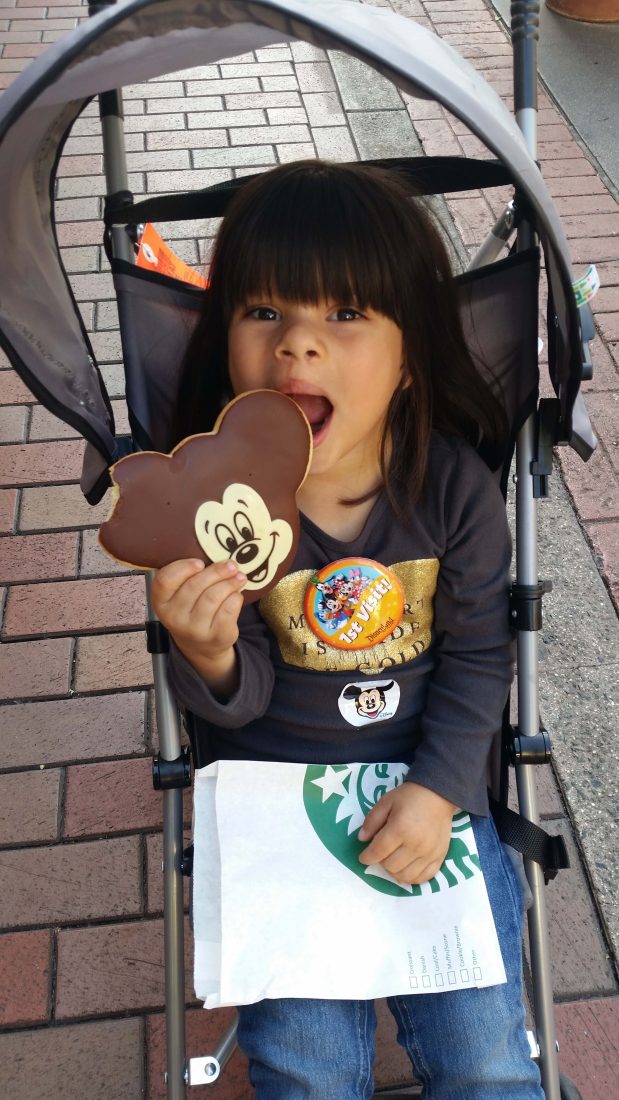 Remember if you are planning a multi day trip to the Disneyland Resort, the only Discount Disneyland tickets we endorse are from Get Away Today.  Get Away Today is endorsed and approved by Disneyland (the only discount Disney travel agency I know of) and they offer our readers a special discount by using the code HIGHLIGHTS. 
A rainy day is also a great day to splurge on Character Dining or a meal at the Blue Bayou.  Both of these are pricier options than counter service or even other sit down restaurants, but they are really great experiences in a warm and dry environment!  Character Dining options offer great food (sometimes buffet options) and the opportunity to meet multiple characters while you dine.  Blue Bayou is located in New Orleans Square and guests can enjoy a moonlit meal anytime of day while watching Pirates of the Caribbean boats glide through.
See?  There is plenty of things to do on a rainy day at Disneyland!  While you can easily spend an entire day at Disneyland Park on a rainy day I have to share a few of my rainy day favorites over at Disney's California Adventure Park as well!
Let's start with one of my favorites……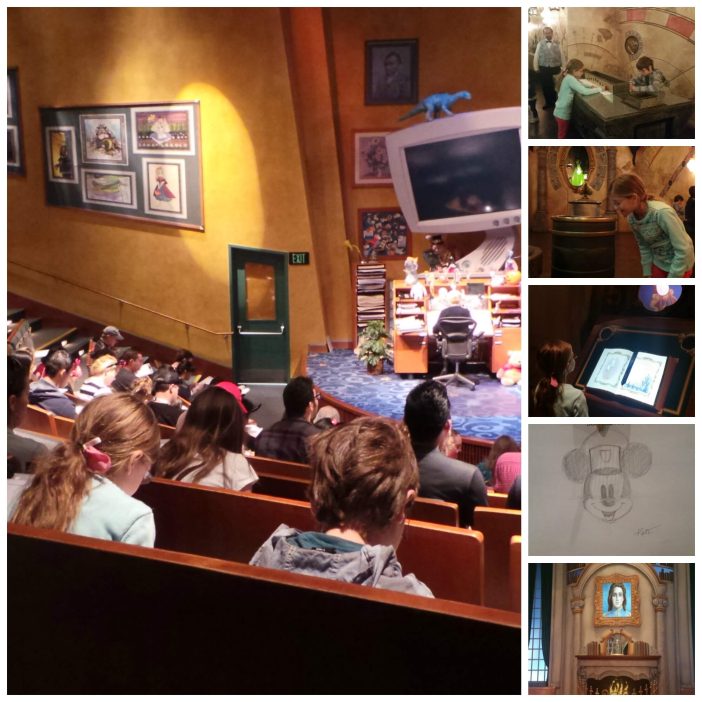 The Disney Animation Building – The Disney Animation Building is a completely indoor attraction with several different fun and interactive things to do.  Inside you will find Turtle Talk with Crush, Animation Academy, the Sorcerer's Workshop, and in the middle of it all is the Animation Courtyard.
Animation Academy is a family favorite and much fun!  It always surprises me how many people have never been inside!  Every half hour an animator will teach you how to draw a famous Disney Character.  Guests will get an animation lap pad, drawing paper, and a pencil to use and the animator draws in front.  Steps are slow and simple and everyone is just encouraged to have fun.  The capacity in the room is quite large and we have never waited through more than one round to draw.  Drawing lessons change several times throughout the day so if you have an artist in the party this is a great place to wait out the rain.
Turtle Talk with Crush is also an interactive experience where guests can talk with Crush from Finding Nemo.  The chat is live and Crush is quick on his feet with funny answers to your kid's questions.
The Sorcerer's Workshop was new for our kids on our rainy day trip.  Take a quiz to find out which Disney villain or hero you most resemble, create animation to watch immediately, and more!
And don't discount the Animation Courtyard – we love to sit down and relax in the middle nearly every time we come whether it is sunny or rainy.  We love to watch the art and listen to the music.  It always surprises me how many people have never even stepped in this building.  The Disney Animation Building is a great place to check out any day but it is perfect for a rainy day at Disney California Adventure Park.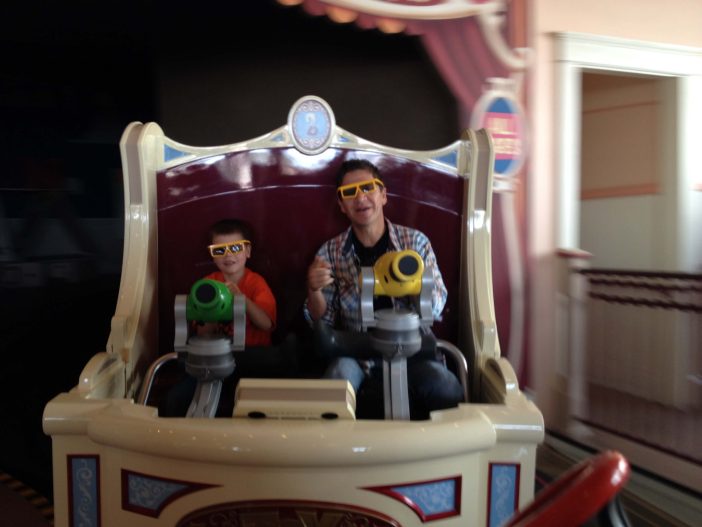 Toy Story Mania – I do not know one person that doesn't love Toy Story Mania!  This ride is located on the boardwalk in DCA and features our favorite Toy Story characters.  Normally this ride draws a huge crowd so make sure to take advantage of the short rainy day lines!  This ride is built like a carnival game and spins and swivels throughout the ride.  It can get quite competitive!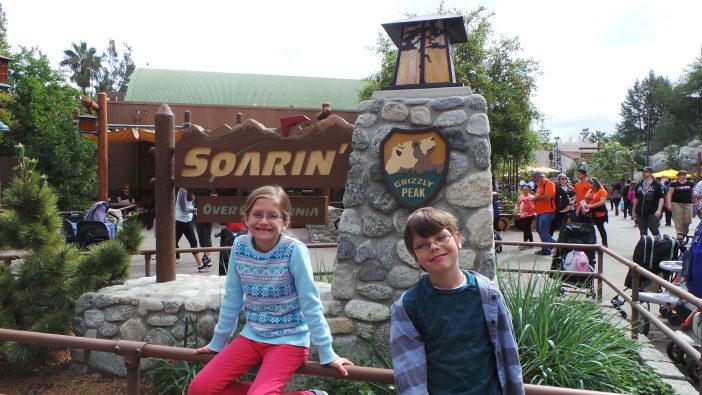 Soarin' Over The World is located in Grizzly Peak and is also great for big kids of all ages.  Sadly, our littlest is just a teensie bit too short for Soarin' – but we are eating our veggies and will be ready for next year!  Soariover California flies over some of California's most beautiful landscapes including the Disneyland Resort.  Fun Fact – there is a Hidden Mickey in Palm Springs – keep your eyes peeled!
Disney Junior – Live on State! – If you have little ones in your pack make sure to head over to Disney Junior – Live on Stage! for a show.  Show times vary so make sure to check out show times when you visit.  This adorable show includes live actors and puppets from your preschooler's favorite Disney Junior shows.  Mickey Mouse Club House, Sophia the First, and Jake and his crew all make an appearance.  The show is completely indoors.  The show runs about 20 minutes and kids will dance and sing the entire time – you might even forget it is gloomy outside.
It's Tough to be a Bug – this 4-D show in Bug's Land is not only indoors, but underground!  Nice and cozy!  If you have very little ones or kids that scare easily know that there are some scary moments but it is made for kids.  This show features some of our favorite characters from It's A Bug's Life and even sneaks in a few fun facts for learning purposes.  3-D glasses are always fun but the show also includes smoke, lights, spray, and a slightly too interactive for my liking stink bug! (update – this show, and all of Bug's Land is closed forever – sad)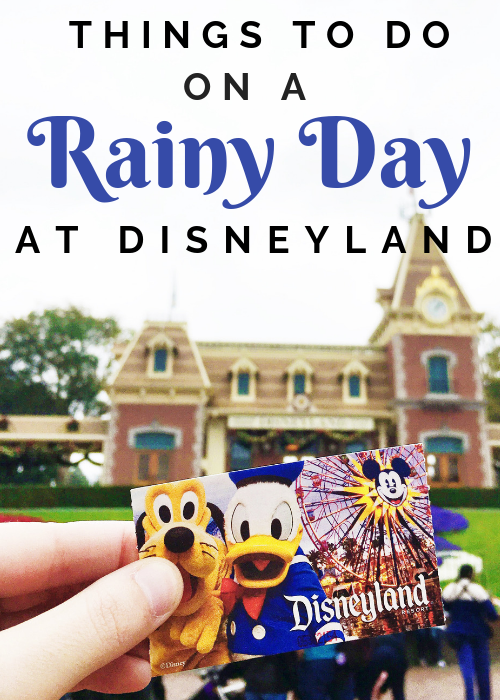 A couple rides worth leaving for a sunny day –
Cars Land is almost completely outdoors so save it for a day without rain or just make sure you are nice and bundled!
Guardians of the Galaxy, Incredicoaster, and Grizzly River Run- these are some of our favorite thrill rides but sadly you will just get too wet to enjoy yourself! Save for a sunny day.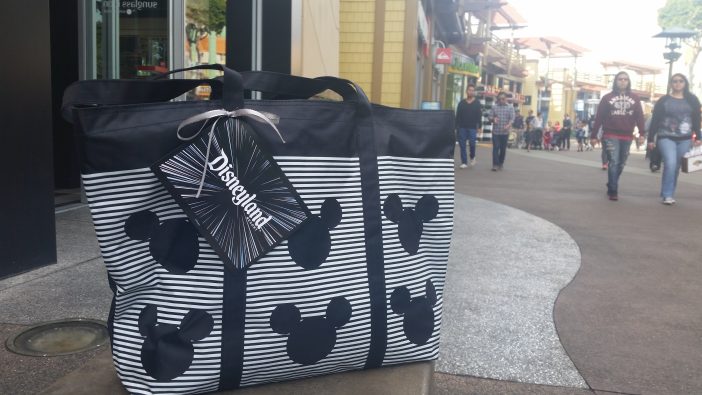 Things to bring and rainy day tips –
If you think it might be rainy when you go bring a rain coat or get a cheap poncho before you get into the park.  Don't fret – if you don't have time to pick up a poncho before you go to the park, Disneyland offers reusable ponchos for purchase that are fairly reasonably priced.
Wear close toed shoes and bring an extra set of socks.
Pack your umbrella! Even though there is plenty to do indoors you will want an umbrella for those walks to and from.  Adorable Mickey umbrellas are available for purchase but they will also let you bring your own.
If you have a kiddo in a stroller make sure to get a waterproof covering for the stroller too!
Bring ziploc bags for your camera and phones.
What are your favorite things to do on a rainy day at Disneyland? Please share them in the comment section…..