Honey Lemon Costume – DIY
Disclosure: This site uses affiliate links. When a purchase is made through our links we make a small commission.
My daughter's favorite super hero will forever be quirky "Honey Lemon" from Big Her 6. Honey Lemon is funny, brave, and really smart. Honey Lemon is such a strong role model for kids, I was thrilled when she said she wanted to be Honey Lemon for Halloween a few years back. While we thrifted our costume, this costume can be made with simple pieces from your home or Amazon. Honey Lemon's crime fighting costume is also an easy click away. I personally love Honey Lemon's yellow sweater outfit and it was so easy to put together. I hope your little aspiring chemist or super hero might enjoy dressing up in head to toe yellow this year!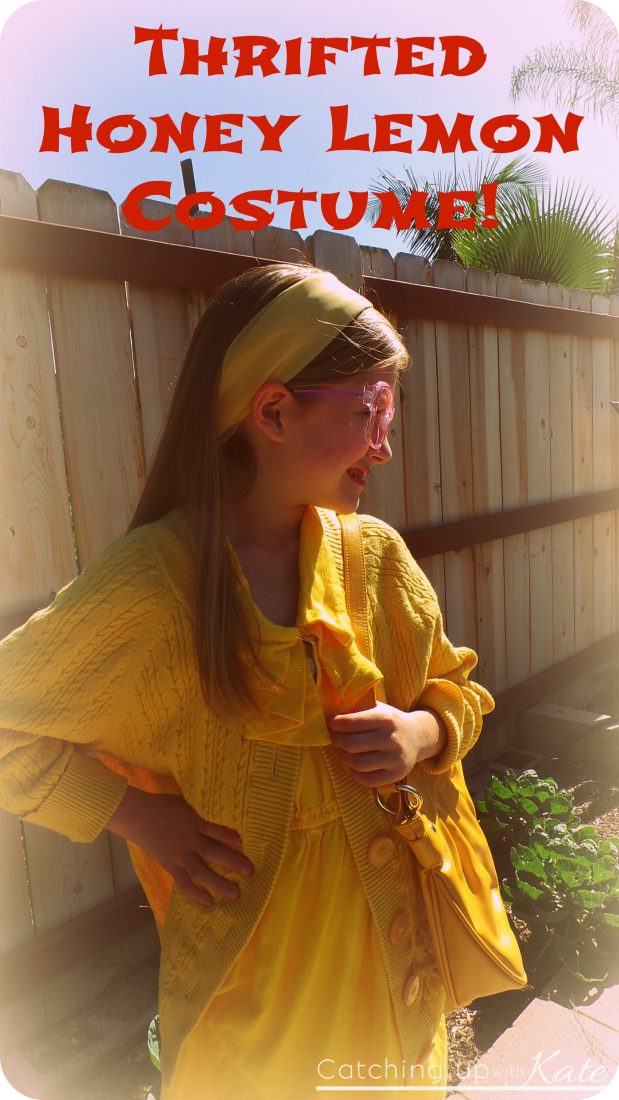 Our kids are obsessed with Big Hero 6 and I love it. I love the messages of this film, especially that smart and quirky is cool and that girls are powerful too. Honey Lemon costumes and GoGo costumes are sure to be all over the place come this Halloween. Our oldest's favorite character is Honey Lemon. She really wanted a DIY Honey Lemon Costume for her Super Hero day at school and I was thrilled to help her put it together. After parading around Mickey's Halloween Party in an over the top DIY Olaf costume last year my son has decided he's not quite ready to spend a bunch of time on a costume just yet. He is going to wear a red shirt, khaki shorts, high tops, and my black hoodie and call himself "Hiro", but that's not really keeping up with this family's level of crazy when it comes to costumes! Hopefully he will let me help him with a fun DIY costume by the time Halloween rolls around – but in any event – we were able to devote full time to finding the perfect components of a Honey Lemon Costume and it was so much fun!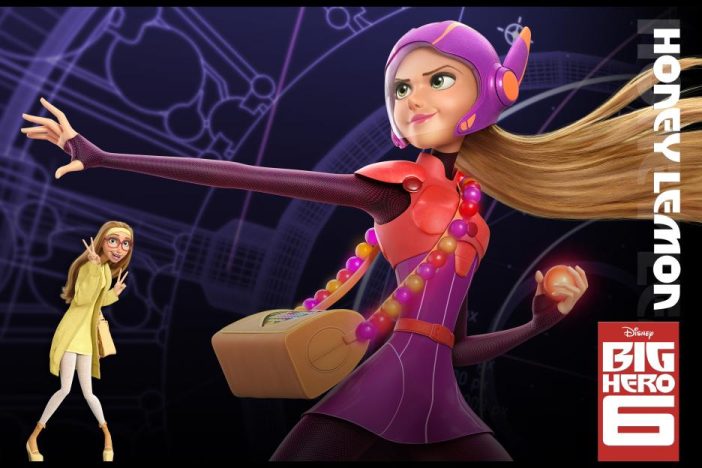 So Honey Lemon has a couple outfits in the movie Big Hero 6 – but her most popular outfits are her yellow dress and sweater or her super hero outfit. We would be thrifting our Honey Lemon costume. Even though a yellow dress and sweater might be challenging to find, we were pretty confident that it would be easier to find than that super hero costume she wears!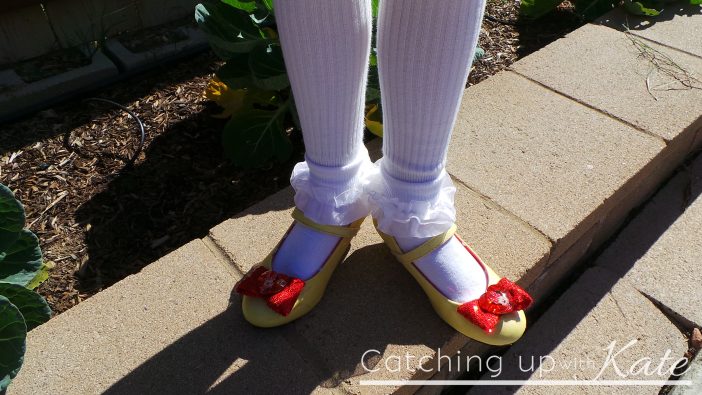 My kiddo and I did a lot of searching. We shopped at three Goodwills, the DAV, and the Catholic Charities Thrift Shop. We ended up overbuying – we finally bought a pink sweater because we were sure after store 3 we were not going to be finding a mustard yellow sweater….. guess what we found at store 5? A perfect mustard colored sweater. You cannot return clothes at the thrift stores we shopped at – but luckily she liked the pink sweater anyway so it will not go to waste.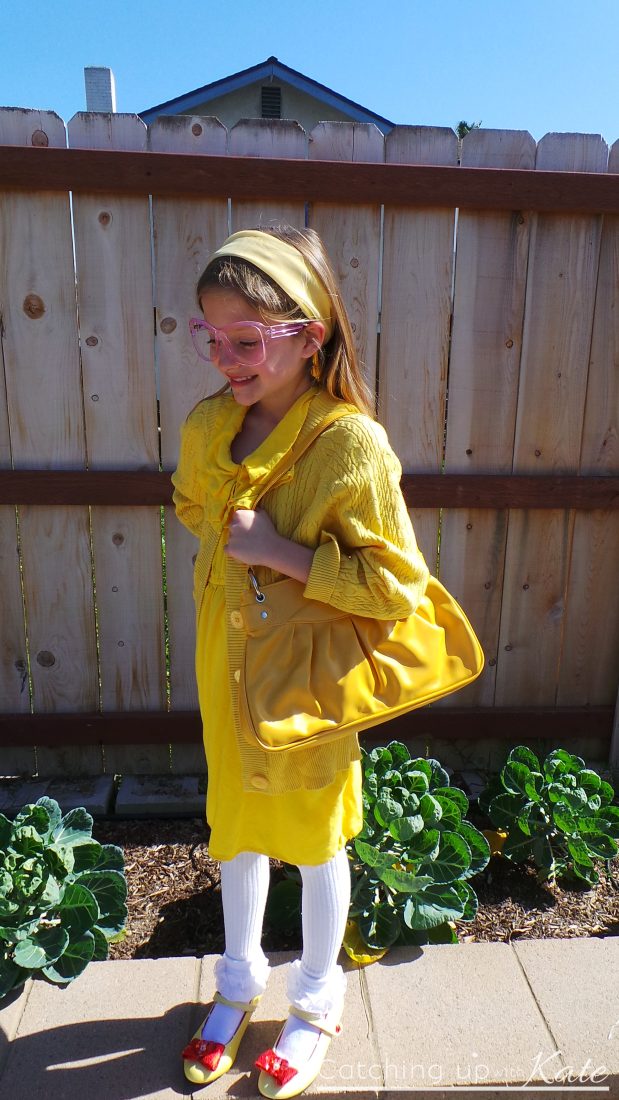 Ultimately we ended up with a fairly perfect Honey Lemon Costume that needed very little work.
Pink oversized glasses (lenses taken out) – $1.99 – perfect for a Honey Lemon Costume!

Size small women's Forever 21 yellow tunic – $4.65 – needed to have the sleeves taken up a bit. This dress was nearly perfect – it had a cute ruffle in the front that kinda looks like the collar on the original Honey Lemon yellow dress! Thank you to my mom for taking the sleeves up just a bit so it fit perfectly! This tunic would have been too short for a woman, but is perfect for a small girl. When you are working on a DIY project looking outside the box (in this case looking for a long top in the women's department instead of just dresses in the girl's department) will increase your odds of finding the pieces you need for your costume.

Size Small Women's August Silk – mustard yellow sweater – $9.99 – WHAT THE HECK GOODWILL?! I was kinda upset this sweater was $10 – that's crazy for a thrift store….. but I mean – I couldn't not leave without it, it was absolutely necessary for our Honey Lemon Costume!

Yellow Purse – $2.99

Yellow scarf – $2.99

White leggings – already had them!

Ruffle socks – already had them!

Yellow high heels – these are actually Minnie Mouse High Heels that I bought for her a few months before because they were on sale at the Disney store for like $4 – but she already had these so let's consider them free.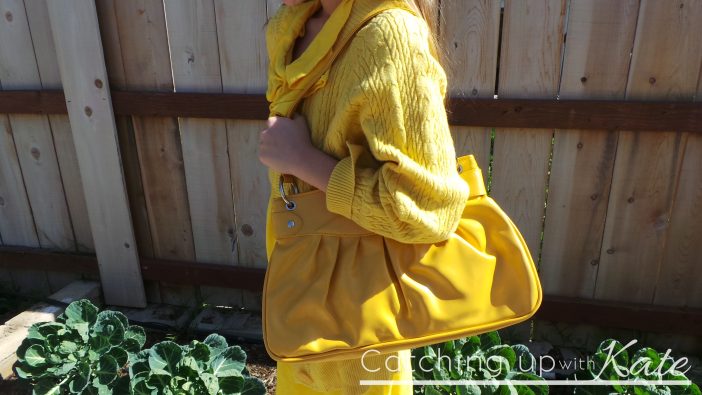 So for a little over $20 (not counting the things we re-purposed from her existing wardrobe) she had a pretty solid Honey Lemon costume! I love that these things are just regular clothing items and accessories – these pieces are something she will be comfortable in when she wears her costume at school but she can also wear pieces individually and just incorporate them into her wardrobe.
While we love thrifting – I thought you might want a nice easily curated list so you can just buy from Amazon – thrifting is fun but sometimes people want an easy button – here you go! All are prime eligible! I appreciate my readers going through my links!
We went to several different stores before finding the right Pink Glasses for Honey Lemon – silly me – they are $7 on Amazon – that would have saved some time!
I didn't find a perfect Honey Lemon dress on Amazon – but I found dozens of great cardigans that would work! Here are several!…….
Just kidding – I did find the perfect Honey Lemon dress – it isn't prime eligible but oh my goodness – how cute?!
We made this costume for Super Hero Day at School but you can bet we will be saving it for Mickey's Halloween Party at Disneyland!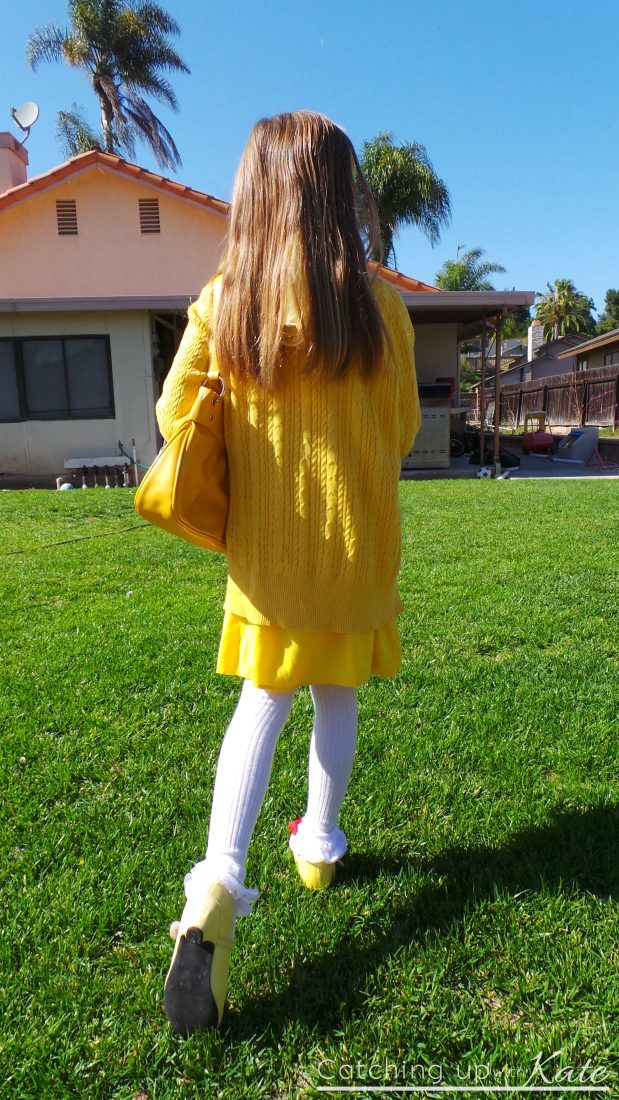 We love our Honey Lemon Costume? What do you think?
Are you as ga-ga as we are over Big Hero 6? If so – make sure to check out our Big Hero 6 coloring pages – they are super popular and totally FREE! Do you have a cute Big Hero 6 (or even better yet – Honey Lemon) inspired costume? I'd love to see it! Please leave the link in the comment section!