Throwback Thursday Disneyland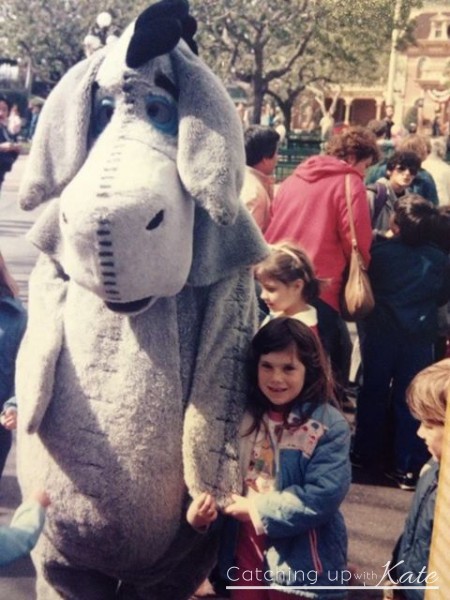 Throwback Thursday Disneyland.
I was super excited about Disneyland Throwback Thursday last week that we just had to do it again!  I really hope you will link yours up too!  Disneyland throwback pictures are some of my favorites!  A kid in Mickey Ears is just so classic and it seems like so many people have them and are ready to share with the world.
This is me at about 6 just hanging with my buddy Eeyore.  Don't you just love how I hold his hand?  That's pretty cute if I do say so myself! I bet there are a lot of folks out there there with vintage Disneyland / Disney World / etc photos right?  I LOVE looking at old Disney photos – so let's link it up!  Throwback is a loose term – the older the better but we all know that kids grow up FAST and even looking at a picture from a year or two ago with a little one may seem like a lifetime ago right?
I am always impressed that Disneyland is always changing but it maintains the feeling and look over the years no matter how much it changes.  I am glad that Disney keeps up with the times but also makes it a priority to keep Disneyland and Walt Disney World a clean and wholesome place for kids and adults of all ages to create memories with their families.
Our linky is no longer live but if you are stumbling upon this old post and would love for you to leave your old school Disneyland pictures in the comment section of this throwback Thursday Disneyland post.  If you have a blog post on the matter I would love for you to tell us about it and even link it too!  I would be so happy to check it out and walk down memory lane with you too.