Tiger King Coloring Pages – Free printables
Disclosure: Highlights Along the Way is a participant in the Amazon Services LLC Associates Program, an affiliate advertising program designed to provide a means for sites to earn advertising fees by advertising and linking to amazon.com. I must disclose while I drew these printables, it was Amy's idea - her blog is www.AsTheBunnyHops.com and you should go visit her.
Have you seen the absolutely crazy Netflix Limited Series Tiger King: Murder, Mayhem and Madness? You probably have-it's been the number one show on Netflix since shortly after it's launch. When my friend Amy from As The Bunny Hops asked me to make coloring pages based on the show, I knew I was up for the challenge.
I have plenty of kid-friendly coloring pages available here, but this one is for the adults! I created these Tiger King Inspired printables after watching the Netflix craze that has hit just about everyone as we all sit and wait out Corona. All the printables we share here are totally free. I'm not going to make you sign up for my emails or anything. Click and print from your home computer, that's it. That said, if you don't sign up for my emails, you might miss the next amazing coloring sheets… but it is your call. I would love for you to share with your friends. Sharing is caring. This little blog is helping keep the lights on over here and you just visiting and sharing with your friends helps. Sharing truly is caring. If you have friends that love Tiger King as we all hate to admit we do, you gotta share it on Facebook and tag them.
FREE Disney Drawing Classes During Quarantine
While I did draw these coloring sheets, it was my friend Amy's idea. Her blog is As the Bunny Hops and if you like crafts and Disney, you should follow her. I hope we can continue to collaborate on all things 'weird Netflix documentaries' in the future. Please also follow @KateHamArt for more of my artwork too!
TIGER KING Printable Coloring Pages

Enjoy 3 hilarious coloring sheets based on everyone's favorite characters. We have two of Joe Exotic with his favorite animals. Also one of Carole with her now iconic catch phrase. You can print out one or all three. Enjoy this little mini coloring book. Please remember to stay at home.
Joe Exotic with two tiny baby tigers. Further down we have Joe with an adult tiger as well as Carole Baskin.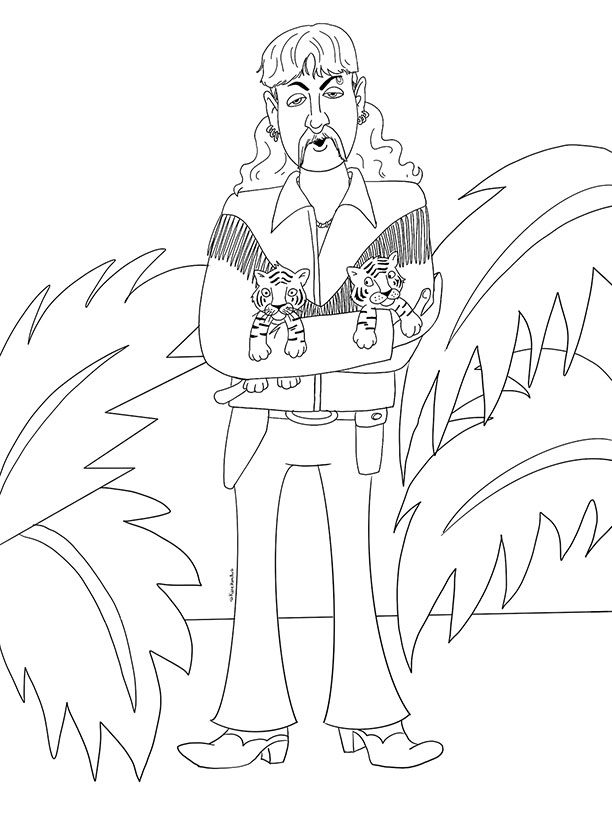 What is Tiger King?
Are you one of the few people who has been able to avoid Tiger King? Tiger King: Murder, Mayhem and Madness, Netflix's latest true crime docuseries, dives into the wild world of big cat owners and enthusiasts in an exploration of one man's path from attention-seeking zoo owner to convicted criminal. Also, jury isn't yet out on his nemesis, Carole Baskin. Word on the street is that the curious case of her disappearing husband has been reopened. This series is short enough to binge in one lazy weekend. This is not a classy show, but you will be hooked. Tiger King is a pop culture phenomena that is sure to be watched for years to come.

"Hey There, All You Cats and Kittens" coloring page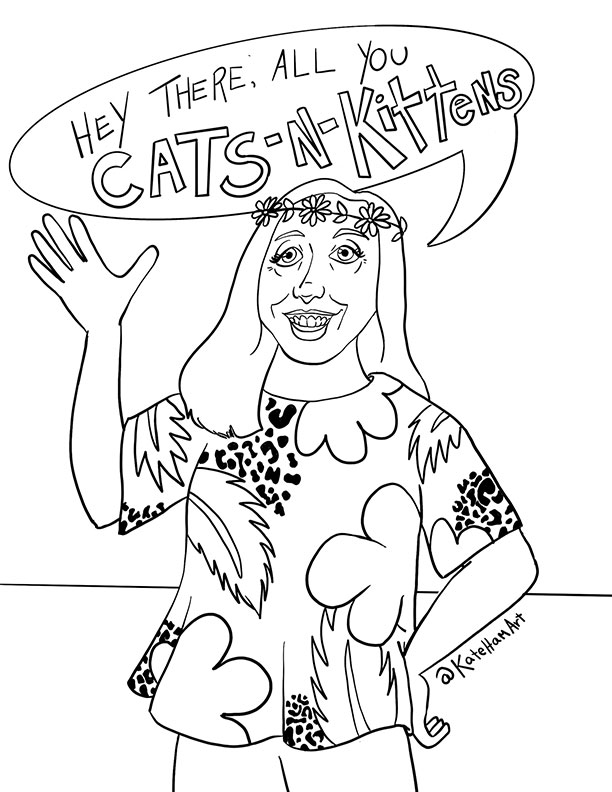 Don't miss the most epic Joe Exotic Coloring Sheet at the bottom. Don't roll your eyes, it is worth the scroll….
Also, who doesn't need a Joe Exotic Face Mask?
Also, Tiger King socks?
And if this isn't the most beautiful drawing of Joe Exotic, I just don't know what is. And now you can color his beautiful face and this majestic tiger while you binge watch the weirdest show on Netflix.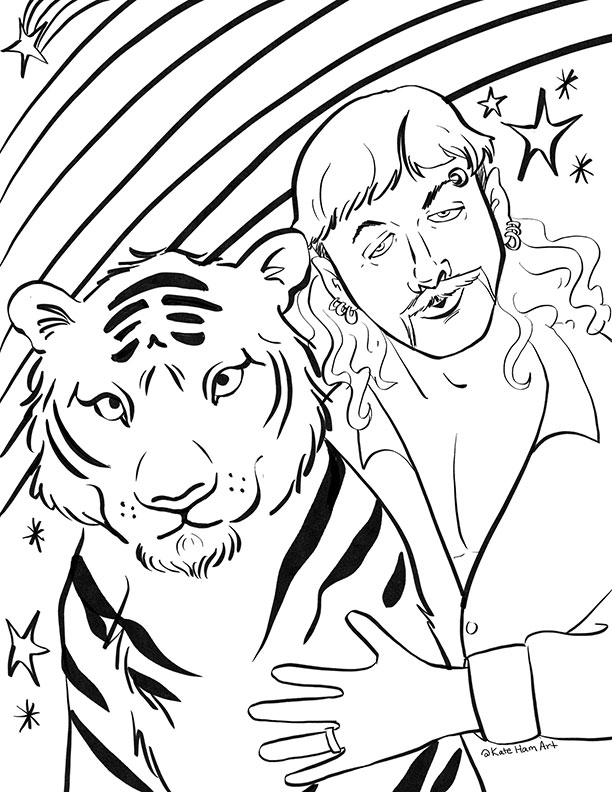 And if that is not enough Tiger King fun for you, my friend Amy has made Tiger King themed Easter Eggs. Nothing says spring time and the miracles of Easter like Joe, Carole, and a Tiger!