The truth about the Tooth Fairy.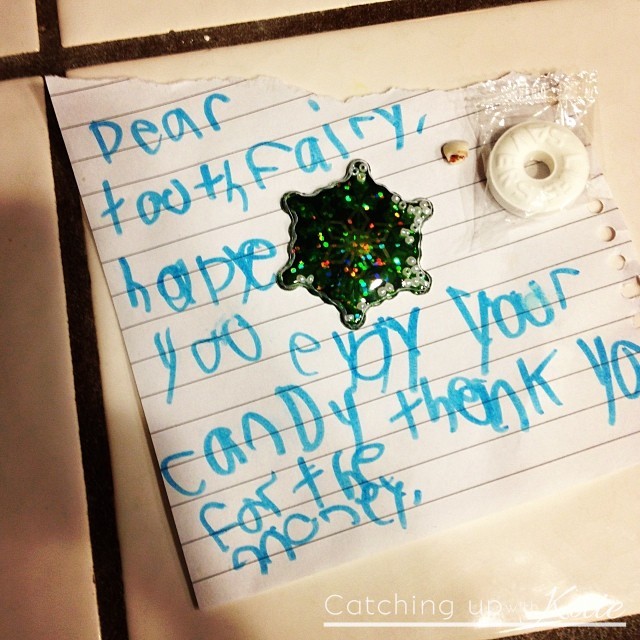 So my big kids are both seven years old, both are quite trusting, but both are very smart.  So I know our Santa, Easter Bunny, Tooth Fairy, etc days are numbers.  Today's tale is about when I told the kids the truth about the tooth fairy. Once one of them finds out, I am pretty sure they will spoil it for the other.  I'm not going to go to great lengths to keep the 'magic' alive, but as long as they are into it, I want to cherish this time, so I am not going to tell them until they are really starting to see the holes themselves.
I don't think they realize it, but they are starting to poke holes through The Tooth Fairy theory already.
Our oldest had lost about eight teeth, but her brother who is only 6 months younger had only lost two.  He would be so bummed every time she got another wiggly tooth and his just stood their ground.  I assured him that eventually his would come out, everyone loses their teeth at different times.  And finally, just as I had promised, one of his top teeth got wiggly.  That tooth held on for months, but finally during basketball practice he couldn't handle the wiggle anymore and he went to the bathroom and came back with a proud, bloody smile and a teensie tiny baby tooth in his hand.
As we drove home the following conversation ensued (mind you, I still believe we shouldn't go to great lengths to keep the silliness of make believe characters alive – but poor kid has only had the tooth fairy come twice!)
The kids are talking about how exciting it is that the Tooth Fairy is coming tonight!  They wonder if she will know that we have moved since she last visited our family, they wonder how tiny she really is, and how much money she will bring.
"S, you know she always brings one dollar for your first tooth but then just fifty cents for all the other teeth so you are getting fifty cents!"
"Yeah, then I will have SO many quarters!"
*more back and forth silliness about the Tooth Fairy*
And then J quips in with a game changers.
"I wonder why we only get fifty cents, Lilly at school gets $10 for every tooth, but I don't know why, all of my teeth are always super clean. Why does she pay more to other kids?"
* sigh *  So, I don't know Lilly or her parents, but I decided to throw them under the bus.  $10 a TOOTH?! Come on people!  I felt so badly because she is right, our kids have perfectly clean teeth, they are prime pickins for the Tooth Fairy, but they get paid so much less.  I've got three kids, all with a mouth full of teeth – I can't afford to keep up with the Lilly's of the world.  So this was my response.
"OK guys, so I am going to tell you something really important, but it is a secret and you have to promise not to tell the other kids because they will be sad."
"Oh! What Mommy?!" My two totally trusting big kids say in unison.
"So this is the truth about the Tooth Fairy. The Tooth Fairy has always paid 50 cents, even when I was a kid, that is just what she pays.  She never started paying more, and she pays every kid the same." Me
"Unless it is dirty! Then it is less right?" My son.
"Yes, of course, if it is not clean she may only leave one quarter." pause "But if a kid gets more than two quarters, it is because their parents left bonus money.  Nobody gets $10 from the Tooth Fairy, they get 50 cents, and then their parents go in and switch it out."
*minds blown*
"Well, that is sneaky." J
"I know." Me
"So anyway, those kids that get more, it's because their parents make more money than we do, or they just spend their money differently than us.  Mommy and Daddy don't make a ton of money, and sometimes I don't make any money, but we get to do fun things like go cool places, like how we went to LEGOLAND last week remember?  So, we don't put in extra money for fakes in the Tooth Fairy pillow, but we take you cool places that other kids don't go to, so really, it's kinda the same right? I'm just being upfront about it."
I side glance into my back mirror, they have totally bought it.
"And Mommy, we went to LEGOLAND and that is WAY better than nine more dollars that is to be pretend from the Tooth Fairy!" S.
"That's all I am sayin'." Me
"So you won't tell right?" Me
"No!" them.
"I'm glad you told me, because I always wondered." J "So why do so many Moms and Dads lie about the Tooth Fairy?"
"I have no idea kiddo, but we don't." Me.
"That's better." S.
So, I guess we are easing into the truth about the tooth fairy ……….