Toddler book gift guide
Disclosure: This site uses affiliate links. When a purchase is made through our links we make a small commission.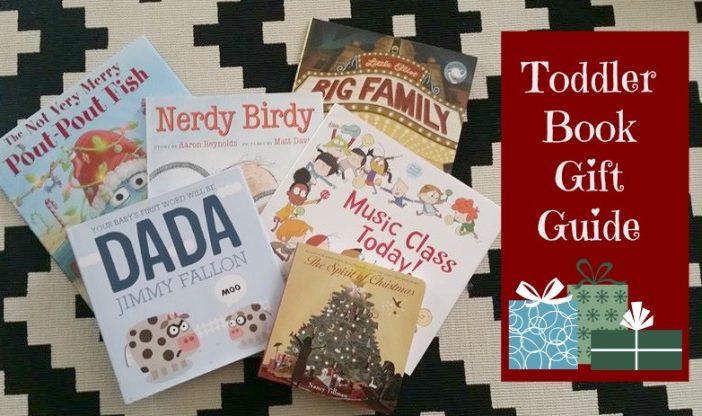 We are big fans of books.  Our big kids both read above grade level and eagerly devour each new book that comes through the door.  We know that our big kids read like they do because we read with them from a very young age.  We read with them as babies and by the time they were toddlers they were trying to 'read' on their own.  I loved searching for toddler gook gift guides when they were little – I always wanted to know what new fun toddler and preschool books were hot on the market.  Our littlest is four and we still love checking out all the best toddler and preschooler books.  We have curated a list of our favorite books for our Toddler Book Gift Guide – all the books here are prime eligible and can make it to your home in time for Christmas as long as you buy a couple days early!  If you are really shopping last minute – many of these books are available as digital downloads for your kindle or tablet!  All of the books below are around $10 (or less!) making them a very reasonably priced holiday gift even for those on a budget!
In no particular order – here are the highlights of the toddler appropriate books we have enjoyed this season….
The Not Very Merry Pout- Pout Fish 
as always Pout – Pout is here to serve up a lesson about learning not to pout – but this time with a holiday twist……
"A gift should be big,
And a gift should be bright.
And a gift should be perfect-
Guaranteed to bring delight.
And a gift should have meaning
Plus a bit of bling-zing,
So I'll shop till I drop
For each just-right thing!"
Will Mr. Fish find perfect gifts for everyone on his list? Will he finish his shopping in time?
Swim along with Mr. Fish on his holiday shopping quest in The Not Very Merry Pout-Pout Fish. He might just discover that the best gifts of all come straight from the heart.
Check out more about The Not Very Merry Pout-Pout Fish (A Pout-Pout Fish Adventure) here!
Nerdy Birdy
I dare say my entire family is made up of Nerdy Birdies – we are a little different from the cool crowd but we have found our flock too – I love the lessons Nerdy Birdy teaches!
Nerdy Birdy likes reading, video games, and reading about video games, which immediately disqualifies him for membership in the cool crowd.
One thing is clear: being a nerdy birdy is a lonely lifestyle.
When he's at his lowest point, Nerdy Birdy meets a flock just like him. He has friends and discovers that there are far more nerdy birdies than cool birdies in the sky.
Read more about Nerdy Birdy
here!
Your Baby's First Word Will Be DADA – by Jimmy Fallon

OK so I wanted this just for me.  I feel like Jimmy Fallon and his wife and little baby named Winnie probably would be best friends if only the knew who we were – my guess is that is a common thought!  His book is charming and adorable….
Your baby's first word will be . . .
"Dada!"
Right?
Everyone knows that fathers wage a secret campaign to ensure that their babies' first word is "Dada!"
But how does it work?
One of the most popular entertainers in the world and NBC's The Tonight Show host, Jimmy Fallon, shows you how.
Check out more info and pictures from Your Baby's First Word Will Be DADA
here! It's kind of adorable!
The Spirit of Christmas
This is not a brand new book, but a perfect classic if you do not already have it in your library.  Available as a board book or classic book!
Bells jingle, sleds dash through the snow, trees are topped with sparkling stars, and children everywhere dream of candy canes and presents. But the best gift of all-the most magical gift of the season-is when we spend Christmas with those we love.
Once again, this New York Times-bestselling author and artist has created a special, beautiful book that families will want to share year after year. (And readers will want to look for the Spirit of Christmas image that Nancy Tillman has hidden on every page!)
Read more about The Spirit of Christmas
here!
Music Class Today!

Our littlest takes a while to warm up to crowds even though she loves music – this book seemed to be written just for her!  BONUS – it comes with a free song download!
Hooray!
Music class is underway!
As soon as the teacher starts to play his guitar and sing, the kids are whirling and twirling and having a blast. But for one hesitant little music maker, it is all a bit overwhelming at first. With energetic and bright illustrations, this reassuring story about the courage it sometimes takes to try something new will resonate with children everywhere.
Take a peek into Music Class Today!
here!
Little Elliot Big Family
We LOVE the Little Elliot series! This book just became available in October 2015 and is a perfect addition for any Little Elliot fan!
When Mouse heads off to a family reunion, Little Elliot decides go for a walk. As he explores each busy street, he sees families in all shapes and sizes. In a city of millions, Little Elliot feels very much alone-until he finds he has a family of his own!
If you want to see what Little Elliot has been up to in this latest book check out Little Elliot, Big Family here.
This is not a sponsored post but we often receive books for review. Some of these were complimentary review copies.  We are not required to post about all review items and I only share our very favorites.  Amazon affiliate links are included.  Affiliate links  do not cost the buyer a penny more and support this site's maintenance and we appreciate you purchasing through our links!
These are just a few of our favorite toddler books – do you have a toddler book gift guide or have another book you think we should add?  Leave it in the comment section!  Have yourself a lovely holiday season!