Top 10 things NOT to say to your Family Photographer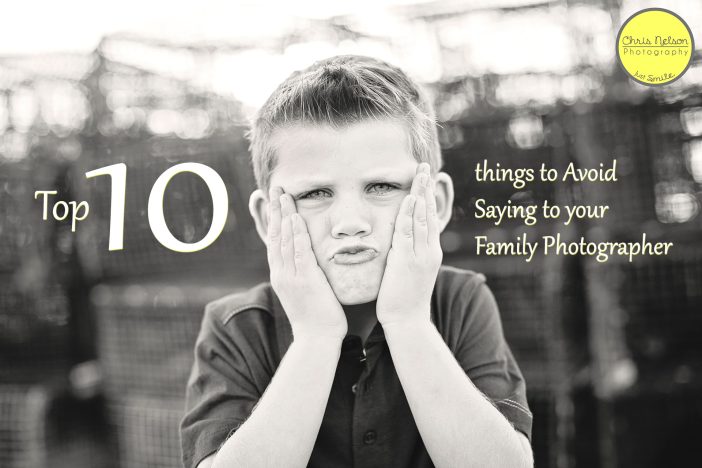 My friend Chris Nelson of Chris Nelson Photography is a very busy photographer in San Diego County.  We have been lucky enough to have had a few
family photo sessions
with Chris and we got to talking the last time about silly things she hears all the time.  We thought it might be fun to compile it all into a quick top ten list.  I felt this might be helpful to people like me (I should admit I have said a couple of these) and it also might give other professional photographers a good laugh….. You may also pass along to your clients just as a helpful tool for them too!  So mostly just for kicks, may I introduce this helpful list of things you shouldn't say to your family photographer during your next photo shoot.  Thank you Chris for sharing……
1. "Wow your camera takes really good pictures!"
– thanks, I taught it everything it knows!
but seriously saying "your camera takes nice pictures" is like saying "your guitar plays really nice melodies"…. in both cases, you have to know how to use the equipment, it isn't just the equipment.
2. "I would like to book a session with you, I'm available this weekend, can we do it then?"
– this can be offensive as most well known/sought after photographers book 2-3 months in advanced (in the earlier months of the year) and book out the remaining months by the summer.
3. "Can we do our session at (insert times 11, 12, or 1)? we have (chose a sporting event or any event) in the morning/afternoon and this is the only time that works"
– Worst. Light. Ever. Photography is all about the light. Without good light, you can have the best photographer, but the images will still turn out like crap. Shadows, squinting eyes… thats what you'll get at that time. If you can't make it in the afternoon (when most sessions are) then chose a date when you can.
4.  "Don't you think the light would be better over there?" 
– your photographer knows what they are doing. Leave them alone. That's why you hired them right?
5. "Can we have all the RAW files?"
– RAW files are unfinished work. Its like giving a painting that is half done. Plus with RAW files you can manipulate them yourself and make it into work that isn't the photographers. I know zero photographers that would hand over their RAW files. So don't ask. It ain't going to happen.
6. "You can just photoshop that right?" or "Can you photoshop me to look skinnier?"
– Ummmm sure we use photoshop, but its not a miracle worker! Sure a cut on the face of your toddler is fine, but taking your double chin out or making you looks thinner, thats uncalled for.
7. "Johnny, LOOK at the camera" or "Johnny say CHEEEEEEESE!"
– Let the photographer get the attention of the child(ren)…. a natural laugh is so much better than a "cheese" smile. And sometimes the photographer is trying to capture a shot where the child is NOT looking (perhaps a shot of his/her eyelashes or curls on the back of her hair). Just be natural.
8. "I have attached a few links of all my favorite shots from pinterest" (or any other photographer)
– If you want to replicate what another photographer did, hire that photographer. Nice to have some ideas, but again, remember, you hired your photographer for his/her talent and vision.
9.  "It'll be great exposure for you!"
– Unless they just starting their business, they don't care about the exposure. And don't say this because you think you are going to get something for free or a discount. Photography is art, not something just handed out. *note from Kate – bloggers get this a lot too, it makes our eyes roll out of our heads you guys.*
10. (in text or voicemail form) "Running a little late, be there soon!"
– To be late is one of the rudest things ever. We got there on time and so should you… especially if your session (like most) is dependent on light. If you're right on time, you're already late…. get there 5 minutes early.
I'm gonna be honest….. I literally just did #10 a couple weeks ago.  We do family portrait sessions at least once a year and I don't think we have ever been late, but we broke the rule this last time.  Sorry!!!
Thank you Chris for sharing this list – a very nice reminder to us all!  Do your best to follow these rules because if you book someone like Chris you just might get a beautiful portrait like this to enjoy for all time…..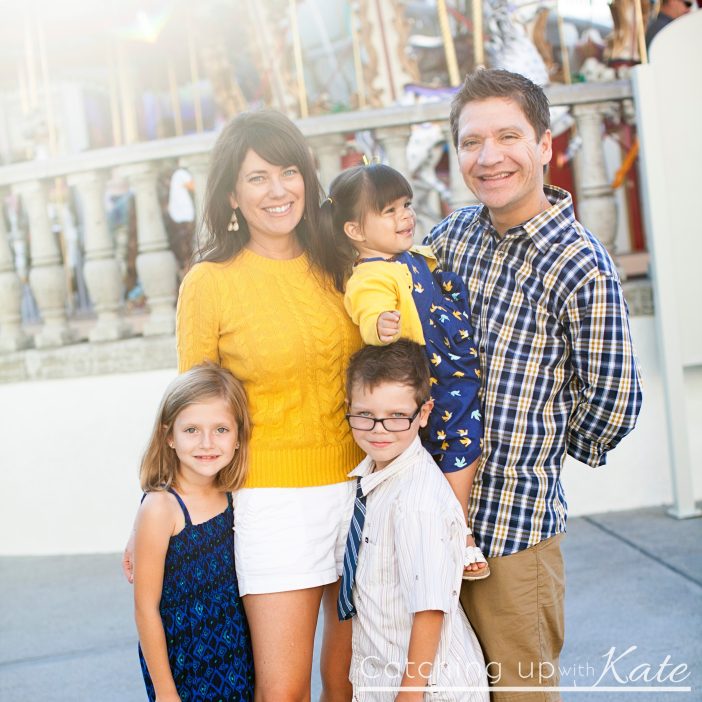 *Portrait by the amazing Chris Nelson who knew they exact time for us to show up for perfect glowy light*