The Toy Box on ABC
Disclosure: I attended a press junket hosted by Disney Pixar and ABC. Opinions are always my own.

The Toy Box is a new show on ABC that airs for the first time TONIGHT at 8/7 Central!  Our kids have been cracking up at the commercials for the last month and cannot wait to watch tonight. The Toy Box is a new Friday night show that is simply perfect for the whole family.  Recently I was able to attend an early screening of the first episode and I was impressed. I also had the opportunity to speak with one of the mentors at Pixar. Today I am going to share why our little family will be watching The Toy Box tonight!
The Toy Box is a competition show much like Shark Tank, but exclusively for inventors who design toys.  Each toy designer has invested time, money, and all of their heart into their project.  So much is on the line and viewers will instantly fall in love with these inventors.  The hopeful designers will first present to three mentors who are industry professionals.  If they pass the first round they will then present to the four judges, the toy experts. The toy expert judges are actually children who are charming, hilarious, and sometimes tough. "The Toy Box" is from Mattel, Hudsun Media and Electus. Michael Rourke, Chris Grant, Drew Buckley, Richard Dickson, Catherine Balsam-Schwaber, Julia Pistor, Susan House and Hamilton South are executive producers.
There is one winner per show and there will be an ultimate show down at the season finale. The finale winner will receive the ultimate prize for any toy designer. The winner will have their toy contracted with Mattel!  Many of the competitors have been working on their invention for years, if not decades.  While there can be only one winner, all the designers will learn and have awesome exposure as part of the show. The stakes and rewards are high, and everyone will be on the edge of their seat.
Each week will feature five inventors who hope their invention will impress the mentors.  This week's toy inventions include:
Arya Ball – a reimagining of the soccer ball with special surprises inside
Inventor: Babak from Carlsbad, California
Wacky Worm Racing Game – a racing game where players dressed in a worm costume race to cross the finish line
Inventor: Cedric from Orlando, Florida
Niya Doll – a multicultural doll collection who sings and speaks in multiple languages
Inventor: Darla from Columbia, South Carolina
Swurfer – a backyard swing inspired by a surfboard
Inventor: Rob from Charleston, South Carolina
Party Cannon – a party game that launches toys, prizes and candy
Inventor: Rick from Miami Springs, Florida
Meet the charming and precocious judges, who hold the inventor's fate in their little hands…..
In each episode of "The Toy Box," inventors present their toy concepts to a group of industry mentors that include Dylan's Candy Bar owner Dylan Lauren, toy guru Jim Silver and Pixar creative director of Consumer Products, Jen Tan. If the toy maker gets past the mentors, they will move on to The Toy Box where a panel of young, no-holds-barred judges that include Sophia Grace Brownlee ("The Ellen Degeneres Show"), Aalyrah Caldwell ("Uncle Buck"), Toby Grey ("The Unexpected John Cena Prank") and Noah Ritter ("The Ellen Degeneres Show") decide which toy moves on to the finals and eventually crowned the winner. That winning toy will be sold exclusively at Toys"R"Us® right after the series finale.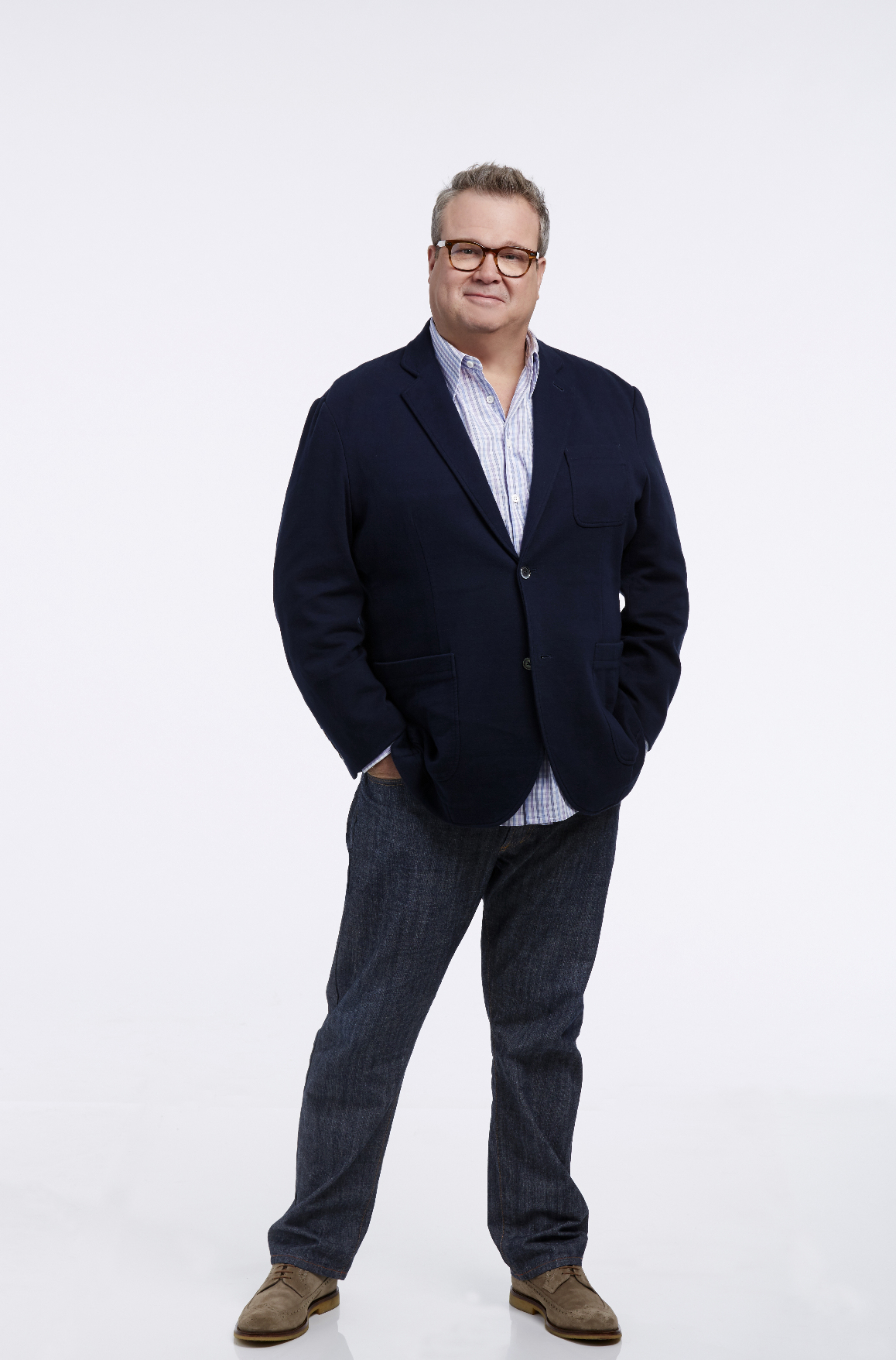 Eric Stonestreet, who plays Cam in Modern Family is the show's host. I was immediately excited about this show when I heard his name.  Eric is the perfect host.  The kids are unpredictable and he always has a goofy come back. Contestants have so much on the line leading up to this competition and he makes them all feel welcome. He is a perfect host!
Here is the official trailer……….
Last week I visited Pixar and was able to sit down with one of the mentors, Jen Tan. As mentioned before, Jen is Pixar's creative director of Consumer Products. It was fascinating to hear a little about what it is like to design toys for Pixar Studios and also what it is like to be on this new show.  Jen did not offer any spoilers, but the insight she shared was really incredible.  I feel each toy designer is so fortunate to have the opportunity to meet with someone who is so respected in this industry.
Tan spoke with us about her work at Pixar and I was so excited for the contestants.  The experience she brings to the table is impressive.  Jen Tan has created so many of the toys that we have in our house, and I am sure some of the contestants do as well.  She worked on lines of toys for Finding Dory, The Good Dinosaur, Inside Out, Cars, and many more. Prior to Pixar she worked at Disney and Spin Master Inc.  Along with her fellow mentors, she brings so much insight and opportunity for those with a dream to make their toy the next big sensation!
Tan shared that even though the winning toy has been chosen, even she and her fellow mentors have no idea who the winner is. I guess we will all have to watch!
If you are looking for a heart warming show that the whole family can watch together, you have got to check out The Toy Box.  We cannot wait to follow the mentors, judges, and contestants.  There are sure to be some sad moments, but we will assure our kids that everyone who was featured is a winner in that so many viewers saw their invention.  I know our family will be cheering when it comes down to the finale. I'd be surprised if we didn't run out to Toys 'R Us that very next morning to buy the winning toy ourselves.
The Toy Box on Twitter – use the hashtag #TheToyBox
The Toy Box on Instagram – same hashtag!