Toy Story Dad – the Instagram account every Disney fan needs to follow!
Disclosure: This site uses affiliate links
By now, everyone has seen that adorable viral video of the two babies dressed as Toy Story's "Slinky Dog" at Mickey's Halloween Party.  I met baby Hamm and his mom and dad by chance at Disneyland (of all places!) a few months back when their Instagram page was fairly new. Their little Hamm is now an Instagram sensation.  His creative parents dress him up as beloved Disney and Pixar characters.  They dress up at home and you can often see them at Disney as they are annual passholders.  I was lucky enough to get Tucker Bohman to share a little about his family's inspiration and also their new blog. If you are looking for adorable baby costume ideas, or even just a smile, you have got to follow along!  Thank you to Toy Story Dad from "To Eternity and Beyond" for taking the time to share today.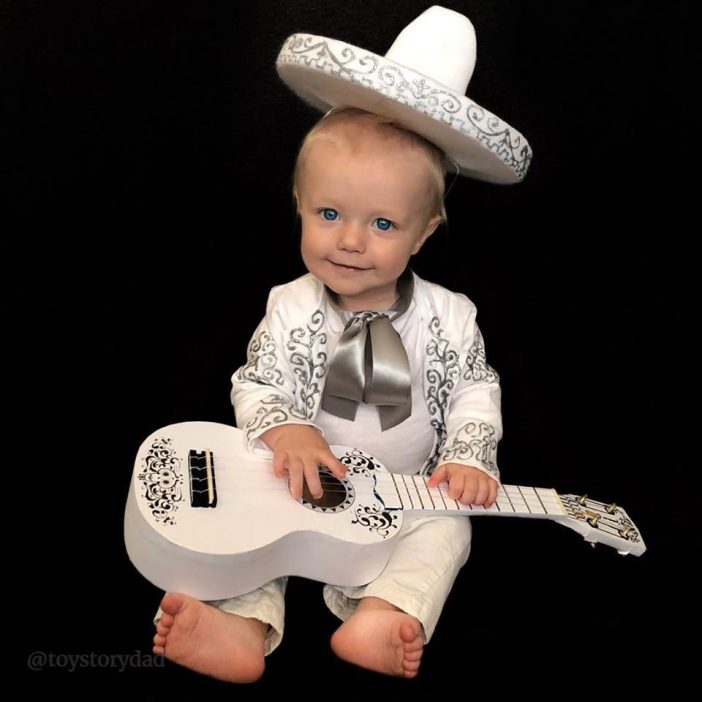 What was the inspiration for Toy Story Dad and ToEternityandBeyond.com?
I started ToyStoryDad with no intention of really becoming and Instagrammer. I just wanted to take some fun pictures with my new baby. My first picture was just Beckham in a Woody bodysuit surrounded by some of my Toy Story Collection. I figured I was a Dad who loved Toy Story so I changed my name on Instagram to ToyStoryDad and the rest is history. At first we were only taking pictures one time a week because we only had so many Disney outfits and didn't really know the potential of this idea. The second time we took Beckham to Disneyland so many people recognized us and we couldn't believe how many people loved our cute baby. We literally had people lining up to take their picture with Beckham. After that trip, my wife and I decided that we would start posting every day. There weren't a ton of baby boy costumes so we decided to create our own. We have been amazed at the love and support for our family from people literally all over the world. So many people have messaged us letting us know how much our posts make them smile and brighten their days. That is definitely our motivation to keep it going.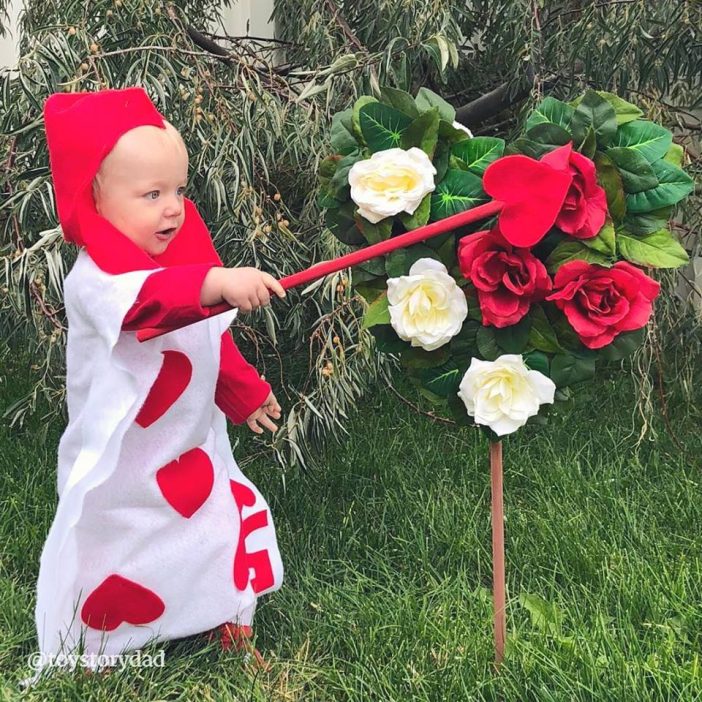 We started the blog as a fun way to remember important events and fun memories we have had as a family. The name of our blog To Eternity and Beyond comes from a family motto my wife and I started when we were first dating. It is derived from the Toy Story quote "To Infinity and Beyond", but signifies our belief that our family will be together forever!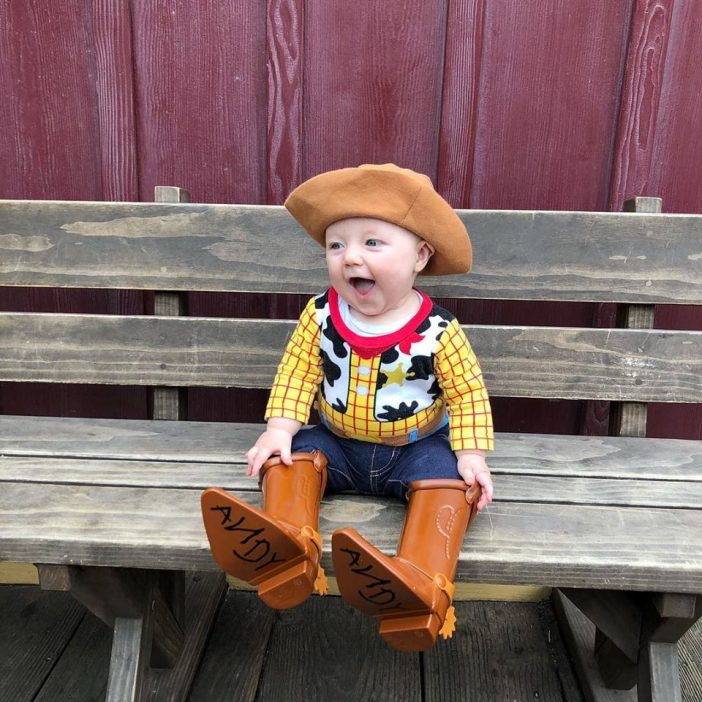 Baby Hamm and his cousin!
Have you always been a Disney Pixar Fan? 
Yes I have always loved Disney and especially Pixar. However, I had only been to Disneyland once before I married Rachel. My family went when I was little and we all got sick and ended up only spending a few hours in the park. Since we have been married we have gone to Disneyland at least once a year and recently this last year became Annual Passholders. I have just become a bigger and bigger fan of Disney.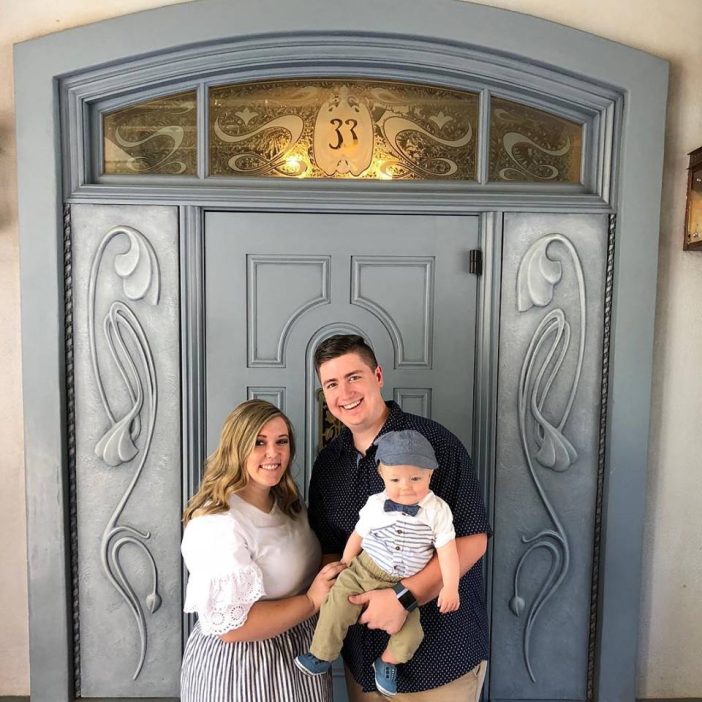 Living the Disney Blogger Dream – about to visit Club 33 (I'm jealous, take us next time, K?)

What is extra special about Toy Story for you?
I have always loved Toy Story. It is special to me though because when I left for 2 years to Serve a mission for my church in Lima, Peru Rachel started collecting Toy Story merch and started a collection for me. It was her way of coping with me being gone. That collection has grown more and more over the years. It is fun to watch the movies as an adult now and catch some of the jokes I was to naive to understand as a child.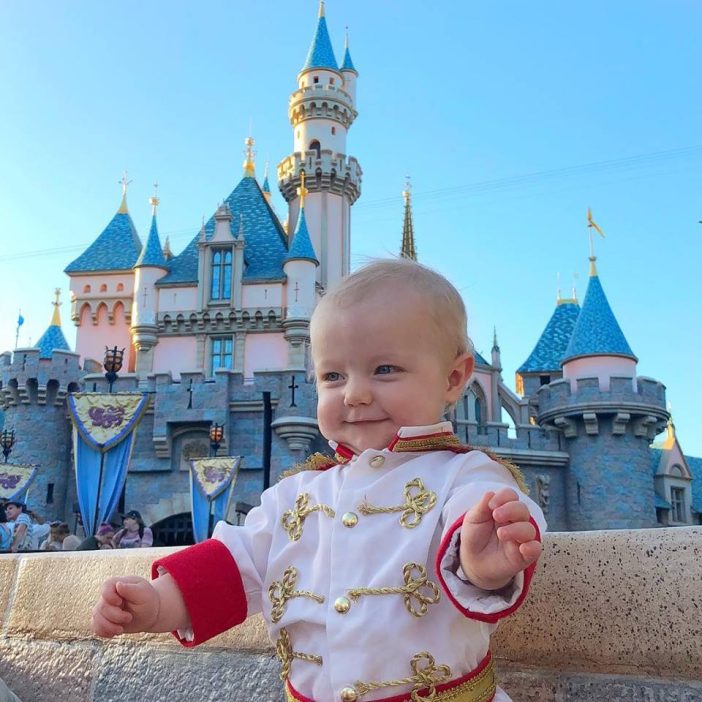 What is your favorite thing about the Disneyland Resort?
For me I just love that it is a time we can be together as a family and just leave the pressures and worries of the world behind. I used to love all of the thrill rides and tried to get as many of those in as I could in one day. However, now that we have Beckham it is just so fun to see his face on the rides, meeting the characters and watching the shows. He especially loves the fireworks. Everything is just so magical there.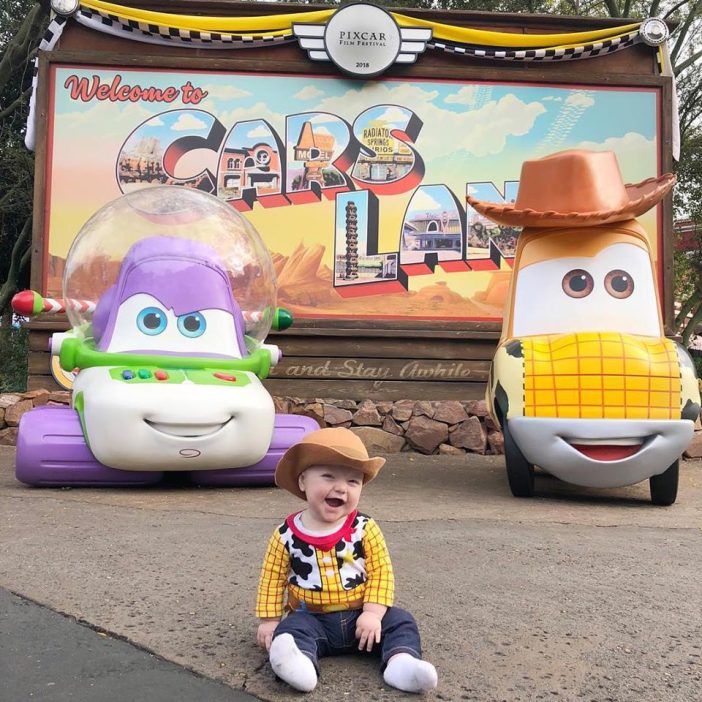 What seems to be your son's favorite thing about spending time at Disneyland?
He pretty much loves everything but he really loves meeting the characters, especially Jessie. When we first met Jessie we couldn't even get him to look at the camera because he wouldn't stop looking at her. It was the sweetest! He also loves It's a Small World, the Teacups, and of course the fireworks.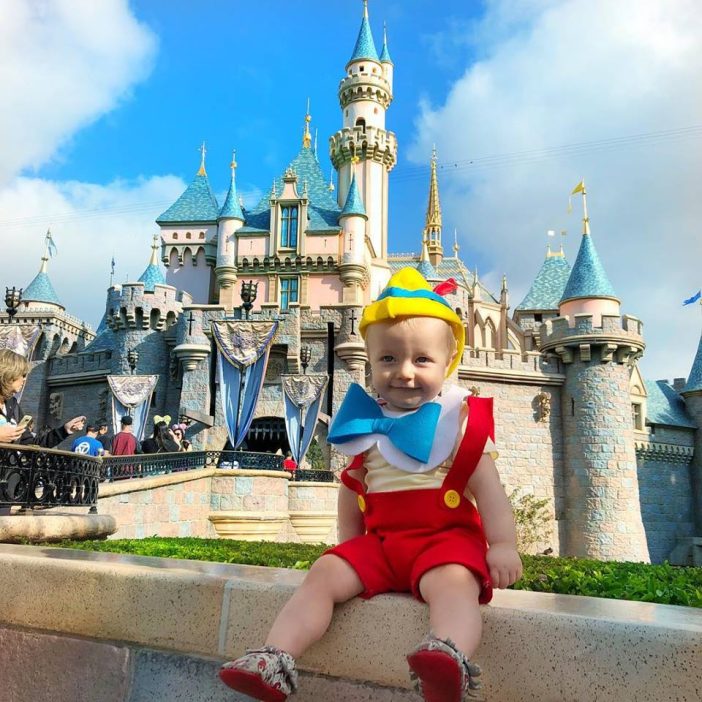 What are your suggestions for people that want to start a fan account on Instagram?
Anyone can do it but you have to be willing to work hard at it. It is not as simple as just taking a picture and hitting post. The most important thing you can do is focus on your content because that is what it is all about. Find a way to be unique. There are thousands of Disney Instagram accounts and other fan accounts, so try to find a way to make your page stand out. Remember it is social media, so be social! Respond to comments and be interactive with your followers. Lastly, just stick with it. It takes time to build a real following and there will be a lot of ups and downs so just stick it out and produce amazing content.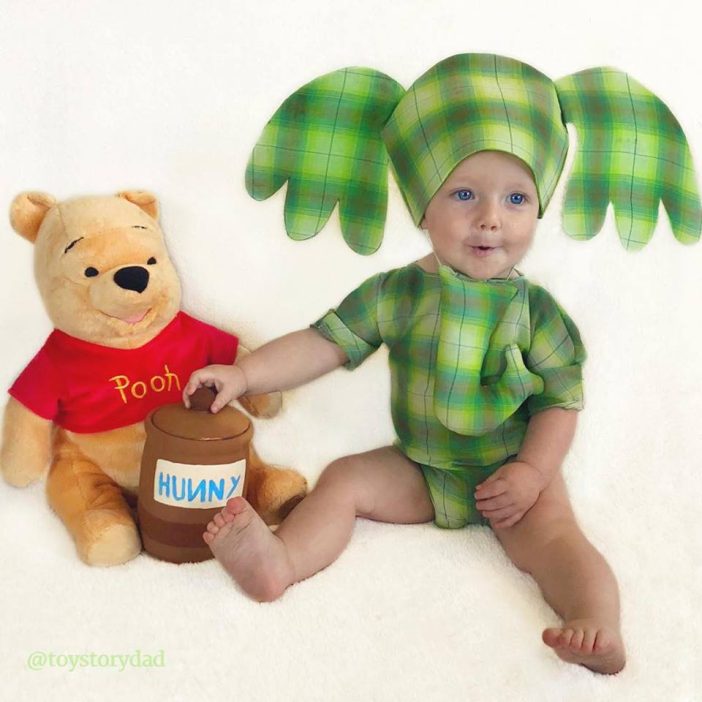 Is there something you are really looking forward to that is coming up at Disney?
I am always looking forward to Disneyland! Beckham just started walking since our last trip so I seriously can't wait to see him toddle down Main Street! I am super super excited for Toy Story 4 and am hoping that I will be able to attend the premiere. That would be a dream come true. We're also hoping to make it to Disney World soon to visit Toy Story Land! It looks incredible and I can't wait to see it. I need to save up for all that Toy Story merch first. Also, I absolutely love Disneyland during the holidays, especially Halloween! I'm so excited for Mickey's Halloween Party!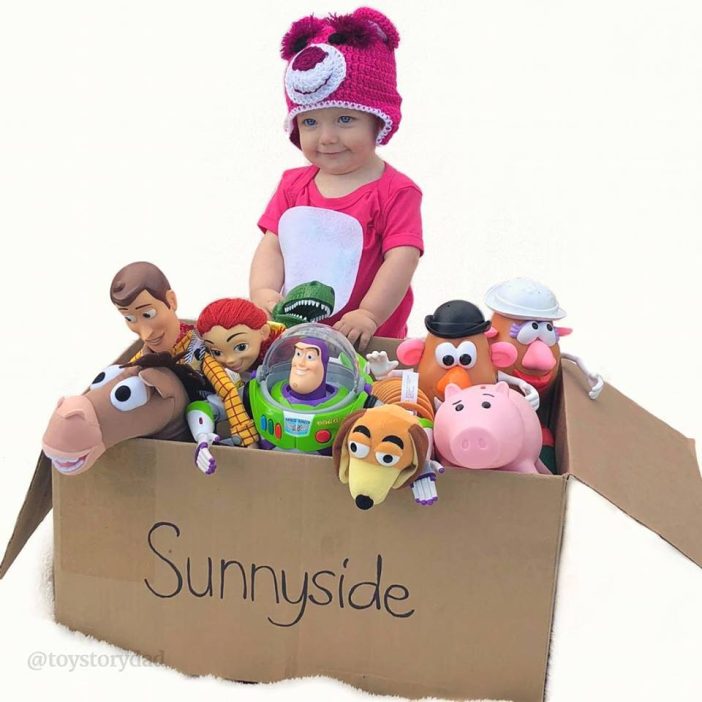 Most importantly – what is your favorite treat at Disney?
Wait, do I have to choose just one?? My Favorite treat is definitely the Mickey Cookie Ice Cream Sundae from Gibson Girl Ice Cream Parlor on Main Street. Rachel loves the Matterhorn Macaroon and the Gingerbread cookie at Christmastime from Jolly Holiday. Beckham eats pretty much anything but seems to especially love Tigger Tails from Pooh's Corner. I'm pretty sure his scream was heard all the way around the park when we took it away from him.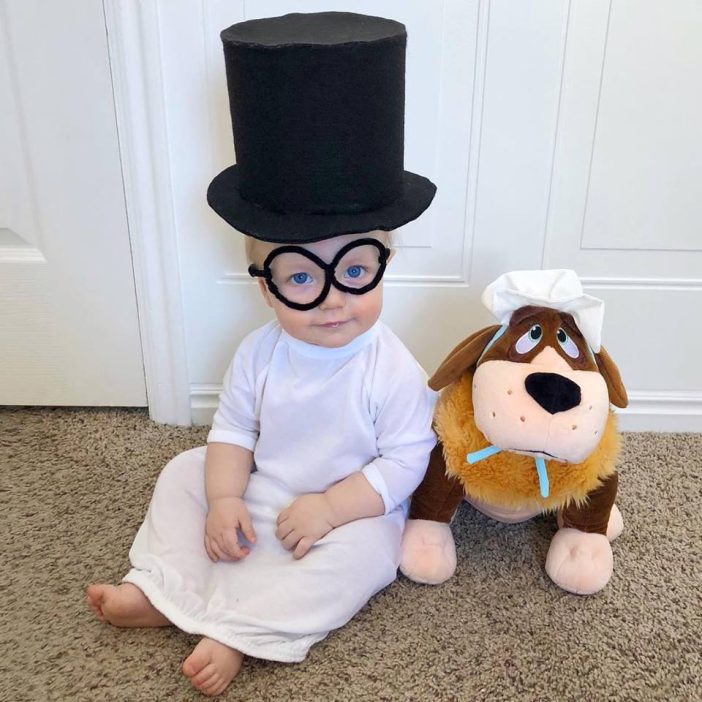 A huge thank you to Tucker, Rachel, and little Beckham for taking the time to share with us!  I am always inspired by those who clearly have a passion for what they blog about!  People always ask us how to start a blog, so we wrote this fun post about Starting Your Own Blog here!  Disney blogs like Tucker's are some of my favorites to follow, but if you write about something you are passionate about I hope you have the same success that Tucker and his family have had!