Printable Trolls Coloring Pages, Birthday Party Printables, and Costumes!
Disclosure: Highlights Along the Way is a participant in the Amazon Services LLC Associates Program, an affiliate advertising program designed to provide a means for sites to earn advertising fees by advertising and linking to amazon.com. Thank you to Netflix for sending us toys to preview! All opinions are our own.
Kids and kids at heart have fallen in love with the Trolls movies and new series on Netflix! Trolls have taught us that even if life does not go as planned, we can find a song in our heart to get through it. In this article we have printable Trolls coloring sheets, dot to dot, fun activity sheets, and troll costumes.
Trolls fans can print out colorful TROLLS Birthday Banners, invites, and more for a Trolls themed Birthday party! These printables are free to click and print from your home computer. Thank you to Dreamworks for sharing these cute Poppy, Branch, and other Trolls activity pages for kids!

We love the bright colors and designs of each Troll (even Branch). From the world they live in to the musical instruments they play, everything is whimsical and screams 'Happy!'. Below we have several free printable coloring and activity sheets for you to enjoy! These coloring sheets are completely free compliments of our friends at Dreamworks. Make sure to check out Trolls on Netflix and enjoy coloring to your heart's content!
Trolls Halloween Costumes
ADAPTIVE KIDS TROLLS COSTUME – Fly into the Troll Kingdom in our Trolls Adaptive Wheelchair Cover! The stiff felt cover features fully sublimated art made to look exactly like Sheila B the Flower Balloon! The covers are easily attachable to any wheelchair or walker with adjustable fabric straps. Pair it with our Adaptive Poppy costume to complete the full Trolls look! Don't miss out on this awesome accessory this Halloween!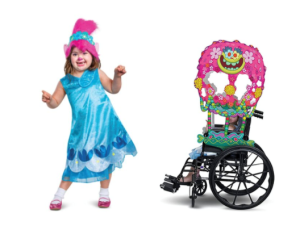 Branch Trolls Costume
For holidays and birthdays, we are sharing a few fun toys featuring Trolls. Our friends at HULU sent us an especially cool toy to feature here! We love to build with LEGO bricks in our family, so make sure to check back for our video featuring this fun LEGO build. There are many other cute and colorful Trolls toys you can gift to Troll fans. These are our top five choices. Our family likes to put one large gift, a book, and several small consumable gifts in our Easter baskets. We've included two cool Trolls themed candies, a new Trolls book, and a couple 'big present' ideas. There are so many fun toys, it was hard to choose!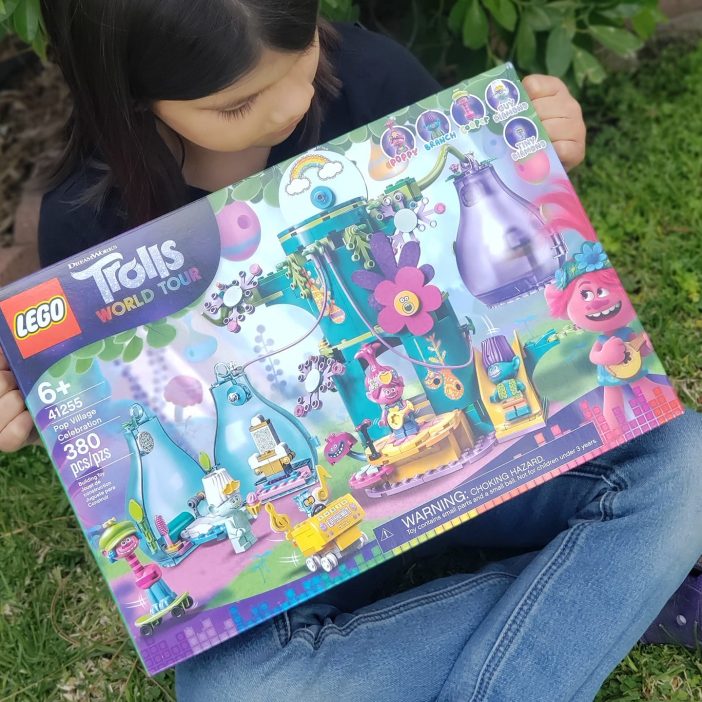 Dreamworks Trolls Toys and Treats!
Trolls World Tour is now streaming from home! Watch all your Troll friends in this awesome sequel from hom today on WatchTrolls.com Anna Kendrick, Justin Timberlake, and so many of the original cast are back for this all-star sequel from DreamWorks Animation. Poppy and Branch will introduce your family to six different trolls from different lands dedicated to various kinds of music. This movie is perfect for family movie night in! Enjoy the free Troll coloring pages below!
Trolls Printable Coloring Pages
Trolls coloring pages and printables. Click on any of the Trolls coloring pages below to print out your free printable. We are thankful to Dreamworks for providing these free, high resolution Trolls coloring printable pages and activity sheets for our readers. These printables are licensed and shared from Dreamworks. You may print them from your home or school computer to enjoy!
FREE Crayola Stay Creative At Home Activities HERE
Branch and Poppy Coloring Sheet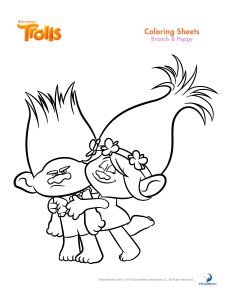 Trolls Dot to Dot Printables
Click on the image below for the Trolls Party Kit
Printable Trolls Party Supplies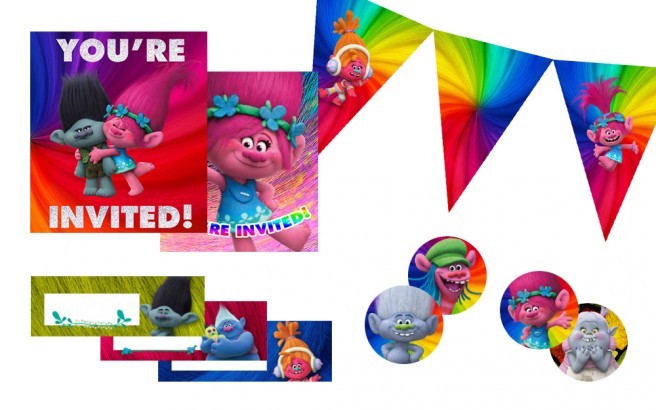 We hope you enjoy these Trolls coloring pages and free printable sheets. Read the movie review below.
Today we have a guest blogger sharing her review of the movie Trolls. Trolls opens in theaters on November 4th and our family can't wait! Below I have shared some printable Trolls coloring sheets and activity sheets. Also, do not miss the adorable Trolls craft Kylie has shared on her blog! Trolls is the sweet hug we all need this year and I hope everyone goes out to see it! With no further delay, here is Kylie ….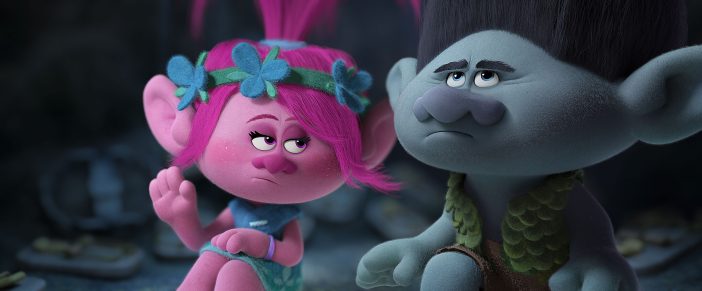 My favorite song right now is, "Can't Stop the Feeling" by Justin Timberlake. It is the happiest song and puts me in the best mood every time I hear it. After seeing "Trolls" last weekend I love the song even more. Before we walked into the theater my teenage son took my hand and said, "Mom, I think you're more excited about this than Megan is. I can't wait to see your face when the song comes on. You're going to be so happy." That right there is the essence of this movie. Family, friends, and true happiness.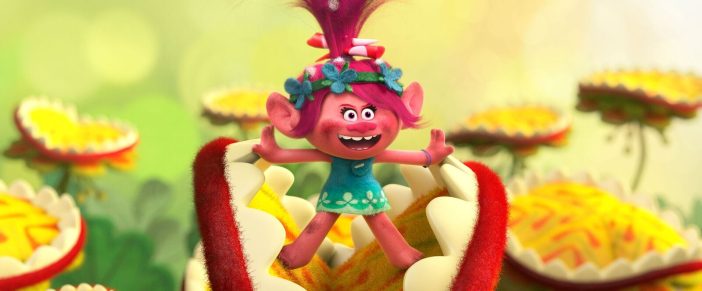 Trolls is the story of a preternaturally peppy troll named Poppy (voiced by Anna Kendrick) and her equally grumpy and sarcastic adventure companion, Branch (Justin Timberlake). The movie begins 20 years in the past when Princess Poppy was a baby and troll village was invaded by Bergens. Many of the trolls were taken by Bergens but King Peppy, Poppy, and many others managed to get away and hide from them. For 20 years they remained hidden until Poppy decided to throw the "Biggest Loudest Craziest Party Ever!" You can't really blame the girl. This troll is made for partying. She loves everything and everyone. Her favorite things are rainbows, cupcakes, scrapbooking, and hugs. In fact, every hour on the hour everyone in Troll Village hugs. Well, almost everyone. Branch does not do hugs. He also doesn't sing or dance. That's the other thing…trolls love to sing and dance. Their three favorite things are singing, dancing, and hugging. Branch is what we would call "special". Actually, there is a very good, and sad, reason Branch is the way he is but you will have to see the movie to find out why. For the record, I love Branch. He's a very good troll and a very good friend.
So…back to this epic party… Poppy cannot help herself, she is so excited that she insists on turning up the music, turning on more lights, adding more fireworks, throwing more glitter, every troll has their hair in the air like they just don't care. Everyone but Branch. He tried to warn Poppy about all the noise. He said that they were going to lead the Bergens right to them. He was right. Chef (Christine Baranski), who had been banished from Bergentown years ago, saw the fireworks and heard the music was led right to their secret hiding spot. Chef snatched up some of Poppy's best friends and took off to Bergentown to show King Gristle what she had done.

Bergens are the biggest threat to the trolls because they believe the only way they can truly be happy is to eat a troll. In fact, once a year they hold a special ceremony in Bergentown called Trollstice. Chef was not a nice Bergen. Bergens are not super nice anyway but Chef is particularly dreadful. What Chef really wants is to rule Bergentown but she has to host a fabulous Trollstice first. While Chef is busy ordering the King's maid, Bridget (Zooey Deschanel), around, Poppy sets out to find her friends. She implores Branch to go with her but in typical Branch fashion he declines. Poppy, ever happy, sings and dances her way through a bright forest filled with neon flowers, colorful bugs, and something that makes her swell like a puffalump with blue spots. Just as she's going to be eaten by some crazy purple spiders Branch shows up to save her. See? He's a good guy! Poppy pretends she knew he was going to show all along but inside you know she just aches to hug him.
They continue along and meet cloud guy. All he wants is a high five. Branch won't budge. This scene is really funny and one my five year old has insisted on recreating with several random strangers. I've had to explain several times now that, "A little slappy, make daddy happy?" really is from a kid's movie. Good times. They get to the castle and it's a race against time to save their friends before Trollstice.
Poppy & Branch find their friends and quickly realize that Bridget is madly in love with the King. Poppy being Poppy wants to help her. She is convinced she can help her find true happiness. The trolls give Bridget a makeover that can only be described as #magical. The trolls get on her head and create rainbow. Rainbow hair. It's beautiful. I want rainbow hair now.
I really don't want to tell you anymore because I want you to see this movie. It is bright and happy and fun. The music is great! Justin Timberlake is the executive music producer if that tells you anything. I took my five year old, my fourteen year old, and my mom and we all loved it. My mom is really not an animated movie fan so I really wasn't expecting much from her but she really enjoyed it. We were singing as we walked out of the movie and were talking about how we couldn't wait to see it again. The overall message, according to my five year old daughter, is that happiness is all around us, it's in everything, and in our hearts. Sometimes we need someone else to help bring out our happiness but we definitely don't need to eat someone, or a troll, to be happy. There you go…wisdom from a Kindergartner.
– Thank you Kylie for sharing!!! – Please ready Kylie's bio and blog below. At the bottom of this post you will see we have several printables from the movie Trolls!
Kylie Jenkins is the owner /creative director of Made by a Princess, she's a blogger, party stylist, graphic designer, baker, seamstress, glitter fairy, wife, and magic maker for her two children. Her passions have always been cooking, crafting, entertaining, inspiring creativity, making memories, and celebrating life…with a princess twist. Her blog reflects her classic girly, pink, sparkly, and glittery style and readers enjoy her recipes, DIYs, tutorials, party inspiration, and honest product reviews. You can find her work in the print pages of Mingle Magazine, Tattle Magazine, and the "Make it a Party with Sizzix" book. Some of her parties have been featured on Hostess with the Mostess, Catch My Party, Evite, Kara's Party Ideas, Catch My Party, Occasions Magazine, Project Nursery, & Pizzazzerie. When she is not cooking, crafting, doing laundry, chasing her kids, watching romantic comedies with her husband, planning a party, or drinking champagne she is designing for the Sizzix Design Team, writing for the POPSUGAR Select Team, and creating content for World Market Brand, Hallmark, Wayfair, Costume SuperCenter, and Evite. Kylie welcomes new opportunities to work with great companies that are the right fit for her brand. You can check out her Trolls inspired popcorn box tutorial on her site now.
Follow Made By a Princess on Facebook, Instagram, and Pinterest!
Above are several trolls coloring and printables to celebrate the movie Trolls. These trolls printables are free to download and use as you would like. Enjoy free Trolls coloring sheets and dot to dots, also feel free to print out the entire Trolls party kit printables with invitations, banners, activity sheets, and more! Make sure to Pin for later —-> https://www.pinterest.com/pin/237846424050419315/

Save
Save
Save
Save