Trolls
Disclosure: I attended an event hosted by Dreamworks at SD Comic Con. Opinions are always my own.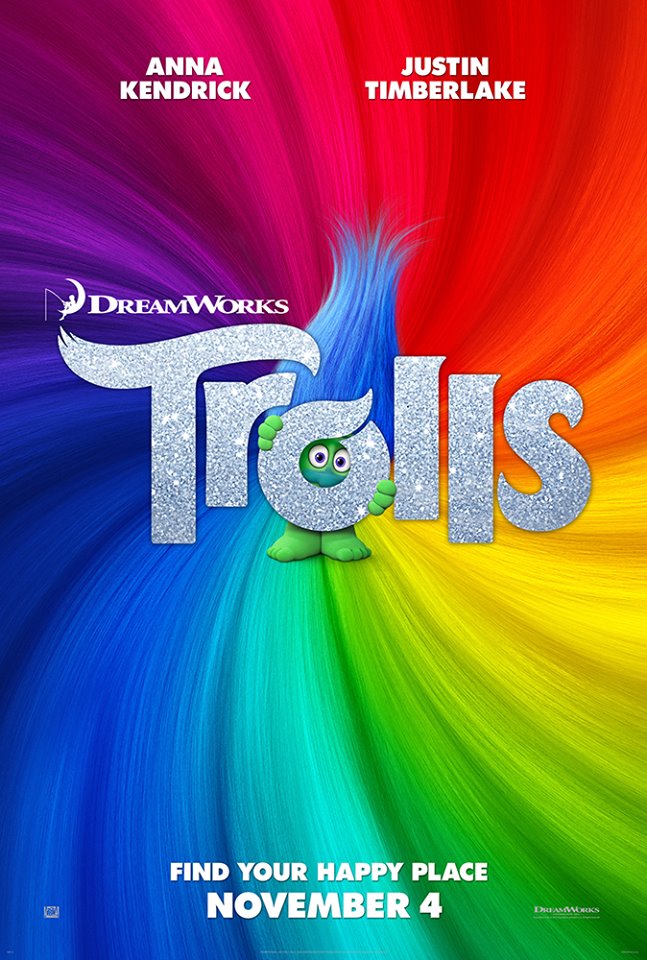 DreamWorks Trolls is set to capture the hearts of audiences everywhere on November 4, 2016.  Trolls combines bright colors, 70s music, and the comforting nostalgia of Troll dolls.  While at San Diego Comic Con our group attended the Trolls Panel.  While I knew little about the movie before stepping in the panel, I was an enthusiastic fan by the time I walked out. Trolls is the happy hug that everyone in the world really kinda needs right now. The first panel consisted of Producer Gina Shay, Director Mike Mitchell, and Co-Director Walt Dohrn.  Anna Kendrick who plays the adorable Poppy and Justin Timberlake who plays Branch were also there!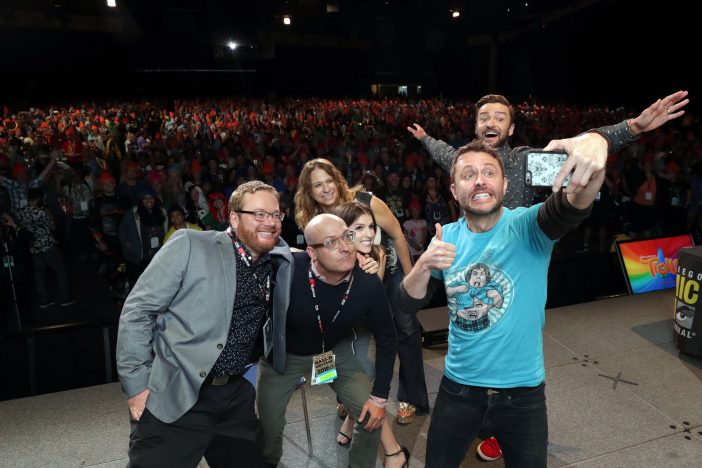 For those that are unfamiliar with Trolls, it is a new movie from DreamWorks by the creators of Shrek.  Trolls is smart, funny, whimsical, and timely.  This holiday season, in theaters everywhere viewers will have the opportunity to enjoy a little sunshine that is desperately needed.  The story expands a bit past little naked dolls with funny hair. Trolls, as one might expect are generally over optimistic.  Bergens are the evil counterparts who are not only overly pessimistic; but also eat Trolls. I will not give spoilers, but the sneak peek that I saw is as sweet as it is funny. The art is incredibly fresh and unique and the music is just perfect. Trolls features original music from Justin Timberlake as well as a curated collection of popular songs from the 1970s.  Talent includes Justin Timberlake, Anna Kendrick, Russel Brand, James Corden, Kunal Nayyark, Ron Fuches, Icona Pop, Gwen Stefani, and more!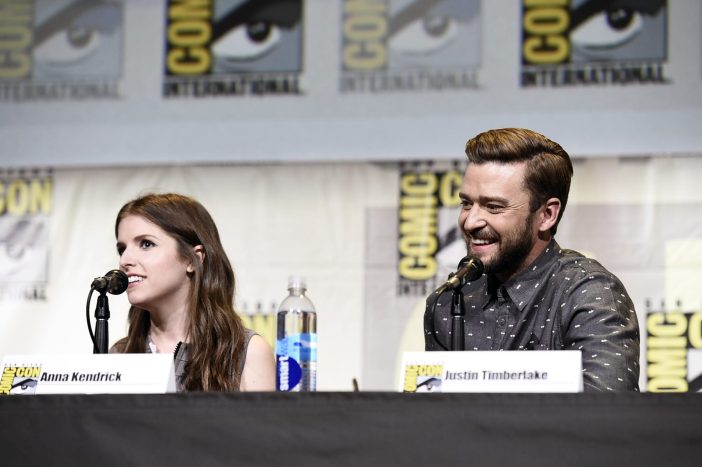 After the sneak peek panel we had the honor of sitting down with Dreamworks creators Producer Gina Shay, Director Mike Mitchell, and Co-Director Walt Dohrn. Oh, and Justin Timberlake and Anna Kendrick were there, no bigs.  I am excited to share with you some of the highlights of the interview with the makers of Trolls and Justin and Anna!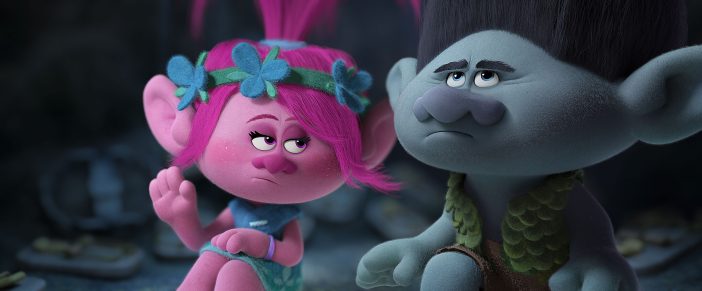 The former animation student in me loves to hear about the technical aspects of cartoons.  Trolls vivid environments and textures are so unique and fun.  Mike Mitchell asked if it was ok to have some 'nerdy talk' and the response was a resounding "Yes please!"
He shares that "Our production designer, Kendal Cronkhite, she's amazing.  She did all the Madagascar films and we've known her for years and years. She worked in stop motion, too.…. so the technology, I don't know if I've already given this information before, but the technology of CGI and computer animation now is you can build anything in a computer and make it so realistic.  There's a favorite DreamWorks film of mine, How to Train Your Dragon, and their skin in some is so real.  You see their pores, and it's like almost like you taste salty.
So it's great that things look realistic, but we tried to take that technology and do something different.  So we built a very realistic forest, but then we applied different textures to it, like felt and carpet and our trolls look like gummy bears. And it was really exciting for us to take natural fibers and do this look that we hadn't seen before in other films.  So no more nerdy talk.  That's it." They shared also that puppets and Sesame Street were influential in the design of the characters and environments.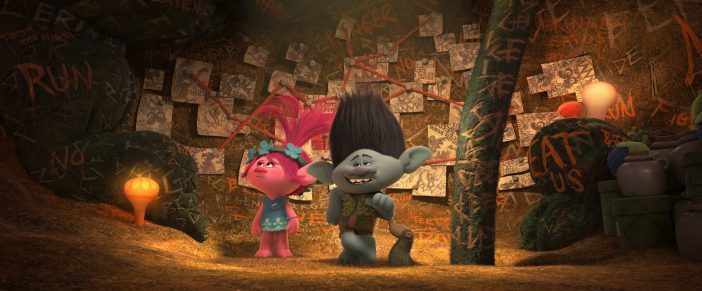 For the record, I could have listened to 'nerdy talk' the entire interview, but what came after was quite fantastic as well. Justin Timberlake and Anna Kendrick joined us in the conference room a few minutes after the film makers.  And as one might imagine, questions in Mr. Timberlake's direction quickly monopolized the room.  He said hello as he sat down and asked the group if we had seen the movie yet.  We answered as a group that we had only seen the panel clips.  He joked "Well, reserve your judgement."
One blogger pointed out the great chemistry between Justin and Anna, but asked if it was true that they never were together to record.
"We did work together on the music.  On the recording of the music.  So we did get to collaborate on that, and it's kind of the same as making a live action film.  Once you're in, you're in.  You kind of just dive in, and so we did collaborate over that.  But, I think we did do some the other day where we recorded some together." He looked over at the directors and added  "I don't know if you guys used it….  You probably didn't.". 
The group did confirm that for the most part, actors are recorded separately for animated films. Anna shared that Walt and Mike would fill in for other characters. She said "When we're working with Mike and Walt, it's like we're working with half the cast anyway, because they're doing these weird impressions that, at first you're like, "Is that supposed to be Russell Brand?"  But then you're like, "Oh, okay, I get it.  I can translate that into maybe what Russell would sound like."
When asked if Justin and Anna ever ad-libbed lines Justin answered "Yes, because you're not at the mercy of live action, you can try a bunch of different things.  And because that's one of the great parts about making an animated film is, you can really go back and tinker with your character.  For instance, I brought up a lot of concern over being extremely, too cantankerous. And because of how hilariously optimistic Anna made her character, it actually made how ornery I was all the funnier I think Mike and Walt were saying, everything was kind of working.  So, because you do everything in such bits.  You don't get to see a lot of it put together for a while, so then when you do get to see, I was like, "Oh, okay, I get it."
Anna talked about how fun it was to play a troll, that jokes are funnier when you picture them coming out of a little troll. "I really like improving.  I find I really crack myself up, but even more, way, way, way more so doing this than I ever would in an improved live action movie.  Because every time I say something, I'm imagining a six-inch fuzzy, pink creature saying it."
I am always floored by how much time goes into the making of a movie of this caliber.  Producer Gina Shay shared that she has been with the project since the beginning five years ago. Walt and Mike have been working on the project for three! They shared how the original script was changed after two years.  Audiences often do not realize how intricate the movie making process is, especially for animated films. The attention to detail in Trolls truly shines through! I am so excited to see the entire film in November!
I cannot leave this conversation without talking about the music.  Justin Timberlake serves as the executive music producer of Trolls; so you know it is amazing already. Several songs from the 1970s also make an appearance and it is brilliant.  While in the panel we watched a clip that included Justin and Anna's characters singing "True Colors" and the room was all in tears. The music in Trolls feels vintage and modern all at the same time.  "Can't Stop the Feeling"was written especially for Trolls. Justin Timberlake is brilliant; this is what he had to say about curating and incorporating songs from the past as well as writing "Can't Stop the Feeling"….
"And I think the other thing is, wanted to take a modern approach.  So with something like Can't Stop the Feeling, I kept referencing, for some reason, I don't know why, but I kept referencing Saturday Night Fever.  When we had our first meeting for the soundtrack or Grease or kind of the same era, like urban cowboys, Saturday Night Fever….Subconsciously I just realized that.  But those movies where the soundtrack was sort of fed the movie in such an exciting way."
He shared that once "Can't Stop the Feeling" was finished he pitched to release it early to help build excitement about the movie. Genius. He added so much about the music and feeling of this movie.
"And that's how I remember going back and looking at how those certain soundtracks like Staying Alive. When you say Saturday Night Fever, immediately in your head you hear, 'da, da, da, da….'  And I think you want to give the movie its own DNA.
I wanted this to feel a little bit different.  And the way that the humor felt, sort of modern and reverent, I feel like I wanted the music to feel that way, too.  Even though we were doing remakes of songs that have already been recorded and are older songs.  There's three more originals on the soundtrack, so, and Gwen Stefani does one of them, and Ariana Grande does one.
So to me, this movie, when you look at the post, you're like, oh.  The first word that comes to my mind is pop.  The colors pop.  The vibe of the movie, it pops.  Literally, our hero has "pop" in her name.  So I just felt like I wanted to make the soundtrack and everything in the movie feel like something you could hear on pop radio."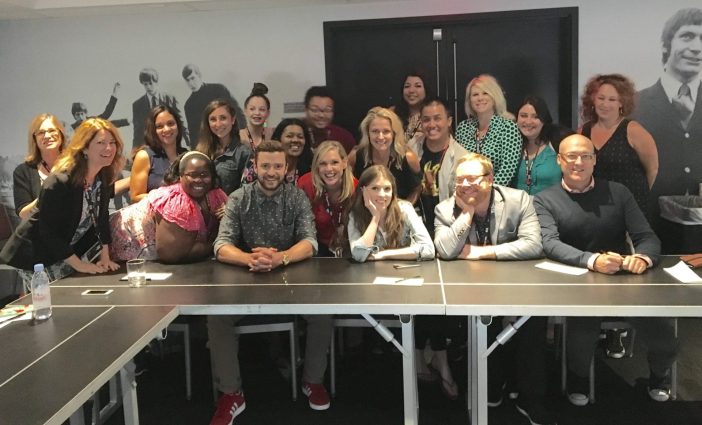 Thank you to the directors, producers, Justin Timberlake, and Anna Kendrick for taking the time to talk with us about Trolls.  Our family will be in theaters November 4th and I hope you will too! Check out the Trolls' trailer below….
I promise to share Trolls coloring sheets and activity sheets if and when they are available from the source!  Our readers love free printables and I know you are excited – I promise to share in a separate post as soon as licensed free printables are available.