Why I Trust Get Away Today
Disclosure: Highlights Along the Way is an affiliate partner to Get Away Today. When you purchase a ticket or vacation package our site gets a small commission at no additional charge to the consumer. Don't forget to take advantage of our exclusive discount code "Highlights".
As a family travel and Disney blog, it made sense for us to partner with a reputable travel agency.  When looking for quality travel partners I researched authenticity, transparency, commitment to value, and a quality relationship with the the amusement parks they represent.  There are many travel sites out there offering discounts to Disneyland and other amusement parks, but many turned up short in one or more area. Get Away Today stood out in many ways.  Get Away Today has been around for nearly 30 years and partners directly with amusement parks, including Disney.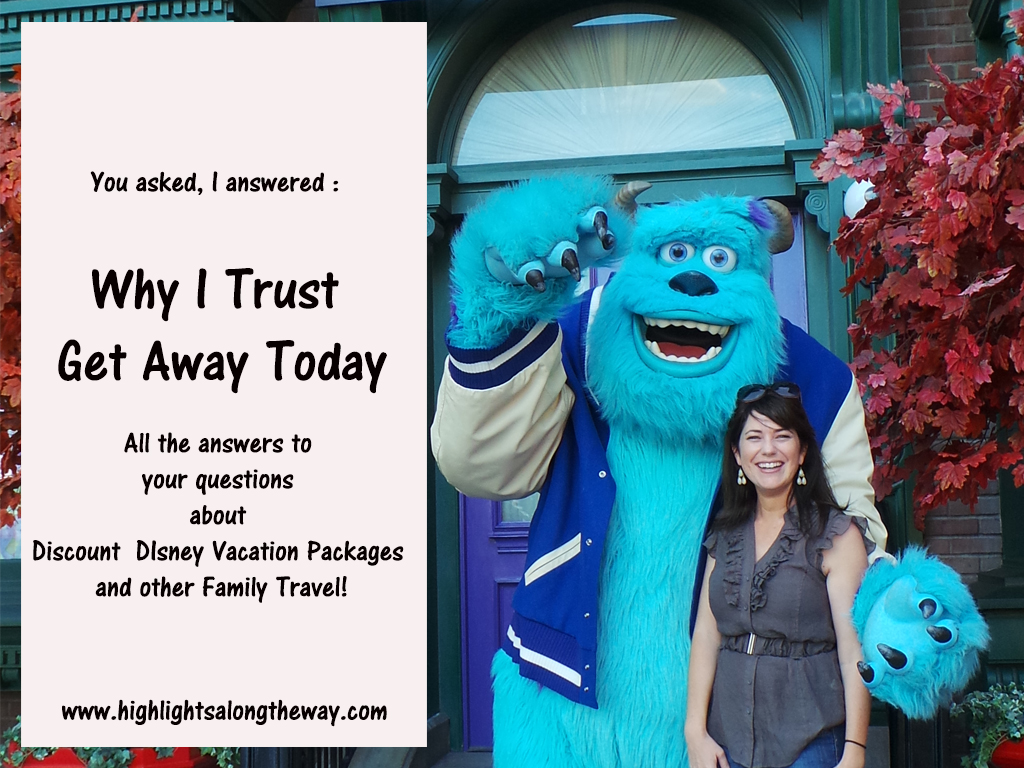 Since Highlights Along the Way partnered with Get Away Today, we have had hundreds of readers book travel.  We have also had several questions about Get Away Today, mainly "Is it safe?" and "Is Get Away Today Legit?". People want to know the catch and if it is a legitimate travel company.  While I have answered these questions many times, I finally asked Get Away Today if they would be willing to share all the reasons why this company is a safe option to spend hard earned vacation dollars. I am excited to share about why I trust Get Away Today! We even have a family trip through Get Away Today planned for later this year!
We are excited to have Get Away Today provide our readers with quality discounted Disney travel packages, discounted individual tickets, and more!  I really love that Get Away Today provides our readers with quality content on other ways to save on your family travel. Don't miss these articles on saving money on these popular destinations.  Make sure to pin How to Save Money at Disneyland and also How to Save Money at LEGOLAND.  Don't forget to subscribe to Highlights Along the Way because we will be sharing other valuable content from Get Away Today each month!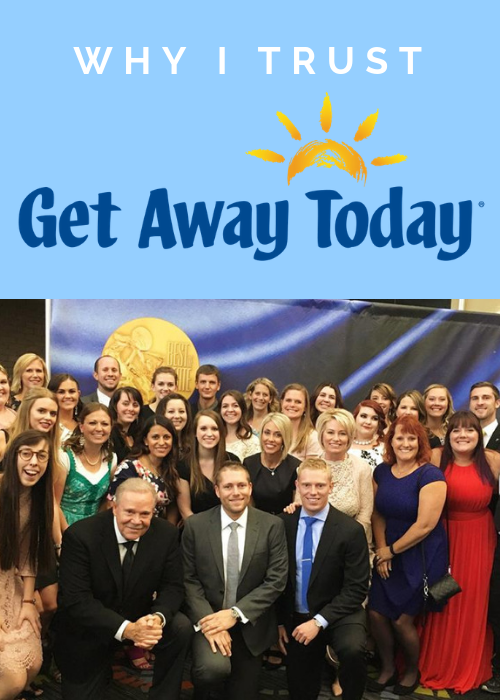 Here is a picture of the awesome getawaytoday team!  I have personally met with several of these folks in person.
Below the good folks at Get Away Today have answered many of the questions readers have asked when considering booking a vacation.
Going on a vacation is one of the most exciting experiences. The anticipation of eating delicious treats, spending time with family and shopping for memorable souvenirs is all part of the fun. However, planning the mundane details of your vacation can sometimes be stressful. Trying to figure out what hotel to stay at, what activities to do and wondering if you're getting the best deal can become overwhelming.
Instead of worrying about the logistics, I highly recommend using Get Away Today for all of your travel needs. The founders of Get Away Today started the company after a fun and memorable vacation. When they returned, they asked themselves, "How can we make Disneyland affordable for all families?" Because of this, Get Away Today has been committed to making vacations easy and inexpensive since 1990. Over the years, they have received accolades like multiple Best of State awards, Better Business Bureau accreditation and have donated over 4 million dollars to communities and children in need. If this isn't enough, keep reading to see why I use them and why you should too.
When you book with Get Away Today, you never have to worry about a thing. Get Away Today doesn't just talk the talk, they walk the walk. Each year, they send their employees to Southern California to tour all of the hotels and attractions they sell. Because they do this, each agent you talk to will be your personal travel expert. Not only will they know what hotel would work best for your family, but they'll give you insider tips and tricks on how to navigate each park. The best part? Speaking to a travel representative is FREE. Get Away Today is there to help every step of the way, so you can just worry about having fun.
Another perk of booking with Get Away Today is that they offer a Layaway Plan. If you don't want to pay for your vacation up-front, then this is the perfect option for you. For just $125 down, you can book a Southern California vacation.  This plan is valid for destinations like Disneyland, San Diego, LEGOLAND and Universal Studios Hollywood, so you can book your vacation plans as soon as you dream of them.
Setting up a Layaway Plan is uncomplicated and effortless to do. You can set one up either over the phone by calling Get Away Today directly or visiting getawaytoday.com. If you're planning on booking online, you'll want to click the "Layaway Plan option" after you checkout. After this, you'll fill out the information requested and make the initial down payment. It's important to keep in mind that the Layaway Plan does cost an additional $50 to set up. However, it allows you to make as many payments as you want, whenever you want, just as long as everything is paid off at least two-weeks before you check-in. Get Away Today wanted to make planning a vacation flexible and affordable for every family.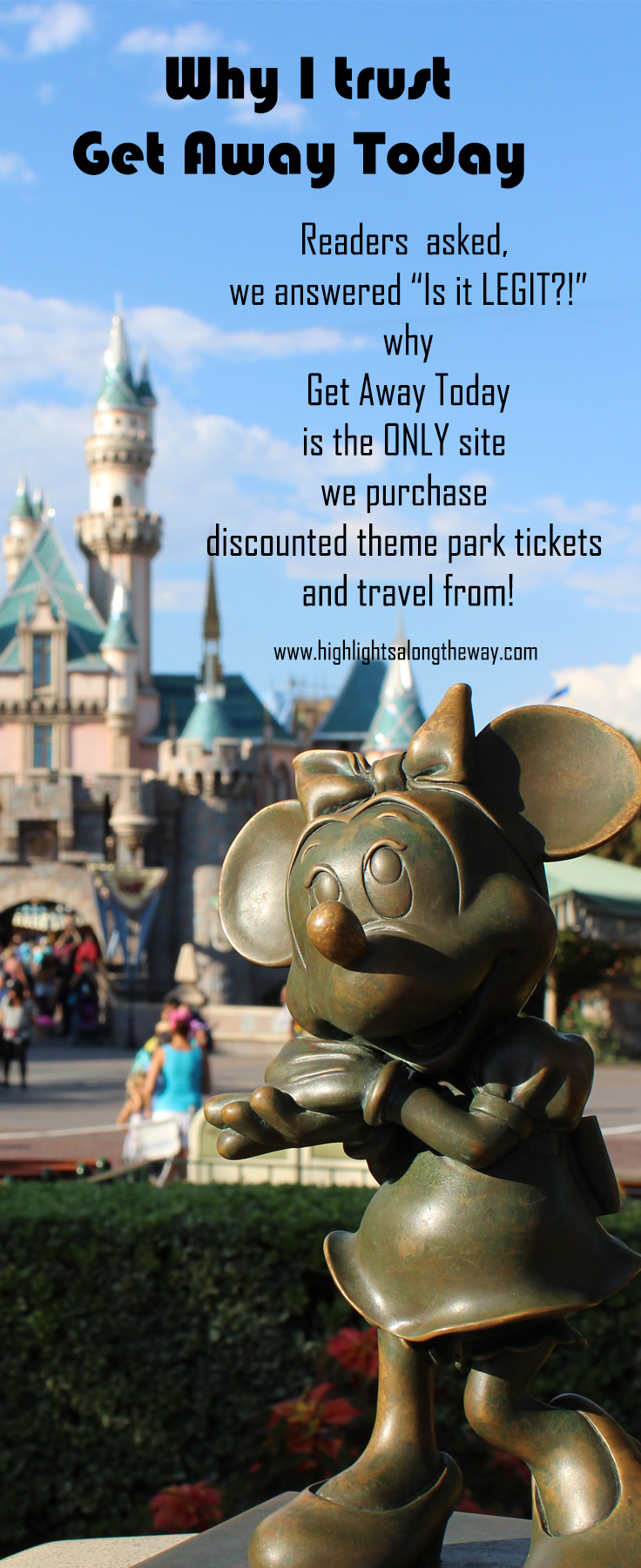 Since Get Away Today offers the best price guaranteed, you'll have peace of mind knowing that you're always getting the best deal. Now that you know how incredible they are, make sure you use them the next time you plan a vacation. To book, visit getawaytoday.com or call 855-GET-AWAY to speak to a travel expert directly. Plus, mention promo code Highlights to get an additional $10 off your Southern California vacation package. Make sure to mention that Highlights Along the Way sent you!
So now you know why I trust Get Away Today with my amusement park travel. I hope it helps put your mind at ease when you are considering the best options for your family travel.  If you have ever booked with Get Away Today, I hope you will leave your experience in the comment section.  I know other readers would love to hear your ideas and tips before the book. Please let us know what you liked best about booking with Get Away Today, and also if there was anything you felt could have been better. They are great listeners and I also want to make the most informed recommendation I can. Thank you again to Get Away Today for helping me with this article, and also for being one of my favorite travel options out there!
Please feel free to ask me any questions in the comment section you may have about Get Away Today. I am happy to answer if I can!