Turning Red Pumpkin Stencil INSTANT DOWNLOAD
Disclosure: This is just fan art by me! Inspired by Disney Pixar!
Turning Red Instant Download Pumpkin Stencil! It is pumpkin carving time! As huge Disney Pixar fans, we almost always have at least one Disney themed Jack o Lantern each year. My kids are obsessed with Red Panda thanks to the animated film "Turning Red". Mei is one of our favorite cartoon characters of all time. We could not find a red panda cartoon pumpkin carving stencil, so we made one ourselves! This is an easy stencil to carve. Happy Halloween!
We personally like to carve part of the pumpkin all the way through and part of it just scraping the top layer. We like the added dimension of bright light and some soft glowy light. Anyone going through a red panda obsession will love having Mei as a red panda on their Jack o Lantern.
With a quick click you can download and print out your Smiling Red Panda easy to carve pumpkin pattern. Scroll to the bottom to get yours!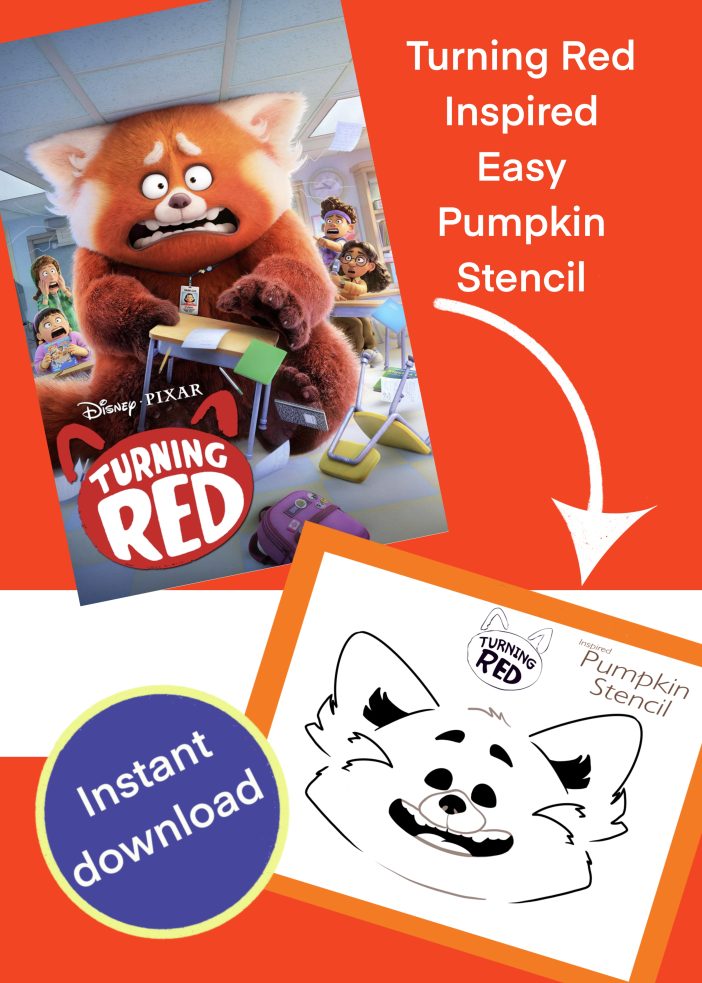 Adorable easy to carve TURNING RED PUMPKIN STENCIL is available here! Simply print once you have downloaded and trace on your pumpkin. This simple, organic shape is a fun and easy Jack o lantern stencil. If you really love Turning Red, you will also see that in our Etsy shop we have a printable Mask you can use to create a last minute costume for a Halloween party.
TURNING RED MEI PUMPKIN STENCIL
Click the link above for the full sized high resolution image of a Red Panda Pumpkin Pattern. You will be able to print out and create your Jack o Lantern instantly!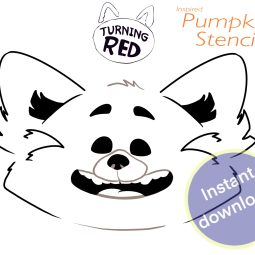 What is "Turning Red"?
Disney and Pixar's "Turning Red" introduces Mei Lee (voice of Rosalie Chiang), a confident, dorky 13-year-old torn between staying her mother's dutiful daughter and the chaos of adolescence. Her protective, if not slightly overbearing mother, Ming (voice of Sandra Oh), is never far from her daughter—an unfortunate reality for the teenager. And as if changes to her interests, relationships and body weren't enough, whenever she gets too excited (which is practically ALWAYS), she "poofs" into a giant red panda! Directed by Academy Award® winner Domee Shi (Pixar short "Bao") and produced by Lindsey Collins "Turning Red released on March 11, 2022.
According to "Turning Red" director Domee Shi, if you set a 13-year-old girl's coming-of-age story in the early 2000s, it's pretty much mandatory to include a boy band. "We needed our character Mei to be obsessed with something that her mom would not approve of," said Shi. "Boy bands were the first step into the world of boys for a lot of girls that age. The guys were all super pretty, polished, soft and loving, and they had of way of bringing girls and their besties together. Plus, I thought it'd be really cool to create an animated boy band."