Tween Book Gift Guide!
Disclosure: Some of these books were sent to us for editorial consideration. Highlights Along the Way is a participant in the Amazon Services LLC Associates Program, an affiliate advertising program designed to provide a means for sites to earn advertising fees by advertising and linking to amazon.com.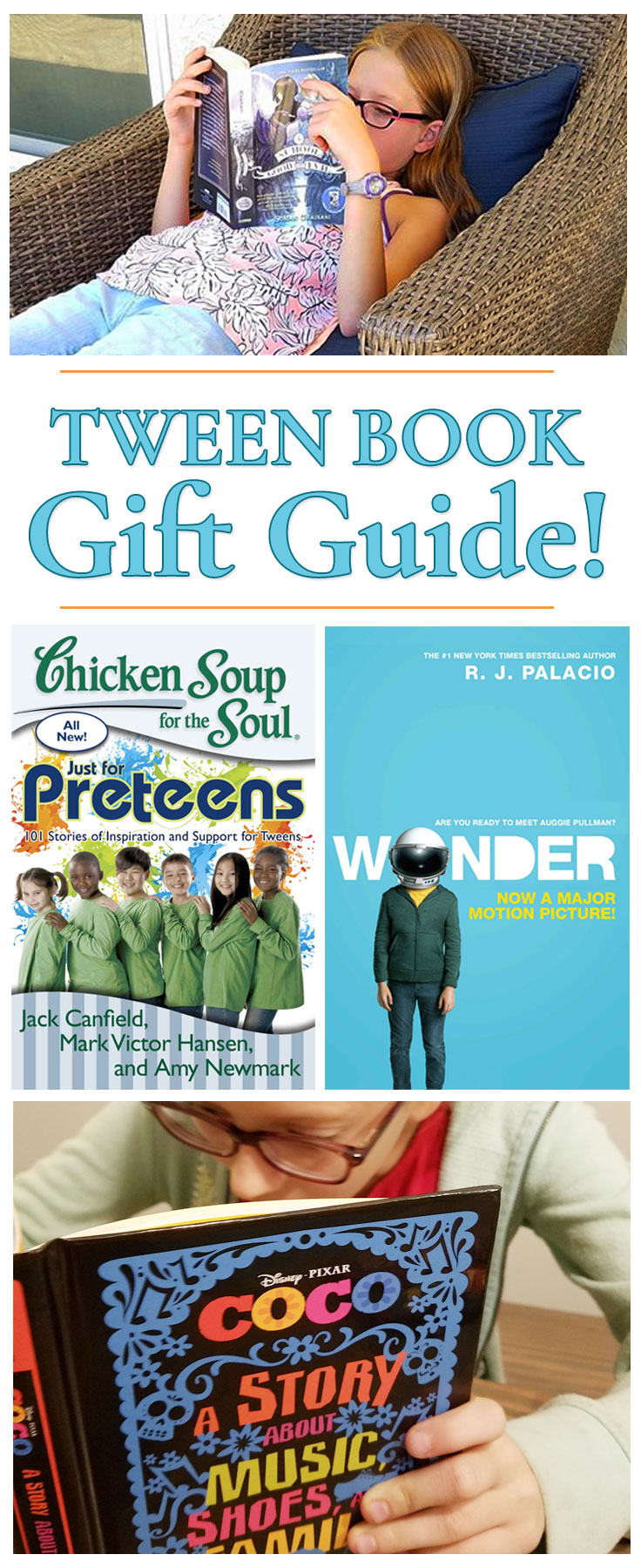 We have two tweens in the house who love to read! They have compiled a list of some of their favorite tween books for your Pre Teen gift giving needs! We absolutely love books and give them every year. We love that the majority of these books are under $10 to keep your holiday budget on track. Please note that many of these books are available on Kindle to reduce your carbon footprint and Kindle versions are typically a few dollars cheaper. We've included a quick link, photo, and a little information about the book. We hope you find something special for your favorite tween bookworm!
Make sure to grab our holiday printable "Something you want, Something you need, Something to wear, Something to read!"
We've enjoyed adding new books to this each year. Our big kids are now teens so many of the books are a little older now. Please note that this list does not include anything above a PG rating.
New books for Teens and Tweens!
This list has been on our site for years, but these top books are the newest they have been able to preview!
ENCOURAGEMENT TWEENS AND TEENS BOOKS
Mo's Bows was a huge encouragement to our young entrepreneur!
ChickenSoup for the Pre-Teens Soul -Both kids have been big fans of Chicken Soup for the Soul books for years. While there are many different versions, they love this Pre-Teen version. Chicken Soup for the Soul books are full of stories of encouragement, validation, and inspiration.
The 7 Habits of Happy Kids – This Sean Covey Book is something we received as a prize while on the Family Forward trip in Orlando. Our kids love to read it as much as we adults love the 7 Habits books that are geared towards adults. These are great books to encourage healthy relationships and communication.
Wonder – this best selling book is now a movie! Our family highly encourages reading the book as well. This story gives hope and teaches compassion. I cannot say enough good things about it. Our big kids both have read it a few times. If you buy one tween book this year, make it Wonder.
SPOOKY BOOKS FOR TWEENS AND TEENS

Harry Potter – A journey through a History of Magic – Our kids love anything Harry Potter! This is the newest in their collection and they love it!
The Dreadful Tale of Prosper Redding – This was honestly a little too spooky for my daughter, but my son liked it. They said it is about as scary as the Harry Potter series if you are looking for a good gauge.Please read the book's description to see what you think!
The School for Good and Evil – The first of the popular series by Soman Chainani. My daughter especially loved this book and says it is spooky, but NOT as scary as Harry Potter.
Disney Books For Tweens and Teens

Shipwreckers: The Curse of the Cursed Temple of Curses – or – We nearly died. A lot….. yes. the name is excessively long. All three of my kids (ages 8 – 13) loved this book. My 13 year old son has personally read it no less than 10 times and I can hear him cracking up even after multiple reads. Written by Disney artists and writers, it is imaginative and funny. Hear what my son has to say about it in the video below.
Frozen fans everywhere will love Conceal, Don't Feel – a Twisted Tale. My daughter finished this book in less than two hours. Twisted Tale books are a really fun extension of the beloved Disney movies audiences love.
Coco – A story about Music Shoes and Family – specifically written for middle aged children. This book is based on the popular new Disney Pixar movie Coco and is sure to give all the warm and fuzzy feelings!
Disney Trivia from the Vault. In our family's humble opinion, this is the best Disney Trivia book out there! If the tween on your gift list is a Disney fan, this is sure to please!
ACTIVITY BOOKS FOR TWEENS AND TEENS

Our kids loved Everyday Magic so much they made a YouTube video about it!
Charles Schulz's timeless classic, A Charlie Brown Christmas, meets holiday fun, featuring color-your-own Peanuts wrapping paper, an advent calendar, activities, and much more in this one-of-a-kind activity book.
Fun with Pokemon – Pokemon fans won't be able to resist this unique format, jam-packed with fun! With four 18″ x 24″ fold-out posters that feature all of your favorite Pokemon from the Alola region, you can color for hours, and then have fun doing dozens of different activities such as mazes, word searches, decoding messages, and more!
My Emoji Journal The first emoji journal of its kind, My emoji Journal provides creative daily prompts and lets kids of all ages express their moods in a fun, trendy medium: with their favorite emoji! All three of our kids ages 6 – 11 really enjoy this book.
American Girl Books for Tweens and Teens (boys and girls!)

American Girl has added some really cool new options this year! Smart Girl's Boxes include books, a small doll, and more fun! Smart Girl's Guide Kits do seem to sell out quickly. They are a perfect gift for your American Girl fan all prepacked for you!
"Guy Stuff" – The Body Book for Boys (we have these books for girls, I am SO happy they added one for boys!)
"From the author of the bestselling Care & Keeping of You series! This book will provide you with the answers that will help you take care of yourself better, from hair care to healthy eating, bad breath to shaving, acne to voice changes, and everything in between. With tips, how-tos, and facts from a real pediatrician, it's the perfect book to help you learn about your body's changes."
"You already know a lot about caring for your body. You eat your veggies, try to get enough exercise and sleep, and use soap when you need to. But did you know that a little care and keeping are great for your mind and spirit, too? This book is full of expert know-how and fun ideas to help you bounce back from any setback, focus on what matters and tune out the rest. You'll learn to find calm inside, connect better with friends and family, truly enjoy the world around you—and be the happy YOU you're meant to be."
And one book that is not released yet!
Ambrose Deception – our kids received an advanced copy and could not put it down! It is a little quirky, so our quirky kids really enjoyed it.
Happy reading, from our family to yours!