Tyme Curling Iron Review
Disclosure: Sponsored - Highlights Along the Way is a participant in the Amazon Services LLC Associates Program, an affiliate advertising program designed to provide a means for sites to earn advertising fees by advertising and linking to amazon.com.
An honest review about the Tyme curling iron.  Sharing the challenges and the benefits of this tool.  Make sure to check out videos on how to use this helpful tool.  Once I learned how to use it, the Tyme curling iron was hands down, my favorite curling tool I have ever tried!  If you are looking for a way to curl your hair with less time and effort, the Tyme curling iron is an excellent tool.  A Tyme curling iron makes an excellent gift!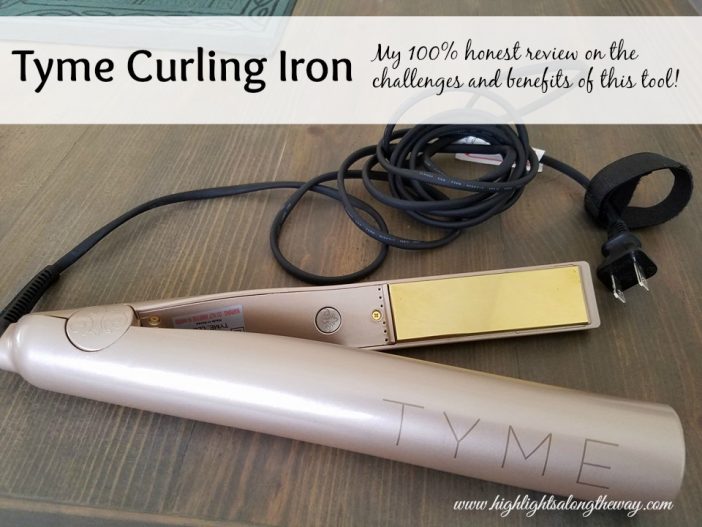 I have been watching Tyme Curling Iron promotions in my Facebook feed for quite some time.  As someone who struggles with finding time to do much of anything to my hair, it intrigued me. I am excited to share my Tyme Curling Iron review with you today.
I should start with the difficulties.  The only thing that is somewhat difficult about the Tyme is simply learning how to operate it.  If you are like me, you might try to use a Tyme Iron the same way you use a regular curling iron.  This will get you nowhere fast.  I continued to straighten my hair, wondering where I had gone wrong.  Finally, in frustration I put the curling iron to the side and ignored it for a week.
Before I complain too much about how difficult it was to learn how to use the Tyme Curling Iron, I should probably share that my minor annoyance was 100% avoidable.  Tyme offers an amazing service free of charge to everyone who purchases a Tyme Curling Iron. Professional stylists are standing by just waiting to skype with new Tyme owners.  Believe it or not, they do not charge a thing for someone to walk you through using your new tool!  This is not a mass share video, but a real person!  Professionals will watch what you are struggling with and share tips on how to make it work. This is included in the cost of a Tyme Curling Iron.  I don't think there is any other curling iron out there that offers you such a service!
Position is key to getting proper results with the Tyme Curling Iron. You can use this tool as a Flat Iron, a Curling Wand, or a Curling Iron.  Straightening is easy and faster than with my high end straighter I already owned.  The curls are a bit trickier and really depend on the starting position and the angle at which you pull.  Once you get the rhythm and position down it can be very quick!  It takes me less than 10 minutes to curl all of my hair.  The Tyme curling iron can be used on long and short hair to create several different styles.  Tutorials online and a Tyme Stylist can help you achieve any of these looks.  I have had a ton of fun learning new styles now that I have the hang of it.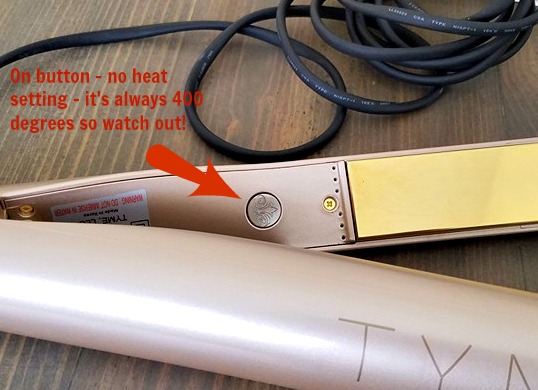 One thing that I found to be a bit weird is that you cannot change the heat setting on the Tyme Iron.  It is set at 400 degrees once you turn it on.  Coarse hair like mine has little problem with a high heat setting, but finer hair may not. My daughter's hair is quite soft and fine. Pulling the hair through the iron faster and using a good quality heat protecting spray did the trick.  While my hair holds curl well no matter what, my daughter's hair does not.  I am not sure why, but Tyme Iron curls are the only curls that last in her hair.  Sponge curlers, regular curling irons, and rag curls all fell flat; but not Tyme curls.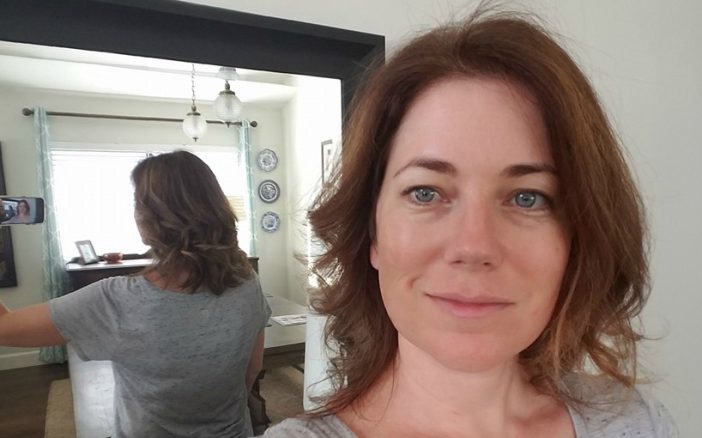 My apologies for the selfie; but see those loose waves? Loose waves take me about 5 – 10 minutes total!
Readers and friends have asked what the difference is between curling with the Tyme Curling Iron and a regular hair straightener.  I feel like the results may be similar, but it is faster with the Tyme.  Less time in the bathroom is good enough for me, but I also felt the curls were more consistent.  I personally like a fairly loose wave, but I have also produced really tight curls with the Tyme.  Once I learned the correct way to use the Tyme Iron I felt it was simply easier and therefore took less time.  While I do not understand why, curls last longer for me when I use the Tyme Iron than when I use another tool, it also holds better on my daughter's fine hair.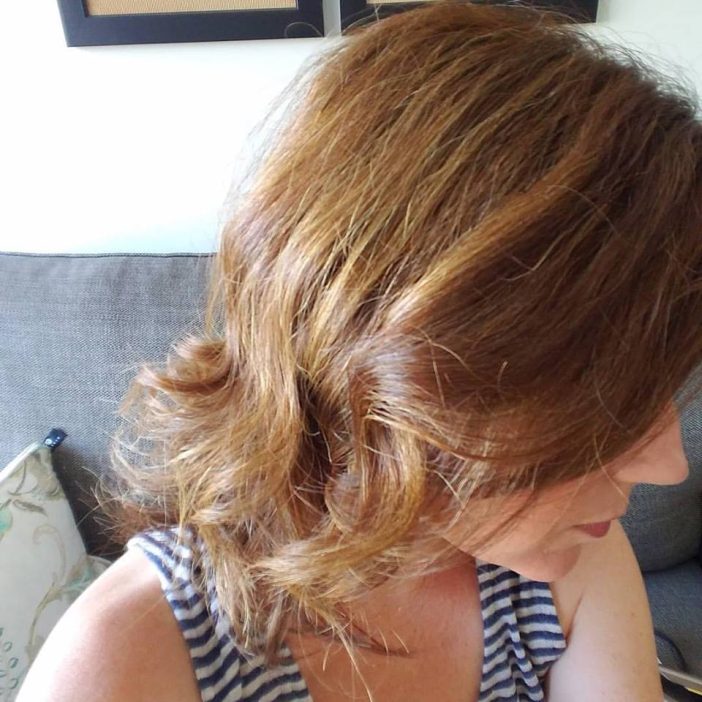 These quick, loose curls took about 5 minutes for my whole head!  This picture was taken after wearing all day!
Below is a video demonstration of how I use my Tyme Iron.  There are several Tyme Curling Iron demonstration videos on Youtube for you to choose from. A unique over the shoulder perspective may help those who are struggling to learn how to use their new Tyme Curling Iron.
If I have convinced you, you can purchase a Tyme Curling Iron here with FREE shipping and a 30 day guarantee.  Try it out yourself, skype with a stylist, and if you truly are not a fan you can return it. Easy Peasy!
Click here to Get FREE Shipping on your TYME Iron Today
Free shipping applies of course if you have AMAZON PRIME.
Do you have any questions about the Tyme Curling Iron that I have not answered? I hope that you will ask in the comments section below.
*I received a Tyme Curling Iron for review purposes.  I never share bad reviews, but I do not share positive reviews unless it is truly a positive experience.  The Tyme Curling Iron is a tool I would recommend to a friend and would buy myself.  I have included my affiliate link which supports our site at no additional cost to the buyer. Tyme simply thanks me as an affiliate with a small commission.  Buyers through my affiliate link will enjoy FREE shipping, a one on one styling session with a professional stylist, and a 30 day return policy! Our family truly appreciates you shopping through our store and it really is a win win!