What is new at Universal Studios Hollywood!
Disclosure: Press tickets were provided for our family in exchange for sharing today. Affiliate links are included. All opinions are our own.
We are excited to share what is new at Universal Studios in Hollywood! It feels so good to be back at a theme park after more than a year! Our family loves to visit a couple theme parks at least once a year, and we are so thankful for the opportunity to have some fun at Universal Studios today. The newest announcement is for Super Nintendo World; coming in 2023!

Today we are highlighting some new things at Universal Studios since we last visited. There are two new rides, a new themed cafe within the park and a cool new restaurant option on Universal City Walk. Within the park we enjoyed checking out "Secret Life of Pets : Off the Leash, the updated Jurassic World ride, and treats at the Minion Cafe! We also took a peek at the NBC Sports Grill and Brew on Universal City Walk. If you are visiting Los Angeles; Universal Studios is open for fun; but don't forget your mask! If you are looking for a ticket and hotel deal; Universal Studios Family travel planners Get Away Today have AMAZING deals and use the unique travel discount code HIGHLIGHTS for an additional $10 off your package!
What is Super Nintendo World?
– It's official! SUPER NINTENDO WORLD™, the innovative, immersive and highly-anticipated themed land, will open at Universal Studios Hollywood in 2023, and will be the first SUPER NINTENDO WORLD to debut in the United States.
SUPER NINTENDO WORLD opened first at Universal Studios Japan to rave consumer and critical reviews in 2021. The U.S. debut of SUPER NINTENDO WORLD at Universal Studios Hollywood will transport theme park guests and Nintendo fans into the world of Mario, Luigi and Princess Peach to become part of their compelling universe.
SUPER NINTENDO WORLD was conceived in partnership with Nintendo and the visionaries at Universal Creative to deliver exhilarating entertainment with innovative technological achievements inspired by characters and video games that have appealed to generations of Nintendo fans for over 40 years.
The immersive land will be a visual spectacle of vibrant colors and architectural ingenuity located within a newly expanded area of the theme park, featuring a groundbreaking ride and interactive areas, to be enjoyed by the whole family. Themed shopping and dining will enhance the entire experience.
To mark the occasion as the countdown begins to the land's exciting debut, Universal Studios Hollywood will unveil a takeover of its popular Feature Presentation retail store with SUPER NINTENDO WORLD theming, opening soon. Located just inside the theme park's main entrance, guests will have a chance
to share their excitement for the land's 2023 arrival by gearing up with merchandise such as Mario and Luigi themed apparel and iconic character hats. A selection of plush characters, including Yoshi, Mario Bowser and Luigi in a variety of sizes, will also be among the many fun items available for purchase.
Make sure to check out our past articles about Universal Studios Hollywood before continuing here.
13 Pictures of the Wizarding World of Harry Potter!
Celebrate Grinchmas at Universal Studios!
Saving Money at Universal Studios!
New things to check out at Universal Studios for 2021!
"Secret Life of Pets: Off the Leash!" ride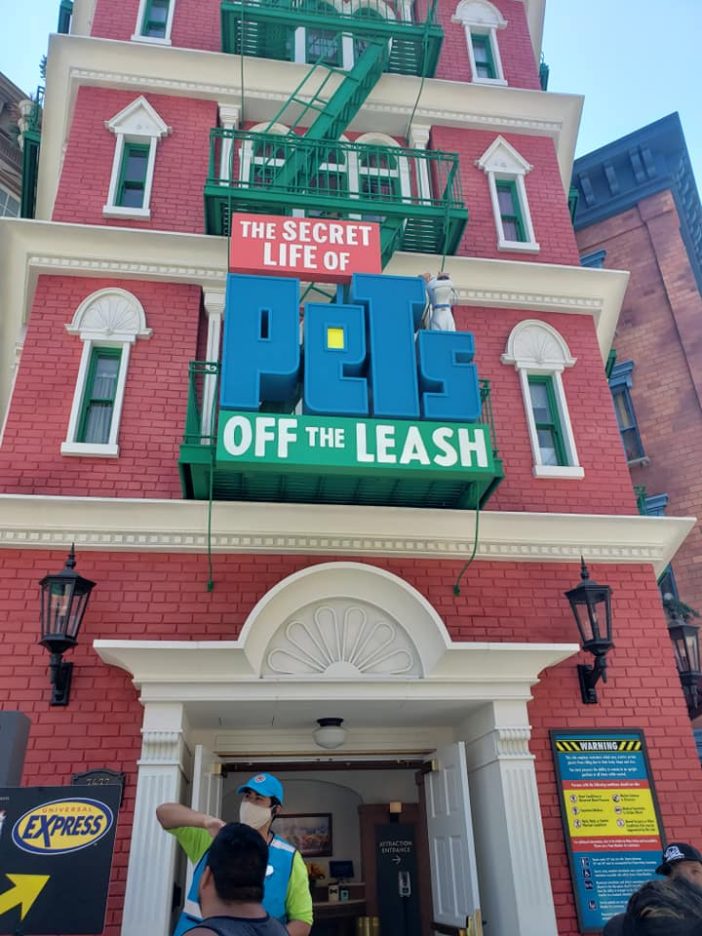 The Secret Life of Pets: Off the Leash! ride is a brand new ride that is perfect for all ages. It is whimsical and full of fun characters. From the moment you enter the queue you are immersed in the world of "Secret Life of Pets". So many characters from the animated films are on display for guests. To give our friends a sneak peek we have shared the walk through of the line. We think you should visit Universal Studios to see the ride in person, but imagine how adorable the ride is when the line alone is this detailed!
"Jurassic World—The Ride" featuring the new Indominus Rex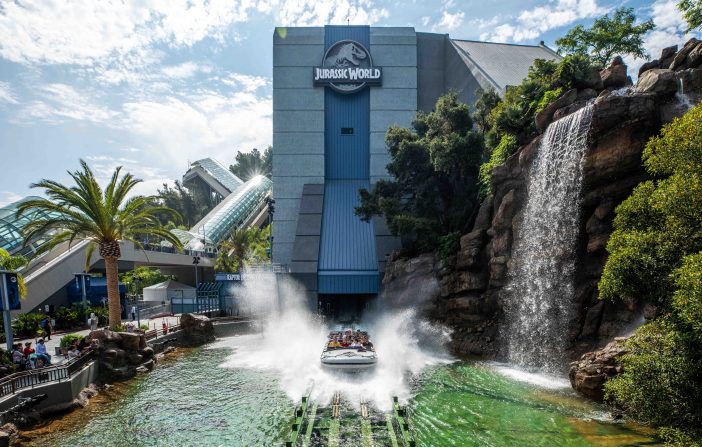 Shortly before quarantine, our family visited Jurassic World – The Ride. The ride really does justice to the Jurassic World franchise. The combination of computer graphics, water features, and animatronics is incredible. Our kids were squealing at the Indominus Rex and I will admit, I jumped a few times. It gets really hot in Los Angeles, so water rides are great almost year round. You will absolutely get wet, but if the weather is normal for Los Angeles; you will dry off quick!

New Minion Café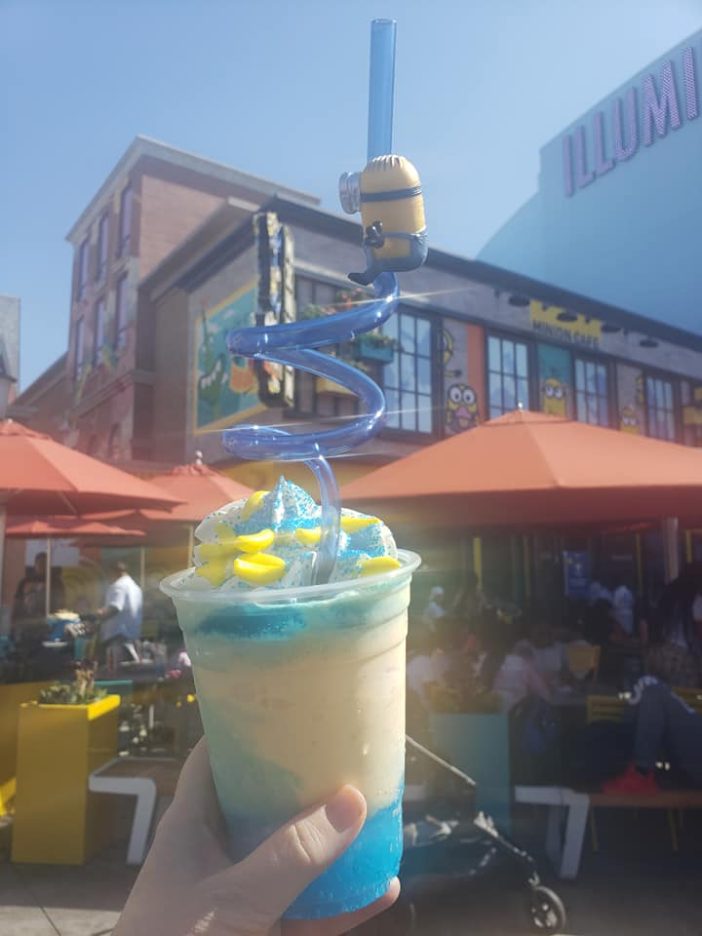 Our littlest is a HUGE Minions fan. She loves their silly antics and funny voices. Imagine her excitement to see that there is an entire cafe dedicated to their silliness. While there are sandwiches, nachos, and salads; the real selling point is the desserts. Banana and chocolate pudding, cookies, and more treats are available. The big hit with our kids was the "Felonious Float". A swirl of blue raspberry slushy, banana flavored frozen yogurt, whipped cream, and topped with little banana flavored candies. It is as sweet as it is cute!
Felonious Float Review – NEW treat at Universal Studios Hollywood!
Despite Covid still hanging on, there is so much to do at Universal Studios. Masks are required on all indoor attractions and stores, but this is really not a big deal at all. We suggest making your mask a little fun by theming to your favorite Universal Studios attraction. We suggest hopping over to Etsy and grabbing a cute Harry Potter or Minions themed mask and making exactly 0 big deals about it. Be nice to the Park cast members who are working hard at making sure everyone has a good time and stays safe.
DISCOUNT UNIVERSAL STUDIOS TICKETS AND HOTELS!
We also wanted to point out all the inventive ways characters are able to social distance, but still meet and greet guests.
Social Distance "Meet and Greet" with Scooby Doo!
Social Distance "Meet and Greet" with Hello Kitty!
Social Distance "Meet and Greet" with a Dancing Minion!
Even if you are not planning on visiting Universal Studios theme park, you can visit Universal Citywalk for FREE! There is no fee to visit Universal Citywalk and there is so much to do. We stopped in the the NBC Sports Grill and Brew and we will be sure to be back!
NBC SPORTS GRILL & BREW
Universal CityWalk Hollywood, located adjacent to Universal Studios Hollywood, scores with today's opening of its newest dining establishment, NBC Sports Grill & Brew, leveling up the concept of sports-themed dining with state-of-the-art HDTV screens at the iconic destination.
Fans of just about every sport will love watching NBC coverage and VIP treatment! Sports inspired decor and giant TVS are everywhere. The menu has something for everyone. This is not your basic pub food. Burgers to salads as well as vegetarian, vegan, and gluten-free. The beer menu puts other Brewerys to shame with over 40 beers as does the dessert menu with tons of indulgent options.

Universal City Walk is located outside of Universal Studios. This large outdoor mall offers tons of entertainment and restaurants. You do NOT need a Universal Studios Hollywood ticket to visit NBC Sports Bar and Grill.
About Universal Studios Hollywood
Universal Studios Hollywood includes a full-day, movie-based theme park and Studio Tour. As a leading global entertainment destination, Universal Studios Hollywood delivers highly themed immersive lands that translate to real-life interpretations of iconic movie and television shows. Attractions include "The Wizarding World of Harry Potter™" which features a bustling Hogsmeade village and such critically-acclaimed rides as "Harry Potter and the Forbidden Journey" and "Flight of the Hippogriff™", the new mega attraction "Jurassic World—The Ride" featuring the spectacularly realistic Indominus rex dinosaur, and the all-new ride "The Secret Life of Pets: Off the Leash!" Other immersive lands include "Despicable Me Minion Mayhem" and "Super Silly Fun Land" as well as "Springfield," hometown of America's favorite TV family, located adjacent to the award-winning "The Simpsons Ride™" and DreamWorks Theatre featuring "Kung Fu Panda Adventure." The world-renowned Studio Tour is Universal Studios Hollywood's signature attraction, inviting guests behind-the-scenes of the world's biggest and busiest movie and television production studio where they can also experience such thrill rides as "Fast & Furious—Supercharged" and "King Kong 360 3D." Universal CityWalk, located adjacent to the theme park, features such popular restaurants as VIVO Italian Kitchen, Antojitos Cocina Mexicana, Jimmy Buffett's Margaritaville and Voodoo Doughnut, along with dynamic shopping and entertainment options, including Universal Cinema, featuring deluxe recliner seating in screening room quality theatres.
Universal Studios Hollywood/Universal CityWalk Hollywood Safety Guidelines
All Universal guests are urged to follow CDC guidelines. Guests should evaluate their own risk before they visit, and it is not recommended that older adults or individuals at high-risk with serious underlying medical conditions visit. People who are asymptomatic can still spread COVID-19 if they are infected. Any interaction with the general public poses an elevated risk of being exposed to COVID-19 and Universal cannot guarantee guests will not be exposed during their visit. For information on CDC guidelines, click here. Due to the evolving nature of this situation, details are subject to change without notice.