Vegan food options at Disneyland!
Disclosure: This site uses affiliate links.
Did you know it is possible to eat vegan in Disneyland? Plant-based diets are growing in popularity and Disney is here for this dietary trend. With a little planning and some snacks from home you can enjoy Disneyland on a full stomach regardless of your dietary needs. While it may have been difficult to find vegan food options at Disney in year's past, now there are literally dozens of vegan options available in Disney parks. Our friends at Get Away Today have stopped by to share this list of Vegan options at Disneyland and Disney California Adventure Park. Vegans do not need to worry about being hungry or bored when at Disney, make sure to keep this list handy for your next trip.
A vegan diet is defined as a diet void of meat and animal products. Our family is mostly dairy free and I eat vegan most of the time. We are always on the lookout for plant-based meal options when we are out. People choose vegan diets for a variety of reasons. Many people choose to eat a diet without meat or dairy because they deeply care about animals. Other families choose to eat plant-based diets because it is by far the best diet for the environment. Others eat dairy and meat free for personal health reasons. For our family, we have dramatically reduced the amount of meat and dairy we eat for a combination of all these reasons. I have personally found that most theme parks have few (if any) plant-based options, but Disney is awesome!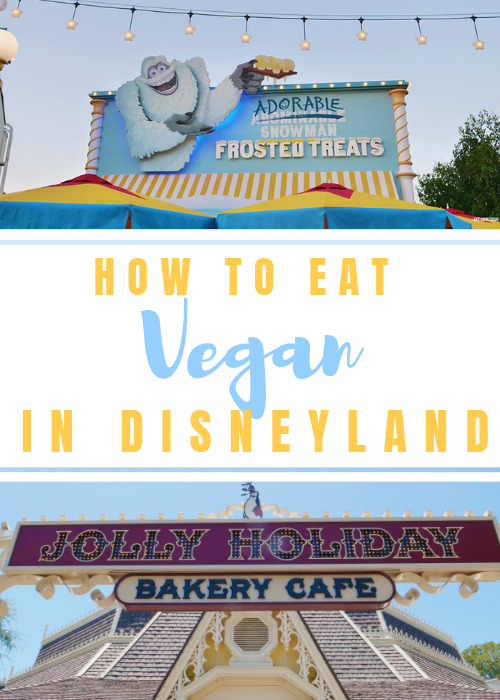 How to Eat Vegan in Disneyland
With the help of my friends at Get Away Today, I have some helpful tips for how to eat vegan in Disneyland. You'll know all the best spots to stop for anything from a quick bite to a sit-down meal.
How to Eat Vegan in Disneyland – Tips and Tricks
First of all, eating vegan in Disneyland will be a breeze if you download the free, official Disneyland app. Via the mobile ordering option, you can take a look at all vendors who participate, and see their menus. Instead of guessing who might offer vegan options, I have a breakdown of ten Disneyland Park options and ten Disney California Adventure Park options that have vegan menu items. And these aren't just vendors who will give you a fruit cup or a vegan pretzel; you'll find filling salads, pizzas, burgers and more that are vegan. Keep in mind that there are vegan options on the menu, but Disney is also generally happy to omit ingredients from other menu options to make them vegan friendly. While this isn't always possible, I have been able to ask for things like cheese or dressing to be left off making the meal completely plant based.
First! Start at Starbucks! Starbucks fans can enjoy all their favorite treats as well as some Disney specialties. My favorite budget saver Disney Hack is getting free coffee at Disney. Starbucks Coffee is in both Disney parks as well as Downtown Disney. A coconut milk latte is my go to at Starbucks, and I always use my freebie gift card. OK, once you are in the park, there are so many other treats too, here is a great list!
Disneyland Park Dining with Vegan Options:
Bengal Barbecue in Adventureland (mobile ordering available)

Veggie Skewer, chips, fruit cup, Mickey pretzel

Blue Bayou in New Orleans Square

Portobello mushroom, Louisiana popcorn rice

Carnation Café on Main Street, U.S.A.

Apple granola pancakes, Chef's vegan burger, house salad, Mickey waffles, fruit, oatmeal

Clarabelle's in Toontown
Docking Bay 7 Food in Galaxy's Edge (mobile ordering available)
Galactic Grill in Tomorrowland (mobile ordering available)

Veggie burger, fruit, veggie wrap

Jolly Holiday Bakery Café on Main Street, U.S.A. (mobile ordering available)

Grilled veggie and whole grain salad, Jolly Holiday salad, soy latte, tomato basil soup

Main Street Fruit Cart
Rancho del Zocalo in Frontierland

Burrito Sonora, fruit cup, Mexican rice, tostada salad, trio of street tacos
Cauliflower tacos can be modified to be vegan as well!

Tiki Juice Bar in Adventureland

Assorted Dole Whips and drinks
Disney California Adventure Park Dining with Vegan Options:
Adorable Snowman Frosted Treats in Paradise Pier

It's Lemon! cone, Pixar Pier Frosty parfait

Award Wieners in Hollywood Land (mobile ordering available)

Portobello Mushroom Philly, chips, apple slices

Boardwalk Pizza & Pasta in Paradise Pier

Boardwalk Field Greens, side salad, vegetarian pizza, fruits and veggies

Clarabelle's Hand Scooped Ice Cream on Buena Vista Street (mobile ordering available)

Mixed berry and dark chocolate sorbet, fruit bars

Cocina Cucamonga Mexican Grill in Pacific Wharf (mobile ordering available)

Burrito Sonora, Crispitos, Fajitas Ensalada, Street Tacos Plate

Cozy Cone Motel in Carsland

Vegetarian chili with Fritos

Fillmore's Taste-In in Carsland

Berry Bow, chips, craisins, grapes, hummus, mango slices, pickle, pineapple spear, watermelon

Lucky Fortune Cookery in Pacific Wharf (mobile ordering available)

Asian Rice Bowl with Tofu, edamame, mango slices

Paradise Garden Grill in Paradise Pier (mobile ordering available)

Agua de Jamaica Slush, Smucker's Uncrustables sandwich, Ensalada de Frutas, Mediterranean Tofu Platter

Smokejumpers Grill in Grizzly Peak (mobile ordering available)

Applesauce, BBQ Jackfruit Sandwich, french fries, waffle fries
When it comes to carts throughout both Parks, you can find a number of vegan options there, too! From cotton candy to pretzels, popcorn to frozen lemonade, you can still enjoy iconic treats at Disneyland. If you ever have a question about a menu item, just ask about it. You can find a lot of information either in the Disneyland app or via their online menus, but some meals can be made-to-order for vegan specifications.
You can also bring your own snacks into Disneyland, with just a few tips to keep in mind. Any ice you use to keep things cool must be contained. You can tuck reusable ice packs in your soft-sided cooler, use a frozen water bottle or simply put ice cubes in bags that seal. Containers of food are permitted in Disneyland, with the exception of glass. So bring your favorite vegan protein bars, fruit leather, nuts and more to help curb your appetite while still eating vegan in Disneyland.
Now that you know how easy it is to eat vegan in Disneyland, it's time to book your next trip! For travel now through December 2019 you can still purchase 5-day Disneyland tickets for the price of 4 days with Get Away Today. With all the new and exciting rides, attractions and shows in Disneyland Resort this year, you'll love having five whole days to explore and experience everything. See all discount Disneyland vacation packages at www.getawaytoday.com, or call 855-GET-AWAY to book with a travel specialist. Be sure to tell them Highlights Along the Way sent you, and use code Highlights for an additional $10 in savings on your Southern California vacation package.
If you are looking for ways to save money on a trip to Disneyland you have come to the right place! I typically suggest Get Away Today for tickets. We have personally used Get Away Today and trust them completely. You can also check out extensive reviews online where you can see that Get Away Today works with Disney parks directly to offer the best legitimate deals around. You can read more about Why I Trust Get Away Today here. If you do choose to purchase a travel deal through Get Away Today, make sure to get a bonus $10 off using our exclusive code HIGHLIGHTS. Check out the other hacks to save money on your next family vacation below.
Hotels with Free Parking Near Disneyland
Hotels with Free Breakfast at Disneyland
Hack to 'earn' FREE Disneyland Tickets
Hotels with FREE shuttles near Disneyland