The voice of Nick Wilde, An interview with Jason Bateman
Disclosure: I attended the #ZootopiaEvent press junket - our trip was hosted but opinions are my own.

"It's called a hustle sweetheart." Nick Wilde – Zootopia
The 55th animated film from Walt Disney Animation Studios, Zootopia opens in theaters on March 4th!  Zootopia's all star cast and creators sat down to talk with our group and today I am sharing what Jason Bateman had to say about his role as the voice of Nick Wilde.  Nick Wilde is a fox who lives in the city of Zootopia.  He is one of the first signs to Judy Hopps that maybe everyone and everything isn't exactly perfect in this city she always thought was exactly that.  Nick is pessimistic and sneaky, but we find out quickly he isn't all bad. And who better really to play a sly but endearing fox but Jason Bateman.  Amiright?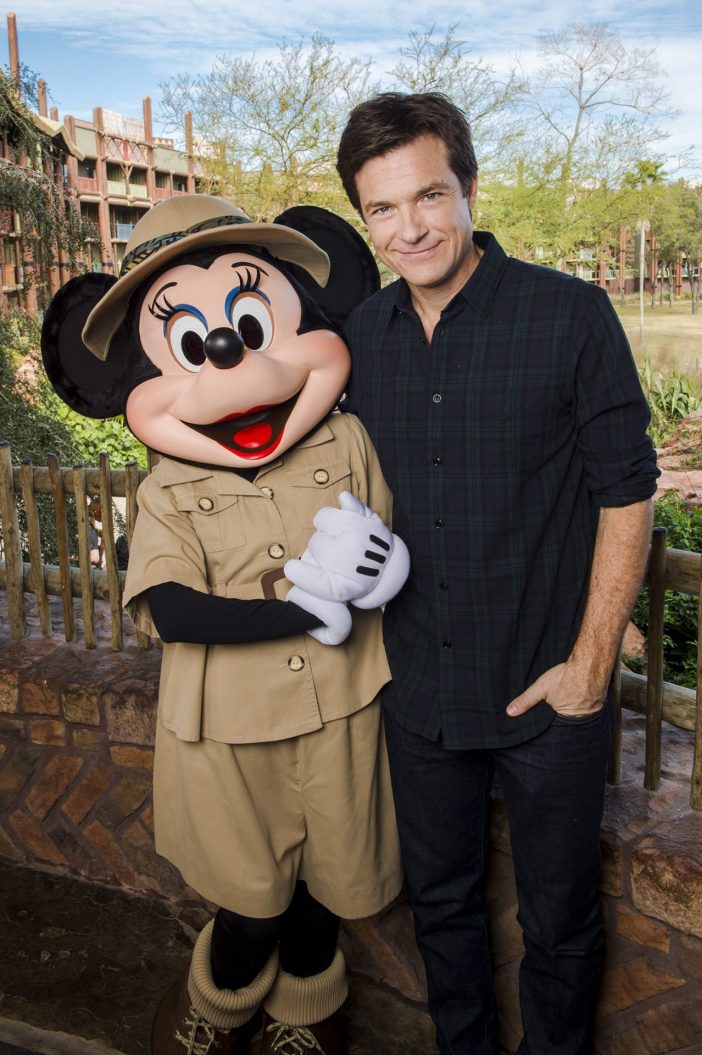 Hanging out with Minnie Mouse at Disney's Animal Kingdom Lodge as part of the Zootopia Press Junket! Photo Credit Disney.
While Jason had lent his voice to animated cartoons before, being the voice of Nick Wilde in Zootopia was his first feature length animated film.  He said there is a big difference between animated film and live action films.  He shared that actors work with many different things – from voice to body language to expression – but that when you are voicing an animated character you really only have your voice. Animators do have videos of the actors in the sound booth and use that with the animation – but actors find it challenging to only have their voice in the sound booth.  He shared a little of the science that goes into being a comedic actor…..
"Cause it's kind of a cocktail to make somebody laugh with something. You don't realize how many little components there are. I mean, I don't mean to sound like some kind of a comedy scientist but just, it just, I mean we all do it, you know. When you tell a joke or a story there's inflection and then there's facial gestures and it's a pretty strange thing to just hope that the rest of the recipe gets cooked in the right way."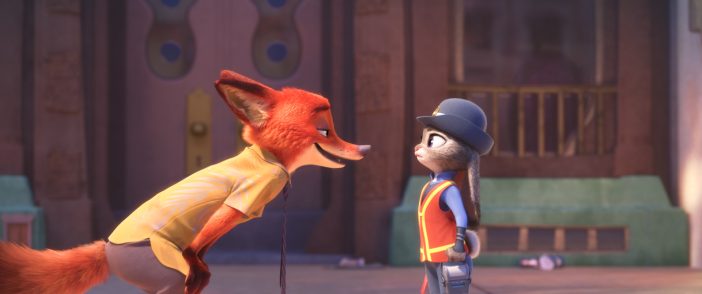 Jason showed himself to be quite relatable when he talked about going to see cartoons with his kids.  He has two girls ages 4 and 9 and says he is happy he can actually show his kids his work…….
"Yeah, it's very, very cool to be leaving home to do a job that I can prove that I was actually doing. It didn't show that way with the other stuff, um, and then knowing that they are going to see it….. it's just yeah, it gives you, it gives you pride."
He made everyone laugh when he said what all parents know…
"First of all, it's the only movies that I see now, you know, that we all know, like a kid movie comes out, like you have to take them and you just hope that it's good. And if it's not good, you are still buying a ticket to it. You still have to sit there. You just might catch a little nap, you know?…….but with this one there won't be any napping cause there's — this company is so good at, at braiding, some stuff in there for us that whether it be thematic or, or just with the jokes, there's always kind of that parallel lane of, of satisfaction for the adults."  and I 100% agree, Disney is incredible at making a movie that is as fun for adults as it is for kids.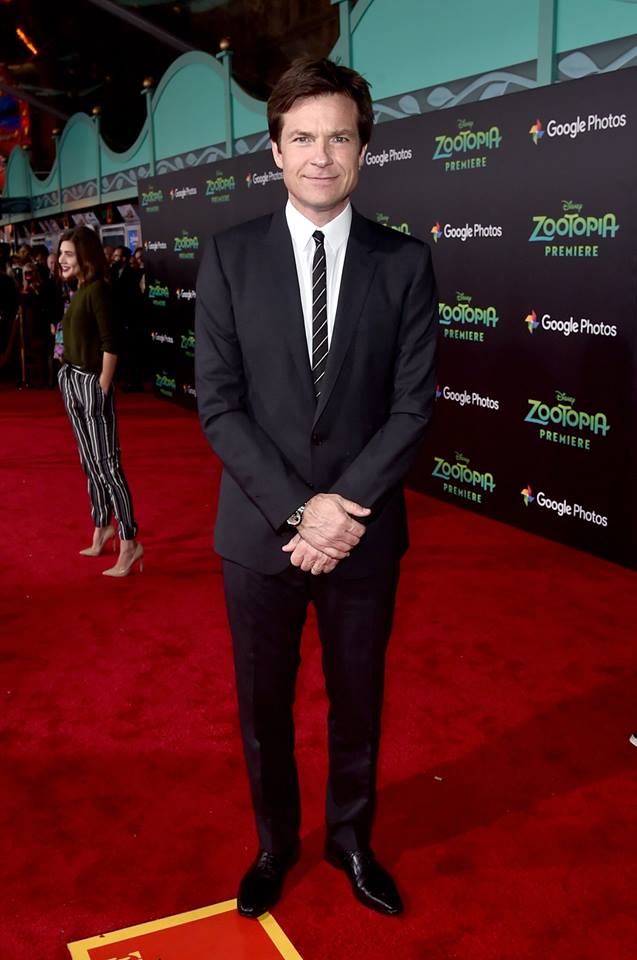 *On the red carpet at the Zootopia world premier.  Photo credit Disney*
He talked about preparing his kids to stand on their own two feet someday in the real world….
He shared that he has about another 9 years with his oldest. "I've got to get myself ready to be confident that she's got a good enough decision maker on her shoulders to go out there and navigate, you know, the inevitable challenges that — I mean, think about all the stuff that you guys have been exposed to that your parents never dreamed that you would be and you being good people didn't really willingly get into dangerous situations but it just happens."
He shared how he explained to his littlest one (four year old) that he was the voice of Nick Wilde when they say a cardboard cut out at a movie theater recently.  She did not get it.  He said he can't wait to sit in a theater and watch her put it all together – that the fox on the movie screen has daddy's voice.  Seriously – how cute will that be?!
For those who are wondering; because I know some people are – let the record show that Nick Wilde's favorite color is green; the color of money.  Who knew?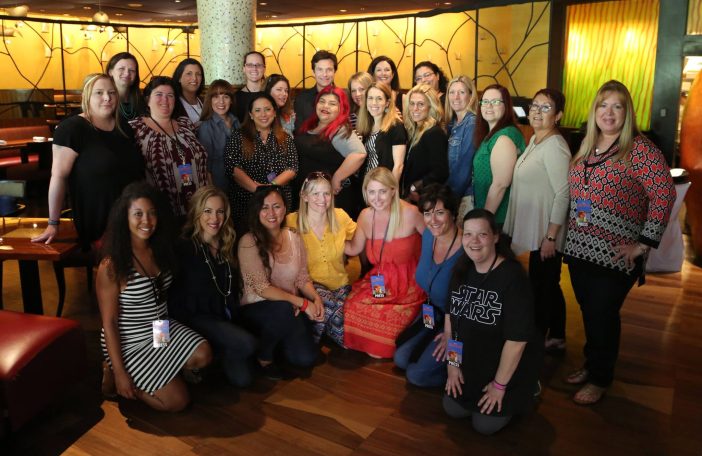 Jason was kind enough to take a photo with the whole Disney Mom bloggers group.  This photo is not to be confused with a press shot for The Bachelor. 😉
Don't miss Jason Bateman, voice of Nick Wilde in Zootopia which opens on March 4th!  Make sure to check out the trailer below – I dare you not to laugh (it is impossible)….
Thank you again to Walt Disney Studios for the opportunity to meet the cast and creators of Zootopia!  I will be sharing more about the movie in the days to come so make sure to head back tomorrow!  Top photo credit Mom Start