Walt Disney World "YOU ARE HERE" Collection Mug Giveaway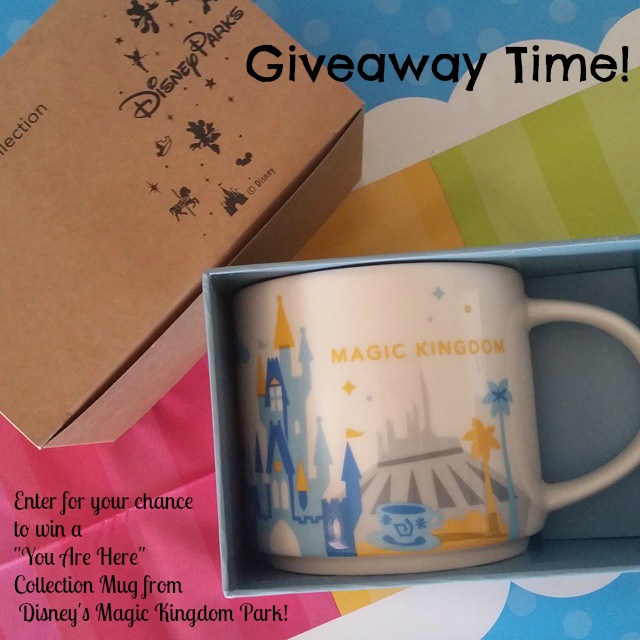 As many of you know – our family just enjoyed our first trip to Walt Disney World as part of the Disney Social Media Moms Conference.  It was a first for our entire family and it was simply incredible – there is nothing like it!  While we were on property for 6 nights and 7 full days I honestly feel like we barely scratched the surface. We got a small sampling of each park as well as the beautiful Yacht Club Resort but we are certainly going to need to return.  Everyone told us it was big, but we honestly had no idea how big until we got there!
I have so many posts I want to share over the next several months but I want to host a little giveaway too.  As many of you know, the Disney Social Media Moms Conference is an invite only conference that Disney sponsors.  While it was not free, it was a deeply discounted Walt Disney World experience for our entire family that we never would have been invited to without this amazing blog community.  So many of you seemed so genuinely excited for our family that I just had to bring a little something home for a giveaway.
If you know our family at all, you know my husband and I have a deep love for all things Starbucks, nearly as much as our love for Disney.  As you can imagine, we spent a reasonable amount of time making sure we knew where Starbucks locations were in each and every park.  I personally love the collection of Walt Disney World "You are Here" mugs that you can only purchase at the parks of Walt Disney World.  I thought some friends here might like to try their luck at winning a Magic Kingdom You Are Here Collection Walt Disney World mug!  I sure wish I could have brought one home for everyone, but I do hope this is a fun little giveaway and a fun bonus for one lucky reader!
This giveaway is only for those who are fan enough to subscribe to our free enewsletter.  Make sure to subscribe here if you haven't already (just so you know, I totally check!) . There are TONS of bonus point options, but subscription is the only requirement (you can ditch me after the contest but I sure hope you don't!).
I will be shipping myself so winner must provide an address that is in the United States; thank you for understanding.  As always, fill out the super easy and quick Rafflecopter entry form – one entry for simply being a subscriber – lots of other ways to engage and earn more entries if you are interested!
*This giveaway is in no way sponsored by Walt Disney World or their affiliates – I purchased this mug with my own little purse and will cover shipping costs as well.  While this has never been a problem, Catching Up With Kate is not responsible for prizes lost/stolen/broken during shipping.