"We are going to Universal Studios" Printable Certificate – Instant Download
Universal Studios Hollywood is a popular theme park in Los Angeles California. Families travel from all over the world to see how movies are made, ride amazing attractions, watch shows, and more at Universal Studios Hollywood. An trip to Universal Studios in Hollywood is an incredible experience gift for families.
If you are planning a trip to Universal Studios Hollywood we highly suggest checking out prices online through Get Away Today. Get Away Today partners directly with family friendly theme parks in SoCal. Get Away Today creates amazing package deals at a deep discount over booking for yourself. Check out discount Universal Studios tickets and packages with Get Away Today. If you choose to book your vacation with Get Away Today and use this link you can also apply the code HIGHLIGHTS for an additional $10 off your package. You can use this discount code even on their discounted rates and flash deals!
While you will need to purchase your tickets from Universal Studios directly, or of course through Get Away Today at a discount; a 'trip reveal' is a fun surprise! These trip reveal certificates are a fun way to let your kids know about an upcoming trip! This printable is completely free! Simply click and print!
Printable Universal Studios Trip Reveal Tickets. Make your surprise trip even more memorable with this certificate! Experience gifts like a trip to Universal Studios are a great idea for birthdays, holidays, anniversaries, and more! These printable certificates are currently free to print and use. These of course are simply to make your reveal a little more exciting, you will need to purchase tickets to go inside the theme park. The free use is for a limited time, these will eventually become available for instant download for a nominal charge. This fee helps maintain our website and helps contribute to our kid's college funds. We try to keep our prices comparable or less expensive than similar products on Etsy. Because we are moving away from spending money on Etsy fees, we are passing those savings on to our guests so they can spend that money on their trips! We all win! We thank you for visiting and using these resources.
Please note these certificates are purely for gift reveal; tickets DO NOT PROVIDE ADMITTANCE to any event.
"We Are Going to Universal Studios" Christmas Themed Printable Certificate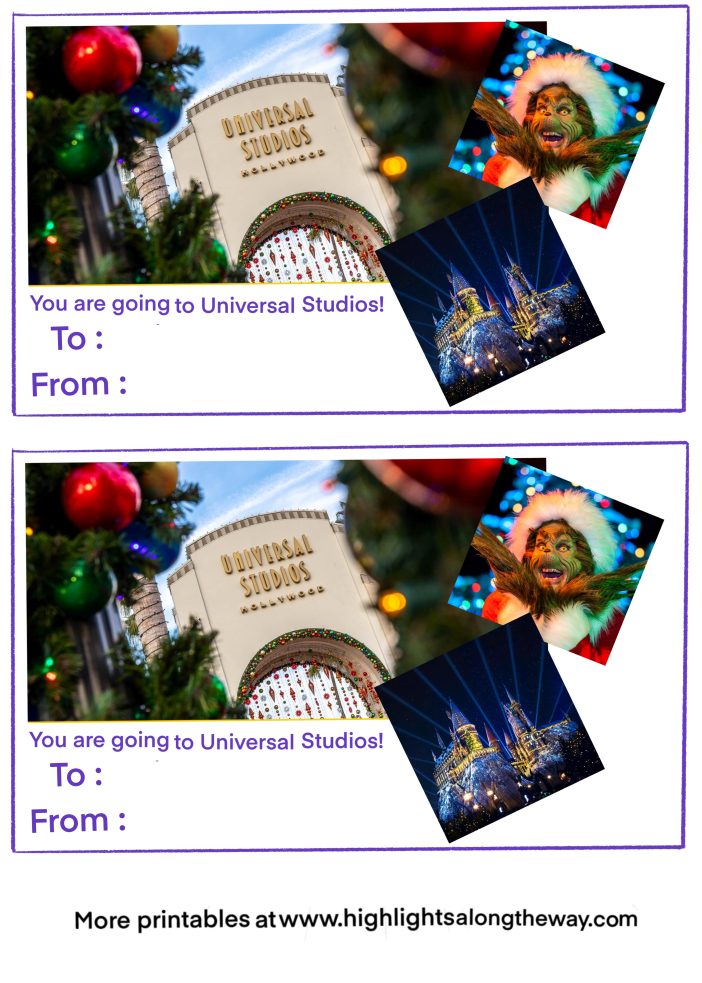 UNIVERSAL STUDIOS "We are Going to Universal Studios!" Printable Reveal Certificate (non holiday option coming soon!)

What makes a trip to Universal Studios Hollywood a wonderful experience gift?
There are many reasons why a family might want to visit Universal Studios Hollywood. Some of the main attractions include:
Exciting rides and attractions: Universal Studios Hollywood features a wide range of thrilling rides and attractions based on popular movies and TV shows, including Harry Potter and the Forbidden Journey, The Simpsons Ride, and The Walking Dead: The Ride.
Live entertainment: The theme park offers a variety of live entertainment options, including stage shows, parades, and character meet-and-greets.
Movie and TV show sets: Universal Studios Hollywood is home to a number of famous movie and TV show sets, including the sets for the TV show "Desperate Housewives" and the movie "Psycho." Visitors can take a behind-the-scenes tour to see these sets and learn about the movie-making process.
Dining and shopping: Universal Studios Hollywood has a wide range of dining options, from quick snacks to sit-down restaurants, as well as a variety of shops selling souvenirs and merchandise.
Overall, a visit to Universal Studios Hollywood is a great way for families to have fun and make memories together, while also learning about the movie-making process and experiencing some of their favorite movies and TV shows in a new way.
What Characters are at Universal Studios Hollywood?
Characters at Universal Studios Hollywood can change day to day. We have met so many characters at Universal Studios! We have met Optimus Prime, Bumble Bee, Megatron, Minons, Gru, several characters from The Simpsons, Shrek, Donkey, Fiona, Juliet the Triceratops, Dora, Diego, Marilyn Monroe, Beetlejuice, and so many more! While visiting, ask any Park employee about character appearance times and locations.
What is on the Studio Tour at Universal Studios Hollywood?
Visit 13 city blocks on 400-plus acres of historic studio lot in the largest set construction project in studio history, built with creative consultation from Steven Spielberg himself.
You'll laugh along with comedian Jimmy Fallon, the video host of the Studio Tour. The star of "The Tonight Show Starring Jimmy Fallon" introduces entertaining clips seen on HD monitors in the trams to augment the live Studio Tour guide narration.
New in 2022, now you can see the original Jupiter's Claim set from Jordan Peele's latest horror epic, NOPE, in an exclusive behind-the-scenes look.
Plus, Telemundo's Carmen Villalobos takes on a new leading role as the video host of our Spanish-language Studio Tour. The new vignettes provide entertaining insights for guests designed to complement the live narration provided by expert Studio Tour guides.
Going somewhere else? We have so many more printable reveal certificates FREE for our readers! Below Trip reveals are coming soon!
"We are going to Disneyland!" Printable Trip Reveal Certificate
"We are going to Legoland!" Printable Trip Reveal Certificate
"We are going to California!" Printable Trip Reveal Certificate
Don't miss our "Saving money at Universal Studios Hollywood" article. While a trip to a California theme park can be quite pricey, there are many ways to stretch your budget.
About Universal Studios Hollywood
Universal Studios Hollywood includes a full-day, movie-based theme park and Studio Tour. As a leading global entertainment destination, Universal Studios Hollywood delivers highly themed immersive lands that translate to real-life interpretations of iconic movie and television shows. Attractions include "The Wizarding World of Harry Potter™" which features a bustling Hogsmeade village and such critically-acclaimed rides as "Harry Potter and the Forbidden Journey" and "Flight of the Hippogriff™", the new mega attraction "Jurassic World—The Ride" featuring the spectacularly realistic Indominus rex dinosaur, and the all-new ride "The Secret Life of Pets: Off the Leash!" Other immersive lands include "Despicable Me Minion Mayhem" and "Super Silly Fun Land" as well as "Springfield," hometown of America's favorite TV family, located adjacent to the award-winning "The Simpsons Ride™" and DreamWorks Theatre featuring "Kung Fu Panda Adventure." The world-renowned Studio Tour is Universal Studios Hollywood's signature attraction, inviting guests behind-the-scenes of the world's biggest and busiest movie and television production studio where they can also experience such thrill rides as "Fast & Furious—Supercharged" and "King Kong 360 3D." Universal CityWalk, located adjacent to the theme park, features such popular restaurants as the all-new NBC Sports Grill & Brew, VIVO Italian Kitchen, Antojitos Cocina Mexicana, Jimmy Buffett's Margaritaville and Voodoo Doughnut, along with dynamic shopping and entertainment options, including Universal Cinema, featuring deluxe recliner seating in screening room quality theatres.