What it is like to be in the audience for Dancing With The Stars
Disclosure: I attended a Dancing with the Stars taping and after party as part of our Big Hero 6 and ABC TV event press trip. All expenses were paid with the expectation of content on our sites but opinions are 100% my own. Highlights Along the Way is a participant in the Amazon Services LLC Associates Program, an affiliate advertising program designed to provide a means for sites to earn advertising fees by advertising and linking to amazon.com
Dancing with the Stars is a huge hit on ABC. Did you know you can get free tickets to be in the audience of Dancing With the Stars? Below we have shared how you can get complimentary tickets to see the show Dancing With the Stars live this season. If you have ever wondered what it is like to be in the audience of Dancing with the Stars, I can tell you from my experience that it is amazing!
Click here to jump down to see if you can get tickets to be in the Dancing with the Stars audience
Fans of all ages may like to know what it is like to be in the audience of the live taping. I was in the audience to watch the show and I am sharing what you might want to know about how long the taping is, what you can bring with you, and what you should leave at home. Don't miss the link to reserve free tickets for an unforgettable night at Dancing with the Stars!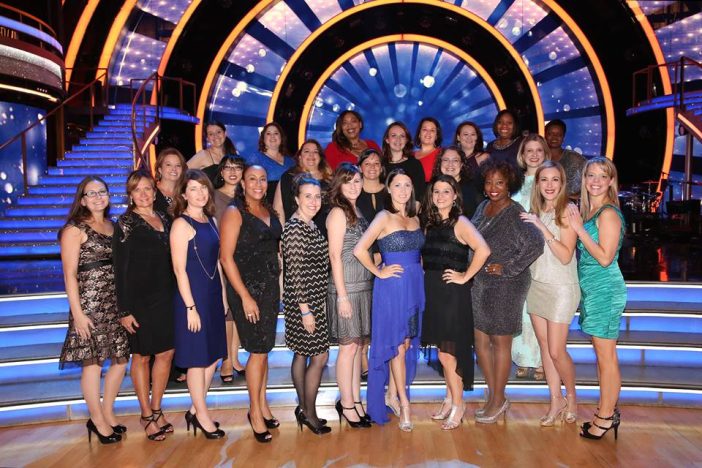 Do you enjoy Dancing with the Stars on ABC? I have been watching over the years but I somehow missed that it has been on for more than 10 years. Wait, what? Yes you heard that right.10 years! Earlier this month I was super excited to attend and be in the Dancing with the Stars audience!I have been in the audience for a few live taping shows in the past and this was so above those I have attended before! I'll share about the Dancing with the Stars audience dress code and what to wear to Dancing with the Stars. First, check out some fancy dresses and free Dancing with the Stars books on kindle. Don't miss instructions on how to get free tickets to be in the audience below!
The Dancing With the Stars 2022 contestants have been announced! Things will look different this year as we continue to try to defeat Covid, but I am thrilled we can still watch the show from competition from home. The full list of competitors on Dancing with the Stars for this upcoming season are as follows….
2022 Dancing with the Stars Contestants
Celebrities and Professional Dancers:
Fitness model and actor Joseph Baena with partner Daniella Karagach
Movie star Selma Blair with partner Sasha Farber
Comedian, actor and singer Wayne Brady with partner Witney Carson
Good Morning America contributor and WABC-TV New York's weather anchor Sam Champion, with partner Cheryl Burke
TikTok star Charli D'Amelio with partner Mark Ballas
Heidi D'Amelio ("The D'Amelio Show") with partner Artem Chigvintsev
Country star Jessie James Decker with partner Alan Bersten
TV star Trevor Donovan with partner Emma Slater
Daniel Durant (Oscar®-winning "CODA") with partner Britt Stewart
Teresa Giudice ("The Real Housewives of New Jersey") with partner Pasha Pashkov
Vinny Guadagnino ("Jersey Shore") with partner Koko Iwasaki
"Charlie's Angels" star Cheryl Ladd with partner Louis Van Amstel
Jason Lewis ("Sex and the City") with partner Peta Murgatroyd
Drag queen superstar Shangela with partner Gleb Savchenko
2021 Dancing with the Stars Contestants
Jimmie Allen
Melanie C
Christine Chiu
Brian Austin Green
Melora Hardin
Olivia Jade
Matt James
Amanda Kloots
Martin Kove
Suni Lee
Mike Mizanin
Jojo Siwa
Kenya Moore
Cody Rigsby
Iman Shumpert
Brandon Armstrong
Lindsay Arnold
Alan Bersten
Can you Get Tickets to Dancing with the Stars Live 2022?
Check out the link I have shared below for free tickets to this amazing competition. The show is incredible and you will not want to miss it. Stay tuned for updates.
2020 Dancing with the Stars Contestants List!
Kaitlyn Bristowe and Artem Chigvintsev
AJ McLean and Cheryl Burke
Carole Baskin and Pasha Pashkov
Monica Aldama and Val Chmerkovskiy
Anne Heche and Keo Motsepe
Jesse Metcalfe and Sharna Burgess
Vernon Davis and Peta Murgatroyd
Jeannie Mai and Brandon Armstrong
Nelly and Danielle Karagach
Skai Jackson and Alan Bersten
Chrishell Stause and Gleb Savchenko
Justina Machado and Sasha Farber
Nev Schulman and Jenna Johnson
Charles Oakley and Emma Slater
Johnny Weir and Britt Stewart
2019 Dancing With the Stars Contestants List
Lauren Alaina – country music star
Christie Brinkley – supermodel
Ally Brooke – pop star
Hannah Brown – The Bachelorette
Karamo Brown – TV host
Kate Flannery – TV star
Ray Lewis – NFL Hall of Famer
Kel Mitchell – comedian/actor
Lamar Odom – two-time NBA champion
Sean Spicer – former White House press secretary Bigly Awful Guy
James Van Der Beek – TV icon
Mary Wilson – The Supremes
It is going to be another great season for sure. I'm all for inclusion, but anybody who voted for Sean Spicer can't sit at my lunch table. THOSE ARE THE RULES.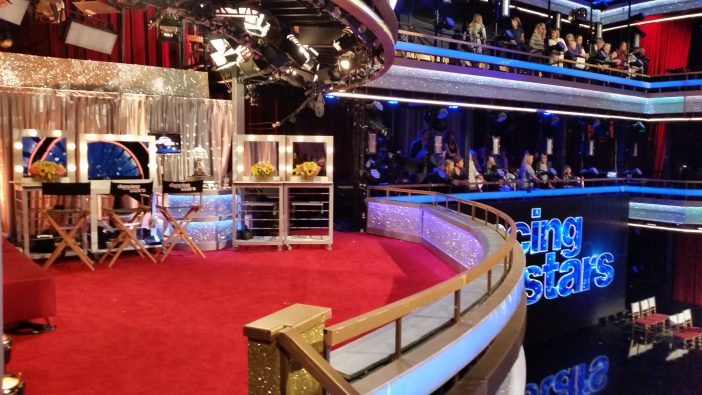 If you are a fan of Dancing with the Stars attending a live taping is something I truly encourage! The set is beautiful but not as big as I would have thought. We were on the first balcony (there is a floor section, balcony, and second balcony). It is not a huge theater and I seriously don't think there is a bad seat in the house.
A few things to consider when you will be in the Dancing with the Star audience……
Dancing with the Stars filming can go on for hours. Make sure to eat before.
There is no food or drinks allowed in the theater.
Dancing with the Stars is taped before a live studio audience every night.
Phones are NOT allowed in the theater so leave it at home or in your car.
Dancing with the Stars is filmed in Los Angeles, California.
Audience members are encouraged to stand on their feet to watch and cheer, so I suggest comfortable shoes.
The studio audience really dresses to impress! Make sure to dress up!
The Dancing with the Stars studio is quite cold with air-conditioning so make sure to bring a sweater, jacket, or wrap.

Tickets are FREE – what?! yes! All tickets to ABC shows are FREE of charge – who knew? Ticket request for ABC shows is here!

Tickets are currently "Sold Out" – Ah man! This is a hot ticket, but you can get on the waitlist for FREE tickets to Dancing with the Stars Here!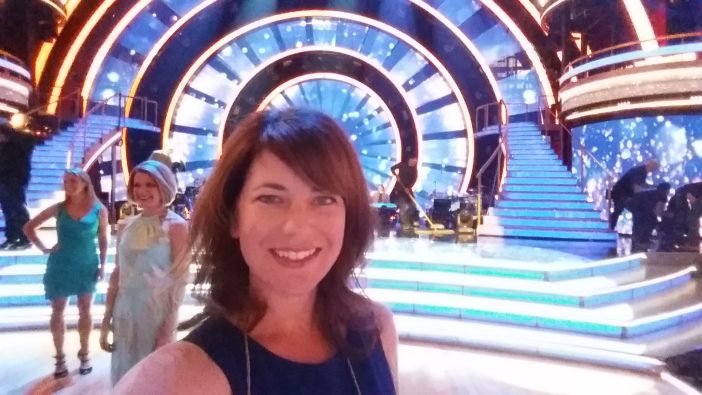 What to wear to Dancing with the Stars
Dress Fancy – I'm serious. Everyone is dressed up. I think out of the several hundred people in the audience I saw three pairs of jeans. As it should be I say, this is a very special event – the dancers have worked hard and have spent many hours in hair and make up – the audience should dress up too! Also, because it is such a small audience there is a very good chance you will end up on camera, and if you are gonna be on live television shouldn't you look fancy? Of course you should. So many awesome dresses on Amazon!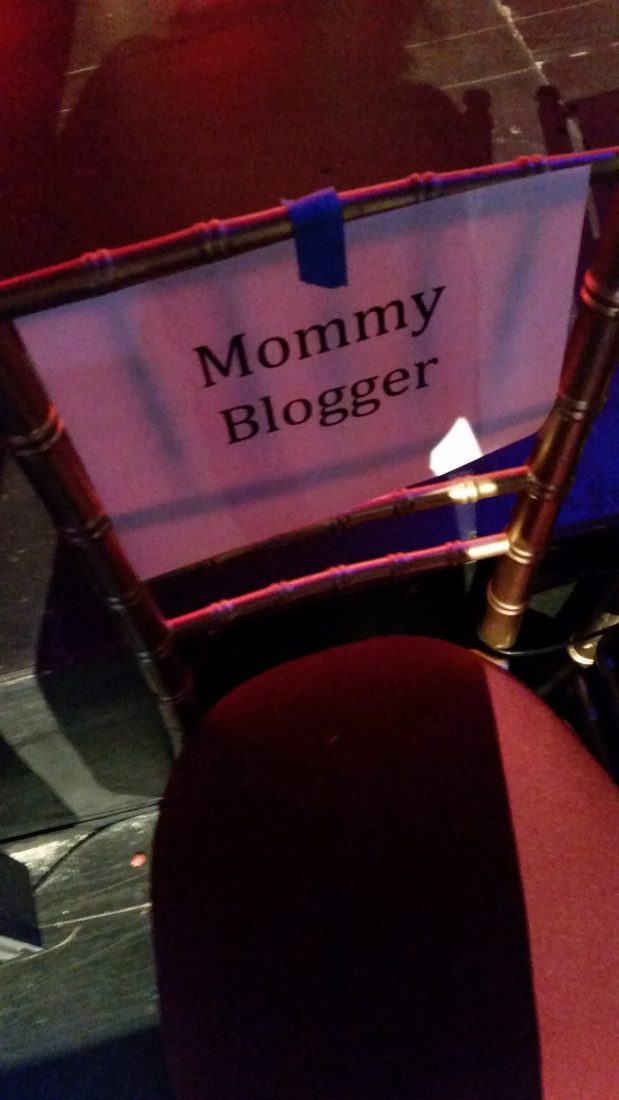 *some people don't like the term 'Mommy Blogger' – I don't mind it, I am both of those things and I got to sit in this seat*
You are not allowed to bring your cell phones or cameras when you attend a Dancing with the Stars filming.
Wait? You got to Kate! I know, but that was a special circumstance. I was allowed to because our group was actually contracted to live tweet during commercials. I did not sneak my phone in and I don't think you should either. It would be really hard guys, just don't try. Take a pic before you go in and then let the good folks at the front store your phone or leave it in the car.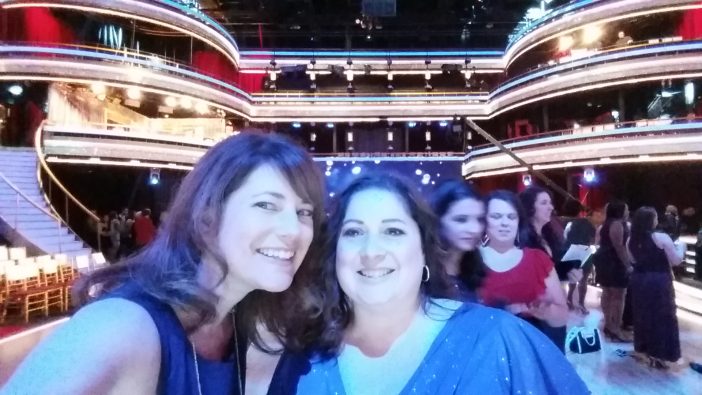 Wear comfortable shoes
(but of course they still need to be fancy). You stand a majority of the taping. You are clapping and smiling and dancing a little bit no matter where you are in the Dancing with the Stars audience. They encourage folks to really get into it and you really want to. It is a very lively show. I am not going to lie, I kicked my high heels off about half way through the taping. I wish I had worn flats or wedges or at least brought some of those little emergency fold up shoes.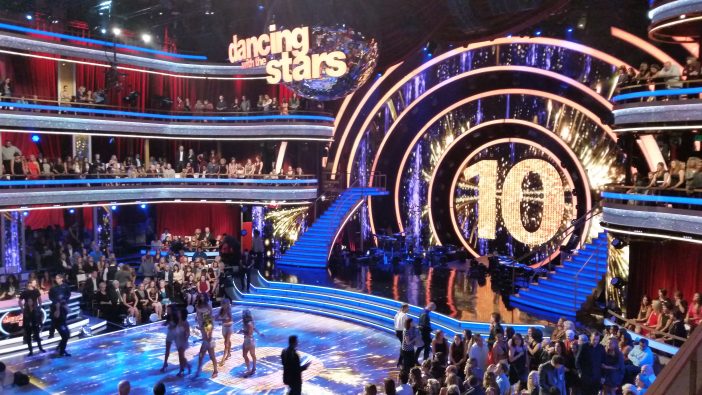 Bring a light sweater or jacket.
It is a bit cold in the theater. I was in a sleeveless dress and I wish I had a little wrap or sweater of some kind. Don't fret though if you forget yours, it just encouraged me to dance a bit more.
Make sure to have something to drink and eat before.
The taping is a couple hours long. Before we went in we enjoyed a cocktail and hors d'oeuvres reception.I wasn't hungry at all, but I would have sold a kidney for a bottle of water about half way through. I just wish I had grabbed a bottle of water on the bus ride over, I wouldn't have been allowed to bring it in, but I would have liked to have a sip of water right before going in.
Here is a video my new friend Cori just shared over on her you tube channel from our night in the Dancing with the Stars audience (including a peek at our inpromptu interview with one of the judges!) …….
I wanted to also share a couple fun photos of the Dancing with the Stars after party that was held at Mixology 101…….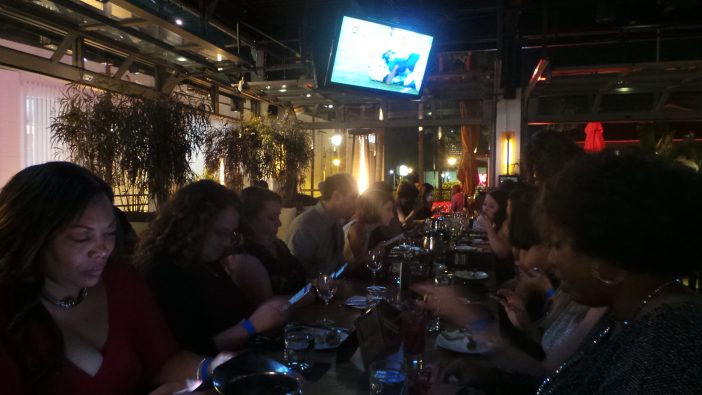 Here we are all enjoying dinner and watching the West Coast airing of Dancing with the Stars.
And then famous people started showing up……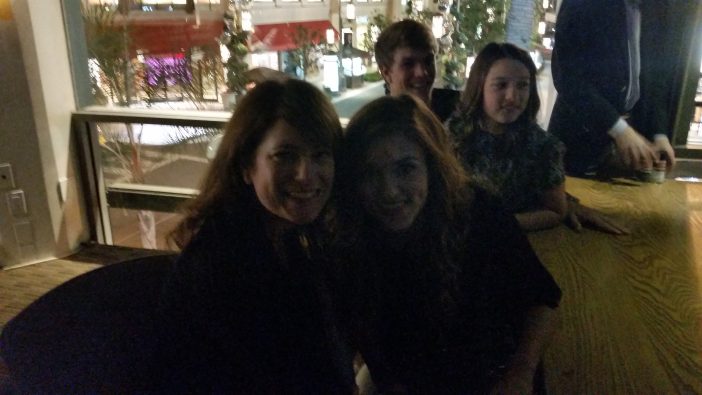 I truly enjoyed everyone's performance – but I am team Sadie all the way!So poised and talented. She is a great dancer and a great role model for little girls. She was personable and friendly! In all honesty I don't really watch Duck Dynasty (we don't watch a ton of TV especially cable – even the family friendly stuff…. should I admit that?), but I thought it was really cool (and my guess is people want to know) that the 17 year old was escorted by her parents…… who were also kind enough to pose for pictures…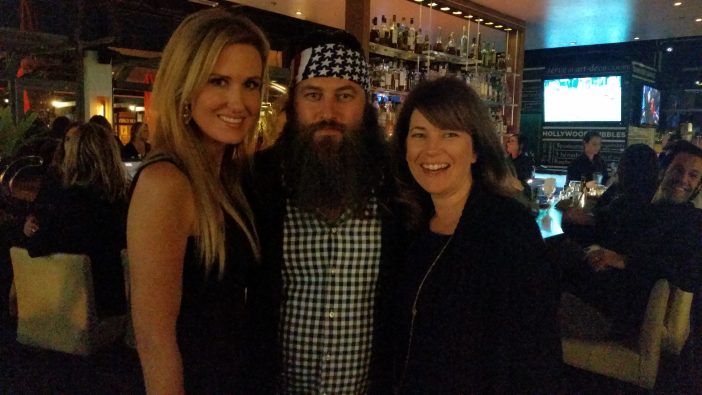 and just a couple other peeps……..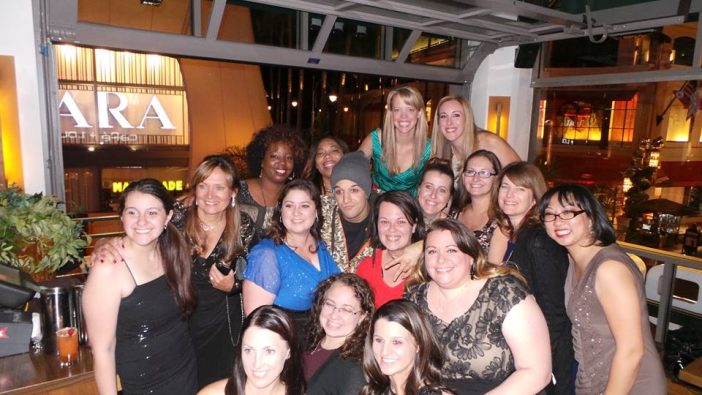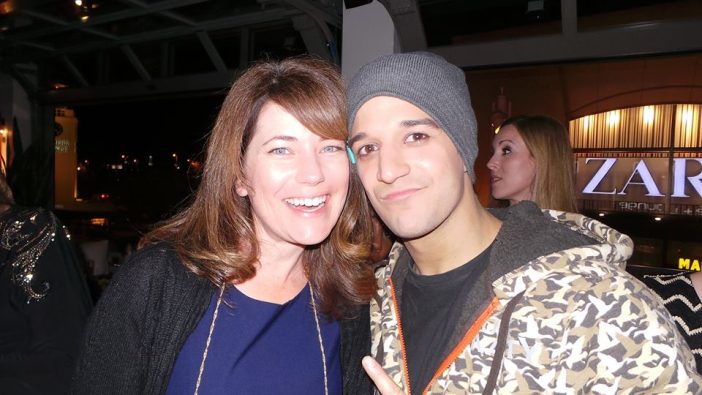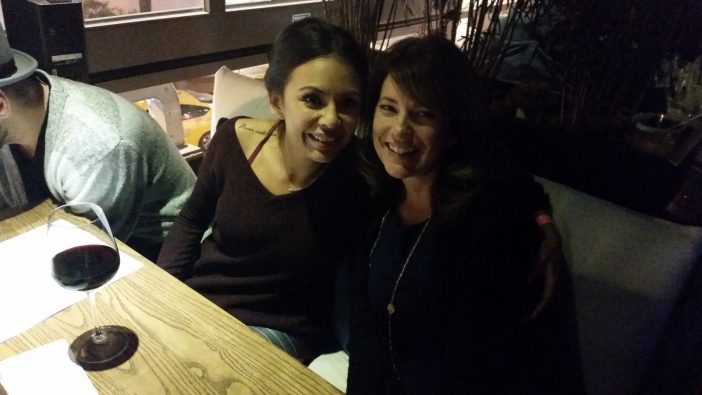 I'm so sad Lea is is off the show! I know that is how it works, but I sure was bummed to see her go. She was so awesome and she was so kind to all of us.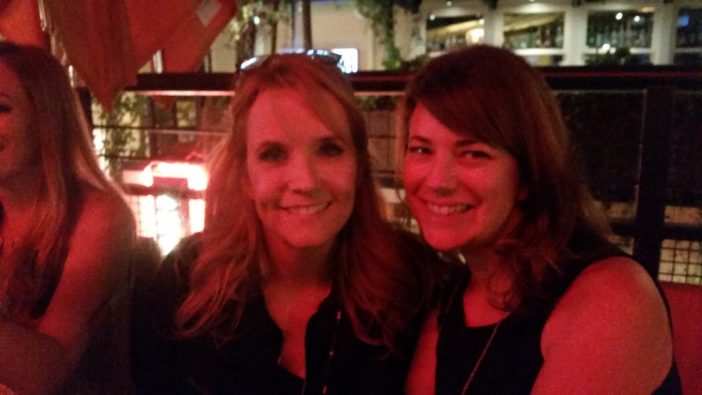 You can watch Dancing with the Stars on ABC on Monday nights and you totally should! Lots of fun for the whole family! Or you can be in the Dancing with the Stars audience and watch it live.
After an impressive 30 seasons on ABC, "Dancing with the Stars" is moving to a new home on Disney+. The hit series received a two-season pickup and will premiere exclusively in the U.S. and Canada this Fall, making "Dancing with the Stars" the first live series to debut on the streaming service.
"'Dancing with the Stars' has entertained fans for 16 years on ABC, and we are excited to bring this beloved show exclusively to Disney+ as the platform's first-ever live series," said Kareem Daniel, chairman, Disney Media and Entertainment Distribution. "The show's broad appeal, as well as the overwhelming popularity of its Disney-themed competition nights, make Disney+ the perfect home for 'Dancing with the Stars' while continuing to expand our demographic reach."
"'Dancing with the Stars' has been a beloved staple on ABC for 30 seasons and brought so much joy to millions of viewers," said Dana Walden, Chairman of Entertainment, Walt Disney Television. "As we're significantly expanding our unscripted slate at ABC, this is a great opportunity to introduce this show to a whole new generation of fans on Disney+. We're so grateful to our incredible partners at BBC Studios and look forward to continuing our relationship with them on this spectacular series, which will continue to be overseen by Rob Mills and the talented Walt Disney Television Alternative team."
"The fact that our iconic global format 'Dancing with the Stars' will now set the record as the first live series on Disney+ represents a major growth opportunity and a bold next step forward in the evolution of the franchise. This unprecedented move, combined with our two-season pick-up, is a testament to the proven power of 'Dancing with the Stars' and a resounding vote of confidence from our great, supportive partners at Disney, showing how much they value and believe in the brand," said Valerie Bruce, General Manager, BBC Studios, Los Angeles Productions.
Produced in front of a live audience by BBC Studios' Los Angeles production arm, the show pairs celebrities with trained ballroom dancers to compete in themed choreographed dance routines. "Dancing with the Stars" first premiered on ABC in 2005 and has grown into an international phenomena and source of constant watercooler conversation. During its Fall 2021 run, ABC's "Dancing with the Stars" ranked among the Top 5 unscripted series with Adults 18-49.
"Dancing with the Stars" joins the vast collection of diverse content and rich storytelling across The Disney Bundle, including Disney+ Originals ("Turning Red," "The Mandalorian," Marvel Studios' "Loki" and "Olivia Rodrigo: driving home 2 u" (a SOUR film), Hulu Originals ("The Kardashians," "The Girl from Plainville," FX's "Under the Banner of Heaven," "Candy," "Conversations with Friends," as well as the highly anticipated return of last summer's breakout hit "Only Murders in the Building"); and live sports events including NHL, UFC and The Masters, daily studio shows like "Stephen A's World" and "SportsNation" and can't-miss originals such as "Man in the Arena: Tom Brady."